Identifying the Need for Contact Tracing Training
Across the United States and around the world, the COVID-19 pandemic forced mass closures and stay-at-home orders to try to keep people safe. Though these social distancing measures have been effective at slowing the spread of the coronavirus, they have decimated economic performance, causing mass unemployment and huge declines in spending across almost every industry.
Getting economies re-opened quickly is a major priority for individual states, and one major driver behind those efforts is contact tracing, explained Dean of Extension and Continuing Education at UCLA Eric Bullard.
"Contact tracing is used by public health departments to prevent the spread of infectious disease. It's the process of identifying people who have a particular infectious disease, in this case COVID-19, and then making sure that you then trace their contact with other individuals," he said.
Robust contact tracing allows states to identify and quarantine at-risk individuals to minimize further spread of the highly-infectious coronavirus.
Of course, in order to effectively deliver contact tracing, people need to be trained to do the work. Creating access to contact tracing training is the first step in developing this critical competency.
"This training is to build a surge capacity workforce for our State of Hawaii response to COVID-19," said Sarah Simmons, Operations Coordinator for Outreach College at the University of Hawaii.
Delivering this training is no ordinary ask for a college or university. The offering must be available to thousands of individuals, often with specific admissions requirements. Their progress must be tracked and they must be issued clear credentials. What's more, these offerings can't take months to stand up. They have to be made available in a matter of days.
At UCLA Extension and the University of Hawaii, they leveraged the Destiny One student lifecycle management system to launch contact tracing training quickly and effectively.
Destiny One is the SaaS platform by Modern Campus® made specifically for higher education administrators serving non-traditional students. It allows colleges and universities to deliver education across the modern lifelong learning lifecycle, supports revenue and enrollment growth through an eCommerce-enhanced customer experience, and delivers the agility needed for today's institutions to be competitive.
Read on to learn how UCLA Extension and the University of Hawaii have used the platform to launch contact tracing initiatives to support re-opening efforts in their respective states.
Table of Contents

UCLA: A Cross-System Collaboration to Deliver Contact Tracing Across California
California's contact tracing initiative is bringing together institutions from across the University of California System to deliver statewide training to public employees.
The COVID-19 Virtual Training Academy started with UC San Francisco's pilot project in the Bay Area. They were provided with an $8.7 million state contract to scale the program statewide, and UCLA was chosen as their Southern California partner. According to Bullard, UCLA Extension's Dean, the goal of the Academy is to ensure existing public employee resources are being leveraged effectively—not to make new hires.
"They're redirecting existing state, county and city employees who have either been furloughed or unable to work," Bullard said. "These aren't public health workers. They're people coming from outside."
With UCSF managing the curriculum, UCLA Extension is taking the reins on managing the program itself to ensure it scales and serves the 20,000 trainees it supports. This was a necessary role given the lack of technology infrastructure at UCSF.
"UCSF is the only UC campus that doesn't have its own university Extension, so they don't have the systems in place to manage an offering like this," Bullard said. "They didn't have a registration system like Destiny One or their own learning management system, so they were struggling to build a scalable program."
Double exposure of business man hand working on blank screen laptop computer on wooden desk as concept-1
"That's the service that UCLA Extension has provided here," he continued. "We're helping them with adult learning pedagogy. We helped them set up registration structure to serve 20,000 trainees over the lifetime of this project, and then provided the learning management system."
The registration system in Destiny One is designed specifically for non-traditional students. It provides a seamless and simple enrollment process that closely mirrors the shopping experience individuals have become used to from companies like Amazon and Uber. According to Bullard, this is especially important when you're serving adults.
"Many of these folks haven't been back to a university or continued their education for years or even decades," he said. "The first challenge is helping these individuals understand why they're doing this. Second, we need to make it as easy as possible for them to register and start the program."
"
Destiny One really helps us streamline our operations, so we only have to have two key people working on the project from a registration and records perspective
Eric BullardDean, UCLA Extension
With Destiny One, the registration process is enhanced with eCommerce best practices and designed to be student-centric and straightforward. Additionally, leveraging the platform's Corporate Engagement Manager module, UCLA Extension is able to ensure that registrants are approved state employees and to simplify batch enrollment and billing challenges that tend to hold up major projects like this.
"Prior to partnering with us, UCSF and the California Department of Public Health were using Excel spreadsheets and a homegrown system to manage contact tracing. There was no way they were going to be able to scale up and reach the goal of training 20,000 contact tracers," Bullard said.
"Without an enterprise system like Destiny One, for a program like this you'd be left manually tracking registrations and manually tracking the process. You'd have to have countless numbers of staff working on the project."
By leveraging Destiny One and the Corporate Engagement Manager, UCLA Extension was able to streamline both the learner and staff experience around contact tracing—supporting the program's scale and delivering on the expectations of all stakeholders.
"Destiny One really helps us streamline our operations, so we only have to have two key people working on the project from a registration and records perspective," Bullard said. "Without Destiny One, I can't imagine that we could have successfully carried out this project."
Destiny One at UCLA Extension
Learn having how a strategic partnership can make all the difference.
University of Hawaii: Partnering Internally to Serve the Aloha State
The University of Hawaii's contact tracing training is being executed through a partnership between the Outreach College and the School of Nursing, at the request of the state Department of Health.
While Hawaii's contact tracing initiative is theoretically open to the public, the Department of Health wanted to ensure that they would be open to hiring individuals who successfully complete the program. This added complexity to the registration process by adding a pre-screen step for applicants.
"The large numbers of interested students presents some interesting challenges," said Simmons, Outreach College's Operations Coordinator. "We're having to separate applicants who are healthcare professionals from people trying to take courses open to the general public. With this scale, we also have to be conscious of the overall management of their enrollments and the grading and certificate issuance. There's just a larger scale and a much more rapid pace to it all, which we don't experience with a usual course."
However, the flexibility of the Outreach College—buttressed by the agility of the Destiny One system—is allowing them to deliver on these complex expectations.
"Our ability to successfully support and run offerings like this comes down to the flexibility we have as a college," said William Chismar, Dean of Outreach College. "We add value to partnerships by doing things that the other schools cannot or do not want to do. That can mean managing student registrations, or promoting programs by spinning up high-quality websites and facilitating payments. We take these things off our partners' plates, so they can focus on creating and delivering high-quality course material."
"The huge benefit of using the Destiny One system is that we can launch new offerings quickly, and manage them effectively," Chismar continued. "We were able to get the COVID training launched in a single day. Without Destiny One, we would have had to build a website with all the necessary security aspects in place, and figure out a database for collecting the information, all manually."
The Destiny One system plays a significant role in simplifying the management of complex programs, and accelerating their speed to launch. First, the platform centralizes course profile pages, ensuring all information only has to be entered once and is updated in all relevant places automatically. Additionally, courses can be uploaded in bulk and created from templates to further accelerate the development process.
"
The huge benefit of using the Destiny One system is that we can launch new offerings quickly, and manage them effectively.
William ChismarDean of Outreach College,, University of Hawaii at Manoa
The Destiny One system plays a significant role in simplifying the management of complex programs, and accelerating their speed to launch.
Automated workflows streamline course and program approval processes ensure critical offerings get to market quickly after they've been developed. What's more, application requirements and prerequisites can be defined centrally, so the Destiny One system manages your enrollment rules for you.
"With Destiny One, we're able to meet the need for urgency and speed that this pandemic has created," Simmons said. "Over 3,000 students have enrolled for this broad-based COVID-19 training, and they can get nursing credits for continuing education, which we've also been managing through Destiny One. All of this happened because the School of Nursing came to us with an idea, which we were able to operationalize through Destiny One as soon as they had the course ready."
Helping Deliver on the Mission of the Institution
Both UCLA and the University of Hawaii bear the responsibility to serve their communities and states. By delivering robust contact tracing, UCLA Extension and Hawaii's Outreach College are fulfilling both their mission and the mission of their respective institutions.
"As a public research institution, UCLA is committed to enhancing the lives of the citizens of the State of California," said Bullard, from UCLA Extension. "Without our intervention, we essentially wouldn't have enough people trained in the State of California to reopen the state."
"Our first responsibility is to the citizens of the state," said Chismar, from University of Hawaii Outreach College. "When the request for contact tracing training came from the Department of Health, the Nursing School immediately came to us and asked whether we'd be willing to partner with them, and of course, we said yes. It's a great opportunity for Outreach College to take a role in providing a critical public service."
In both instances, Destiny One has been central to delivering on that mission, and to heightening the role of the non-traditional divisions involved.
"Destiny One has been extremely helpful in establishing the role of Outreach College," Chismar said. "Because of the infrastructure we have at Outreach College, positioned around Destiny One, we were able to deliver a critical program to the state at a time where we couldn't wait two weeks to get the offering live."
"Because of the capabilities of Destiny One, we were able to set up a Corporate Education portal for the individuals to access and register, and it was simple enough that we could get the site up-and-running overnight," Bullard said.
"To be able to help the State at a time when they really need it is immensely gratifying," Bullard continued. "Without this program, there's no way that we could reopen the State of California."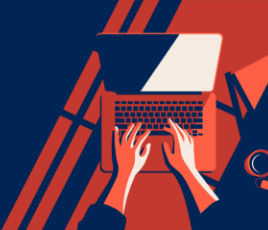 Tackle your biggest challenges
We're looking to topple the ivory tower.
Do you want to see how? Let's talk.