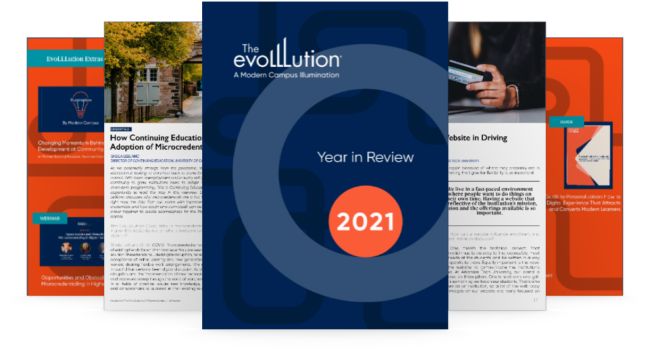 Higher education's next normal has been a long-time coming, and its arrival was accelerated by the pandemic. But here we are! Colleges and universities need to make tweaks to sustain growth into the future, especially when it comes to serving the modern learner. Modern learners have new and demanding expectations of their postsecondary experience, and institutions need to be able to meet and exceed these evolving needs.
What's Inside:
The year in review is packed with articles from the top leaders in higher-ed, centered around the toughest problems facing higher-education today:
Marketing to prospective students
Personalizing the student experience
The Growth of Microcredentialing
Written by Higher Ed's top thinkers:
Claire Foster | Vice Provost of University Marketing and PR at Regent University
Thomas Cavanagh | Vice Provost of Digital Learning, University of Central Florida
Elisabeth Rees-Johnstone | Executive Director of Continuing Education and Professional Learning at OISE, University of Toronto
Marlene Tromp | President, Boise State University
Download our eBook to read a collection of reflections from leaders across the higher ed space and find out how they're navigating this next normal and preparing their institutions for continued growth and diversification.