How Modern Campus Came to Be
Modern Campus has roots in the early days of personal computing, e-commerce and website development. Our founding companies pioneered cloud computing, software-as-a-service (SaaS), in-context editing and online enrollment for higher education.
It is this same commitment to customer success, innovation, agility and intuitive product development that continues to drive our success.
In 2019, OmniUpdate, the leading web content management system (CMS) provider for higher education, merged with Destiny Solutions, the leading student lifecycle management (SLM) solution provider for non-traditional higher education. In 2021, the companies rebranded to become Modern Campus.
Our Mission
We empower our customers to engage modern learners for life.
Today, Modern Campus empowers higher ed institutions to thrive when radical change is required to deal with lower student enrollments and revenue, rising costs, crushing student debt and even school closures. Powered by the industry's only student-first modern learner engagement platform, presidents and provosts can create pathways for lifelong learning, and marketing and IT leaders can deliver Amazon-like personalization and instant fulfillment.
Award-winning products, Omni CMS™ and Destiny One®, and an exceptional customer experience for its 550+ higher ed customers have earned Modern Campus a reputation for customer obsession—symbolized by its 99% customer satisfaction rating and 98% retention rate.
With offices in the United States and Canada, we are "one team" that works together to reimagine products and services that enable our customers to unlock the potential of lifelong learning.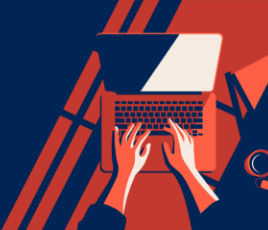 Tackle your biggest challenges
We're looking to topple the ivory tower.
Do you want to see how? Let's talk.