About The University of Texas at Austin
51,000+

students (including 40,000+ undergrads)
170+
undergraduate fields of study
The Challenge
Previously, UT Austin's academic advisors and students communicated through email or in-person contact. Students' inboxes were constantly bombarded with campus emails, and an email from an advisor could easily be buried in the student's inbox. Phone calls were most likely missed, and students only spoke with their advisor for mandatory meetings. Advisors experienced low response rates from attempted emails, phone calls and in-person visits. These advisors wanted to increase student engagement while improving advising relationships. Additionally, staff wanted to provide timely nudges to promote specific behaviors from students.
Implementation
In the first year of texting, a two-person advising unit within Student Success Initiatives (SSI) team sent nearly 13,000 text messages and received more than 5,100 incoming texts from students. These text messages discussed everything from major changes, dropping classes, family issues to financial struggles and more. Advisors were able to provide immediate support, improving advising relationships.
Results
The SSI team discovered that texting students radically changed the relationship between advisors and their students. Advisors had a 98% engagement rate with students, even though advising was not mandatory for any of the students. Advisors also experienced an unprecedented amount of student-initiated contact—messages sent by students without a prior nudge from an advisor. In fact, contacts initiated by students via text more than doubled the amount of contacts intiated via email, in person and phone calls, combined.

During busy advising times, personalized texting allowed the SSI advisors to target students who needed immediate in-person advising to drop a class or resolve a problem. Texting also allowed advisors to cultivate a meaningful and impactful relationship with each student , rather than a strictly transactional engagement. For instance, advisors were able to carry on conversations with students even when they were not on campus, including texting in the summer to check on enrollment at a community college. Finally, staff noted that the availability and speed of text messaging enhanced relationships that advisors had with their students. This was because both advisors and students could reach out whenever they needed to provide or receive help, respectively.
UT Austin's First Year of Text Messaging, by the Numbers
13,000
advisor-initiated text messages
5,100
student-initiated text messages
---
Discover additional ways you can use text messaging to connect students with campus resources, extend limited staff resources and boost retention—and how doing so fits into the entire learner journey—in our free guide: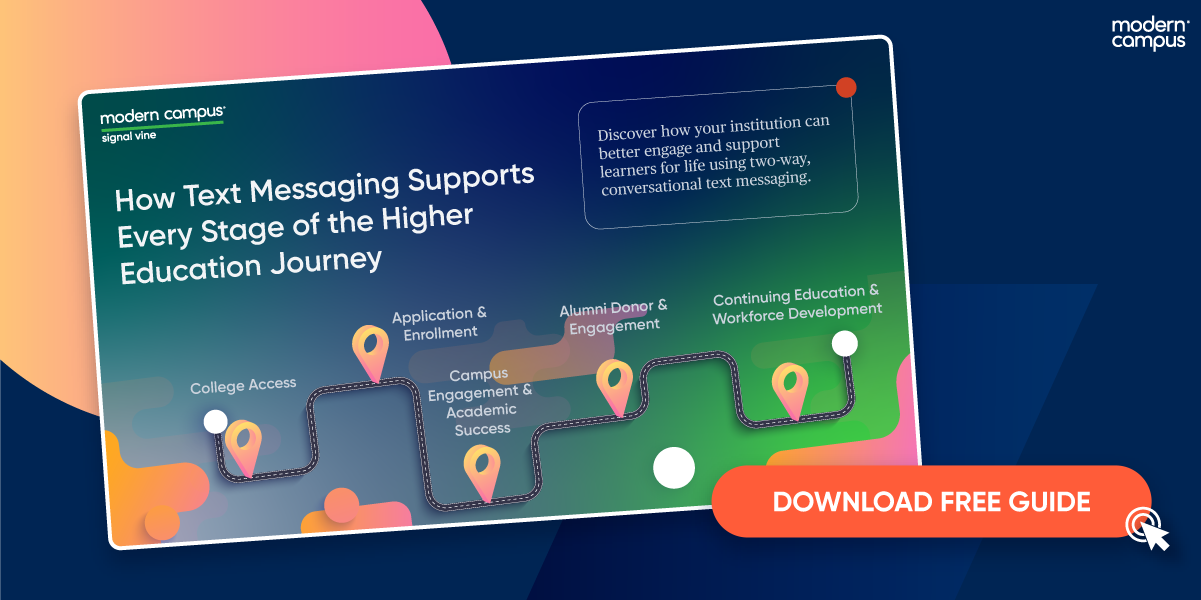 ---
Related Case Studies
How a public college leveraged Modern Campus Message to re-enroll 46 otherwise-unresponsive students

How a large, public community college system leverages Modern Campus Message to support students

How an open-access community college leverages Modern Campus Message to increase student retention and graduation
About Modern Campus
Modern Campus is obsessed with empowering its 1,200+ higher education customers to thrive when radical transformation is required to respond to lower student enrollments and revenue, rising costs, crushing student debt and even school closures.
Powered by Omni CMS, DIGARC, Presence, Message and Destiny One, the Modern Campus modern learner engagement platform enables innovative institutions to create a "learner to earner" lifecycle that engages modern learners for life.
Delivering massive personalization, AI-driven recommendations and a modern e-commerce engine, Modern Campus creates a student-first digital experience and removes silos across campus. Presidents and provosts, marketing and IT teams, admissions, registrars, student affairs and CE divisions can partner to attract, enroll, empower, retain, credential and re-engage students with pathways for lifelong learning.
Learn how Modern Campus is leading the modern learner engagement movement at moderncampus.com and follow us on LinkedIn.