Delight Audiences with Sophisticated Engagement Tools Personalized for Them
Student Portal
Whether booking a flight or checking a bank balance, students want to manage all aspects of their lives online, including college.
The Modern Campus Destiny One Student Portal empowers students to register, drop classes and handle other processes online. In addition to providing a modern learner experience, self-service tools free staff from managing every learner request manually.
Here are a few tasks learners can accomplish through the student portal:
Browse, pay and register for courses
Monitor certificate progress
Request drops and transfers
Complete, submit and track applications
Review, pay down and print invoices
Print transcripts
"
Destiny One and its student portal means registrants have the kinds of self-service tools at their fingertips that they've come to expect from online leaders like Amazon.
Kristy DavisAssociate Director for Academic Support Resources-IT, University of Minnesota
Discover how the University of Minnesota is improving its customer experience with the Student Portal.
"
When technology makes everyday tasks easier for staff, it helps create a great staff experience, which in turn makes it easier to deliver a great learner experience.
Elisabeth Rees-JohnstoneExecutive Director of Continuing Education and Professional Learning at OISE, University of Toronto
Staff Portal
Staff in non-traditional divisions often work within multiple systems and regularly have to re-enter data.
The Modern Campus Destiny One Staff Portal eliminates time-consuming tasks and opportunities for error with a single interface to manage all operations.
Staff can do everything from create courses and enter enrollments, to manage instructor contracts and track finances. Plus, they receive automated task alerts and messages when a workflow requires their input.
Corporate Portal
Corporate training clients expect exceptional service. Instead of asking staff to do double duty, provide a sophisticated portal through which corporations can easily manage their interactions with your school.
White-labeled for each partner, the Modern Campus Destiny One Corporate Portal lets corporate administrators add or remove learners from their corporate group, enroll employees individually or in bulk, monitor invoices and connect with institutions.
Additionally, individual corporate learners have access to their own Corporate Portals where they can browse and enroll in a custom catalog of defined offerings, provide profile information and manage their learning experience with ease.
"
Our corporate clients want to reach us easily, and we're going to have to make sure program registration is seamless. Destiny One will make it quicker and easier for our corporate partners.
Geoff WilmhurstVice President of Partnerships, Camosun College
Learn how Camosun College is strengthening their corporate partnerships with Destiny One.
"
Imagine having four children and having to log in four different times to register your kids.
Mark MrozinskiAssistant Vice President of Workforce Development and Executive Dean of Community Education, Harper College
Family Portal
Parents are incredibly busy and don't want additional hassles when they register their kids for summer camps, courses or other activities offered by your school.
With the Modern Campus Destiny One Family Portal, you can make it easier for parents by allowing them to:
Enroll multiple children in an array of offerings with a single transaction
Apply discount codes
Stay on top of kids' applications to gated offerings
Centrally manage their children's' engagement with your school
Start your lifelong relationship with families early and right by providing an exemplary online experience.
Learn how Harper College is transforming its K-12 programming with the Destiny One Family Portal.
Instructor Portal
Non-traditional divisions often work with faculty who may or may not be full-time. Minimize administrative roadblocks and allow them to focus on teaching with the Modern Campus Destiny One Instructor Portal.
The Instructor Portal gives instructors self-service access to critical resources like timetables, class lists and attendance sheets, and it provides a digital gradebook and manages other administrative functions all through a personalized profile.
Additionally, the Instructor Portal provides an easy tool to communicate effectively with learners, either individually or in defined groups.
Agency and Sponsor Portal
The Modern Campus Destiny One Agency and Sponsor Portal streamlines processes for both international student recruitment agencies and your school.
The portal lets agencies submit learner applications, track tuition and fee payments, identify discounts and commissions, upload paperwork for quick payment processing, and generally interact with the school in an efficient and organized manner.
"
The ISPM module now allows staff to access updated information when they need it and input critical information about an agent or a prospective student onsite, avoiding duplication of work when they return to the office.
Michelle FachExecutive Director of OpenEd, University of Guelph
Learn how the University of Guelph is leveraging the Destiny One Agency and Sponsor Portal to simplify international student recruitment.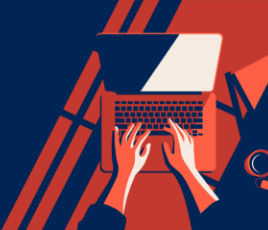 Tackle your biggest challenges
We're looking to topple the ivory tower.
Do you want to see how? Let's talk.