Simplify Pathways to Learner Engagement
Centralized Engagement

The branded, simplified, direct source of the information students need to get involved with their campus community.
Students find groups to join, events to sync with their calendars, and digital forms to submit—going from uninvolved to engaged in minutes.
Customized Branding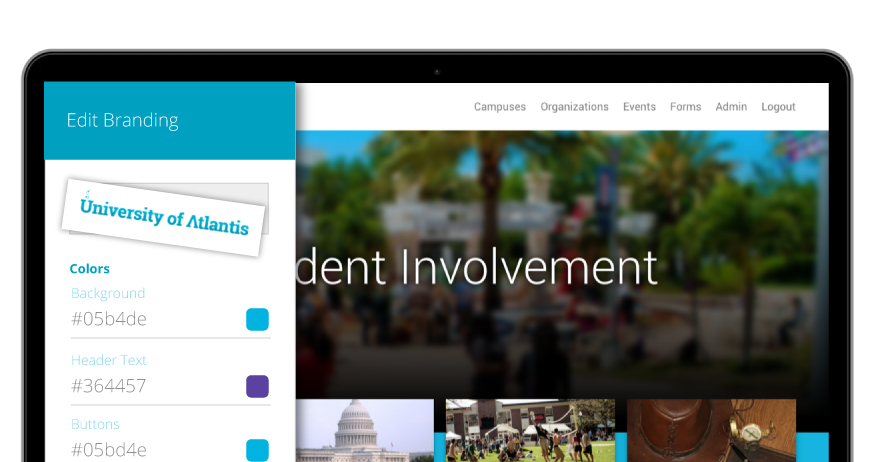 School colors, logos, pictures, and text align the web portal with branding guidelines, creating a seamless student experience.
We work with your existing standards during setup, then you control and update from within Modern Campus. Preserve brand integrity by not diluting engagement with another product name, while creating the most direct path for students to find the opportunities they need.
Organization Directory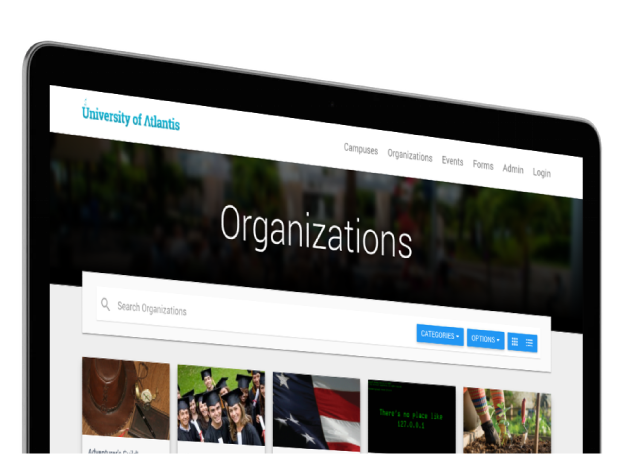 A real-time, searchable, filterable listing of clubs, teams, organizations, and departments gives students access to the information they need to get involved.
Descriptions, meeting times/locations, upcoming events, digital forms, and contact information pull from Organizations.
Students join groups with the click of a button.
Unified Event Hub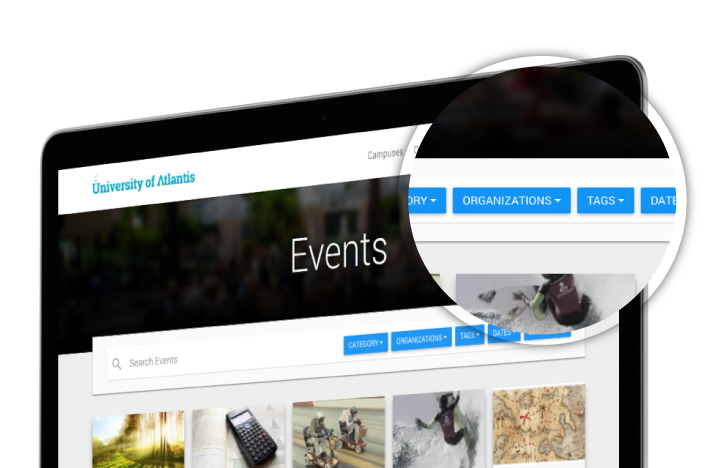 One beautiful place for every co-curricular event. Students find what interests them using filters like tags and categories, see a visual page for each event, and easily interact by syncing with their calendar or contacting hosts.
Details, suggested events, forms, and social media integration mean everything they need is at their fingertips, fed by event management in real-time.
Social Media Integration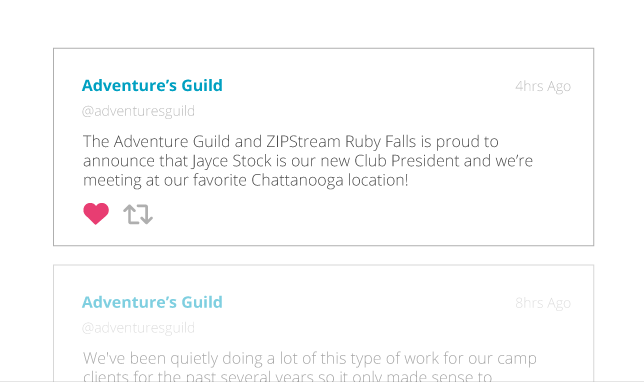 Connect social networks with embedded Facebook and Twitter feeds on the dashboard.
Pull accounts for individual organizations into their pages.
Like, tweet, and share organizations and events to create buzz and direct students to the portal.
Don't compete, integrate.
Custom Branding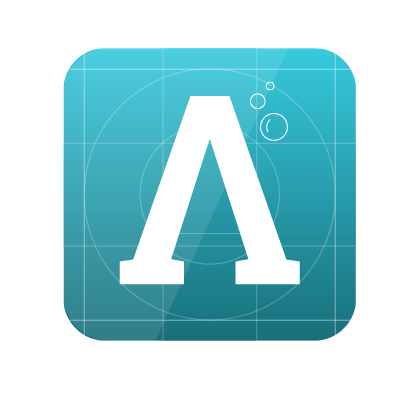 Institutional guidelines keep the student experience consistent. Modern Campus uses your logo, icons, and colors.
Students find their event app organically, through the App Store and Play Store. Maintain brand consistency and avoid pushing students into a product.
Native Calendar Integration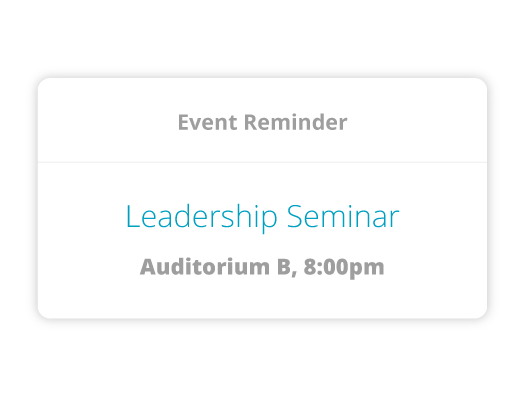 Students connect in-app events with their default calendars.
Easily sync your event to a mobile device with one click, and get an automatic reminder notification an hour before the event starts.
Filter, Sort and Segment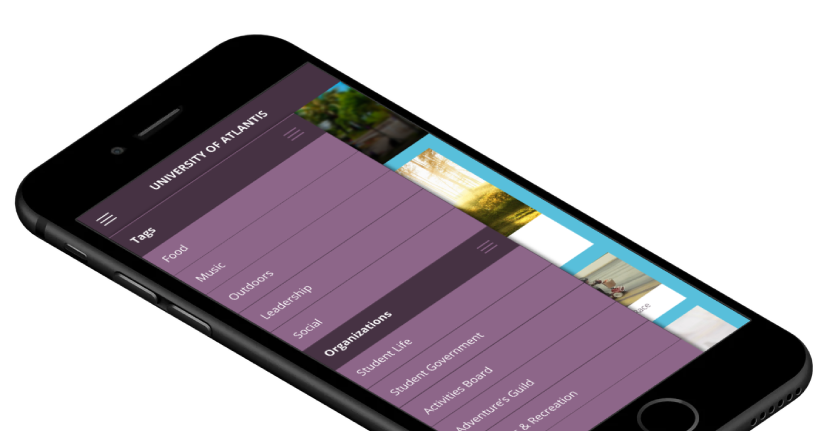 Students easily find the events they care about. Sort events based on active organizations, or customizable event attribute tags.
Similar to popular technologies, a workflow adapted to modern student behavior enhances adoption.
Sync with Event Management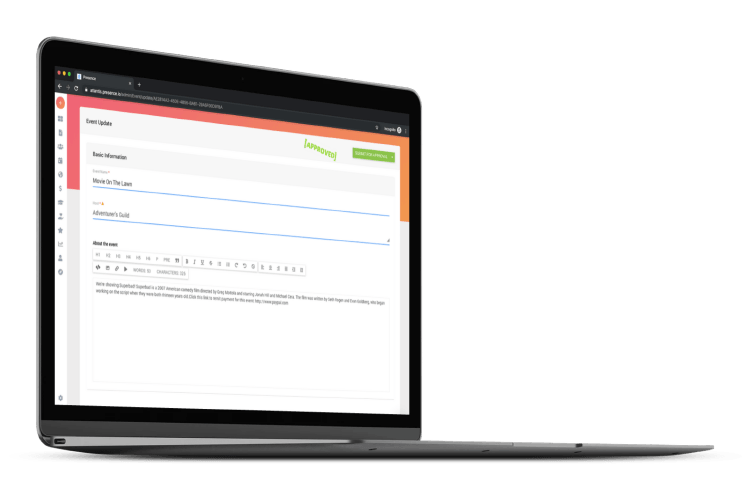 Simplify the promotion process with automatic advertising via a custom-branded mobile app and web portal.
Make it easier for students to find interesting events through centralized, dedicated tools designed for the entire student body.
Easy Promotion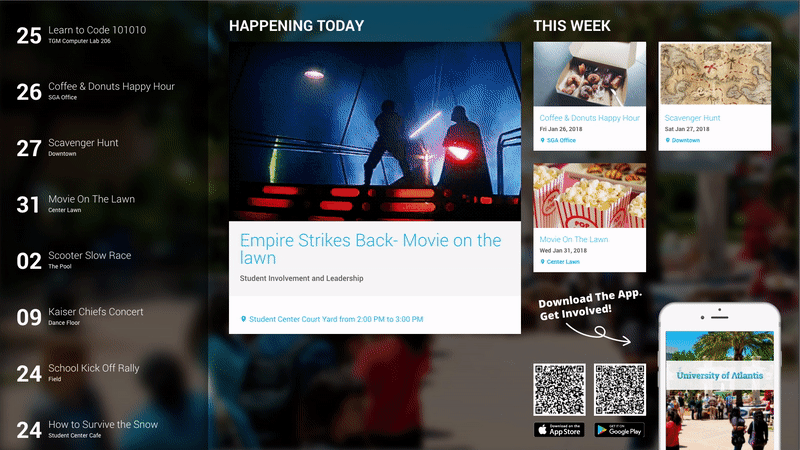 What's happening right now? What about tomorrow? With Modern Campus's digital signage app, your students can know what's happening on campus right now and in the near future.
Unexpectedly find some free time in your day? Check the screen and hop on over to whatever event is happening right now.
Leverage Your App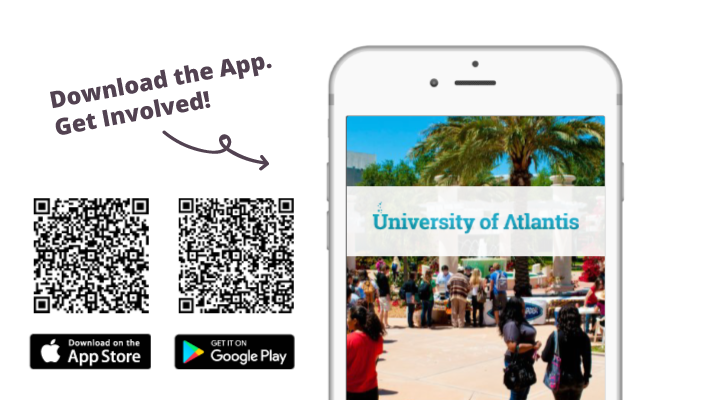 Having multiple mediums for communicating with students is always a good idea, which is why we make it easy for students to download your campus' custom mobile app. Just scan the QR code and you're ready to download!
With the app, your students will always have the programming calendar handy — whether it's in their back pocket or their backpack.
Easy Set Up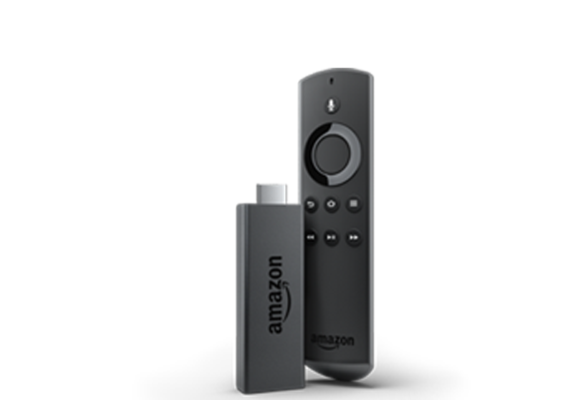 Say "buh-bye" to making presentations, finding a laptop, plugging it in to a TV, and then updating the slides every time there's a change. Just plug a streaming stick device into a campus television, download the app, and you're ready to go! Easy peasy lemon squeezy.
Editable Central Calendar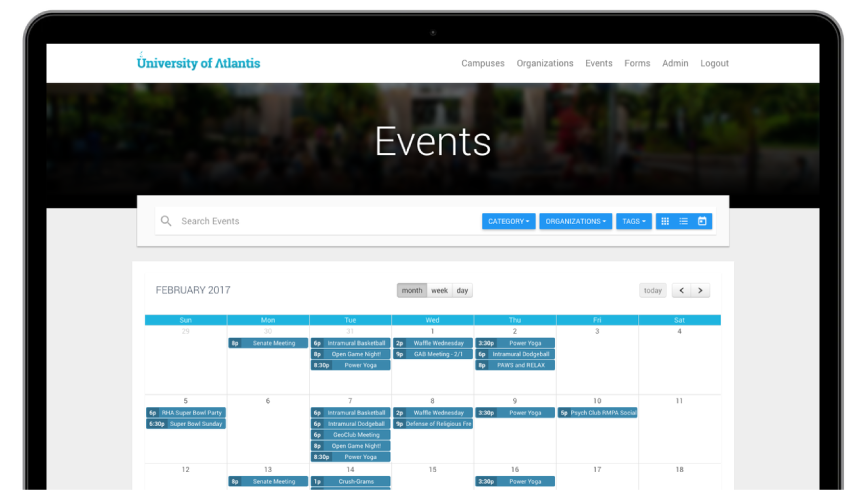 Show campus life events on web pages using custom code (and help from our Customer Success team). Students sort and filter by categories and tags to find what interests them. Events feed from your tools in real-time.
User Access Control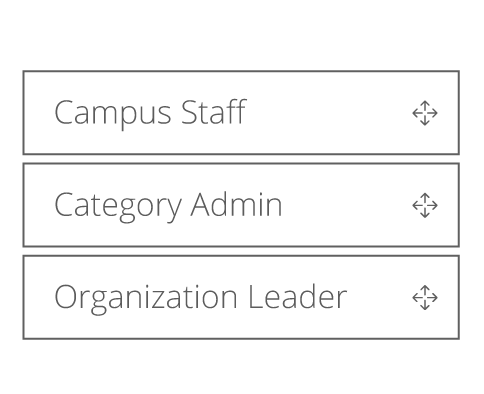 Control user access to publish events, scaling up accessibility and decentralizing tedious tasks. Include any office on campus. Hide or restrict event visibility to certain audiences.
JSON/Webcal Feeds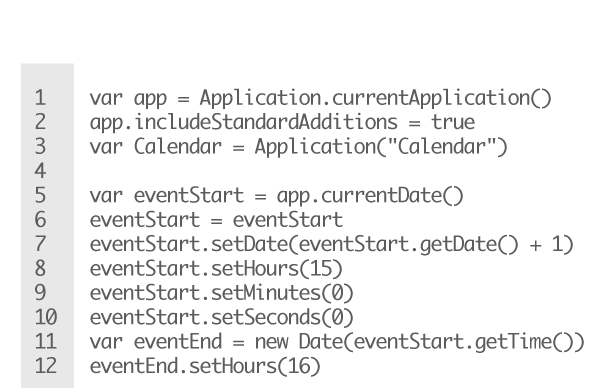 Integrate events with other calendar services, mobile apps, and websites. Embed and integrate feeds to customize web pages and structure interaction. Link with campus calendars to increase visibility.