Personalizing the Student Experience to Reinvent Learner Pathways
​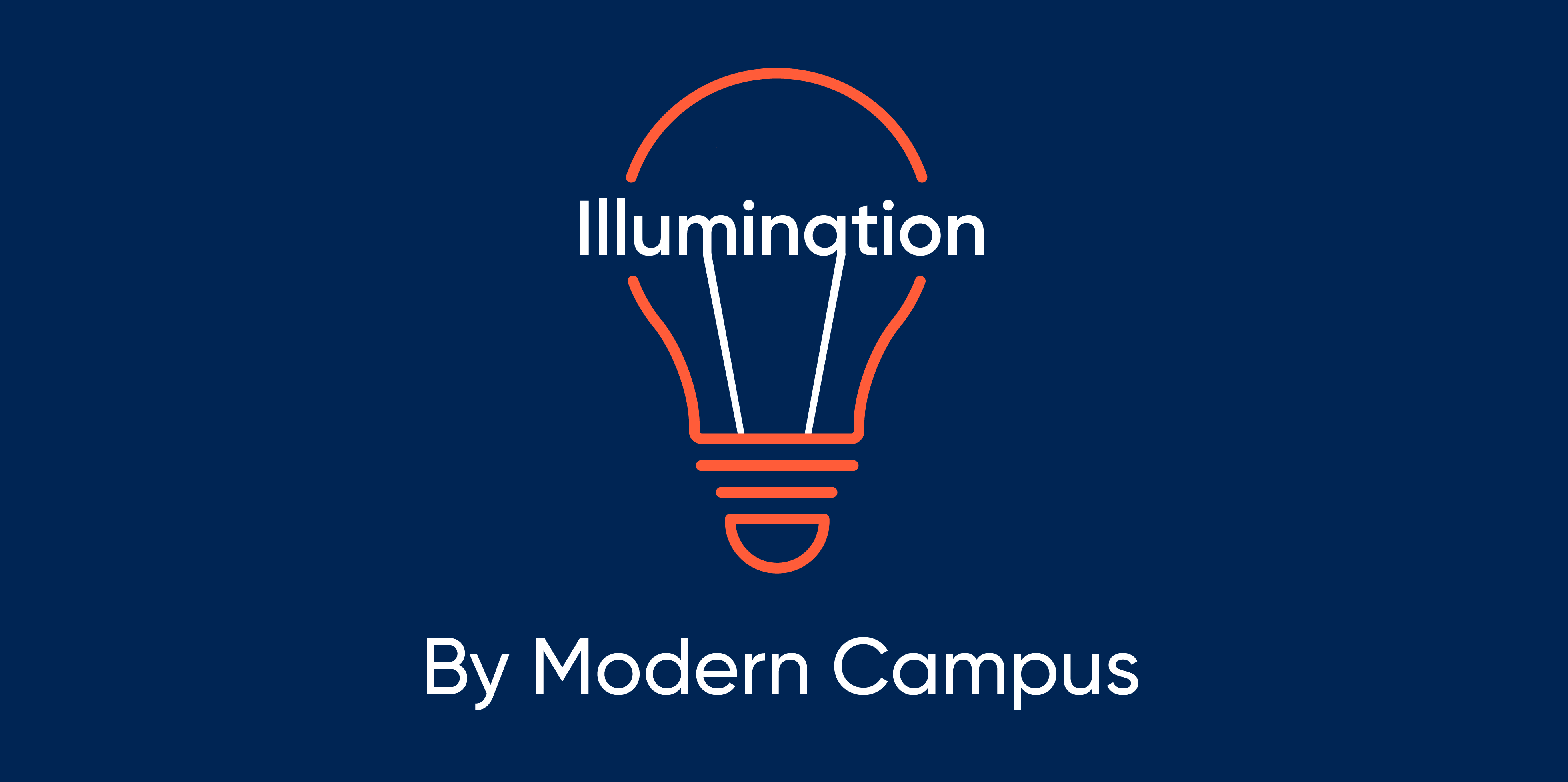 As higher education is facing an enrollment cliff, and demographics are shifting, it's time to revamp the student experience.
Personalization is what modern learners demand in this Amazon world and is key for institutions to survive and thrive in this new environment.
In the eleventh episode of Illumination by Modern Campus, Vincent Del Casino, Provost and Senior Vice President of Academic Affairs at San Jose State University, highlighted the increasing need to adapt to the modern learner.
"We have this very intense landscape of competition," Del Casino said.
Learners today are consumers. Recommendations and experiences catered to their unique wants and needs are an automatic expectation in all aspects of their lives.
"There's a lot more personalization in the hands of students before they come to higher education," he said.
This means institutions also must deliver a high-quality personalized experience to meet their demands.
Students want a connection—not only with their job but with their education. They're looking for the added benefits that come with post-secondary beyond a degree or credential.
They need an experience that will help them connect to the community and allow them to reflect on who they are as a learner. It's a different but important aspect that institutions need to recognize.
"It's impacting how students are starting to look at institutions," Del Casino said.
The question of fit is high on the list of prospective students' priorities. As more students are applying to fewer institutions, it's critical to engage them from the moment they reach your website.
This idea of attracting potential customers isn't new. The ecommerce industry has been doing this for the past decade and others are starting to pick up on this trend.
"There are people who are seeing alternative pathways into the workforce that doesn't include higher education," Del Casino said.
As the demographics shift and the competition increases, higher education needs to change. Illustrating the added value of taking the post-secondary path is critical.
"That has to be translated in a deeper way into the pathways students will experience once they hit your institution and beyond," Del Casino said.
Students are looking for ways to connect the dots. They need to see the return on investment before they commit to a school.
Institutions that can illustrate the value of the higher ed experience—with programming, employment opportunities and co-curricular engagements—the fastest, they'll be the ones to stand out.
This level of personalization starts with storytelling. As Del Casino points out, it's something institutions need to begin investing in so students can see themselves in the college or university.
It means being student-centric.
"For a student to see themselves in that experience means you have to have a more centralized focus on strategic communication marketing than you've ever had to have as an institution," he said.
In doing this, it requires time and resources to build responsive, high-quality websites that are personalized to each learner. Oftentimes, it means asking for help.
"You have to go outside and partner," Del Casino said.
The best websites are the ones that can adequately reflect the values, the experience and the opportunity of the physical campus—things the modern learner is looking for. If that experience is not directed at them, then they'll likely look elsewhere. And it's difficult to get them back.
"If you lose them, you're toast," Del Casino said.
What they want—and need—are pathways. There's a need for more on- and off-ramps to show how their education extends beyond the classroom.
"It starts with showing them that they're part of a community and that community extends into their everyday lives in a positive way," Del Casino said.
It takes a strong and adaptable infrastructure and investment to do this. But it's game-changing.
Illustrating a roadmap of a student's future is exactly what they're looking for and what will keep you with them in their lifelong learning journey.
"Given the fact that people are going to continue to move around in jobs and careers," Del Casino said, "That just seems to be a given right at this point."
Full Episode
---
Last updated: September 16, 2021