Redefining Customer Service with Enrollment Management
​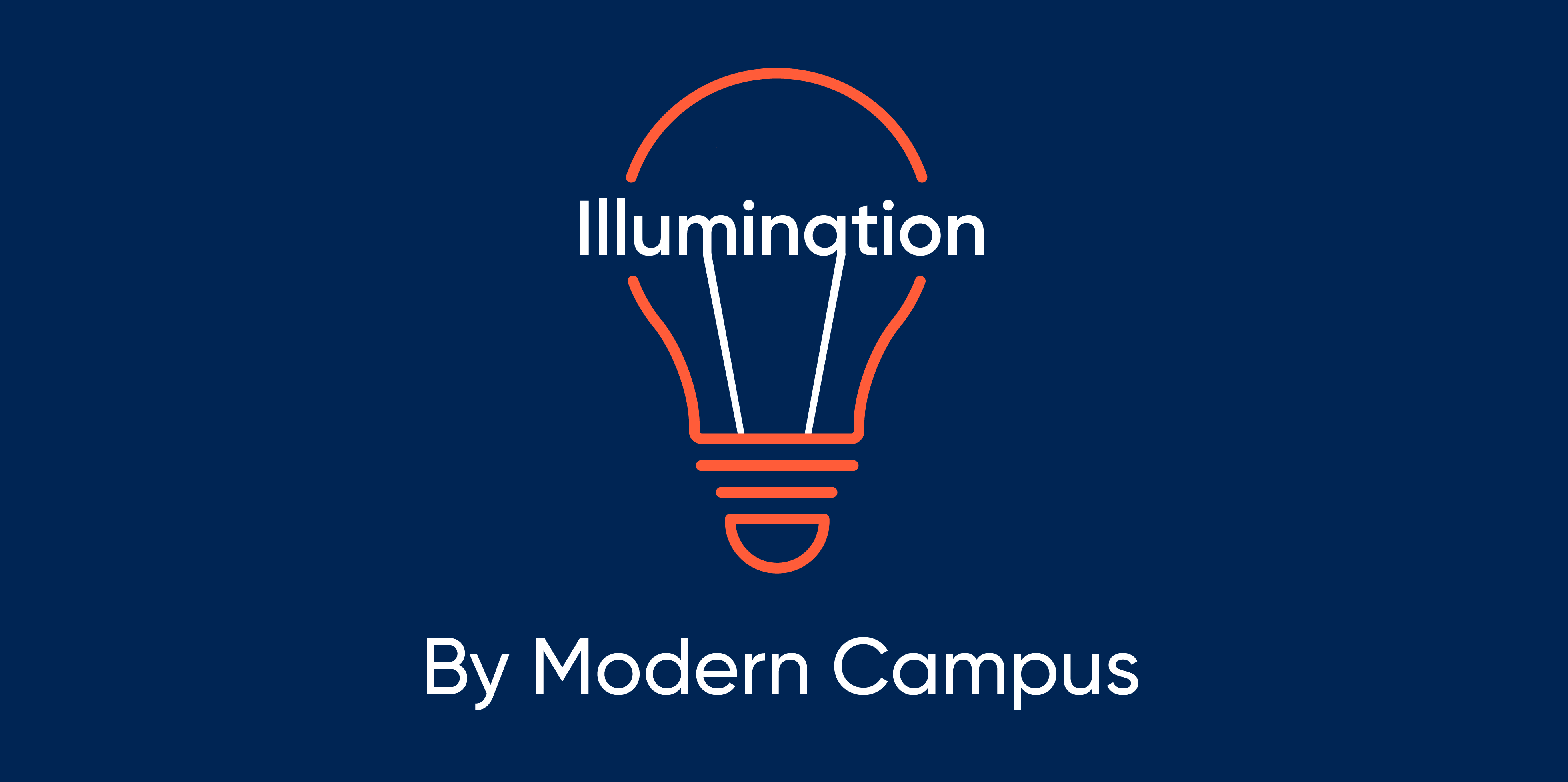 The traditional ways of attracting and enrolling students have been slowly evolving overtime…and then, the pandemic hit.
From this disruption, two divergent schools of thought have emerged regarding the impact on enrollment management process. One belief is that the pandemic has introduced a new approach to learner engagement. But other experts say that slow-moving trends have merely been accelerated.
In the twenty-first episode of Illumination by Modern Campus, Kasey Urquidez, Vice President for Enrollment Management and Dean of Undergraduate Admission at University of Arizona, expressed her view that both analyses are actually true. Higher education is experiencing a mix of trends, both of which yield benefits.
"We were able to provide access to students who maybe had never had that access to the university of Arizona before," she said.
Unexpected challenges gave institutions the opportunity to reevaluate their approaches, prompting them to improve their messaging and ways of reaching out to prospective students and families.
As Urquidez points out, old ways of thinking aren't the way to move forward.
"We always felt if the student doesn't come to campus and feel themselves here, they can't pick us…we proved that wrong," she said.
To create a sense of belonging in the digital world is all about connection.
"It's about communication and that personalized approach—to have excellent customer service in a digital world," Urquidez said.
This change doesn't require starting from scratch. In fact, it's about taking pride in the work you've previously done and ramping it up a notch.
In today's ecommerce world, it means adapting to learning expectations by designing personalized experiences.
"We've created specific content for students based on what they told us they wanted," Urquidez said.
Today's most successful businesses embrace personalization. UberEats, for example, creates menus for customers based on their purchases. Similarly, students want specific recommendations when it comes to their learning experiences.
Higher ed needs to adapt to today's ecommerce standards. And it's not always easy.
"It's a huge amount of work for staff," Urquidez said.
Staff are tired, and the work isn't slowing down any time soon. What's needed are the right systems in place to automate some of the mundane administrative tasks and create staff efficiencies.
And efficiency means delivering on these learner expectations.
"You can have the technology but we have to make good use of it," Urquidez said, "We have to ensure the learner experience is actually happening once they get here."
Students, and their families, want to find the information they need in a matter of clicks. Otherwise, they won't stick around.
As colleges and universities adjust to increasing digital demands, they've still been slow to adapt their curriculums. Urquidez argues institutions need to start earlier and provide options to prospective students.
"They want to have the full campus experience without the in-person class experience," she said.
Institutions need to listen to the market and be as responsive and agile as possible, which will necessitate some cultural changes.
"There's a lot that we still need to work on related to culture, in helping to evolve campuses with these new student desires, needs and expectations," Urquidez said.
Realigning the work of enrollment management to outreach to prospective students earlier—and continuing to engage with students at every stage of their career journeys— will motivate learners to stay enrolled.
"It's about helping families understand the investment and what the return on investment will look like for their students," Urquidez said, "Making sure that we are having those personal connections."
Full Episode
The EvoLLLution and Modern Campus are excited to be a part of Feedspot's Best 50 Higher Education Podcasts. To see the full list, click here.
---
Student Experience Website Personalization
Last updated: November 23, 2021