"
Signal Vine is really easy to use. It looks like my email inbox. Customer Success gets back to me within minutes so I have support when I need it. That makes me feel confident and comfortable.
Karen SernaDirector of the Student Money Management Office

About The Austin Community College District
43,000+

for-credit students
100+
degree & certificate programs
Implementation
The Student Money Management launched a texting pilot program with Modern Campus Signal Vine in December 2016. The goal is to help students better budget their money throughout the semester.
Staff use Signal Vine's text messaging platform to send targeted text messages to first-time students. Texts remind learners about financial aid deadlines, upcoming workshops and tips on money management. Staff feedback is an important driver of the content for the program's weekly text message. Though the initial calendar of text messages is developed at the beginning of each semester, it is continually revised as staff learn what tactics work best.
Results
In summer 2018, ACC found that first-time students who were a part of the texting intervention were 13 percentage points more likely to enroll in the fall of their second year than students who were not a part of the texting intervention.
The effects were even stronger among part-time students, who average a 46% persistence rate compared to a 56% persistence rate of full-time students. ACC found that part-time students who received texts were not only 15 percentage points more likely to persist than other part-time students who did not receive texts, but these students even persisted at higher rates than full-time students who did not receive texts.
---
Discover additional ways you can use text messaging to connect students with campus resources, extend staff resources and boost retention—and how doing so fits into the entire learner journey—in our free guide: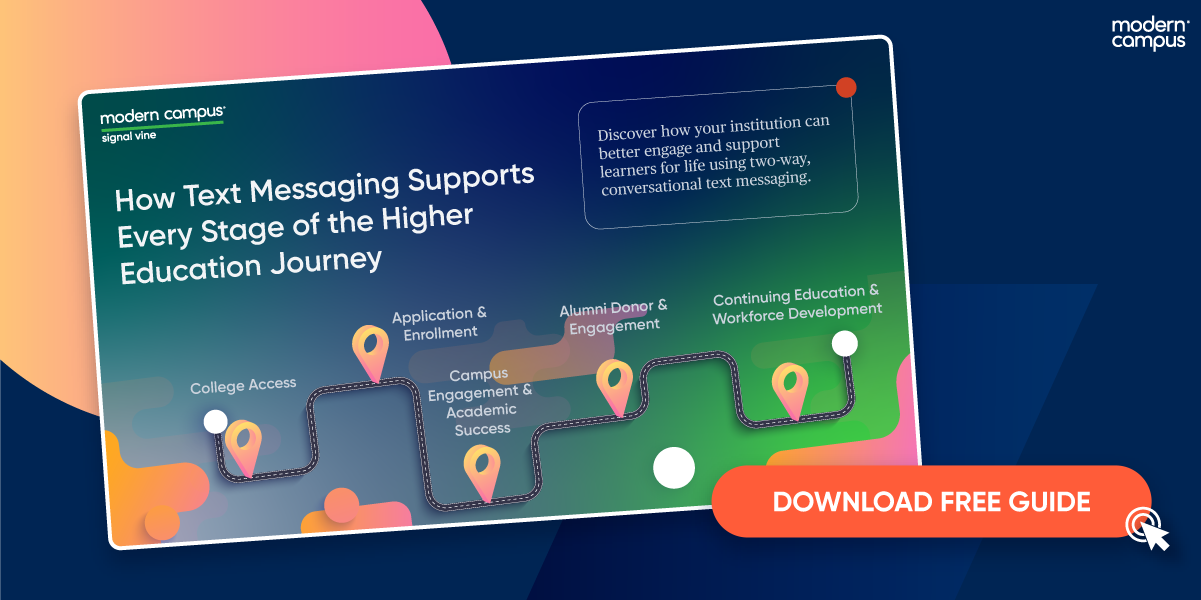 ---

Related Case Studies

How a public college leveraged Modern Campus Signal Vine to re-enroll 46 otherwise-unresponsive students

How undergraduate academic advisors use Modern Campus Signal Vine to drive student success

How a college access non-profit leverages Modern Campus Signal Vine to increase matriculation
About Modern Campus
Modern Campus is obsessed with empowering its 1,200+ higher education customers to thrive when radical transformation is required to respond to lower student enrollments and revenue, rising costs, crushing student debt and even school closures.
Powered by Omni CMS, DIGARC, Presence, Signal Vine and Destiny One, the Modern Campus modern learner engagement platform enables innovative institutions to create a "learner to earner" lifecycle that engages modern learners for life.
Delivering massive personalization, AI-driven recommendations and a modern e-commerce engine, Modern Campus creates a student-first digital experience and removes silos across campus. Presidents and provosts, marketing and IT teams, admissions, registrars, student affairs and CE divisions can partner to attract, enroll, empower, retain, credential and re-engage students with pathways for lifelong learning.
Learn how Modern Campus is leading the modern learner engagement movement at moderncampus.com and follow us on LinkedIn.