"
I love Signal Vine because most of my students are a lot more comfortable texting me than actually talking to me. It allows me to respond to them more quickly and easily than I otherwise could.
Brigham Young University peer mentor
About

Brigham Young University
31,000+

undergraduate students
190+
undergraduate majors
90%
first-year retention rate
Challenges
Before BYU started using Modern Campus Signal Vine, first-year students frequently missed important information to aid in their transition to college. The peer mentorship program was designed to solve this communication gap, but mentors struggled to reach their mentees via email and phone call.Peer mentors eventually tried texting from their personal cell phone, but — even though mentees frequently replied — First-Year Experience staff realized that personal texting wasn't an effective long-term strategy because of challenges with:
Time Management: Texting from their personal cell phones meant that peer mentors were on call around the clock.
Oversight: Staff had no way of knowing if and when peer mentors were sending text messages to students.
Privacy & Security: Communications were spread across hundreds of personal devices instead of one central system.
They needed a superior solution.
Implementation
BYU implemented Signal Vine in 2015. Each semester, First-Year Experience staff work closely with a team of select peer mentors to create a calendar of text messages. The purpose of these text messages are to remind students of upcoming deadlines and prompt them to take timely action on required tasks.
Every peer mentor has an account on Signal Vine with access to their mentee caseload. When a scheduled text message is sent out, mentors log in to the platform during their assigned office hours to provide one-on-one support to first-year students.
The peer mentoring program now has the oversight it needs without sacrificing personal touch.
Results
Through texting powered by Signal Vine, first-year students communicate more frequently with their mentors and report stronger relationships. Students ask more questions in text messages than they previously did in emails or phone calls, which helps mentors provide more meaningful guidance.
Top wins include:
Increased Engagement: First-year students communicate more frequently with peer mentors using Signal Vine.
Stronger Relationships: Students report stronger relationships with their peer mentors than ever before.
Better First-Year Experience: First-year students see more value in the mentoring relationship when using Signal Vine.
---
Discover additional ways you can use text messaging to connect students with campus resources, extend limited staff resources and boost retention—and how doing so fits into the entire learner journey—in our free guide: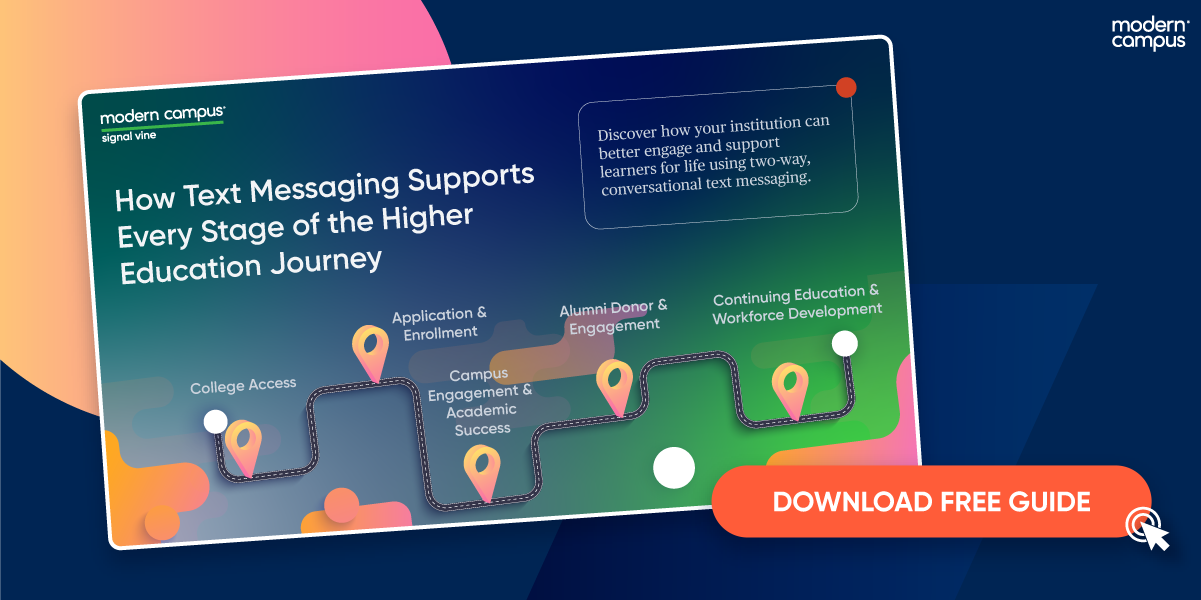 Related Case Studies

How a large, public university leverages Modern Campus Signal Vine to strengthen relationships between advisors and students

How a large, public university leverages Modern Campus Signal Vine to support retention and the First-Year Experience

How undergraduate academic advisors use Modern Campus Signal Vine to drive student success

Connect with your students, prospects, and alumni at each stage of their educational journey.

Explore the leading texting platform for higher education.
About Modern Campus
Modern Campus

is obsessed with empowering its nearly 2,000 higher education customers to thrive when radical transformation is required to respond to lower student enrollments and revenue, rising costs, crushing student debt, and administrative complexity.
The

Modern Campus engagement platform

powers solutions for non-traditional student management, web content management, catalog and curriculum management, student engagement and development, conversational text messaging, career pathways, and campus maps and virtual tours. The result: innovative institutions can create a learner-to-earner lifecycle that engages modern learners for life, while providing modern administrators with the tools needed to streamline workflows and drive high efficiency.
Learn how Modern Campus is leading the modern learner engagement movement at

moderncampus.com

and follow us on LinkedIn.