About Cornish College of the Arts
78.8%
residential students
"

With Presence, we finally have a clear picture of what events students are actually going to. There are many things I've long believed to be true about our students—just from talking with them and observing what they're involved in—but I've struggled to get other people to believe. Presence gives us the data to truly know what's happening.

Dr. Brittany D. Henderson

The Challenge

For the Office of Student Life at Cornish College of the Arts, a small student body does not equate to a small workload. The team, led by Dean of Student Affairs Dr. Brittany D. Henderson, is responsible for a wide berth of initiatives, which many other institutions delegate to other departments.

All those tasks mean that engagement processes have to be streamlined or risk getting overlooked.

"

We're doing accommodations and accessibility. We're doing student activities, student government, new student orientation and student conduct. There's a lot to do. Everything for our registered student organizations was paper. It was so difficult to track and help students feel confident in what they were doing and what the processes were.

Dr. Brittany D. Henderson

In searching for a student engagement solution the Office of Student Life needed something user-friendly and intuitive that would encourage widespread use, yet powerful enough to centralize all student opportunities.

Equally important was that the tool not be limited to encouraging event attendance; CCA needed a full-scale co-curricular solution to promote deeper learning outside of the classroom.

"

We've been working hard on institutional learning outcomes and making sure Student Affairs is part of that work. We've got these learning outcomes that are tied to academic programs and disciplines, but we want to incorporate learning outcomes from student affairs experiences as well.

Dr. Brittany D. Henderson

From her conversations with Modern Campus Presence—a team composed of former student affairs professionals and other higher ed insiders—and her research into how other small colleges used Presence to amplify engagement, Dr. Henderson (she/they) knew they had found a winner.

The Solution & Result

Digital processes streamline student organization management and events


Prior to adopting Presence, student organizations were managed by paper processes. Whenever a student wanted to register a new student organization, onboard new leadership or plan an event, they had to stop by the Office of Student Life. Students also frequently flooded the office's email with questions and requests for updates.

"

We needed something that was going to make it easier for students to get what they needed in a timely fashion. Because if they're emailing me for approval for something, that's a lot more emails. If there is a workflow approval in a system, that's a lot easier.

Dr. Brittany D. Henderson

Thankfully, Presence has enabled CCA to say goodbye to paper in favor of digital forms and documents guided by custom workflows. Drag-and-drop technology makes setting up each form shockingly easy, and conditional logic means that students save time by only being prompted to share information applicable to their needs. What's more, the right staff receive the right requests at the right time, eliminating redundancies.

"

Because I can approve their events so much more quickly, we have a lot less frustration. In the past, if a student waited until the Spring to try to register a student organization, it probably would've never gotten off the ground because we would have had a backlog. But now, we can get plenty of things done at any time. I can hit 'approve' and it's almost instantaneous.

Dr. Brittany D. Henderson

Access to robust engagement data guides decision-making

Presence's powerful data analytics dashboard has given CCA its first concrete insights into students' lives outside of the classroom.

"

I'm able to answer for the first time 'Who are the involved students? What is their profile? How involved are commuter students versus residential students?'

Dr. Brittany D. Henderson

Knowing these answers is helping the Office of Student Life more intentionally develop goal-focused engagement plans in line with their students' behaviors.

Access to data has also affirmed CCA's ongoing progress. To most of the staff's surprise and delight, tracking engagement by demographics has shown that commuter students are just as involved as their residential peers and that most events garner attendance from students of all years, from First-Years to Seniors.

Dr. Henderson especially appreciates the ease of customizing data searches by timeframes.

"

We use other platforms where changing the dates messes everything up. But with Presence, as I do my monthly, semesterly or end-of-the-year reporting, I can change those dates so easily, and the data updates instantly. It's so, so helpful.

Dr. Brittany D. Henderson

The Future

Within a few semesters, the Office of Student Life plans to build out and unveil Experience pages, a feature beloved by many other Presence customers (such as Georgia Southern University) for boosting co-curricular learning outcomes.

Using intuitive drag-and-drop tools, CCA will design custom pages in their Presence-powered mobile engagement hub for internships, on-campus jobs, leadership roles and other student experiences. Built-in advertising tools will help spread the word and gamification tools will incentivize engagement.

By assigning essential skills and levels to each experience, they'll ensure that Student Affairs is about so much more than free pizza and T-shirts; CCA will connect engagement to learning and help students meet the ever-changing demands of today's top employers.

Dr. Henderson previously assumed that building out co-curricular pathways would be an enormously complex, time-consuming task. But with Presence, they know it'll be entirely doable for their small team.

"

Being able to tell students 'if you do X, Y, and Z, you'll earn this experience and gain these skills, that was something I wasn't ready to start thinking about yet. It just seemed too overwhelming. But with Presence, co-curricular learning is all packaged into one thing. We can phase it in really easily without constantly having to buy new products.

Dr. Brittany Henderson

Cornish College of the Arts's Favorite Features

| | | |
| --- | --- | --- |
| Data on Demand | Streamlined Event Check-In | Centralized Engagement Hub |
| Stop waiting days to process a report. With Presence's powerful analytics dashboard, you can immediately access custom data 24/7, complete with visual reporting to give you a clearer picture of student life. | Use any smartphone, laptop or tablet to swipe, scan or tap your existing student ID cards. Or level up with custom digital IDs linked to students' smartphones. | Store student org descriptions, contact information, leadership details, and more alongside meeting times and locations. Create and manage digital forms, public and private documents, and events and programs—all in one mobile, user-friendly place. |
| Learn more | Learn more | |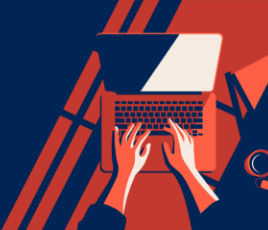 Tackle your biggest challenges
We're looking to topple the ivory tower.
Do you want to see how? Let's talk.
Related Case Studies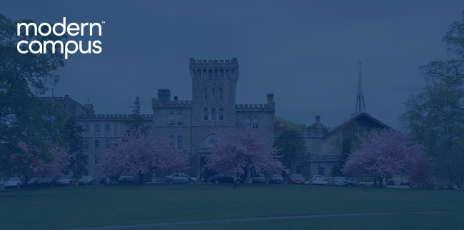 How a small, private college leverages Modern Campus Presence to promote deeper learning, involve more students in campus life and promote workforce readiness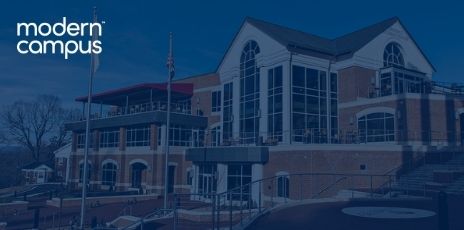 How a small, faith-based university leverages Modern Campus Presence to elevate co-curricular learning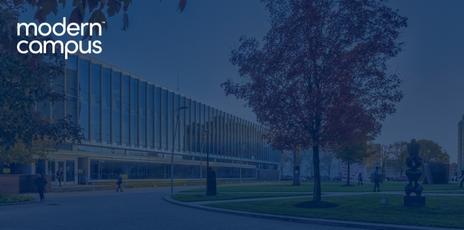 How a small, private art & design college's one-person Engagement team uses Modern Campus Presence to make Student Affairs central to the institution's strategic plan
About Modern Campus
Modern Campus is obsessed with empowering its 1,200+ higher education customers to thrive when radical transformation is required to respond to lower student enrollments and revenue, rising costs, crushing student debt and even school closures.
Powered by Omni CMS, DIGARC, Presence and Destiny One, the Modern Campus modern learner engagement platform enables innovative institutions to create a "learner to earner" lifecycle that engages modern learners for life.
Delivering massive personalization, AI-driven recommendations and a modern e-commerce engine, Modern Campus creates a student-first digital experience and removes silos across campus. Presidents and provosts, marketing and IT teams, admissions, registrars, student affairs and CE divisions can partner to attract, enroll, empower, retain, credential and re-engage students with pathways for lifelong learning.
Learn how Modern Campus is leading the modern learner engagement movement at moderncampus.com and follow us on LinkedIn.