About

Dakota Wesleyan University
43%
alumni residing outside of South Dakota
Challenges
Previously, DWU staff relied on phone calls and emails to reach out to alumni and donors. But, in recent years, response rates were far from optimal; alumni and donors rarely answered their phones nor took action based off of email campaigns.
To meet their alumni engagement and annual giving goals, staff knew they needed to make a change. They needed to reach alumni via their preferred communication method: texting.
Implementation
Upon adopting Modern Campus Signal Vine as their two-way conversational text messaging solution, DWU staff texted a group of 3,500 alumni—in addition to all other donors from the past 10 years. Messages centered around upcoming alumni gatherings, including homecoming, and DWU's annual Day of Giving.
Hundreds of text recipients responded within 24 hours (many within mere minutes). All told, DWU saw a tremendous increase in alumni and donor engagement, especially among young alumni who responded in record number.
---
Discover additional ways you can use text messaging to connect with alumni—and how doing so fits into the entire learner journey—in our free guide: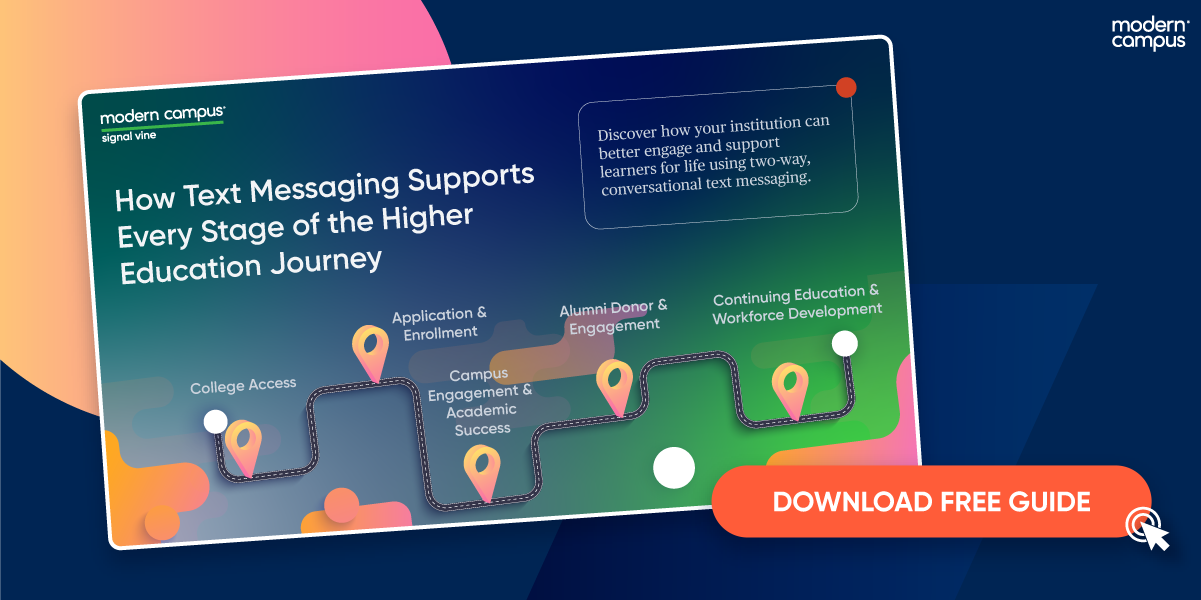 Related Case Studies
How a large, public university leverages text messaging powered by Modern Campus Signal Vine to engage learners for life

How a large, public university leverages Modern Campus Signal Vine to support retention and the First-Year Experience

How undergraduate academic advisors use Modern Campus Signal Vine to drive student success
About Modern Campus
Modern Campus

is obsessed with empowering its nearly 2,000 higher education customers to thrive when radical transformation is required to respond to lower student enrollments and revenue, rising costs, crushing student debt, and administrative complexity.
The

Modern Campus engagement platform

powers solutions for non-traditional student management, web content management, catalog and curriculum management, student engagement and development, conversational text messaging, career pathways, and campus maps and virtual tours. The result: innovative institutions can create a learner-to-earner lifecycle that engages modern learners for life, while providing modern administrators with the tools needed to streamline workflows and drive high efficiency.
Learn how Modern Campus is leading the modern learner engagement movement at

moderncampus.com

and follow us on LinkedIn.