DC Prep is a network of six public charter schools, educating more than 2,100 students from preschool through eighth grade throughout Washington D.C. The network's mission is to increase the number of students from underserved communities with the academic preparation and personal character to succeed in competitive high schools and colleges.

DC Prep's alumni support program, PrepNext, supports alumni for 10 years beyond graduation—from high school to higher education and career. Currently, PrepNext supports more than 700 alumni.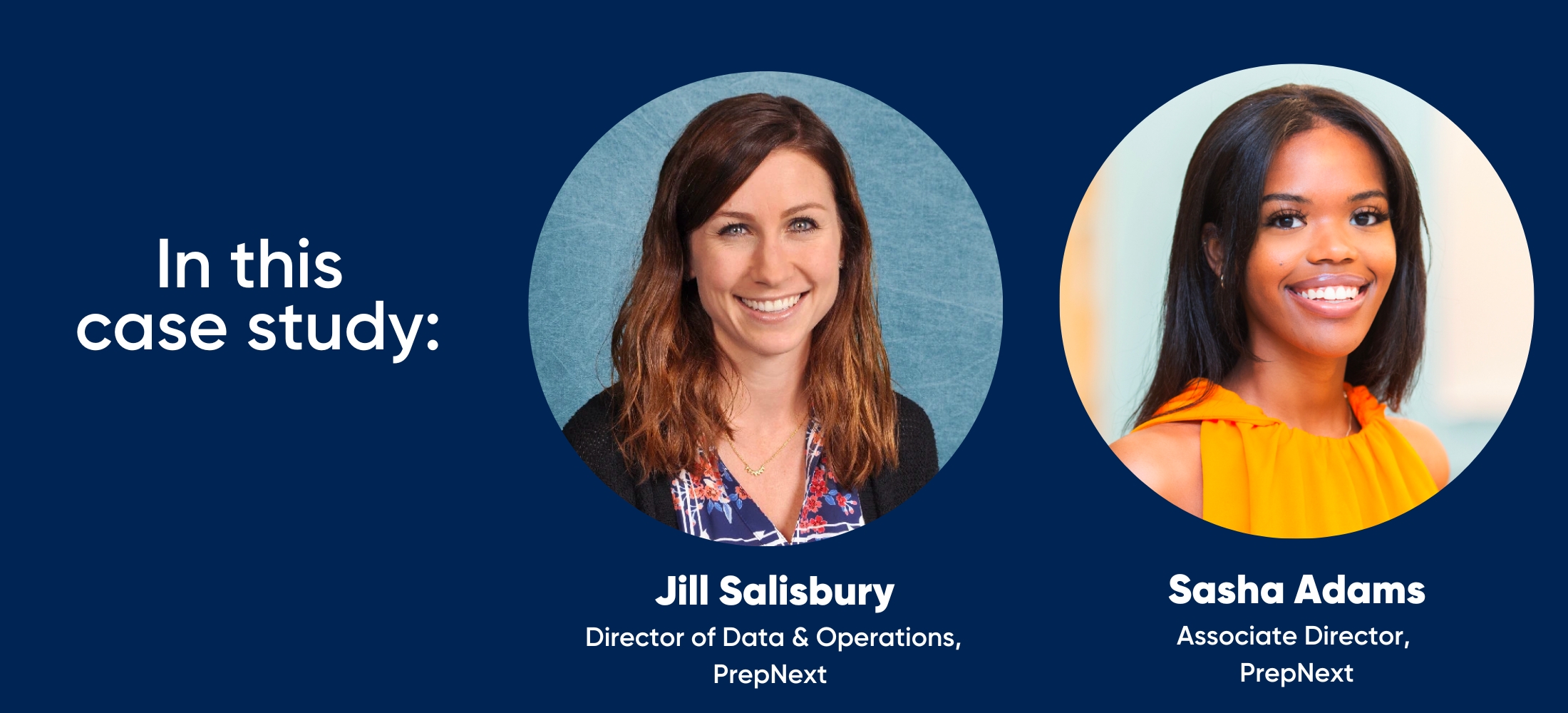 "
Even though we've had Signal Vine for years, still every time I use it, I'm so grateful that I'm no longer copying and pasting individual texts to dozens of students from my phone. It really allows us to move the needle and communicate on a range of topics aligned with student needs and our goals.
Jill Salisbury
How PrepNext Engages Students & Parents with Signal Vine
Personalized Messages Involve Parents in Advising Conversations
PrepNext parents are deeply invested in their students' education and committed to supporting their children's success through high school and college. Yet, between work, childcare and other responsibilities, their schedules can be unpredictable and their preferred communication methods vary.
Thankfully, the ease and clarity of texting have resonated with parents.
"
There are so many factors that go into engaging with parents and making sure that we're able to have touchpoints with them. But Signal Vine helps us meet parents where they are. A lot of parents are really grateful to hear from us, to keep them reminded of things that are relevant to their students, and to have the opportunity to connect with us at a day and time that works well for them."
Sasha Adams

Two-way texting provides a gentle, personalized way to prepare students for college
In order for high school students to successfully transition into higher education, they need to complete many steps and learn essential lingo. Students must research their program options, prepare and submit their application materials, develop a payment plan, sign up for orientation and more.
Yet, students don't want to feel bombarded with tasks or overwhelmed by complex information.
Conversational text messaging allows PrepNext to achieve the perfect balance; they can gently nudge students along the right path, keeping learners engaged, without nagging.
Salisbury and her team designed a four-month campaign aimed at educating 11th graders on their options for standardized testing, college applications, financial aid and more. PrepNext staff can review previous text conversations at any time, enabling them to better customize each new message and help students—and their families—research and apply to colleges in a way that fits each learner best.
"
It's a great, low-stress way to connect with students on major touchpoints. By meeting students on the smartphones that they already use all day, we can make a difference as they embark in the summer on building a college list that's tailored to them.
Jill Salisbury
Automated responses allow for quick and reliable support, even with limited staff
PrepNext faces a daunting task: build and maintain relationships with hundreds of busy students who live throughout D.C. Responding quickly to every student's question or concern would be virtually impossible—if not for Signal Vine's automated campaigns.
Here's how it works: The PrepNext team schedules outbound text messages that include questions designed to find out critical information about the recipient. For example, does the student plan to enroll in college after graduating high school or are their sights set on obtaining a full-time job? Have they signed up to take the SATs? Have they completed FAFSA?
The team also drafts the responses that Signal Vine will then automatically send out as a reply, based on the student's response.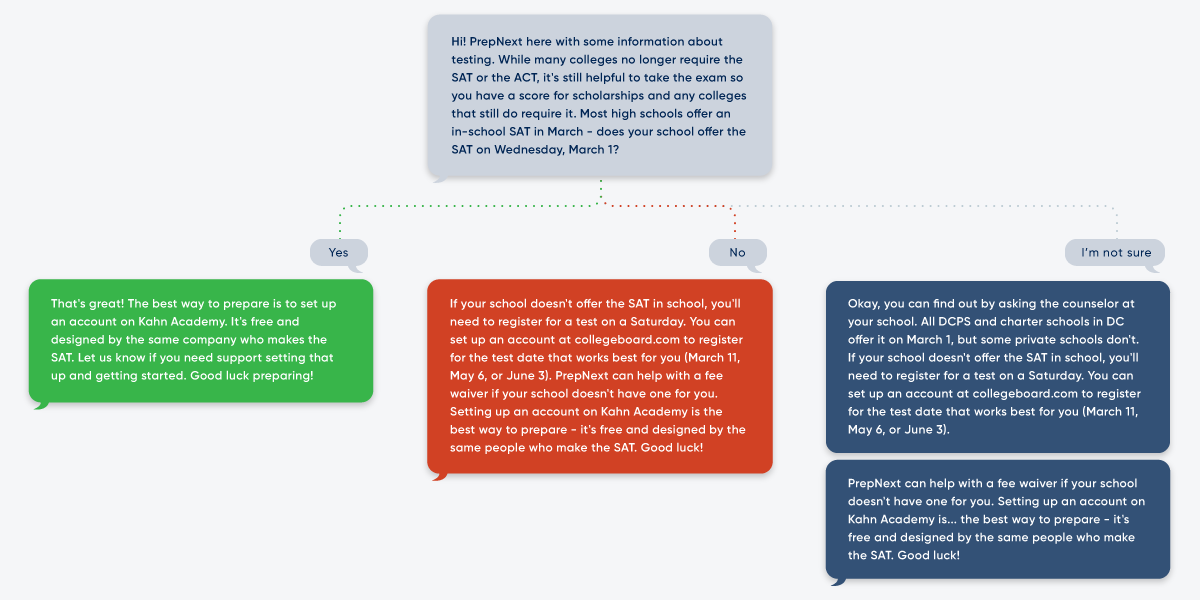 The results? Students and parents get quick answers, and staff save time by focusing on who needs support, rather than browsing messages that don't need a response.
"
We're a small and nimble team. We have one counselor for about every 120 students. Automated responses ensure that students are getting quick feedback and answers when our counselors might otherwise not be able to respond right away. It's been extremely helpful in helping us reach and serve our students.
Jill Salisbury
---

Discover additional ways you can use text messaging to connect with parents and families, extend limited staff resources and set students up for higher ed success in our free guide:

DC Prep's Favorite Signal Vine Features

| | | |
| --- | --- | --- |
| | | |
| For institutions utilizing Salesforce, Signal Vine Messaging enables messages to be sent directly from the Salesforce interface and for Salesforce fields to be automatically updated based on student responses to Signal Vine messages. | Integrate your CRM or SIS data to easily segment your audiences and build targeted communications. Your message will always reach the right people, at the right time. | Plan your texts and watch them work their magic. Pre-schedule everyday communications, schedule automatic responses, coordinate campaigns and avoid sending recipients too many messages at once. |

How a college access non-profit leverages Modern Campus Signal Vine to reduce Summer Melt

How a federal grant program leverages Modern Campus Signal Vine to reduce Summer Melt and connect with its hardest-to-reach audience: parents and guardians

How a college access organization uses Modern Campus Signal Vine two-way text messaging to connect with more high school students and boost scholarship attainment

Connect with your students, prospects, and alumni at each stage of their educational journey.

Explore the leading texting platform for higher education.
About Modern Campus
Modern Campus

is obsessed with empowering its nearly 2,000 higher education customers to thrive when radical transformation is required to respond to lower student enrollments and revenue, rising costs, crushing student debt, and administrative complexity.
The

Modern Campus engagement platform

powers solutions for non-traditional student management, web content management, catalog and curriculum management, student engagement and development, conversational text messaging, career pathways, and campus maps and virtual tours. The result: innovative institutions can create a learner-to-earner lifecycle that engages modern learners for life, while providing modern administrators with the tools needed to streamline workflows and drive high efficiency.
Learn how Modern Campus is leading the modern learner engagement movement at

moderncampus.com

and follow us on LinkedIn.