"
Signal Vine has proven to be a quick, easy way to reach out to our students and receive timely responses.
Ashley PotterPrograms Manager, the Ford Family Foundation's Department of Postsecondary Success
About

The Ford Family Foundation
The Ford Family Foundation is a private, non-profit foundation with headquarters in Roseburg, Oregon. The Foundation makes grants to public charities and agencies predominantly benefiting communities in rural Oregon and Siskiyou County, California.
In addition, the Foundation designs, manages and funds programs that aim to improve the wellbeing of children, families and communities in the region, including a scholarship program for college and university students.
Challenges
The Foundation found that many of their emails about scholarship opportunities and renewals were going to spam. This was particularly true for emails sent to university email addresses with strict spam filters.
As such, getting in touch with students took a long time. Often, students didn't notice and respond to email messages or phone calls for several days — which was far too slow for time-sensitive information, including scholarship deadlines. The Foundation needed a better, more modern way to reach today's learners.
Results
The Ford Family Foundation found the perfect solution in Modern Campus Signal Vine two-way conversational text messaging. Text messages always go through to students, never get caught in spam filters, and encourage quicker responses than emails or phone calls. Instead of waiting several days for students to respond, Foundation staff now hear back in mere minutes!
Students frequently tell staff how much they appreciate being able to communicate via texting. It's quick, easy and fits their lifestyles.
Now, the Foundation can connect more students with scholarship and renewal opportunities, without stress or delay!
---
Discover additional ways you can use text messaging to connect with parents and families, extend limited staff resources and set students up for higher ed success in our free guide: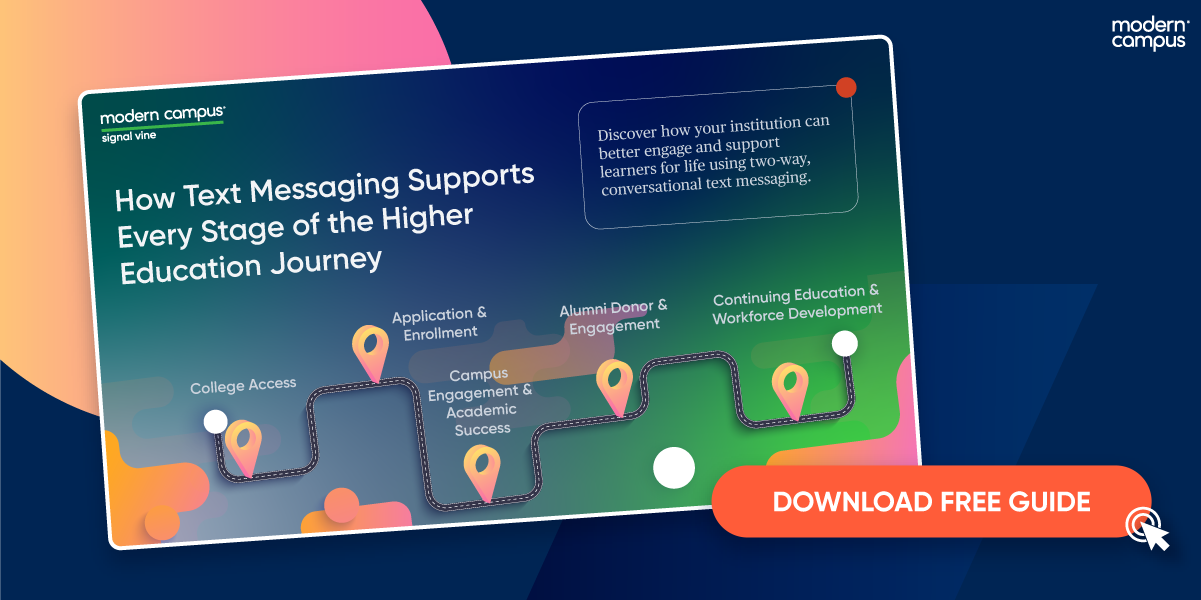 Related Case Studies

How a college access non-profit leverages Modern Campus Signal Vine to reduce Summer Melt

How a college access non-profit leverages Modern Campus Signal Vine to increase matriculation

How undergraduate academic advisors use Modern Campus Signal Vine to drive student success
About Modern Campus
Modern Campus

is obsessed with empowering its nearly 2,000 higher education customers to thrive when radical transformation is required to respond to lower student enrollments and revenue, rising costs, crushing student debt, and administrative complexity.
The

Modern Campus engagement platform

powers solutions for non-traditional student management, web content management, catalog and curriculum management, student engagement and development, conversational text messaging, career pathways, and campus maps and virtual tours. The result: innovative institutions can create a learner-to-earner lifecycle that engages modern learners for life, while providing modern administrators with the tools needed to streamline workflows and drive high efficiency.
Learn how Modern Campus is leading the modern learner engagement movement at

moderncampus.com

and follow us on LinkedIn.