About the Georgetown University McDonough School of Business
1,200+
undergraduate students
8
undergraduate academic majors among two degree programs
"

Texting works. It's another way for us to let students know that we care and are thinking about them. Whether it is reminding them about their upcoming appointments, helping them decide which classes to take, or simply checking-in—It's a great supplement to our other communication tools.

Nick Russo
The Challenge
Georgetown's McDonough School of Business has long prided itself on its world-class reputation. Students enroll with the expectation that they'll receive highly personalized support, propelling them to excel inside and outside of the classroom.
But emails weren't resonating with today's modern learners, and as a result, essential information was frequently ignored. Students literally weren't receiving the messages they needed to guide their success.
"
Students are overwhelmed with the amount of information that hits their inboxes, and we needed a way to really push degree-critical information—things that require students to take action that are key to their success.
Lauren Wagoner
The Solution & Result
Georgetown's McDonough School of Business realized that texting could be a great alternative strategy for capturing students' attention. But making their text messages personal and tailored to the needs of hundreds of unique learners, seemed much harder.

Fortunately, Modern Campus Signal Vine brought those worries to an end. With the platform's patented Blended Messaging® approach, the Undergraduate Program Office has sent thousands of targeted messages to segmented populations and engaged in one-on-one conversations with the vast majority of students.

The student feedback has been clear and instant, as text recipients frequently respond to Signal Vine with words of gratitude and celebratory emojis. Opt-out rates have also been extremely minimal.

Beyond the specific information students receive via texts—such as course registration deadlines, add/drop dates and in-person advising session reminders—the communication shift sends a wider message: we care about you. Students know that the staff are invested in each learner as an unique individual and will be readily available through the student's phone throughout every step of the academic journey.

"

We're very relational at Georgetown. However, technology can be thought of as incredibly impersonal and cold. By using Signal Vine, we have a communication tool that still feels personable while creating meaningful connections with students. Honestly, it blows people's minds when we tell them this. It's not just one more piece of technology you have to manage; it's a necessary tool for student success.

Justin C. Smith

The McDonough School of Business' Favorite Features
| | | |
| --- | --- | --- |
| Text Scheduling | Personalization | Multimedia Messaging |
| By planning out texts for the entire semester, you can strike the perfect balance of engaging students without over-texting. | Pull in relevant student data, such as each learner's preferred name, advisor's name and class year. By sending messages that are tailored to each student, you can limit opt-out rates and improve response rates. | Take your texts to the next level—with images, videos, links and even GIFs. However you want to get your message out, we have the tools to do it. |
| Learn more | Learn more | |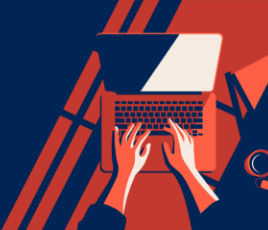 Tackle your biggest challenges
We're looking to topple the ivory tower.
Do you want to see how? Let's talk.
About Modern Campus
Modern Campus is obsessed with empowering its 1,200+ higher education customers to thrive when radical transformation is required to respond to lower student enrollments and revenue, rising costs, crushing student debt and even school closures.
Powered by Omni CMS, DIGARC, Presence, Signal Vine and Destiny One, the Modern Campus modern learner engagement platform enables innovative institutions to create a "learner to earner" lifecycle that engages modern learners for life.
Delivering massive personalization, AI-driven recommendations and a modern e-commerce engine, Modern Campus creates a student-first digital experience and removes silos across campus. Presidents and provosts, marketing and IT teams, admissions, registrars, student affairs and CE divisions can partner to attract, enroll, empower, retain, credential and re-engage students with pathways for lifelong learning.
Learn how Modern Campus is leading the modern learner engagement movement at moderncampus.com and follow us on LinkedIn.