"
Signal Vine has partnered with Missouri State University each step of the way as we develop and test different communication strategies. They provide the tools and the support to help us reach our student success goals.
Dr. Kelly WoodAssociate Provost for Student Success

About Missouri State University
Challenges

Students with low GPAs were at high-risk of stopping out, and email was ineffective at reaching these learners.

Missouri State University students were often no-shows to their appointments with academic advisors. Staff also found that students with a 2.5 GPA or lower were more likely to stop out.
The Student Success team first tried solving both of these challenges through email outreach; they emailed students appointment reminders and offered academic support services. But the intervention largely failed. Students rarely responded or answered emailed calls-to-action.
Fortunately, Dr. Kelly Wood, now Associate Provost for Student Success, along with her colleagues in enrollment heard about nudging. They read the research that proved that nudges sent through texts can inspire students to take action. With this research in tow, Dr. Wood and a small staff team turned to Modern Campus Signal Vine to help achieve student success with texting.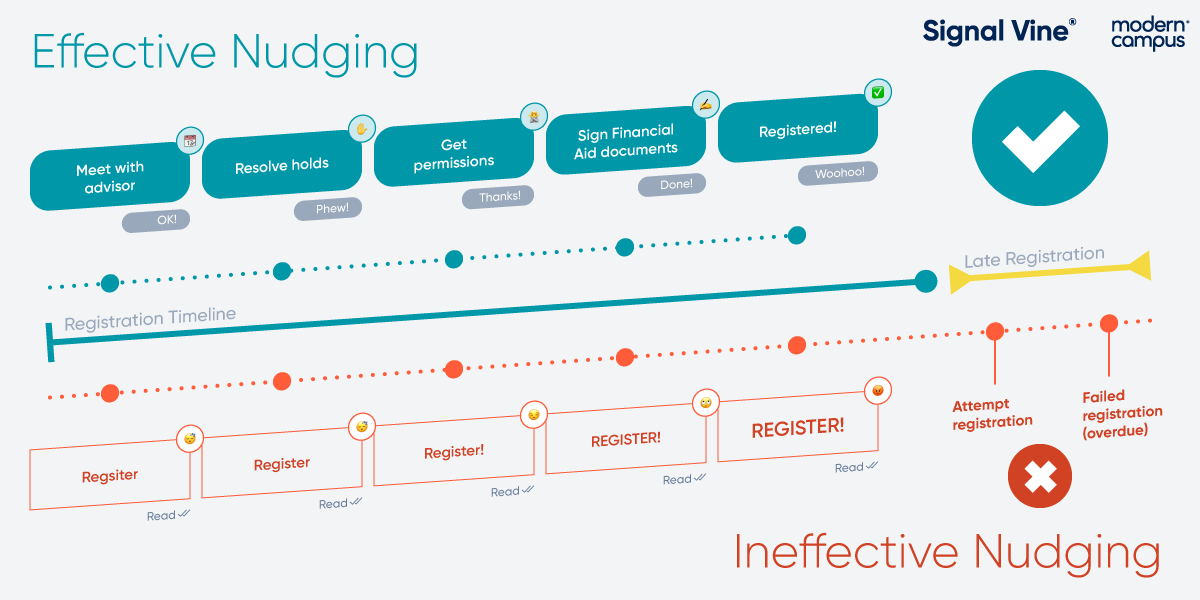 Implementation & Results
By being able to segment and target the right students with the right message at the right time through Signal Vine, MSU helps keep learners on the right path toward graduation.
Dr. Wood collaborated with staff from each advising program, the registrar's office, the office of financial aid and Student Success to launch MSU's texting intervention powered by Signal Vine. They sent their very first text to students on May 16, 2018—the last day of finals.
One of the first intervension involved intersession—2-week courses held between semesters. Staff noticed that many students who registered for an intersession course would forget all about it and, thus, be billed for a class they didn't take. The registrar's office texted reminders to students who registered for an intersession class to attend. The texts also offered to help students drop the class if desired. As a result of this outreach, fewer students dropped their intersession classes, there were fewer appeals and, overall, the registrar's office had to deal with significantly fewer concerns related to intersession than they were used to.
Staff also using texting to put students with lower GPAs in touch with academic advisors who could help students stay enrolled. As a result, MSU boosted fall-to-fall retention by one percentage point during the first year of texting. In other words, texting saved 32 students from stopping out.
Related Case Studies

How a public college leveraged Modern Campus Signal Vine to re-enroll 46 otherwise-unresponsive students

How undergraduate academic advisors use Modern Campus Signal Vine to drive student success

How a college access non-profit leverages Modern Campus Signal Vine to increase matriculation

Connect with your students, prospects, and alumni at each stage of their educational journey.

Explore the leading texting platform for higher education.
About Modern Campus
Modern Campus

is obsessed with empowering its nearly 2,000 higher education customers to thrive when radical transformation is required to respond to lower student enrollments and revenue, rising costs, crushing student debt, and administrative complexity.
The

Modern Campus engagement platform

powers solutions for non-traditional student management, web content management, catalog and curriculum management, student engagement and development, conversational text messaging, career pathways, and campus maps and virtual tours. The result: innovative institutions can create a learner-to-earner lifecycle that engages modern learners for life, while providing modern administrators with the tools needed to streamline workflows and drive high efficiency.
Learn how Modern Campus is leading the modern learner engagement movement at

moderncampus.com

and follow us on LinkedIn.