How the Chang School at Toronto Metropolitan University is Leveraging Destiny One
About Toronto Metropolitan University
Toronto Metropolitan University—located in the heart of Toronto, Canada—is a vibrant university focused on delivering flexible, outcomes-oriented programming in Canada's financial capital. The Chang School of Continuing Education delivers the university's vision and programming to non-traditional, adult and online learners, processing between 65,000-70,000 course enrollments per year across about 26,500 learners.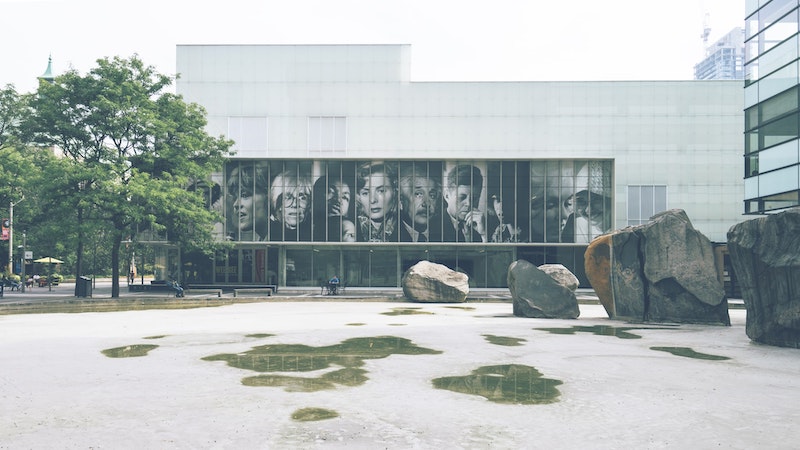 .
In 2019, they went live with the Destiny One student management system and saw immediate results. By delivering an improved customer experience they enjoyed immediate enrollment growth. And by taking advantage of the system's flexibility and efficiencies, they were able to rapidly respond to the global coronavirus crisis and grow their business while other postsecondary institutions were experiencing declining revenue.
"One amazing outcome Destiny One has assisted us with is that we've surpassed our total enrollment in spring and summer session that we had last year with only online courses," said Gary Hepburn, Dean of the Chang School at Toronto Metropolitan University. "Despite losing 60% of our business a little over a month ago because of COVID-19, we've gained it all back. In fact, we think we're going to exceed our business from last year."
Table of Contents
A Modern Customer Experience is Essential for a Modern University
The Chang School of Continuing Education at Toronto Metropolitan University was a modern division serving flexible programming to modern customers, but they were using a system that was woefully out of date.
Despite programming and staff that could adapt rapidly to changing market conditions, their system delivered an experience that was slow and required significant manual effort. And according to Fred Anger, Executive Director of Financial Planning and Strategy for the Chang School, this was impacting performance.
"Before we brought in Destiny One, students sometimes had to wait two or three days to register," he said. "We analyzed this process and found that we were losing a significant number of enrollments because of the wait time for learners. Creating a faster registration process was a key success factor."
Delivering that modern customer experience relies on a few factors. Serena Wong, Manager of Business Systems at the Chang School, outlined accurate communications, mobile-friendliness, accessibility-compliance, student-centricity and an Amazon-like experience as central characteristics to a great student experience.
"
Nothing could compete with the Destiny One product. Not only does it deliver the Amazon experience and seamlessness we were looking for, but it has a range of different modules and integrations with products like Tableau and Salesforce.
Fred AngerExecutive Director of Financial Planning and Strategy for the Chang School, Toronto Metropolitan University
"Our students were very frustrated with our old website. We had a lot of repetitive information and things that were out of date," Wong said. "In the past, we've had experiences of staff spending hours with prospective students helping to walk them through the registration process."
Modern learners look for a modern customer experience, and universities that want to compete and grow need to deliver on those expectations.
"Non-traditional learners' primary experience is the world outside," said Gary Hepburn, Dean of the Chang School. "They've visited Amazon-like websites and have experience online shopping so they're accustomed to a smooth user experience."
To meet those expectations, the Chang School is leveraging the Destiny One, the student lifecycle management (SLM) system crafted for higher education administrators serving non-traditional students.
Destiny One, the SaaS platform from Modern Campus, manages all aspects of the learner lifecycle. It allows higher education leaders who serve non-traditional students to unite, understand, and control all aspects of their business at once. Destiny One integrates with main-campus systems, engages students with an Amazon-like experience, optimizes staff efficiency, and provides business intelligence that empowers data-driven decisions.
"In order to make the university accessible, it's important to give non-traditional students an environment where they feel comfortable, that they can navigate themselves, and where they understand what we're asking them to do," said Hepburn. "Not all systems designed for traditional learners offer that experience, so adopting Destiny One has really helped us out."
According to Fred Anger, Destiny One was the clear choice to help the Chang School grow.
"Nothing could compete with the Destiny One product. Not only does it deliver the Amazon experience and seamlessness we were looking for, but it has a range of different modules and integrations with products like Tableau and Salesforce. These are all things that make the product stand out," he said.
A modern continuing education division needs to leverage a system tailor-made to serve non-traditional students and manage non-traditional programming. Modern Campus' experience in this space really helped the Destiny One product stand out at Toronto Metropolitan University.
"At the end of the day, it was a fairly easy decision for us to go with Destiny," said Anger.
Transforming the Enrollment Experience

The first major benefit Toronto Metropolitan University's Chang School gained from their Destiny One SLM system was a modernized customer experience.
"As customers, we're all used to eCommerce. Even in the higher education environment, eCommerce is the only option. We have to make the experience fast and efficient for our customers," Anger said.
"Through our implementation of Destiny One, we've reduced—and in many cases eliminated—wait times," he continued. "A great customer experience relies on us not making people wait. Speed of service is the key today."
"
Through our implementation of Destiny One, we've reduced—and in many cases eliminated—wait times.
Fred AngerExecutive Director of Financial Planning and Strategy for the Chang School, Toronto Metropolitan University
Destiny One delivers a streamlined registration process that allows students to enroll in courses in a way that mirrors their experience buying products online. They can add items to their shopping cart, apply discounts and pay with a credit card.
This modernized experience doesn't just make life easier on digital natives and working professionals who are used to operating in a modern digital environment. It also simplifies the registration process for senior citizens, who sometimes struggle with technology and who—it's generally assumed—prefer a face-to-face experience.
"When we were piloting Destiny One, we had one senior come in and try enrolling for a course using our new system to test its effectiveness before it went live. They were so surprised by how quick and easy it was to register with Destiny One," Wong said.
"We had one staff member who spent three hours with one individual senior helping them enroll using our old website," she continued. "When I contrast that against how easily they enrolled through Destiny One, it provides a really great example of how we used this system to make the student experience better."
By leveraging eCommerce best practices, Destiny One turns divisional websites into enrollment engines. For Toronto Metropolitan University's Chang School, this was immediately impactful on their business because it helped improve the conversion rates of their award-winning marketing team.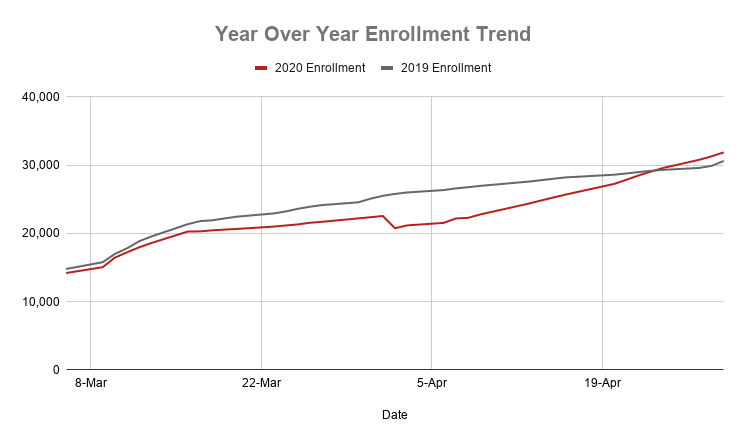 "Our old website wasn't efficient, and our enrollment process was very bad. Even though our marketing was driving people to our site, the conversion rates weren't there and we were losing a lot of potential students," Anger said. "With the adoption of Destiny One and the enhancements we've made, we're really starting to see those conversion rates go way up."
Destiny One's enrollment engine went live in September 2019, and the Toronto Metropolitan University team noticed an immediate impact. According to Fred Anger, the software allowed the Chang School to reverse an ongoing downward enrollment trend.
"Our continuing education student enrollment had been on a steep decline for almost two years. But right after we implemented Destiny One, we achieved a big increase in enrollments, both online and in-classroom. That wouldn't have happened if we hadn't implemented Destiny One," he said.
By implementing Destiny One, the Toronto Metropolitan University Chang School was able to transform their website into an enrollment engine that delivers the modern customer experience students of all ages expect. As a result, they improved conversions and increased their enrollment numbers.
Optimizing the Checkout Experience
Learn how your school can convert more website visits into enrollments.
Delivering Operational Agility
The Toronto Metropolitan University Chang School also improved operational agility and flexibility after implementing the Destiny One SLM.
The Destiny One Content Management System (CMS) simplifies the website editing and updating process immensely. Staff can update content like announcements and marketing information quickly and easily from a central location.
Secondly, Destiny One leverages built-in workflows to facilitate some of the approval processes for new offerings. At the Chang School, it plays a key role in the Academic Year scheduling and planning processes.
Finally, through the built-in CMS, Destiny One ensures your division has a modern web presence with consistent colors and branding, and erases the need for complicated coding.
All this ensures the division is able to respond quickly to change, get new offerings to market quickly, and present a modern web experience that adequately represents the reputation of the university.
"We need to be a unit that can pivot and respond very quickly to different situations," Hepburn said. "The Destiny One product has been a huge help in accomplishing this vision."
Passing the Stress Test: How Modern Campus Helped the Chang School Grow During the COVID-19 Pandemic
In March 2020, the world was shaken by the spread of the novel coronavirus and the COVID-19 illness it caused. The WHO declared a global pandemic and across North America colleges and universities transitioned to remote learning and working environments to comply with social distancing regulations.
For many postsecondary institutions, this shift resulted in immediate dropouts and stop-outs, and translated to significant enrollment loss for spring and summer terms. But at Toronto Metropolitan University's Chang School, they were able to adapt to the crisis and Destiny One played a central role in that effort.
In fact, despite having to change gears quickly and losing nearly 60% of their spring and summer term programs, the Chang School is on-track to exceed their 2019 enrollment numbers in 2020.
In 2019, the Chang School processed 28,000 course enrollments for 15,600 students. In 2020, despite the pandemic, the Chang School is on-track to process over 30,000 course enrollments for 16,000 students.
Moving Online Quickly
"We had to become a different unit almost overnight," said Hepburn. "60% of our summer session went away with the decision to close the campus to help mitigate the spread of COVID-19."
In response, the Chang School team moved quickly to transition as many face-to-face offerings online as possible.
"The first part of our response to the pandemic was to leverage our existing large inventory of online courses to virtualize about 135 of classroom courses for the spring-summer term," Anger recalled. "In the last month we've basically gone from a situation where we didn't think we'd be able to touch our 2019 spring-summer enrollment numbers to a point where we're definitely going to exceed those numbers."
One reason for this is that the Destiny One SLM provided the Chang School team with the tools they needed to transition rapidly.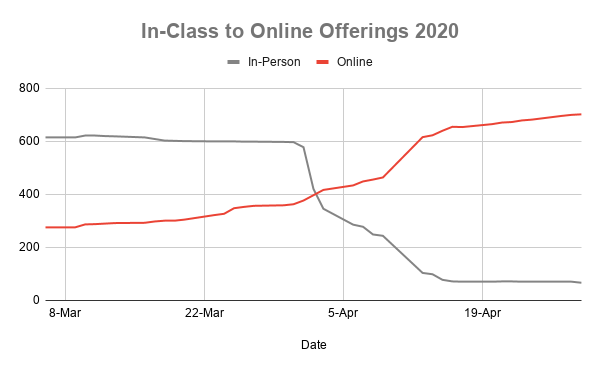 "To support our university and to serve our students, we have to be nimble and agile. We've really had to embody that in response to the coronavirus pandemic and Destiny One went right along with us," said Hepburn.
"We encountered minimal problems as we shifted things rapidly," he added. "Destiny One is right there with us, even as our mission and work evolve into new things."
Updating the Website Rapidly
For any modern college or university, the website serves as an essential tool to communicate to students and stakeholders. During a crisis like the coronavirus pandemic, the importance of a modern and easily-updatable website was even more apparent to the Chang School team.
Fortunately, the simplicity of the Destiny One system and the usability of its CMS ensured the division could execute on a new marketing initiative quickly.
"The flexibility of Destiny One made it easy for us to go in and change our message pretty quickly," Anger said. "We executed a completely new marketing campaign and updated our website rapidly, and it looks fantastic. In the old website, we wouldn't have been able to do that. Now we can pivot quickly when needed. "
"We had to be able to change our marketing and our website to reflect the fact that we're going completely online," Hepburn added. "We found Destiny One wonderful to work with and it helped us do what we needed it to do to react to COVID-19. It was a huge asset when we really needed it to be."

Providing Contextual Support
Finally, the Chang School was able to rely on the team at Modern Campus to provide them contextual support when they needed it.
"The Modern Campus team were really responsive in helping us adapt to the COVID-19 crisis," said Wong, the Chang School's manager of business systems.
"Our Destiny account manager knows our implementation and our integrations intimately, and being able to rely on the Modern Campus team to work with our internal IT teams is so important to enabling us to respond quickly and effectively as things change. Our IT staff at Toronto Metropolitan University are able to jump on calls with our Destiny support team and have very technically complex discussions to come to workable solutions to our business needs."
By providing robust support and maintaining a deep knowledge of the Chang School's use of the Destiny One product, the Modern Campus team helped the division stay on-track to meet their goals during an extremely challenging time.
Leveraging Destiny One as a Platform for Growth
Through the COVID-19 crisis, Destiny One provided the Chang School confidence in its ability to maintain its trajectory of innovation and scalability.
"One thing the university is emphasizing is their desire for the Chang School to expand its online presence. This was a goal prior to the COVID-19 situation, and the pandemic provided us a stress-test to see if we could pull off rapid expansion in this area," said Hepburn. "Not only have we successfully survived the test, we've done it quite well!"
"This means we won't just be serving our traditional, geographic market. Instead, we're preparing to have more of a national and international presence," he added. "The Destiny One system is a key piece of this; it helped us respond to this crisis and it's a key part of our planning for the future."
Part of that planning process relies on the security and scalability of the Destiny One SLM. Destiny One harnesses industry-leading security standards to meet the needs of its growing institutional partners. With up-to-date PCI-DSS and SOC-2 certifications, compliance with all appropriate government and industry standards (including FERPA, FIPPA, GDPR, PA-DSS, and HIPAA) and cybersecurity professionals on staff, Modern Campus proves that it takes information security and privacy very seriously.
"Destiny One will support the work related to scaling our business," said Wong. "For example, making sure we continue to be secure, that we continue to follow all the accessibility standards and keep information up to date. The factors needed to maintain compliance and security can change on a daily basis so this is not a trivial exercise—especially with the cyberattacks universities come under."
According to Hepburn, Toronto Metropolitan University's Chang School for Continuing Education is poised for significant growth. The higher education market is evolving and the demand for programming designed for non-traditional learners is skyrocketing. With Destiny One, the Chang School will be ready.
"We view Destiny One as an asset," he said. "This is a robust system that's going to be able to move with us and support our growth into the future. As we scale, we have many things to worry about. But our system isn't one."
"A product like Destiny One is a big help to a school like Toronto Metropolitan University, because Toronto Metropolitan University has a lot of non-traditional learners," Anger added.
"Destiny One enables us to serve our students in a very flexible way, which is the wave of the future."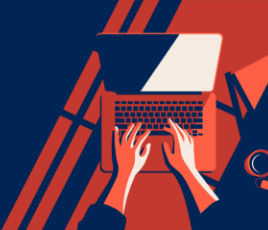 Tackle your biggest challenges
We're looking to topple the ivory tower.
Do you want to see how? Let's talk.