About

UNC Charlotte
65
master's degree programs
75
bachelor's degree programs
"

Acalog and Curriculog have been a huge component in the Graduation Initiative's success. Since the campus-wide rollout, positive reviews have been received from advisers and faculty about the simplicity of catalog production with Acalog and the reduced time course and curriculum proposals take using Curriculog.

Dr. Leslie Zenk
The Challenge
A non-intuitive catalog was frustrating students and concerning faculty
UNC Charlotte's catalog wasn't searchable or optimized for mobile devices, and publication and maintenance were incredibly time intensive. Students and faculty found the experience clunky, frustrating and disappointing. Administrators were concerned about how these processes would negatively affect UNC Charlotte's growth and reputation. As a stakeholder of the Graduation Initiative, Dr. Zenk said meeting the university's goals would require a complete overhaul of its curriculum and catalog management processes.
"
The course catalog was essentially managed and produced in MS Word, then converted to PDF format and finally copied to a web-based version.
Dr. Leslie Zenk
The Solution & Result
A fully digital and easily navigable catalog and curriculum
It was clear UNC Charlotte needed an electronic course approval system and a searchable, easy-to-publish academic catalog optimized for mobile devices and accessibility standards. At first, Dr. Zenk and Registrar, Chris Knauer, considered building the system in-house. But, like most universities, UNC Charlotte's internal information technology services didn't have the staff or time to take on such a project. They needed an expert that could deliver a turn-key solution to suit their needs. So, they turned to the market leader: Modern Campus.
The Modern Campus team worked with the university staff to implement Acalog, a digital, interactive academic catalog solution and Curriculog, a web-based curriculum approval system for programs and courses. With Acalog they were able to standardize the course catalog so students can easily navigate it without downloading unwieldy PDF files. They can search for classes, compare majors and track curriculum requirements to stay on track for graduation. Dr. Zenk said Acalog and Curriculog were key to making the Graduation Initiative a success.
Impact of the solution, by the numbers
138 days
time course and curriculum proposals would take with the PDF catalogs
61 days
time they take after implementing Acalog and Curriculog
77 days
time saved using Acalog and Curriculog
The Future

The future looks bright for this campus and their implementation of Modern Campus solutions – experiencing the highest undergraduate retention rate in 15 years and rising.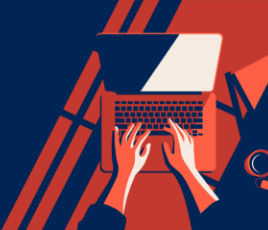 Tackle your biggest challenges
We're looking to topple the ivory tower.
Do you want to see how? Let's talk.
About Modern Campus
Modern Campus

is obsessed with empowering its nearly 2,000 higher education customers to thrive when radical transformation is required to respond to lower student enrollments and revenue, rising costs, crushing student debt, and administrative complexity.
The

Modern Campus engagement platform

powers solutions for non-traditional student management, web content management, catalog and curriculum management, student engagement and development, conversational text messaging, career pathways, and campus maps and virtual tours. The result: innovative institutions can create a learner-to-earner lifecycle that engages modern learners for life, while providing modern administrators with the tools needed to streamline workflows and drive high efficiency.
Learn how Modern Campus is leading the modern learner engagement movement at

moderncampus.com

and follow us on LinkedIn.