About Washington State University
24,400+
undergraduate students
33%
first-generation students
350+
student organizations
"

Our students are intuitively figuring everything out about Presence on their own. It's really made student buy-in much easier than with other platforms — how intuitive it is. And because so many students are trying it out and then using it all the time, we get access to bigger, better data and can really streamline our processes for student orgs and engagement all across the board.

Daniel Welter

The Challenge

Cumbersome procedures lead to miscommunications, siloed work, and alienated students from campus life.
Communication is always a potential roadblock for any community in achieving its goals. Even the most hardworking, well-intentioned groups will fail to collaborate well without a proper communication system and streamlined processes. This is perhaps doubly true for colleges and universities. Without reliable processes to help them communicate, things—like campus events, student organizations, and retention initiatives—will surely fall apart.
The student affairs team at Washington State University knows this problem all too well. Well-defined procedures and communication processes aren't merely nice to have. The entirety of campus life hinges upon this large, public university's ability to first customize and, then, standardize procedures that work well for staff, students, and faculty alike.
For a while, WSU lacked this ability. They tested out a mix of paper forms, email threads, phone trees, websites, and other software. But it all just led to more confusion. Nothing worked well because nothing was intuitive. Everything required manual instructions and could change on a dime, office to office.
"
Communication was such a mess. Anything we tried to collaborate on across campuses became a massive headache, so we would rarely try in the first place.. And course, meetings between different campuses—wow, those were messy. It was like we didn't speak the same language.
Daniel Welter
WSU hoped that their previous engagement platform would resolve these problems, but it was not designed well for their needs and created more problems than it solved. Staff and students alike struggled to understand each of its tools and often gave up in frustration.
All six of WSU's campuses have unique identities and needs but their leadership teams all agreed on one thing: The institution needed one true solution, not an alternative set of roadblocks.
"
We just needed it to be easy. Easy yet customizable. We didn't think it'd be so hard to find, but after working with another engagement portal before Presence, we learned that it apparently was.
Daniel Welter
The Solution
A highly intuitive engagement & co-curricular platform is saving staff time and empowering fresh collaboration across all six WSU campuses
When Daniel and his colleagues found Modern Campus Presence, they knew they could finally call off their search. With an intuitive user portal and powerful organizational tools backed up by exceptional customer support, Presence is the solution to multiple, intertwined challenges at WSU.
Perhaps most importantly, people actually want to use it. Within just a week of its launch, a quarter of students engaged with WSU's portal! Students signed up for clubs and organizations, registered new events, checked out upcoming programs, and more—all on their own, no need to pepper Daniel and his coworkers with how-to questions.
By being so intuitive, the software basically sold itself to students. Soliciting student buy-in was no longer a time-consuming, laborious process for the professional student affairs team. Instead, they could focus on reaping Presence's many benefits right away.
Presence became a catalyst for collaboration across and within every campus. Offices outside of student affairs quickly jumped on board, utilizing Presence not only to solve their own internal organizational challenges, but to also engage with more students and collaborate with colleagues all across the institution. Whereas other engagement portals charge additional offices extra fees for user access, Presence told WSU "the more, the merrier!" So, Presence is not "just" a student life tool; at WSU, it's an all-inclusive, multi-campus co-curricular platform!
"

It's like our old platform was set up to disincentive collaboration and university-wide adaptation. But Presence totally encourages it. Co-curricular is their whole jam.

Daniel Welter

Staff and student leaders use one extraordinary customizable form builder to register student organizations, approve events, complete self-reflections, and so much more. (The possibilities are literally infinite.) They also use student organization and event directories to advertise, detail, and connect students to what's happening on campus—in person or virtually. They even use Presence to check up on and enforce policies, such as the requirement that all student orgs have at least four executive board members—which they struggled to do consistently before.
"

If a student knows 'I can go here and I can find all of the things to do in places to get involved,' that streamlines things. Students can stop being like, 'okay, I go to this website for some things, I go to Presence for other things. I email my department chair for these things.' Instead, everything just converges right at Presence. It's really awesome.

Daniel Welter
So, with so many members of WSU's co-curricular community all plugged into one unified system, communication and collaboration has massively improve—within and across every campus.
What's more, WSU's enthusiastic use of Presence has brought about innovative collaborations among the campuses, while still allowing each to retain its own identity and, when necessary, its own processes. WSU's staff is in 100% control; they're able to make the features work in ways to best fit their needs — office by office, campus by campus—rather than having to construct one solution that would force round pegs into square holes.
The Future
Gamify student learning, leadership, and engagement to incentivize more involvement, plus assess a wealth of data to better understand retention trends
Now that they have a platform they can trust and that kicks procedures headaches to the curb, Daniel and his colleagues are ready to start utilizing even more Presence features. No budgetary discussions are needed; as with all Presence partners, they have access to every single thing Presence builds. Unlike with other engagement platforms, there's no need to pay up to "unlock" certain tools.
First up, they'll utilize gamification tools to guide students in learning essential workforce-ready skills and in meeting co-curricular requirements. For example, they're integrating automatic points for leadership pathways, which students will then be able to exchange for real-world prizes.
And the best part is, Presence will power WSU to automatically track and access all of this. Daniel and his coworkers won't have to break out paper sign-in forms, power up Excel spreadsheets, nor ask students to self-report. With mobile check-in technology and virtual event tracking, students and staff alike will be able to keep, well, track of students' progress in real time.
Daniel (or any other WSU admin) will also be able to uphold engagement policies like they never have before. For example, they can require all student organization leaders to go through training upon registering a new group. And it will be automatically tracked through Presence so that no student can even click "submit" on their org registration without having completed training first!
"

Because of the great functionality of Presence, we're really reviewing and looking at what our registered student organization process looks like. So it's not just enabling us to do cool things, but also inspiring us to have these conversations in the first place, to push student leaders to be better and for student organizations to be better.

Daniel Welter

The entire campus life team is also excited to connect Presence engagement data with institution-wide retention studies. They're confident that the results will show strong connections between engagement and retention, which will allow them to prove the division's incredible worth to institutional leadership.

In other words, by showing that students who are regularly engaged in campus life are more likely to stay enrolled, they'll prove that student affairs is about more than just having fun. Daniel and his coworkers don't just host pizza parties for the heck of it; they offer co-curricular opportunities that give students the essential tools to persist year after year.

Washington State University's Favorite Features
| | | |
| --- | --- | --- |
| Highly Intuitive User Portal | Process Management Tools | Unparalleled Customer Success Team |
| No need to consult a user's manual; our customizable portal is designed to be clear and easy from the first moment you sign in. | Manage events, budgets, student organizations, forms, and way more online, all in our reliable place. | Our costumer success specialists combine their tech expertise and experiences as Student Affairs professionals to advance your work in the ways that matter most. |
| Learn more | Learn more | |
Note: This is a Modern Campus success story and not an official endorsement from Tufts University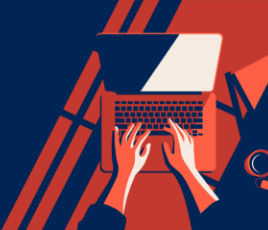 Tackle your biggest challenges
We're looking to topple the ivory tower.
Do you want to see how? Let's talk.
About Modern Campus
Modern Campus is obsessed with empowering its 1,200+ higher education customers to thrive when radical transformation is required to respond to lower student enrollments and revenue, rising costs, crushing student debt and even school closures.
Powered by Omni CMS, DIGARC, Presence and Destiny One, the Modern Campus modern learner engagement platform enables innovative institutions to create a "learner to earner" lifecycle that engages modern learners for life.
Delivering massive personalization, AI-driven recommendations and a modern e-commerce engine, Modern Campus creates a student-first digital experience and removes silos across campus. Presidents and provosts, marketing and IT teams, admissions, registrars, student affairs and CE divisions can partner to attract, enroll, empower, retain, credential and re-engage students with pathways for lifelong learning.
Learn how Modern Campus is leading the modern learner engagement movement at moderncampus.com and follow us on LinkedIn.