Attract and retain students for a lifetime with the only SIS designed for non-traditional learners
The non-traditional education market is fast-growing and presents colleges and universities the opportunity to deliver on their mission while growing their revenues. But to truly capture and capitalize on the opportunity, it's essential for higher education institutions to deliver students the experience they expect.
We all know today's students expect an Amazon-like experience. While many technology solutions promise to deliver on this expectation, few truly can.
Destiny One®, the SaaS student lifecycle management platform by Modern Campus, is the next-generation SIS you've been looking for.
Made specifically for higher education administrators serving non-traditional students, Destiny One:
Allows universities to deliver education across the modern lifelong learning lifecycle
Gives colleges the means to drive conversions for short-term workforce training programs and certificates;
Creates capacity to build and maintain strong relationships with employers;
Supports revenue and enrollment growth through an eCommerce-enhanced customer experience; and
Provides the agility needed for today's institutions to be competitive.
Destiny One is the only solution on the market that allows your institution to deliver students the high-quality customer experience they're looking for from their postsecondary experience.
How Destiny One Delivers the Experience Students Expect
Destiny One delivers a modern customer experience to students at every stage of their lifecycle, ensuring they can focus as much of their time and energy on their education as possible.
The next-generation SIS delivers on student expectations at every stage of the lifecycle, helping you to meet your divisional and institutional objectives:
1. Prepare: Use Destiny One to accelerate the launch of high-demand courses and programs

The first step to competitiveness in the non-traditional education arena is a catalog of courses, certificates and programs that respond to market demand—both from students and employers.
Most systems are designed too rigidly, reducing divisional agility and responsiveness. Their approval workflows are manual and require constant attention from staff and leadership. Their strict semester schedules require staff to take additional steps to launch offerings that don't align with the traditional academic calendar.
How Destiny One helps you develop and launch market-responsive courses and programs:
Automated approval workflows: Workflows automatically route proposed courses, programs and sections to the appropriate reviewer, prompt them to take action and never allow new offerings to fall through administrative cracks.
Flexible scheduling: Traditional SIS and ERP systems are tied to the academic calendar and require additional steps to launch offerings outside those times. Destiny One is not tied to a fixed schedule, allowing you to launch courses and programs whenever the market demands them with no extra steps.
Simplified certificates: Align courses with certificates that have custom completion rules and prerequisites, simplifying the process of launching high-quality non-credit programs.
Course templates: Destiny One saves you time in launching new courses by allowing you to upload courses in bulk, develop them from templates, or start from scratch when needed. You can even easily copy an entire term, or bring specific courses into new terms.
Offer badges: Digital credentials are in high demand from students and employers alike, and Destiny One Badging—powered by Credly —allows you to make badges part of your catalog.
Customize catalogs: Curate customized course catalogs from your existing offerings designed specifically for your employer partners.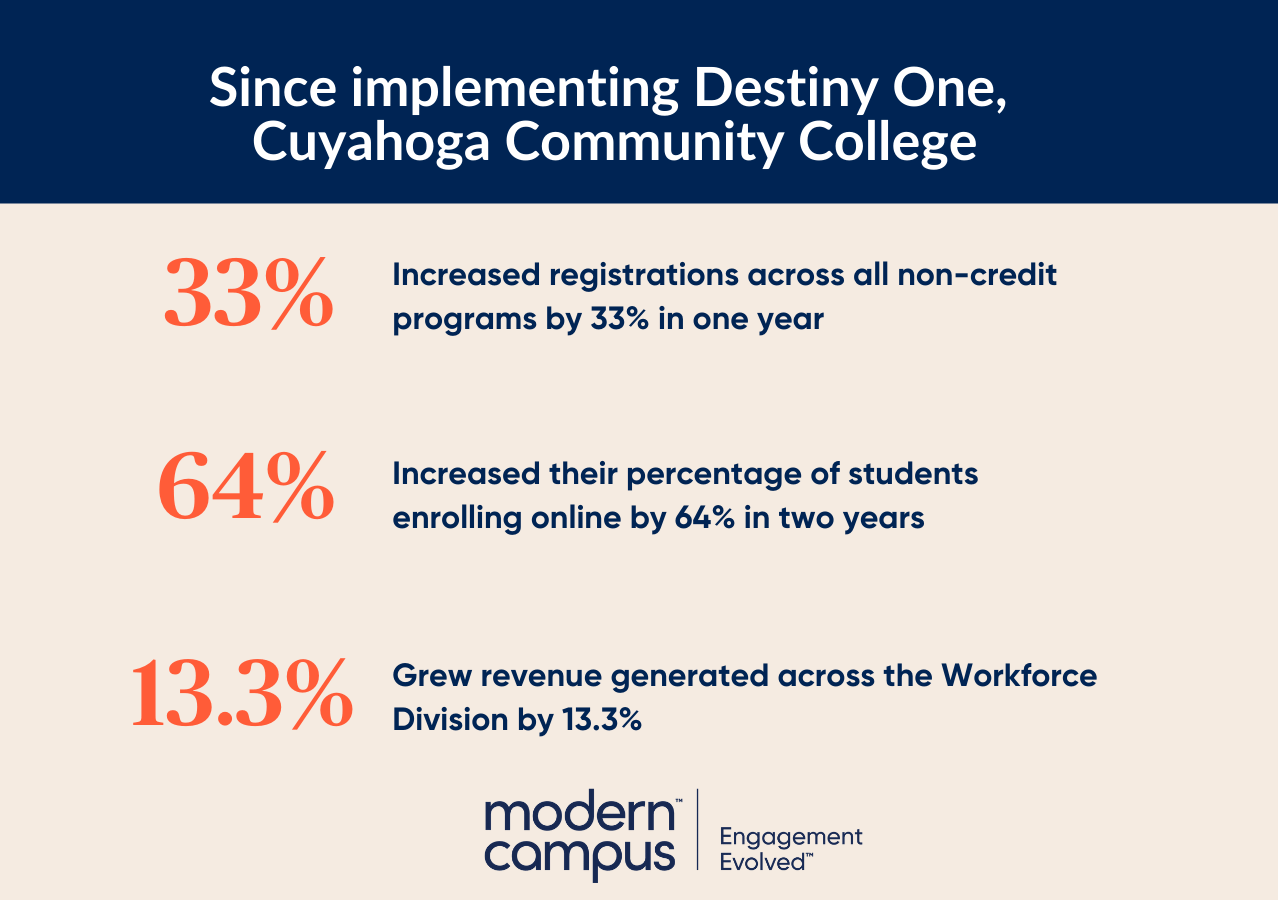 2. Attract: Use Destiny One to bring prospects to the website

The second step to growing your non-traditional student enrollment is to bring them to your website and get them excited about your offerings.
Unfortunately, most systems make your website complex to manage and confusing and unengaging for students. They display outdated or inaccurate information and make offerings hard to find. Your website is critical to captivating prospects and getting them excited about your institution.
How Destiny One helps you drive website traffic and grow interest in your offerings:
Data-driven decision-making: Optimize marketing spend with rich, consumable data. For example, use address mapping to know where your students come from. Or use our enrollment heat map to understand registration tendencies and guide programming, marketing, and staffing decisions.
Intelligent marketing: Using the powerful Marketing List Manager you can easily search past academic activity and stated areas of interest to quickly create lists for your marketing campaigns.
Consistent branding: Deliver a consistent look-and-feel by centrally defining school colors, logos and branding elements that appear across the entire website.
Advanced search functionality: Simplify the navigation process with advanced search functionalities that allow outcome-oriented prospects to find the exact offering they want.
Easier website navigation: Offer a website where students can easily browse through programs, certificates, courses, and badges and find the offering that most appeals to them.
SEO-optimized landing pages: Embed course information, pricing, instructor profiles and videos on course landing pages to ensure students have all the data they need to make an informed registration choice.
Simplified website management: Update all data from a single location, ensuring all course and program information is accurate and SEO-enhanced across the entire website and catalog.
3. Convert: Use Destiny One to create and capitalize on numerous key conversion points
Students expect your website to deliver the same experience they know from eCommerce leaders like Amazon. But traditional systems and tools force them to jump through hoops and keep them in the dark.
How Destiny One maximizes your conversion points and transforms prospects into registrants:
Enhanced shopping cart: Destiny One's visual shopping cart helps students quickly and easily see what they're registering for and how much it will cost, with discount codes applied before they buy.
Automated waitlist notifications: If a course is full, the system simplifies the waitlist process for students. And when a spot opens up, it will automatically email students in sequence prompting them to complete their registration.
Automated course launch emails: Outside of registration periods, prospective students can sign up to be notified when the next registration period opens. The system will automatically send them an email prompting them to register without any additional staff involvement.
Save for Later: With Save for Later, students can build an online shopping cart and then save those offerings in their cart until they're ready to complete their purchase.
Batch enrollments: Provide corporate partners with simplified bulk registration capabilities, or allow corporate learners to browse and register themselves in a co-branded, white-labelled portal.
Abandoned shopping cart recovery: Destiny One's shopping cart recovery will save students' carts if they do not complete a purchase, and will send an automated email prompting them to return to their cart and complete their registration, minimizing loss and maximizing revenue.
Next-generation payment options: Students have the option to use a range of payment services including credit card, PayPal and Flywire.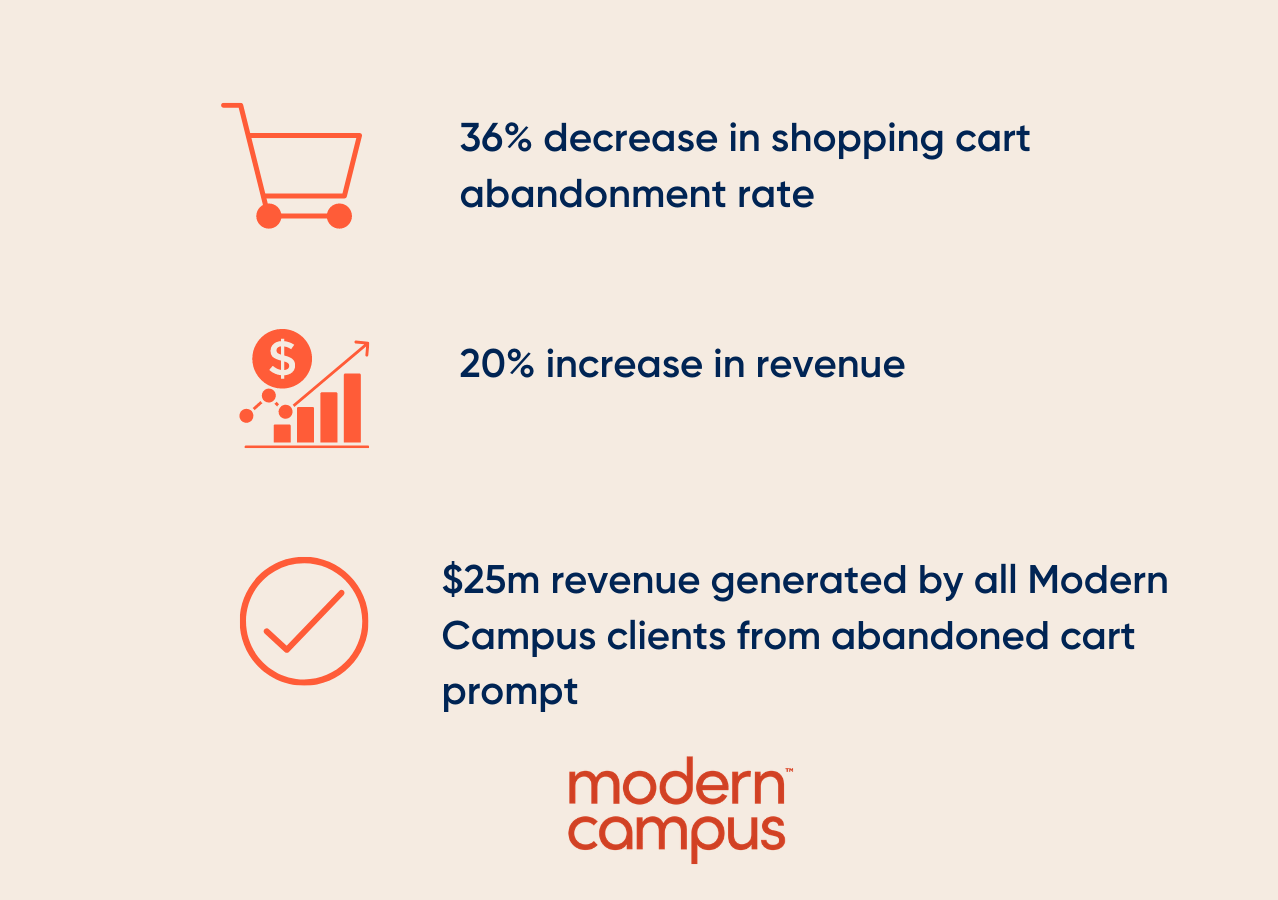 4. Engage: Use Destiny One to give students ownership over their experience
Most institutions know they have to be student-centric, but their traditional systems force students to jump through administrative hoops and rely on staff for help at every turn.
It's essential to provide self-service functionality to keep students engaged and to deliver the high-quality experience they expect once registered, both inside and outside the classroom. After all, students will drop out after three bad experiences with institutional bureaucracy.
How Destiny One delivers the high-quality customer experience that keeps students engaged:
Track certificate progress: Allow students to check on their progress toward earning critical credentials that will allow them to achieve their personal and professional goals.
Automated provisioning: Students gain access to the LMS, relevant course materials, institutional services and whatever else they need to succeed immediately after registering.
Request drops and transfers: Students can quickly and easily request course drops, transfers and refunds when their life circumstances change, ensuring your institution is there for them when they need it—and ready to welcome them back when they're ready.
Access transcripts and receipts: Empower students to quickly access their registration and payment history with the institution, allowing them to access receipts, transcripts and other documentation right from the Student Portal. 1
Simplify corporate engagement: Automate billing, invoicing and discounting for corporate partners to enforce each contract without additional staff effort from your team or from your client.
Check on waitlist and application status: Take the guesswork out of registration by providing students visibility into the status of their application or their place on the waitlist. This reduces calls and maximizes the likelihood for enrollment once accepted.
5. Win-Back: Use Destiny One to keep students coming back for a lifetime
Most systems are designed for degree-seeking students whose engagement with the institution after completion is limited to donations. But that doesn't set up your college or university to serve non-traditional learners.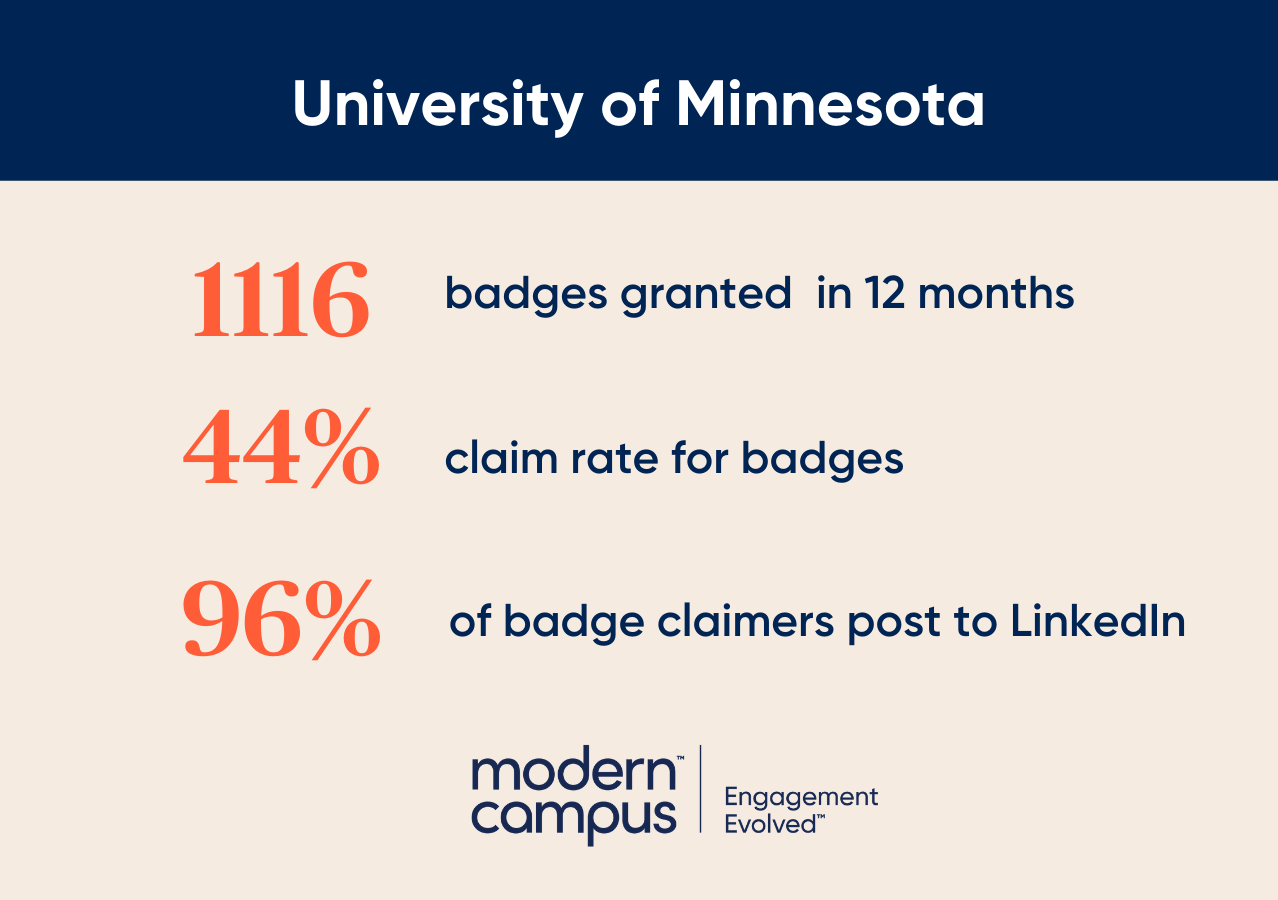 How Destiny One motivates students to engage with the institution for a lifetime:
Certification completion prompts: Notifications encourage students who have completed a single course to enroll again so they can pursue completion of a certificate.
Badges and digital credentials: Robust badging, powered by Credly, allows students to post badges and digital credentials to their social media profiles. These credentials serve as dispersed marketing assets that encourage others to learn more about the offering and enroll.
Personalized course offerings: Design workflows to prompt future enrollments from students in courses that align with their education history, objectives, and employment goals.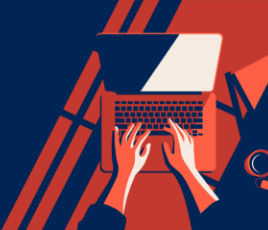 Tackle your biggest challenges
We're looking to topple the ivory tower.
Do you want to see how? Let's talk.