4 Take-Aways from eQAfy's US University and College Content Management Systems Report
The latest report from eQAfy on US university and college content management systems (CMS) is out, and you won't want to miss these noteworthy takeaways—especially if your institution is considering a CMS purchase in the near future.
1. Digital student engagement is on the rise—with no end in sight.

While the increase in digital student engagement has been driven by the shift to online learning, the real story is about the significance of having a quality CMS. A modern, tailor-made CMS powers your institution's website so that you can communicate quicker, easier, and more effectively with diverse audiences.

"The effectiveness of storytelling and addressing audiences is enhanced or constrained by the content management systems (CMS) institutions have chosen to publish their digital content and around which they build digital services," the report noted.

"Thanks to Modern Campus, our site is amazing—we have one of the best college websites in the Southwest," said Benson Hendrix, digital media manager and web developer at New Mexico Institute of Mining and Technology. "But it's not just our site. I've checked out other Modern Campus websites and I'm amazed at the variety. They are all so different—but we all use the same backend to power our sites."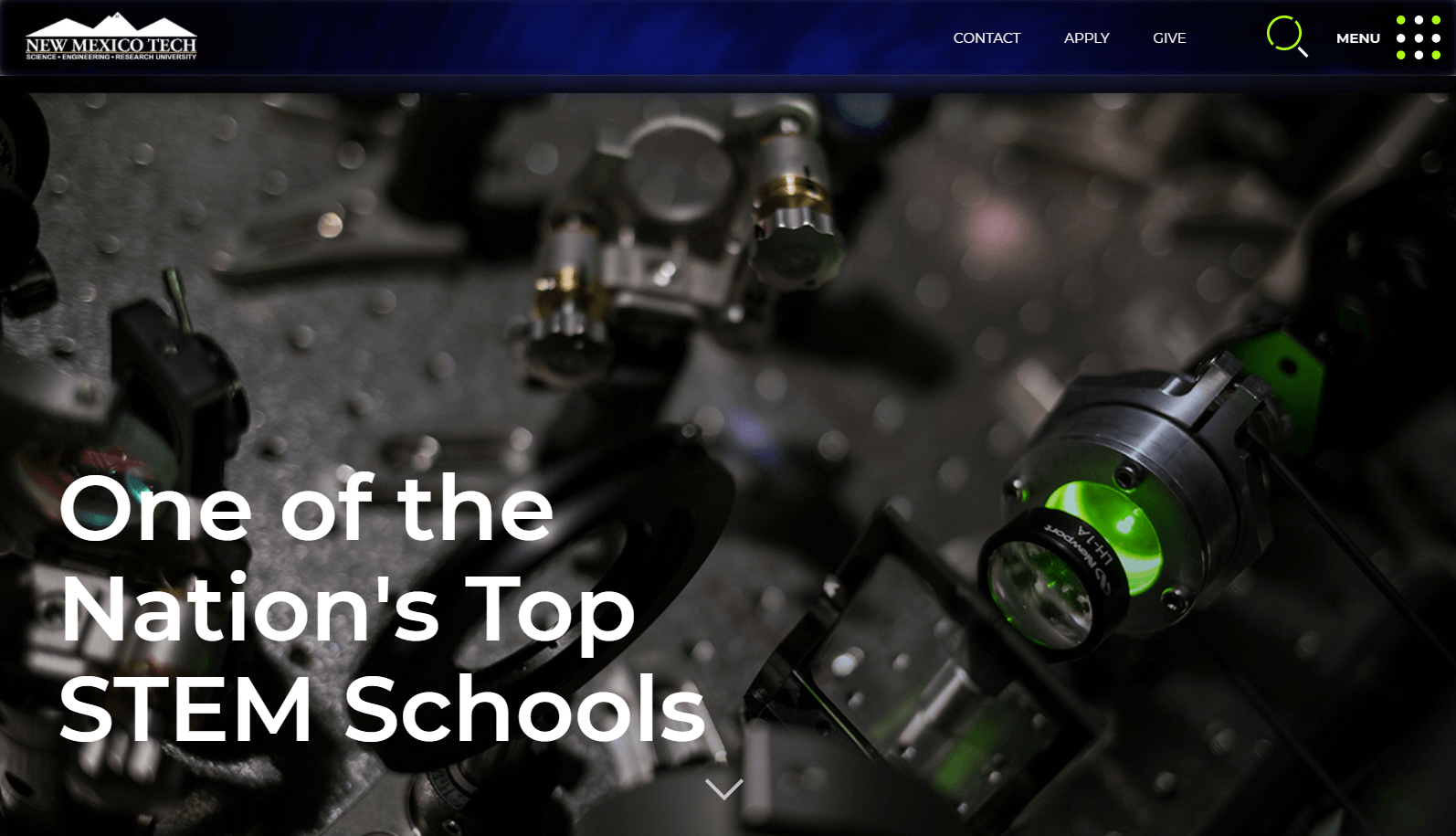 2. When in doubt, choose a CMS designed specifically for higher ed.

So many content management systems, so little time… How do you choose the best CMS for your college or university when there are reportedly 63 content management systems used throughout higher ed?

When it comes to a CMS, one size does not fit all. For best results, go with a CMS that has the features that higher ed needs built directly into the system.

In this year's report, Omni CMS ranks third in the list of the Top 12 CMSs—and it's the top proprietary solution among all institutions.

"Modern Campusis always ahead of the curve," said Jeff Ebbing, Director of Marketing and Communications at Southeastern Community College in West Burlington, Iowa. "If there is a new accessibility rule, they go ahead and build a check into the software. Because of their expertise and market knowledge, they are solving problems for us before we even know what the problems are. It is extremely valuable to have resident experts on hand who stay current with trends."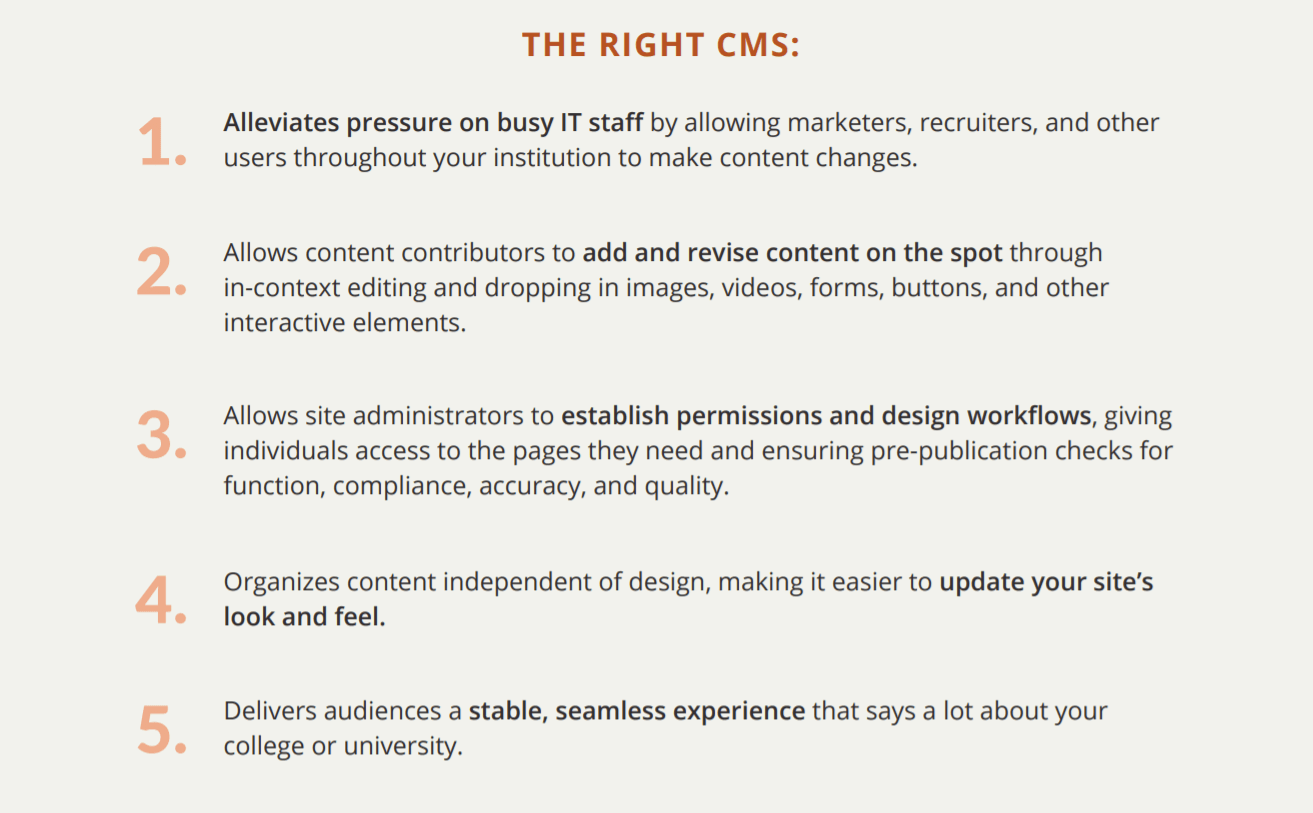 3. Get references from institutions similar to yours

If you really want to know if a CMS is the best fit for your school, ask an institution with similar demographics, locale, and size. For example, Montgomery County Community College consulted with several schools before making their CMS decision. Based on feedback, OU Campus was an easy choice for the school's administration since it's the top proprietary CMS used by two-year institutions.

"A ton of community colleges use Omni CMS, and the fact that Modern Campus is focused exclusively on higher ed sold us," said Angela Cavaliere, Manager of Digital Usability at Montgomery County Community College in Norristown, Pennsylvania. "We have worked with big firms in the past and didn't feel that they understood how a community college really works."
Alt: OU Campus ranks third in the Top 10 CMSs used by all two-year institutions and second in the list of two-year public institutions.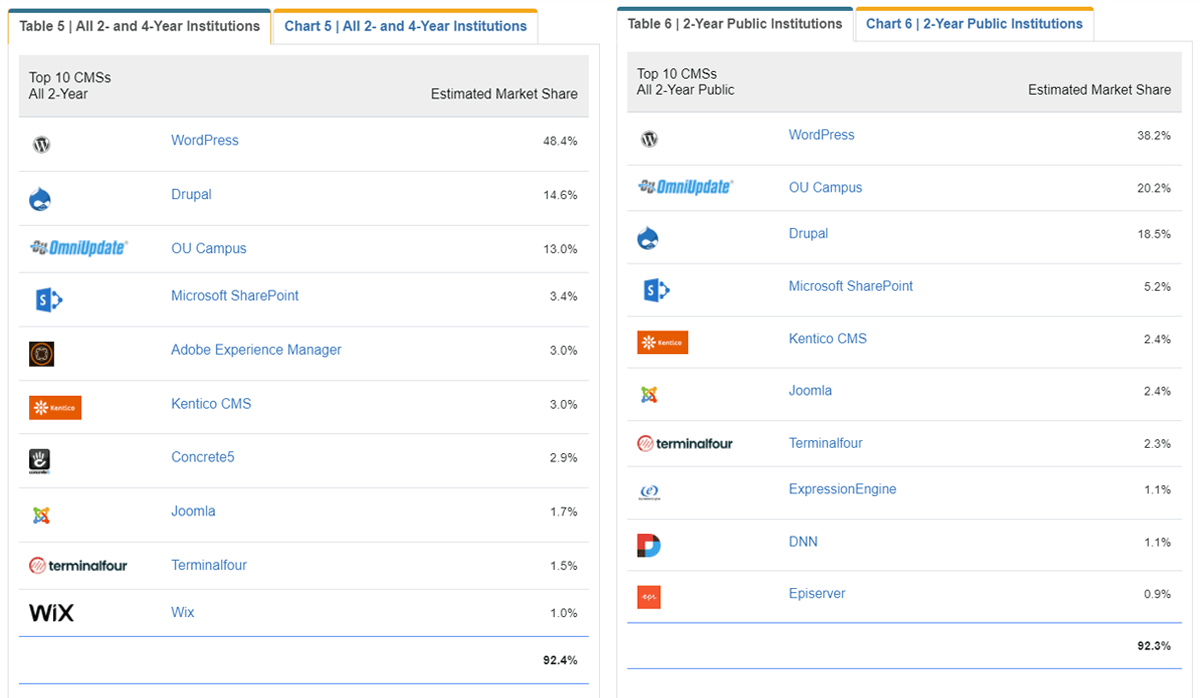 4. Make sure your CMS is scalable, because your website is only going to become more central to your marketing initiatives.

Brand and messaging consistency, user management, consolidated workflows, and well-trained content contributors are key to creating and maintaining a modern campus website, but it's almost impossible to do when different departments operate their own website. With the trend to consolidate digital assets into a centralized digital engagement hub, it's time to think about whether your CMS is scalable.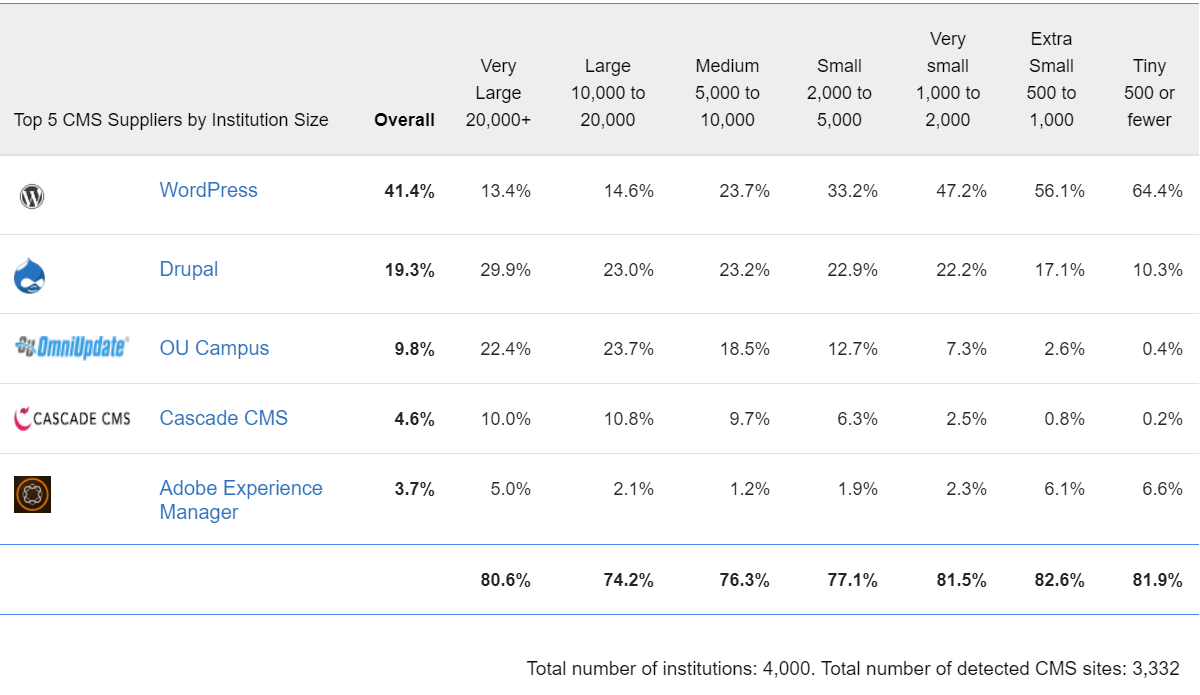 Texas Christian University in Fort Worth, Texas, is a good example. Currently, they have hundreds of websites floating around campus, but slowly they're redesigning sites and adding them into one OU Campus site.

"Consolidation pays dividends—there are fewer moving parts," said Corey Reed, Director of Website Management. "I keep thinking we'll hit some sort of threshold where it becomes cumbersome to have more than a certain number of sites in the same instance of the CMS, but OU Campus is unphased by the number of sites that we've added. We're a team of five supporting hundreds of different websites and thousands of users total so the scalability of Omni CMS is great for us."
A content management system can make or break your college or university's digital engagement strategy. Schedule a demo with Modern Campus today to see what Omni CMS can do for your school.
---
Last updated: February 1, 2021