Battling Burnout and Building Resilience in Higher Education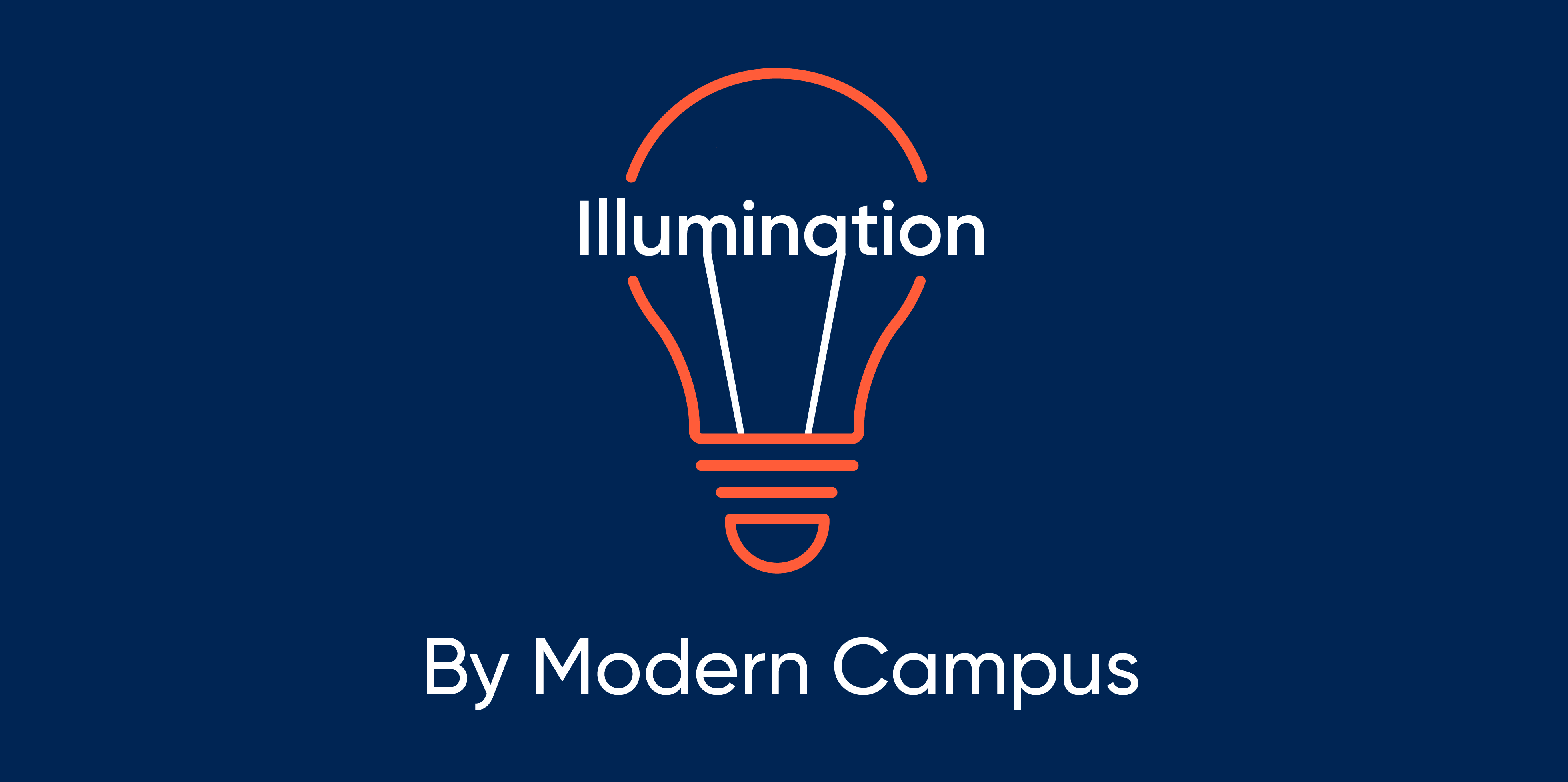 Over the course of the pandemic, the word "burnout" has become - a common buzzword and it's no different in higher education. Originally associated as an occupational phenomenon, burnout has expanded into both work and personal contexts with little end in sight.
In the past few years, higher ed administration, faculty and learners have been faced with an overwhelming amount of disruption that has thrown them into an environment where everything seems to be in overdrive. But as everyone keeps going–there hasn't been a moment for everyone to stop and think of a solution.
In the fifteenth episode of Illumination by Modern Campus, Beth Romanski, Director of Professional and Continuing Education (PCE) at Maryland University of Integrative Health (MUIH) and Integrative Health Coach, highlighted how overworking has become the new cultural norm with dire consequences.
"In the pursuit of increased productivity and ever-increasing goals with limited resources, we've come accustomed to operating within a society where busyness has become a badge of honor in some ways," she said. "We often only think of diet and exercise as important to health, but there are numerous dimensions of wellbeing and stress can play a higher role in many chronic health issues."
Those can range from digestive distress, to difficulty concentrating and poor decision-making, lack of sleep, disrupted relationships and mood swings, weight gain/loss, a compromised immune system, to more serious conditions such as depression, anxiety and cardiovascular disease.
This is especially true in higher education where the mission of an institution is to give back and contribute to the community and the profession.
This notion of continuously working and building up stress that isn't effectively being managed is known as burnout. It can be experienced both in the workplace and in our personal lives–especially during a global pandemic.
Excessive ambition and pushing yourself to get things done neglects personal needs. This has a greater impact than most people think, including serious health consequences.
Romanski became interested in studying stress and burnout not just from the lens of a health educator, but from personal experience with it herself. Not all stress is necessarily 'bad,' and we all need to accept that we encounter stress in our lives and that's normal.
"If you ignore it and let it go too far without replenishing your cup, chronic stress turns into strain and then leads to burnout and detachment. It's a continuum that becomes problematic not just for the individual, but the organization, leading to decreased professional efficacy, low morale, turnover and billons in healthcare costs," Romanski said.
Institutions are known for operating in silos, yet Romanski points out that administration, staff, faculty and students are all interconnected, and that individual burnout can lead to organizational burnout.
Adult learners in particular are susceptible to overworking and this form of burnout – juggling the demands of work, personal lives and school – even before the additional trauma and complications as a result of the pandemic circumstance.
It's critical for institutional leaders to recognize the burnout that can occur amongst employees and learners at any point time, and taking proactive efforts to foster a more healthy learning environment is a worthy investment. Romanski suggests that one way for higher ed leaders to do this is to model healthy behaviors themselves, while creating an atmosphere that supports self-care.
Even if the system can't be changed overnight, Romanski offers an empowering suggestion to "start where you are and focus on what you can control within your own circle of influence and your perspective."
Romanski also breaks down the common barriers to self-care, suggesting that self-care in real life doesn't necessarily mean going to the spa or taking a tropical vacation.
Care of self could be setting boundaries to not check work email on weekends, to delegate a routine task, to leave 15 minutes buffer between Zoom meetings, to eat a nourishing lunch away from your desk, to eliminate a non-essential item on your to-do list.
Everyone reacts to stress differently and we can't avoid stress in life, but by first recognizing your stress triggers you can come up with solutions to manage the way you react and respond, even if it's just pausing for a moment of gratitude or to take a few deep breaths.
By modeling a culture of wellness, learners are more likely to take much needed time for themselves and become more mindful when balancing their personal and school lives and may be more successful as a result of this shift in intentions.
"As an organization, you need to be clear in your messaging, identify how you might be contributing to your employee's level of burnout and you need to make wellbeing a priority," Romanski said. "It can't be a one-time stress-management seminar for a culture of wellness to be cultivated, self-care and healthy habits should be made sustainable and part of daily behaviors."
Stress is also the name of the game for staff and faculty.
As they deal with the disruption from the pandemic, they adapted quickly and are now looking at creating a sustainable future for their institution.
There's danger in looking at mental wellbeing and burnout through the lens of a business orientation. What works for one institution or individual, isn't the same somewhere else.
"I like to say that 'health is a journey and not a destination,' so it's not a one-size-fits-all approach that you can apply across the board," Romanski said.
This means structuring your institutions to meet the needs of your employees and learners as your audience. Listen and get an understanding for what their needs are, then look to begin providing the right emotional, mental, intellectual, career, environmental, physical, financial and social supports.
"We are the educators, we are the teachers – self-care strategies are opportunities to build resilience through teaching moment," Romanki said.
Again, it goes back identifying stressors and practicing mindfulness. The qualities of key becoming a more resilient institution that can better support its faculty and students are to be more self-aware and mindful in everyday interactions.
Romanski says that breaking things down using a smart goal approach is the best place to start. By making your health goals specific, measurable, achievable, realistic and timely (and important), you can navigate stress and battle burnout one step at a time.
"There are realistic and attainable solutions – don't expect perfection and simply start where you are and build upon your progress," Romanski said, "There are small things each of us can do, little-by-little, day-by-day, to prioritize our wellbeing."
It may not always be a straight path and you may need to adapt along the way, but with practice and persistence, these simple efforts add up to positive and transformational shifts in the way we feel and show up in the world.
Romanski's Key Takeaways for Battling Burnout and Building Resilience:
Focus first on mastering your mindset
Self-care is essential
Wellness is multidimensional
There is no "one size fits all" approach
Meaningful change takes time and intention
Small efforts add up
A wellness-oriented culture is valuable
It's not all or nothing – start where you are
Disclaimer: This content is educational in nature and not to meant serve as medical advice, diagnosis or treatment. Seek out a licensed healthcare provider if you feel you could benefit from professional support related to specific health-related concerns or conditions.
Resources:
Full Episode
---
Last updated: October 14, 2021