8 Best Higher Ed Websites of 2022
Your website is the front door to your institution. It's one of the first places your prospective students visit and serves as an important touchpoint in their enrollment decision.
So, the website has to be both attractive and informative.
It must share the very best of what your institution has to offer in an easily navigable way.
A well-designed, functional website will help you engage current students, attract prospective ones, connect with alumni and inform families all at once. It's your primary window to market school events, display course offerings, and showcase campus life.
We recently explored a number of websites for a range of higher education programs to see what was working for them and how they did on serving their institution's brand. We came up with a list of higher education websites we love, and what we love about them. We've listed them below — in no particular order. They all stand out for reasons unique to them.
If you want to learn how to design and build a higher ed website that meets your prospective students' expectations, download our quick guide, Anatomy of a Purpose-Built College Website.
A Practical, Next-Gen Website
What we love: Integrated career pathways
Students generally attend college to achieve career goals. They understand college is an investment and expect a good ROI from it. 65% high school students expect specific skills for the workplace from college; 49% expect a job offer upon graduation according to a recent RNL study.
Displaying career pathways and employment data right alongside the programs is the best way to show the ROI of the programs. University of Arkansas Monticello does exactly that.
University of Arkansas Monticello's website shows live career data on all their program pages with embedded application buttons. This helps prospective students see the ROI of their programs upfront. We call that a practical next-gen website.
An Intelligent Website
What we love: Personalized experiences
One of the primary purposes of a college website is to attract prospective students and move them through the application funnel. Ferris State University is acing it by racing them through, seeing a 2800% increase in click through rates.
Ferris State understands that Gen Z students are digital natives who grew up with smartphones, watching Netflix and shopping online. They expect the same (or at least, similar) personalized experiences from college and university websites. 27% of students say they will look elsewhere if they struggle to find relevant information on a college website.
Ferris State has taken marketing to a whole new level with personalization, displaying specific calls to action based on each student's application status. It ensures that website visitors quickly find relevant information and are guided to take the expected next steps. An intelligent website!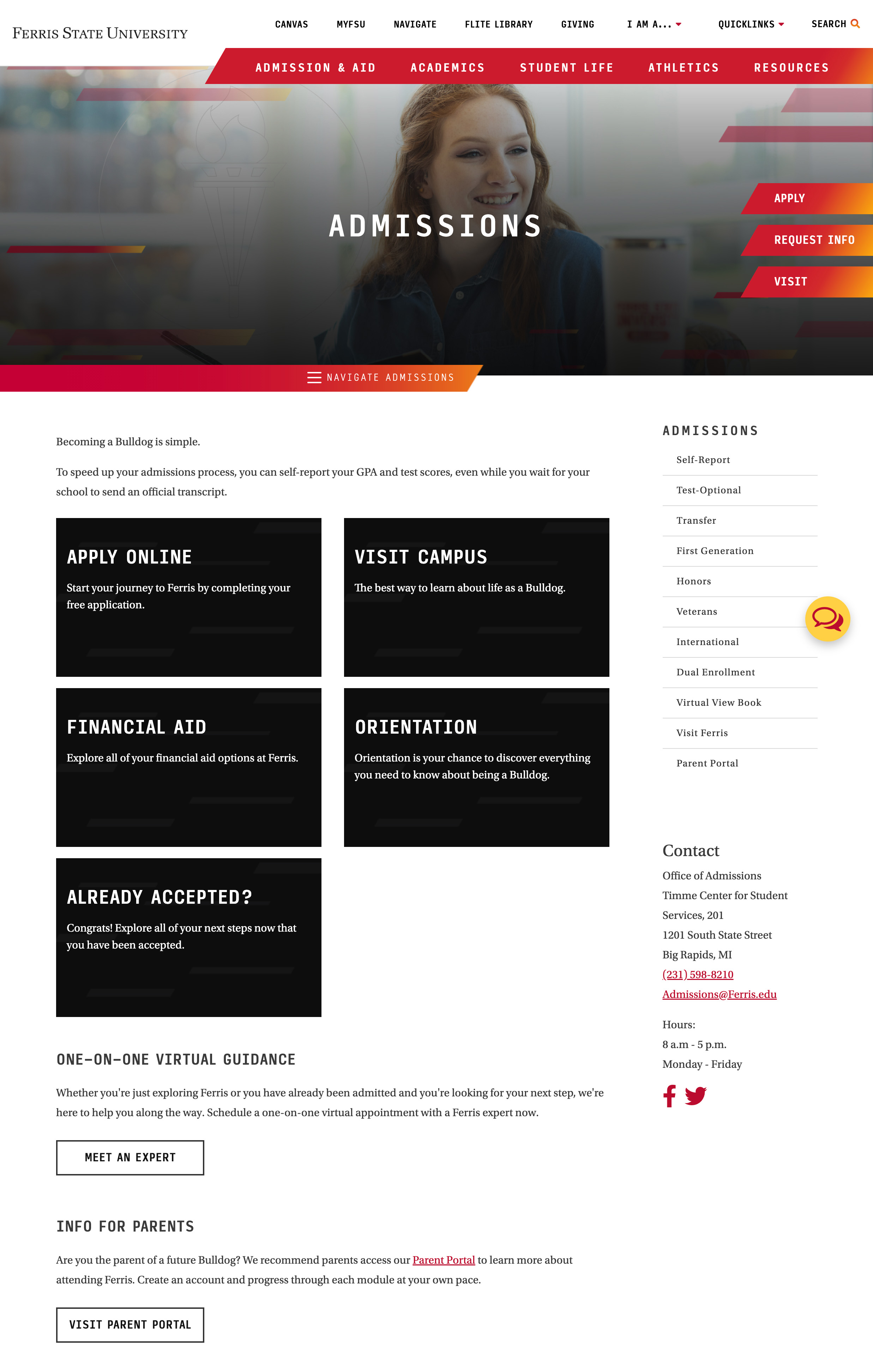 Brings the Campus Home
What we love: Virtual tours
According to a recent RNL study, almost half of high school students participate in virtual tours of colleges and universities. 68% of them sign up for a virtual tour via the college website.
Ohio Wesleyan University clearly understands the value of virtual tours. It provides state-of-the-art virtual tours of its stunningly beautiful campus to website visitors. The tours keep visitors' interest piqued so that they want to spend more time looking around on their website at their various offerings.
OWU's Maps and Virtual Tours make the university's website highly engaging. Visitors spend more than double the time exploring these virtual tools than the website's average, according to the manager of web and electronic communications Doug Thompson.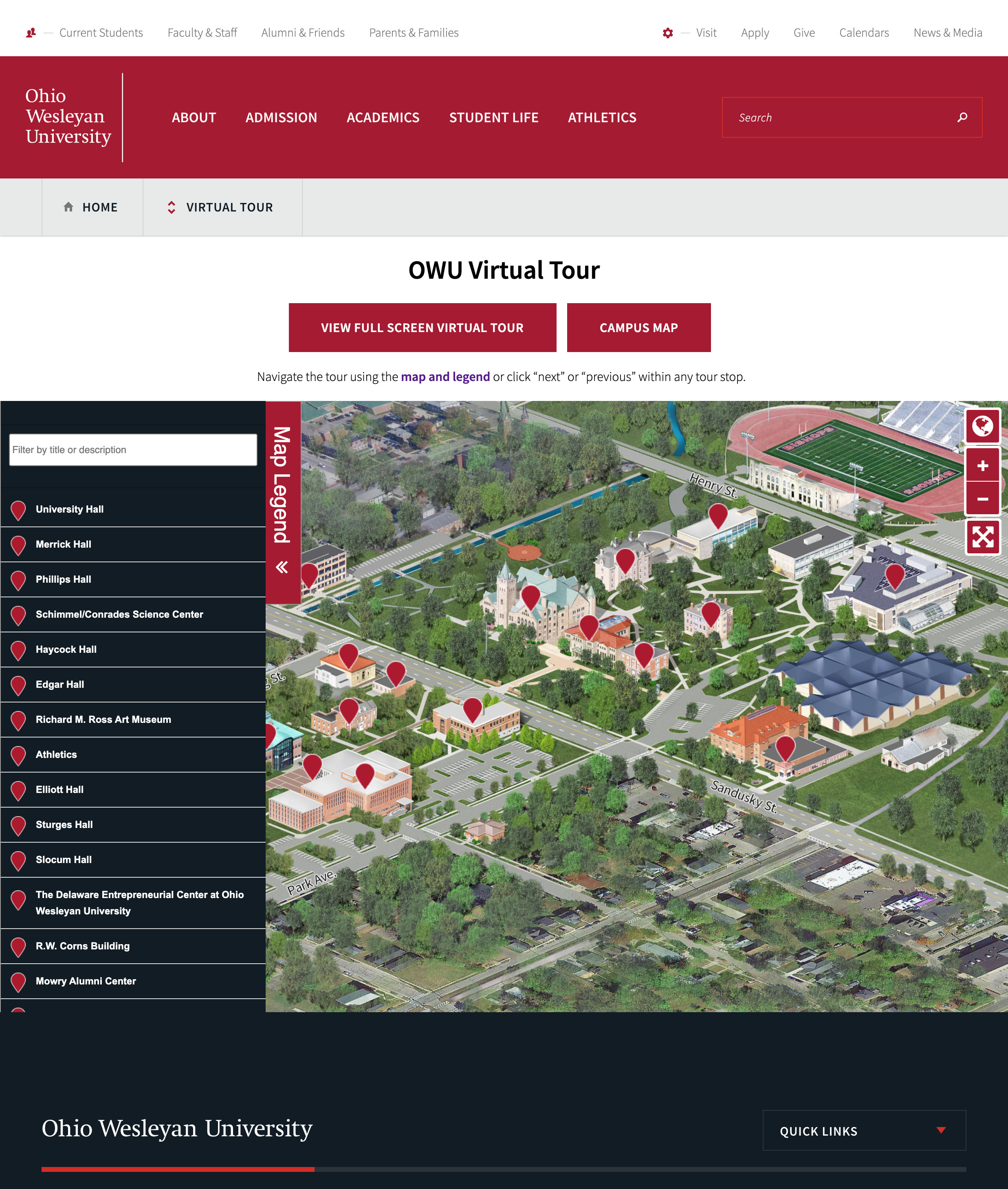 Hits the SEO Jackpot
What we love: Creative use of the blog
SUNY Downstate Health Sciences University, the only teaching hospital in Brooklyn, is a unique school. And so is its website. Students and patients visit the site looking for information about courses and treatments respectively.
Multiple departments leverage the website to publish informative content targeted at prospective students. And they do so without hampering the patients' website experience. How? With a blog.
They publish diverse content on their blog, which they highlight on the website's homepage. Prospective students can visit the blog, filter it by the area/department they are interested in—say, pediatric cardiovascular medicine, or transplant, or another surgery—and see the latest updates from that department.
Also, these blog posts are SEO optimized fresh content that helps increase the volume of qualified organic traffic to the website. With topics that are timely, buzzworthy and interesting, we call that the SEO jackpot.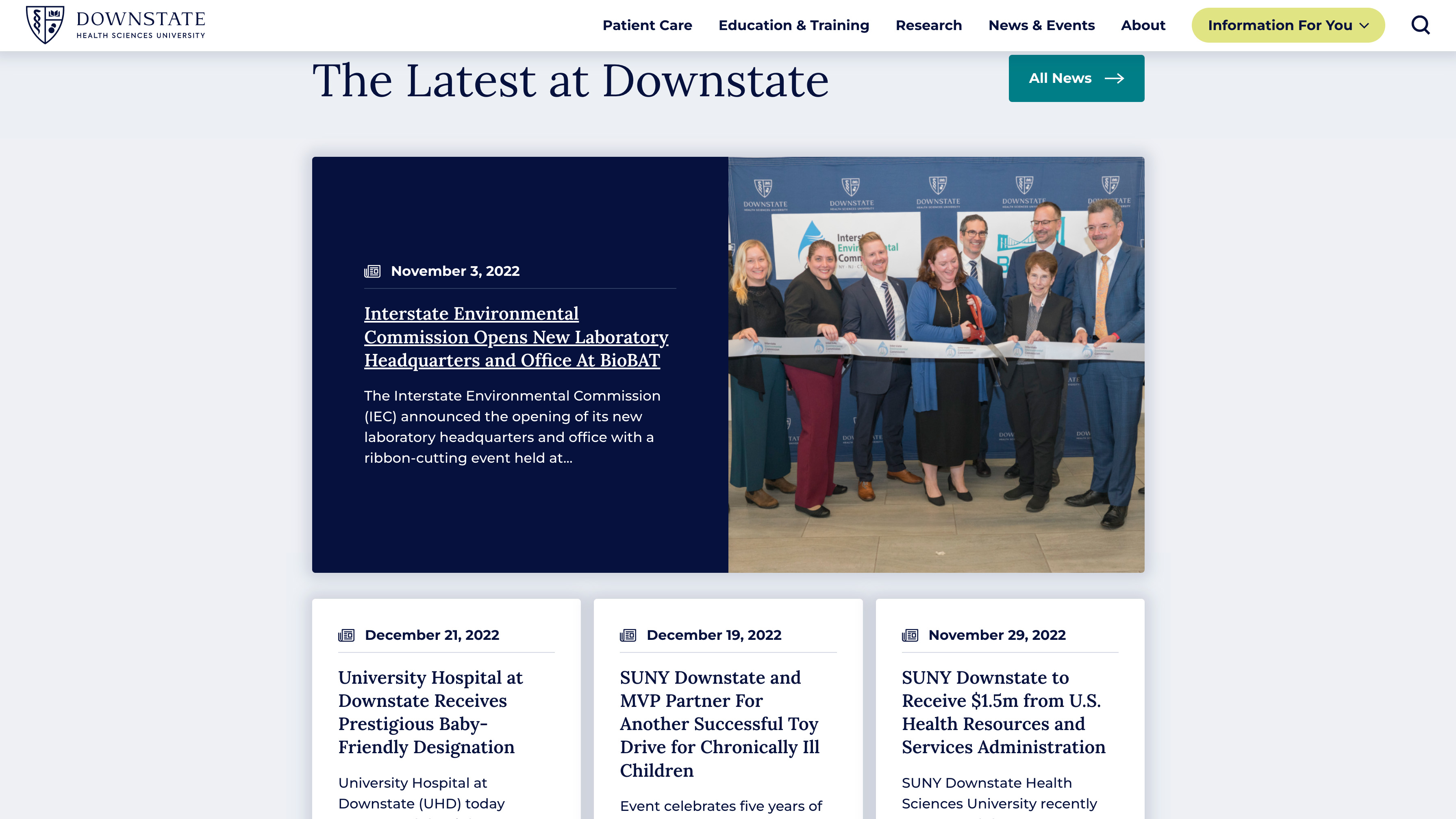 The Art of Web Design
What we love: Beautiful design
If you need inspiration for a beautiful higher ed website design, visit Hobart and William Smith Colleges' website. In fact, the university was presented multiple awards for their web design by the Council for the Advancement and Support of Education (CASE).
The simple design, bold images and conversational friendly call outs make a site like this the gold standard for website design. It does not just look pretty but is easy to navigate and highlights what would appeal to its prospective students: the beauty of the campus, programs and activities.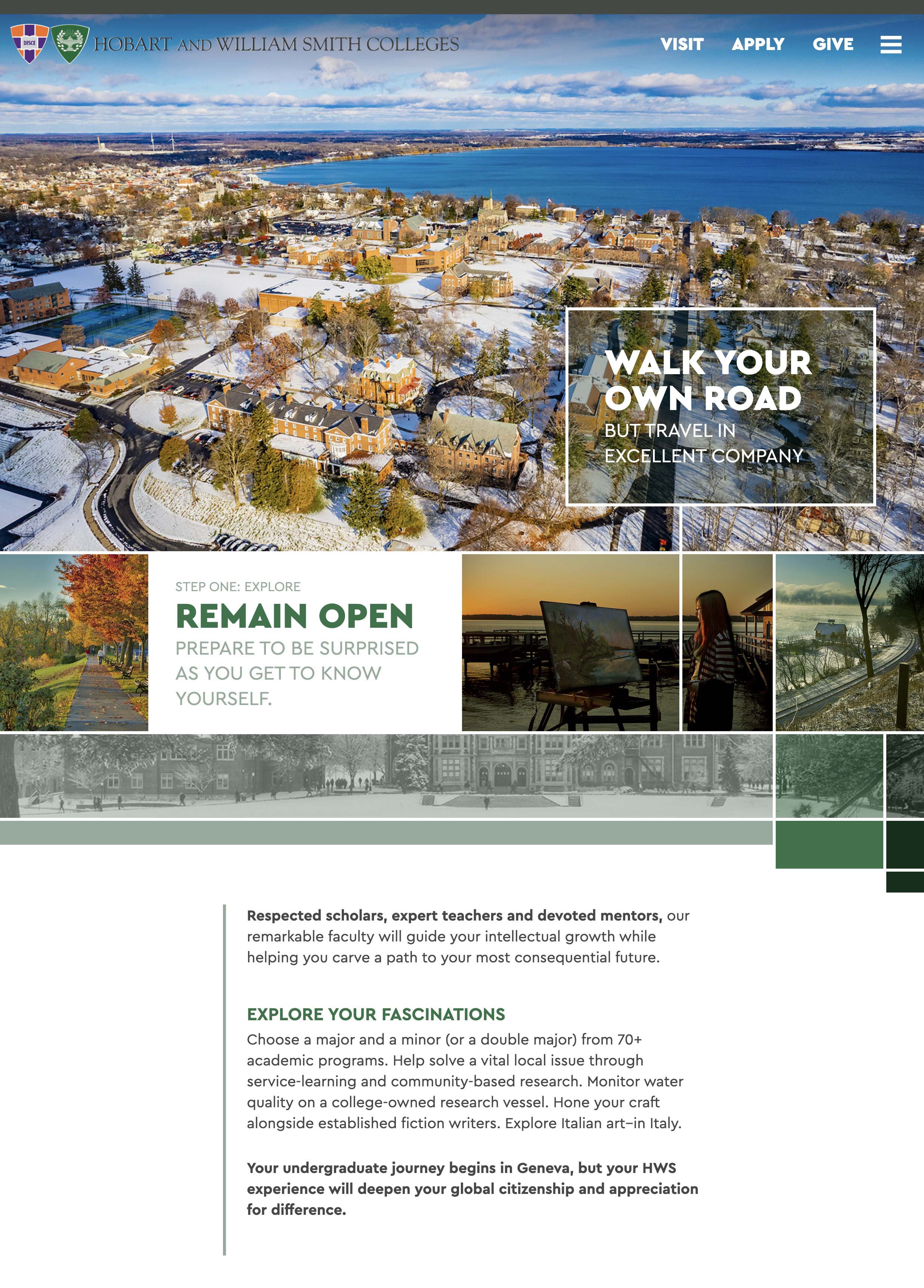 Functional and Clean
What we love: Functional design
FAMU invested in a total website redesign last year, and it paid off. Ranked the #1 Public HBCU in the country in 2022 and experiencing a nearly 8% increase in first year retention, the ROI has been abundantly clear. Check out the beautiful images, embedded videos and simple text.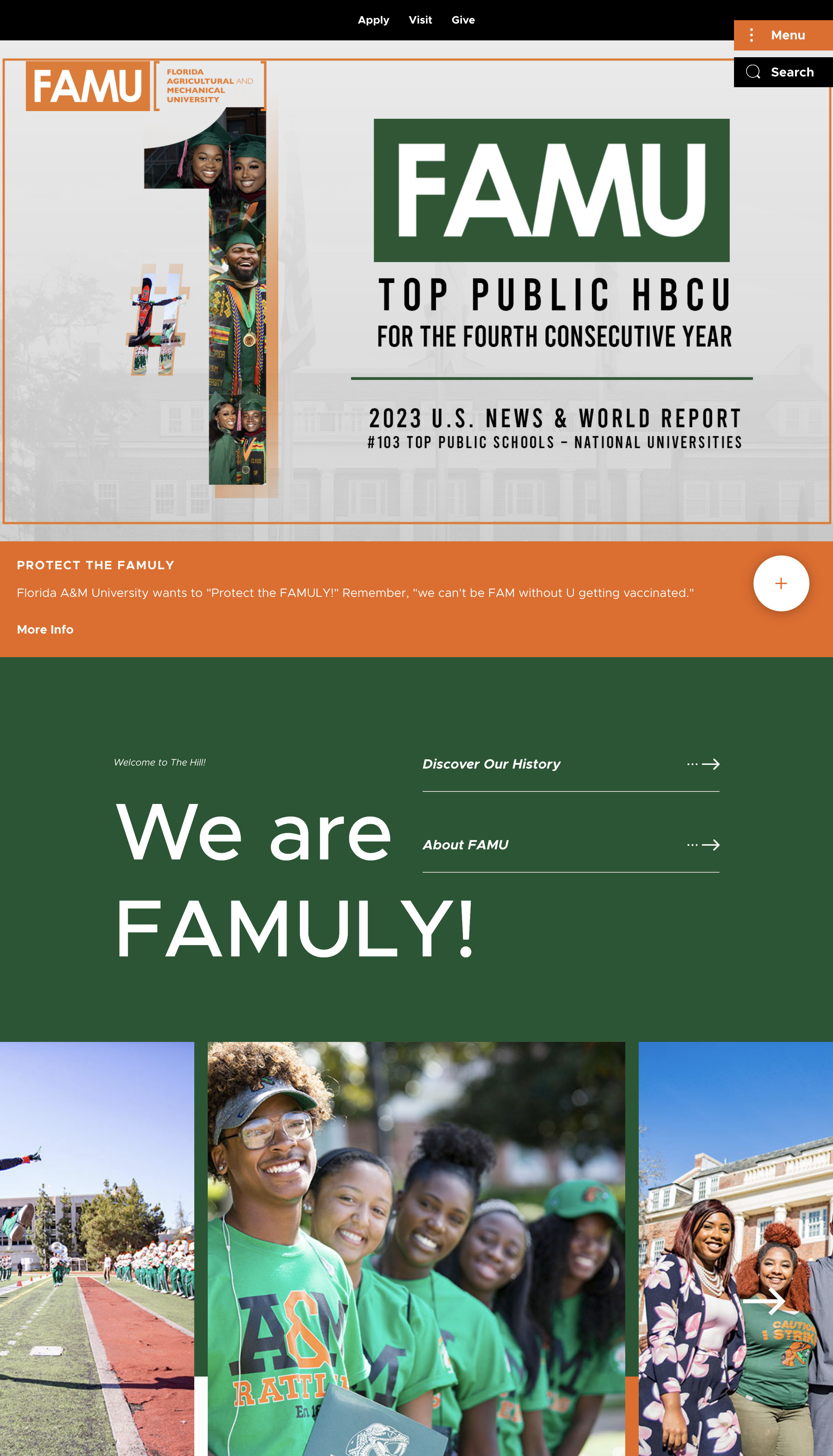 Highlighting the Fun
What we love: Integrated events calendar
You want to tell your prospective students why they should join your institution. Highlighting your unique selling point (USP) right on your home page, therefore, is always good practice.
Alvin Community College is abuzz with activity throughout the year. Their homepage highlights featured events on an easy to access calendar, so you always know what's going on across campus. You can add an event to your own calendar with the click of a button. Sign us up for the next Music Academy!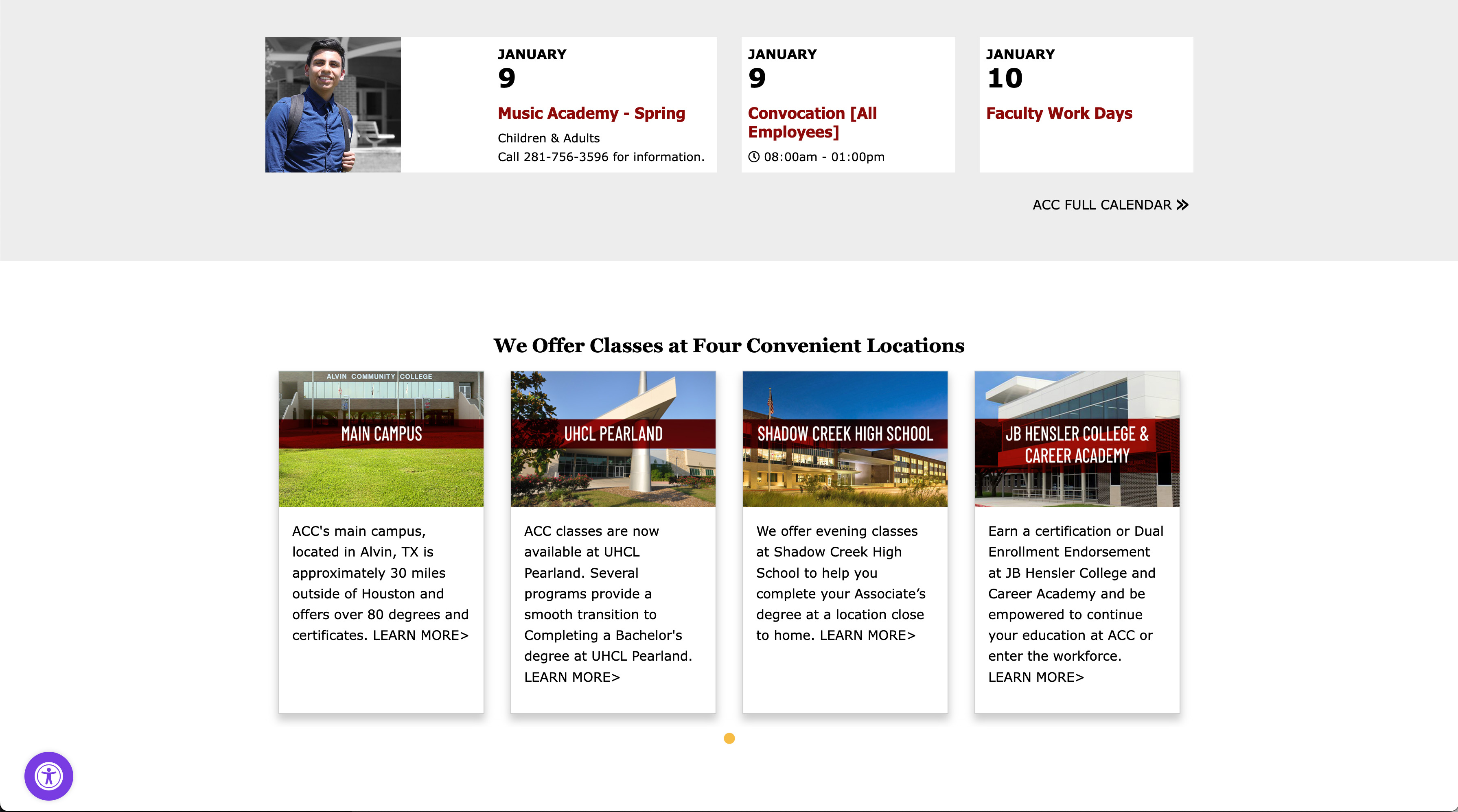 Streamlined and Simple
What we love: Easy navigation
Easy navigation is a key component of a great and functional website design. University websites generally cater to multiple personas. Delivering the relevant content to each visitor becomes crucial for delivering a great user experience.
UNT's simple navigation bar is designated by persona, which makes it easy for students, faculty, alumni, or their families to quickly find what they need.
With a search bar right on the homepage, an accordion style hero image and the visually appealing ticker graphic, any visitor can find exactly what they need.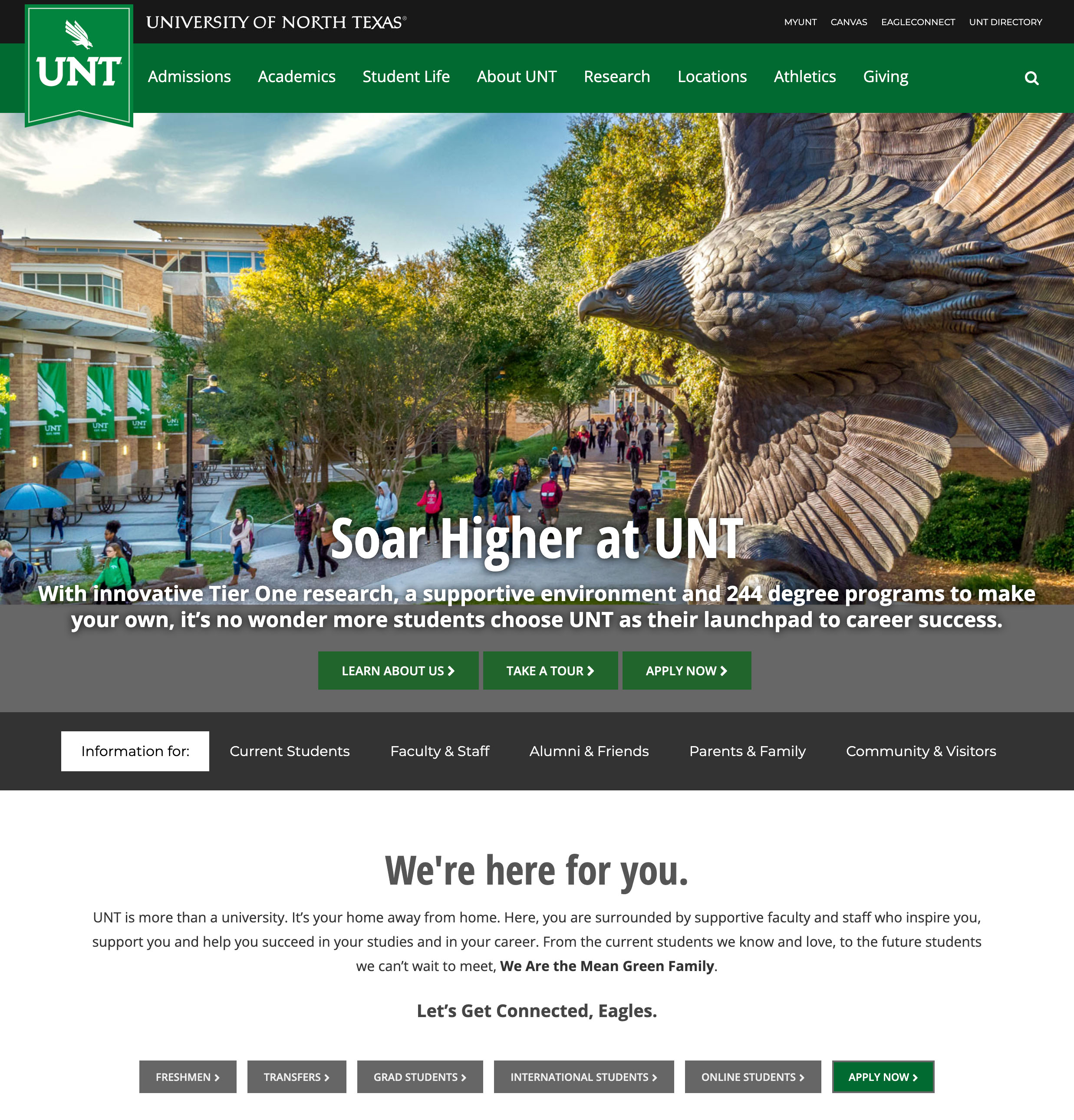 Want to learn how to build a stellar higher ed website?
Designing, building, and maintaining university and college websites is not an easy task. Audiences can range from prospective and current students to faculty, researchers, students' families, alumni, funders, and policymakers. Moreover, universities and colleges often have numerous departments and administrative units, each with their own objectives.
Download our quick guide, Anatomy of a Purpose-Built College Website, to learn how to design and build a higher ed website that meets your prospective students' expectations.
Anatomy of a Purpose-Built College Website
Your Quick Guide to Designing Your Website to Meet Students' Expectations
---
Last updated: January 11, 2023