Making Digital Excellence Central to Institutional Strategy
The higher education space is transforming rapidly, and institutions are evolving as quickly as possible to keep pace. In an increasingly digital world, digital excellence is central to growth.
On today's episode of the Illumination by Modern Campus podcast, EvoLLLution Editor-in-Chief Amrit Ahluwalia say down with Tom Andriola—Chief Digital Officer and Vice Chancellor for Information, Technology and Data at UC Irvine—to explore this topic. Speaking live at the EDUCAUSE 2022 conference in Denver, they started by reflecting on the changing importance of data in the postsecondary sector.
"It started with this conversation about the role of technology is transforming everything that we do and we have to bring it back to the way we think about what we're going to be doing in the future," he said. "Technology is a data generation device. What we really make decisions on are data. Data is the thing that's transforming the world, the way we work, the way we live, the way we interact with people."
While many higher education institutions look at data through the lens of reporting, it can deliver far richer impact. According to Andriola, effective collection and analysis of data can help colleges and universities better understand the learner experience, and even identify students who could be academically or personally at risk before they find themselves in real trouble.
"In an increasing digital world, our entire human existence is really being captured through data streams," he said. "We take that concept from healthcare, where we're trying to understand the patient in a holistic manner. Not just what blood pressure is, but what genomics do they have, but what type of environment can they get to good food? These concepts are merging around an increasingly digital world."
Andriola's healthcare example is particularly pertinent, because his professional background is a mix of experiences in both higher education and healthcare. While he points out that the two spaces share many similarities—including being intensely mission-driven organizations driven by subject matter experts (doctors and faculty members, respectively)—he also highlighted a key difference.
"Change is harder in education," said Andriola. "Doctors work under this do no harm concept, but they all are always looking for a better way to see patients and they're very data driven. In higher education, we tend to run into resistance to change in new concepts."
Andriola said that there's a perception in the higher education industry that the stability of the institution means there's no real impetus to change, but also pointed out that there is still a spirit of innovation and transformation taking root.
"There's a lot of innovation at the edge in higher education," he continued. "One of the phrases I learned when I came into higher education is, 'Let a thousand flowers bloom.' Every faculty member is an entrepreneur and you have to let the entrepreneurs do their thing. So that's where this innovation that the edge really comes from. We don't try to manage innovation, we try to plant a field of seeds and see which ones sprout."
This mentality is especially critical in an environment where personalized experiences for learners are becoming increasingly important. According to Andriola, finding ways to deliver highly-personalized experiences at scale is a window into the future of higher education.
"We should understand each student as an individual at the end of the day, and understand their unique life experiences and circumstances as well as their goals. And we should be trying to tailor what we do with them around those goals and those constraints or limitations or barriers that come with them," he said.
And of course, Andriola brings this personalization back to effective collection and analysis of data.
"What I'm talking about through data is really understanding individual holistically. What kind of background do they came from? What kind of activities are they involved in? Are they a frequent user of library services? How much time do they spend in the LMS and what do they do in the LMS? And then personalizing and understanding the unique learner and tailoring the experiences and the things that they get access to and how hard they're nudged to help them achieve the goals that they've set."
Excellence in technology management and strategy goes beyond the digital world, however. There's a human component to everything that happens online, and according to Andriola it's essential for modern technology leaders to incorporate Diversity, Equity and Inclusion efforts into everything they do.
"I don't think you can be a credible leader today for an organization and not have clear statements on what you're doing in this topic," he said. "When we talk about inclusive excellence, which is what we call it at UC Irvine, it's really about underrepresented groups, minority groups, and ensuring that the environment includes them and that all access to people, services and benefits are of equally available to them."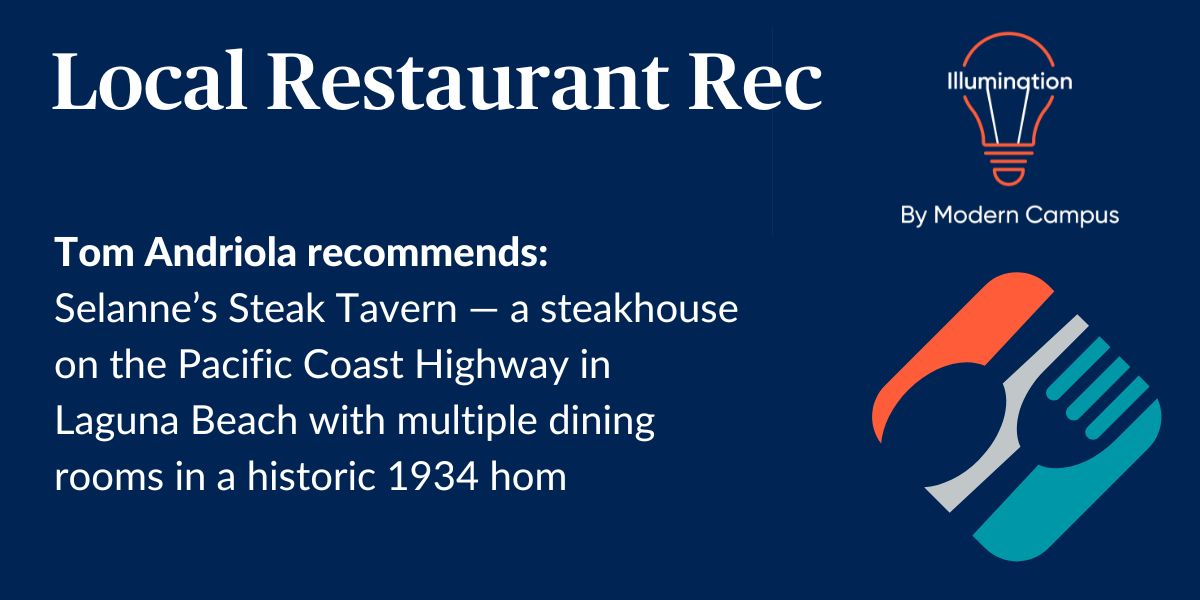 Listen to This Episode
Listen on Apple Podcasts Listen on SpotifyRSS Feed
---
Last updated: November 11, 2022