How to Re-Enroll More Stopped-Out Students with Limited Staff
Admitting and enrolling your ideal number of students is great—but are they graduating?
For nearly one-third of undergraduate students, the answer is no. Recent research finds that 32.9% of students who enrolled in undergraduate programs in the US never earned a degree. That's 35 million adults!
It's discouraging news for your institution's mission. And as performance-based funding becomes more common, it's also tough on your revenue goals.
But a student who stops out doesn't need to be lost forever. With the right communication and support, your institution can get them re-enrolled and back on track to graduate, boosting your college or university's revenue in the process.
Reversing the Trend
Consider the top reasons students say they leave their institutions:
Financial reasons — 42%

Family commitments — 32%

Program is not the right fit — 30%

Lack of time — 24%

Health reasons — 15%
Understanding the needs of your students who have stopped out (or are at-risk of stopping out) can help you personalize your support. You can then direct individual learners toward resources regarding need-based scholarships, childcare services, time management tips and more — all of which colleges and universities have continually proven to lead to re-enrollment.
But finding out what challenges your learners face can be a challenge of its own.
The Right Messaging
As we explored in How Conversational Text Messaging Reduces Stop-Outs for Colleges & Universities, text messaging can be an essential part of your outreach toolkit.
SMS text messages can reach students who are otherwise exhausted by email, feel too pressured by phone calls and dismiss snail mail as junk mail. When Cincinnati State Technical and Community College texted stop-outs, thousands replied and 336 students re-enrolled the very next semester!
That was a lot of students to reach. Cincinnati State's enrollment team wouldn't have had the time or capacity to do it without a purpose-built text messaging campaign.
They used Modern Campus Signal Vine's Playbook for Stop Outs to seamlessly manage the huge caseload.
The Science Behind the Signal Vine Playbook for Stop Outs
The Signal Vine Playbook for Stop Outs draws on today's top research about why students stop out and how institutions successfully draw them back in. Its pre-built texting cadence has been proven to resonate with today's learners and is customizable to your students' unique needs, interests and goals.
No need to decide between automated responses (which save time) and a completely manual approach (which is more personalized). The Playbook combines the best of both worlds: automation boosts efficiency and one-to-one staff interventions foster relationship-building. Together, even the smallest professional teams can reach and engage thousands of learners.
Here's what it looks like: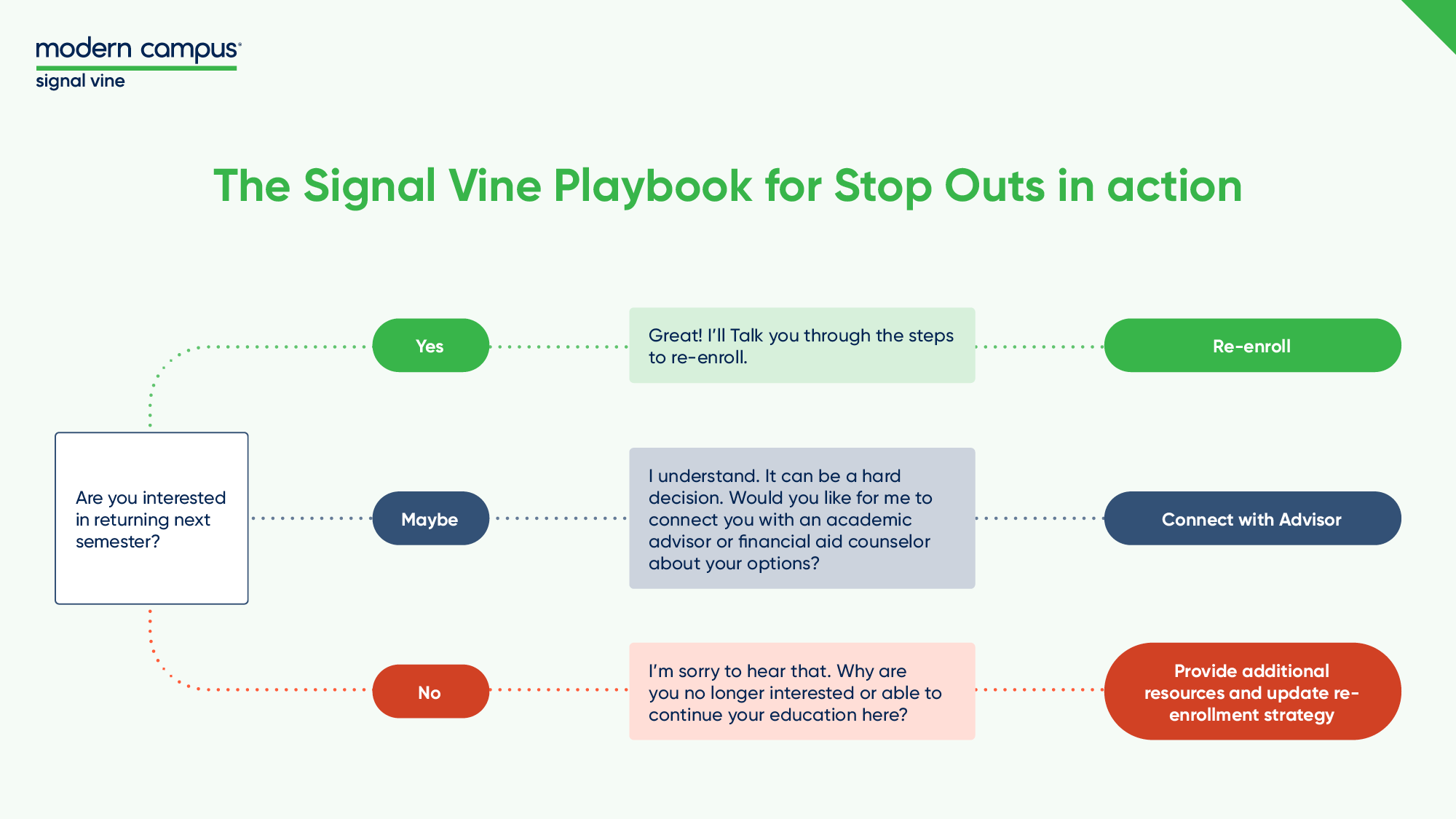 Signal Vine helps the college or university design an initial message (or messages, segmented by various student demographics) aimed at assessing the recipient's intention to re-enroll. Depending on the student's response, Signal Vine will then automatically text them a series of nudges advising students to complete the steps to re-enroll, engage in support services or explain why they do not plan to re-enroll.
The Playbook for Stop-Outs enables you to message students at scale without requiring dozens of staff and hundreds of work hours. You can set the campaign up and rest assured that all students will be responded to quickly and appropriately, with messaging that's been proven to resonate with modern learners. Automation won't replace your work; it'll be your trusted, revenue-boosting partner.
Meet the Modern Campus Playbook for Stop Outs
A modern way to help students overcome the challenges that drove them away—so that they re-enroll and you recoup lost revenue
---
Last updated: February 13, 2023