How Site Search for Higher Education Improves Your Website?
Your website is a trove of information, but admit it: There are times when even you have trouble finding a specific page or piece of information. Just imagine, then, how frustrating it must be for a visitor who is not familiar with your college or university.
Thank goodness for the site search.
In recent years, site search has become one of the most valuable features of individual websites. Just as users search on Google to find something specific, site search allows you to do the same thing within a specific website. It's easy: A website visitor simply enters search terms or phrases into the search bar on your website, and a list of relevant pages appears.
In this post about site search for higher education, learn:
Why site search is such a useful tool for college and university websites.

How site search helps prospective students, current students, and faculty.

Important functionalities of a site search tool.

The benefits of using

Omni CMS Search

.
Website administrators spend a lot of time thinking about strategic navigation, but even the most vigilant administrators will overlook something. Site search fills the gap by helping website visitors find the information they need.
Reasons Higher Education Websites Need Site Search
Based on research about the digital habits of high school students, site search is an especially useful tool for these digital natives who are accustomed to having information at their fingertips.
Also, a comprehensive site search is a smart way to make a good impression on visitors who appreciate the flexibility and accessibility of information on your school's website.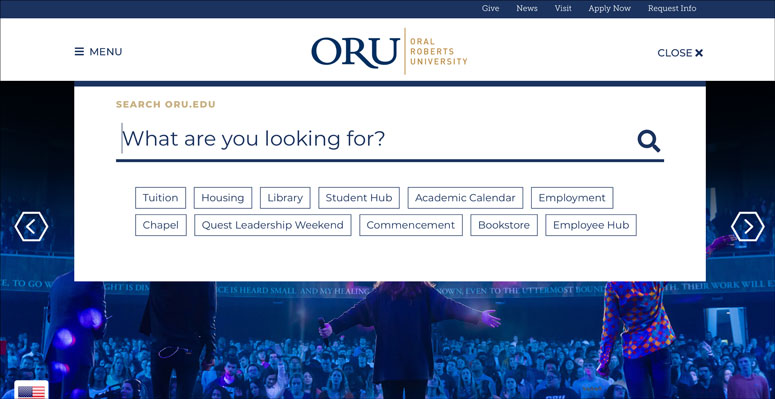 Higher Ed Site Search for Prospective Students
What are prospective students looking for specifically, and how can site search help? According to the 2023 E-Expectations Trend Report, almost half of high-school students use the site search to navigate a website. Therefore, having a site search on a website is not just something that students find helpful, it is something that your prospective students expect.
Higher Ed Site Search for Current Students and Faculty
There are certain things buried in or omitted from learning management systems that can be found easier on your website. A calendar of events and information about particular department contacts are a couple that comes to mind. Another is news written to educate the general public but also of interest to everyone on campus. You'll find that current students and faculty jump between the two sites to glean the information they need.
Benefits of Site Search on Higher Education Websites
Site search provides an intuitive way to navigate your website and find relevant content. It makes it easy for someone who doesn't know how or has the time to maneuver through your website to get the information they need quickly. It also limits the search to your website, which can filter out a lot of unnecessary information that might appear in a general web-wide search query.
Enhance User Experience
With site search, students can find the information they need easily and quickly by just going to the search icon, typing in their query, and hitting the search button. Links to the pages and resources relevant to their search query appear right on the search results page. This results in a positive user experience, which leads to increased website traffic and engagement.
Gain Actionable Insights
Along with delivering search results, site search also tracks the user data from the most searched keywords to the most clicked search result links. Institutions can use this data to identify and fill any content gaps and gauge the quality of their content. This way, site search helps the institution glean valuable data and insights about user behavior and preferences, which can further be used to improve website content, design, and the site search experience.
Improve Website Accessibility
Making sure that your website is accessible to all is no longer a nice to have. Research shows that every one in four adults in the United States has some kind of disability. Every effort made in the direction of ensuring that your website is accessible to all makes a difference. Site search is a significant step in that direction. Site search makes it easier for users with disabilities to navigate a website and hence, improves website accessibility.
Important Functionalities of a Higher Ed Site Search Tool
One of the most useful features for college and university websites is site search. If you're going to invest in a site search tool, be sure that it includes the following:
Advanced search is handy when searching for a generic term, but you know the date or certain query words.
Administrator access allows you to control search, configure the look and feel of search results, analyze the query logs, update index settings, and other backend processes.
Integrated implementation so that switching your site search tool is hassle-free.
Prioritization of results so that the most relevant appear first.
Autofill suggestions to save site searchers time
Omni CMS Search: The Best Higher Ed Site Search Tool Available
There are site search tools—and then there is Omni CMS Search. A few years ago, Google discontinued its Google Site Search tool, leaving website administrators struggling to find a suitable replacement. Omni CMS Search has the same custom search features and more. These include:
Controlled crawl schedule so that you can update your search index as often as desired.
Custom look and feel, giving you complete control over the style of the search results so that it matches your website's design.
Best bets to curate and promote pages to the top of the search results page for certain keywords, plus customize the title and description of those pages.
Parametric filtering allows site visitors to narrow search results by keywords or categories.
Detailed reports with customized information about website visitor queries, such as top words and no-hit queries. Plus, every time your website is indexed, you'll receive a list of errors and duplicates.
More than 100 file types are searched so that your search crawls web content that can't be found via conventional HTML hyperlinks, including PDFs, Microsoft Office docs, and links generated by JavaScript. This helps information seekers find important material they might otherwise miss.
Additionally, Omni CMS Search allows for advanced searches, customized administrative control, and easy implementation. It's one of the reasons why many Modern Campus customers chose Omni CMS Search when they decide to switch to a more powerful, functional site search.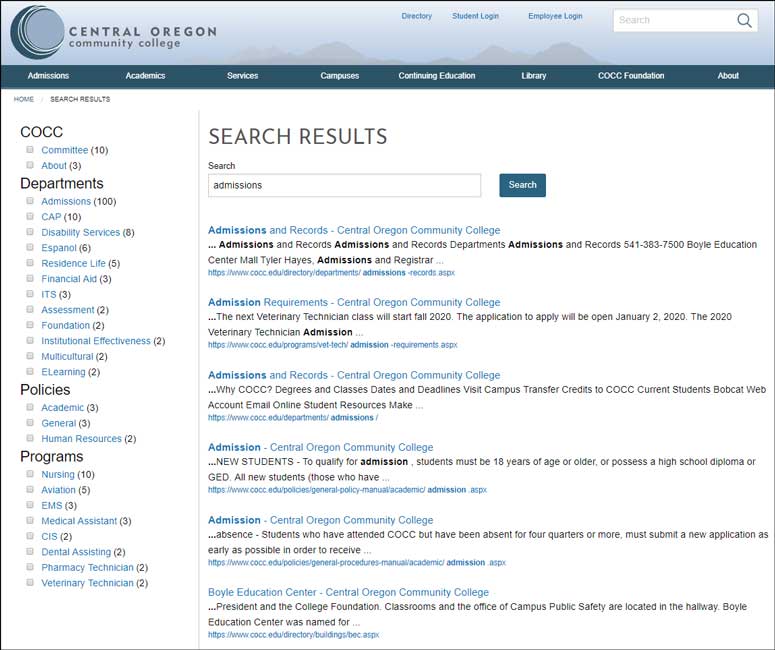 Conclusion
Like Omni CMS Search, a quality site search tool should allow visitors to access information from any page on your website, giving them power, flexibility, and access to the information they need the most.
Increase your website's search capabilities with Omni CMS Search. Request a demo now!
---
Student Experience Website Content Management Web Design
Last updated: July 13, 2023