3 Ways You Can Use SMS Text Messaging to Enroll & Support Adult Learners
Navigating education options pre-enrollment, and succeeding once enrolled, can be challenging for any student. But adult learners—students age 18+ who don't (yet) have a high school or equivalent degree—often face extra hurdles.
Many adult learners struggle to research and understand how they can enroll—and why they should. Unlike Gen-Z students who are digital natives, you can't assume that adult learners will skillfully navigate your college's website to proactive research options on their own.
Fortunately, text messaging can be a spectacular tool to have in your arsenal. A whopping 97% of American adults now own cell phones. Unlike phone calls and email, texting offers flexibility. Your prospective student can get personalized support without feeling pressured to respond immediately. Students with low English writing skills can use even emojis or free translation software to communicate.
Ready to communicate with your current or prospective adult learners via text?
Check out our tips for how you can craft the right messages to get to know each learner, provide them targeted support and boost enrollment in your adult education programs.
1. Acknowledge your students' other identities
Adult learners, like all students, lead complex lives. Many are parents and/or caregivers to elderly relatives. Many also work full or part-time, are immigrants or are military veterans.
The point is: being a prospective or current student at your institution isn't the only thing they're thinking about all day. Their other identities influence their daily challenges and needs, thus impacting how they interact with your college or university.
Acknowledging your students' other identities—and better yet, providing support related to these aspects of their lives—can go a long way in helping your students feel understood and cared for.
Consider connecting students with resources that support their needs. Provide information about daycare options to parents and help them navigate conversations with faculty about bringing children into the classroom. Refer veterans to local vet resources and community groups. Help immigrants navigate cultural differences and connect them to advisors who speak their native languages. Advise all your adult learners on time management tips to help them juggle learning with their other responsibilities.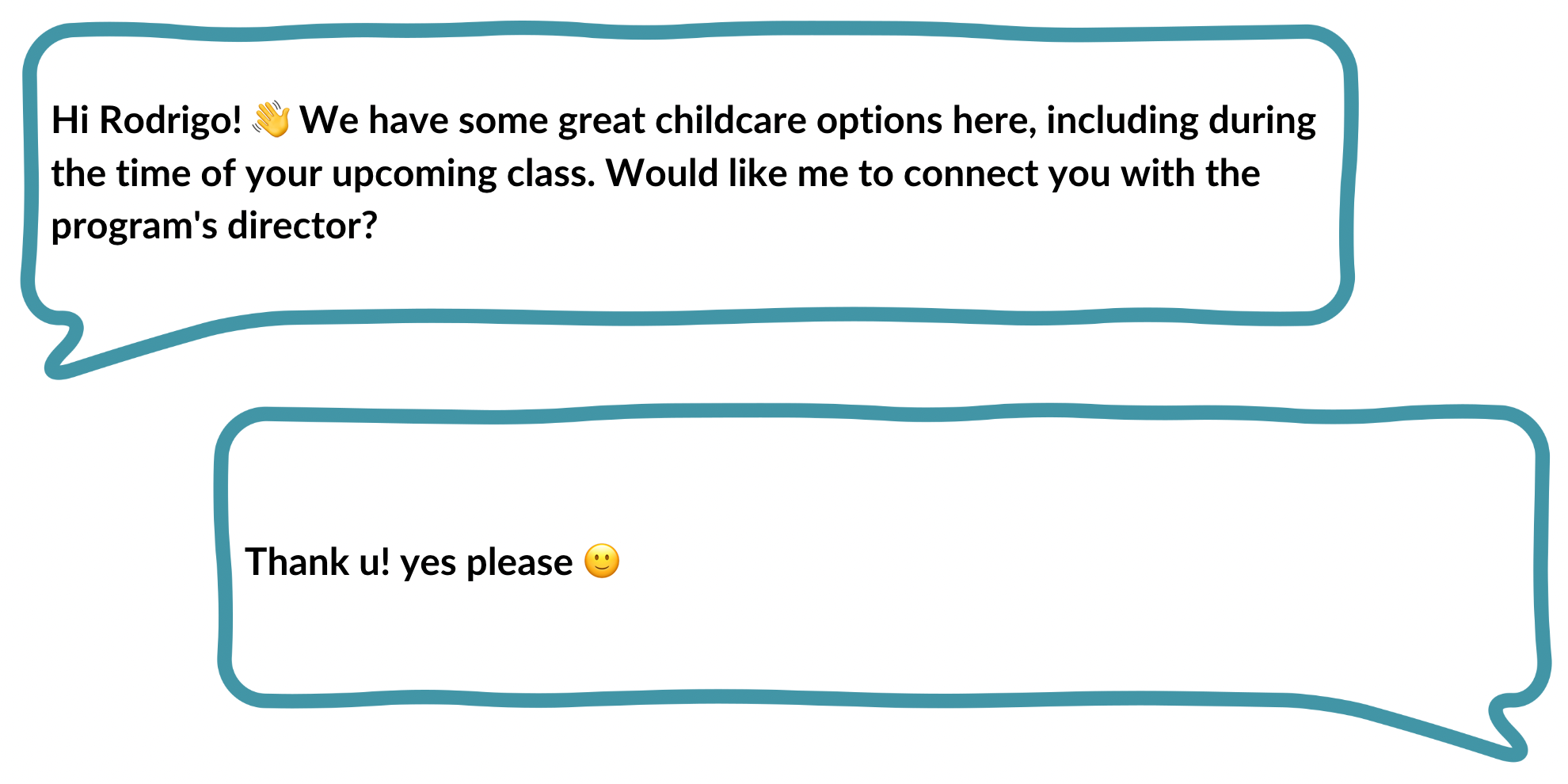 By being proactive in sharing resources, you'll demonstrate your institution's level of caring for students outside of the classroom and help students overcome common hurdles to learning.
2. Stress the flexibility of their education options
The majority of adult learners are either working, actively job searching, caring for dependents or all three. You'll also likely encounter many current or prospective adult learners who are navigating health issues, struggling financially or needing to travel frequently.
No matter their circumstances, your adult learners will appreciate flexibility.
Texting can help you uncover the type of flexibility each student is seeking. This may involve flexible class meeting times and locations, flexible options for the tools and technology used within the classroom or in online courses, and flexible timelines for completing course or program requirements.
Your prospective adult learners may have inaccurate assumptions about their options to advance their learning. They may assume that their schedule and responsibility make it impossible to enroll. Fortunately, a simple text or two can bust common myths and allow an adult to seriously consider one of your learning programs for the first time.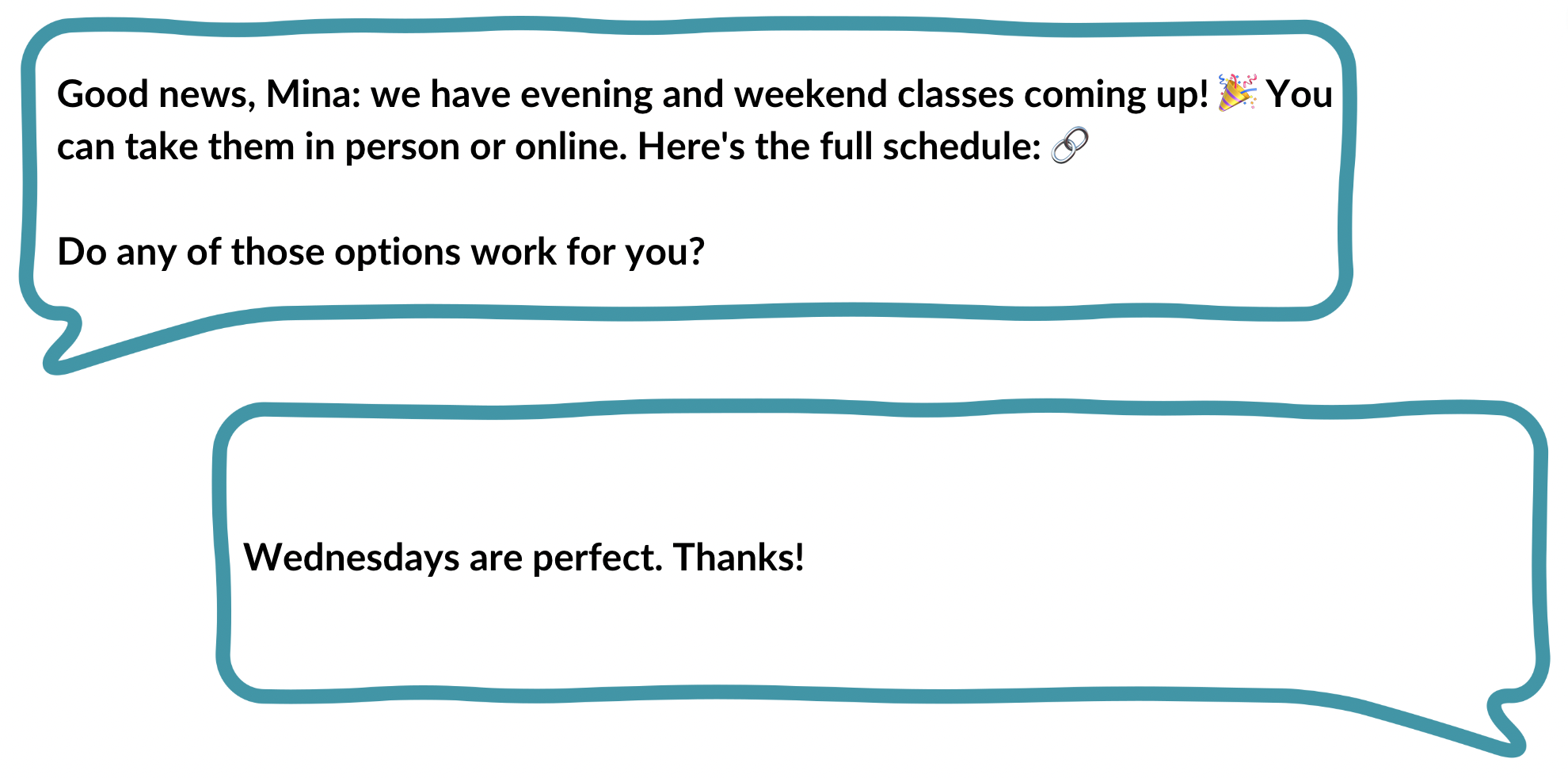 3. Focus on program outcomes
Prototypical college student often entire enroll in college at age 18 without focused goals in mind. They enroll because their families pressured them to, because they want fun social experiences or simply because it seems like the natural next step after high school.
Adult learners are different. They almost always research education options and enroll in their programs expecting specific outcomes:
English as a Second Language (ESL) students are non-English speakers who want to acquire skills to speak, read, write and listen in English for the first time.

Students in Adult Basic Education (ABE) courses seek basic literacy skills to better read, write and speak English, along with basic math education.

Students in Adult Secondary Education (ASE) or High School Equivalency courses (HSE) course want to earn their high school degree or equivalent by passing a GED test.
All of these learners want to better socialize with English speakers, navigate American cultures and systems, and secure employment.
You can use texting to explain how your institution's adult education courses support these outcomes. The Coalition for Adult Education provides great examples. Their website showcases the average wage increase earned by GED exam completers ($9,000), the percent of students who passed the GED exam (72%) and the percent of adult learners who continue on to higher education (45%).
You can share a similar PDF, graphic or fact sheet to your students via texting or, better yet, send them personalized statistics based on their stated goals.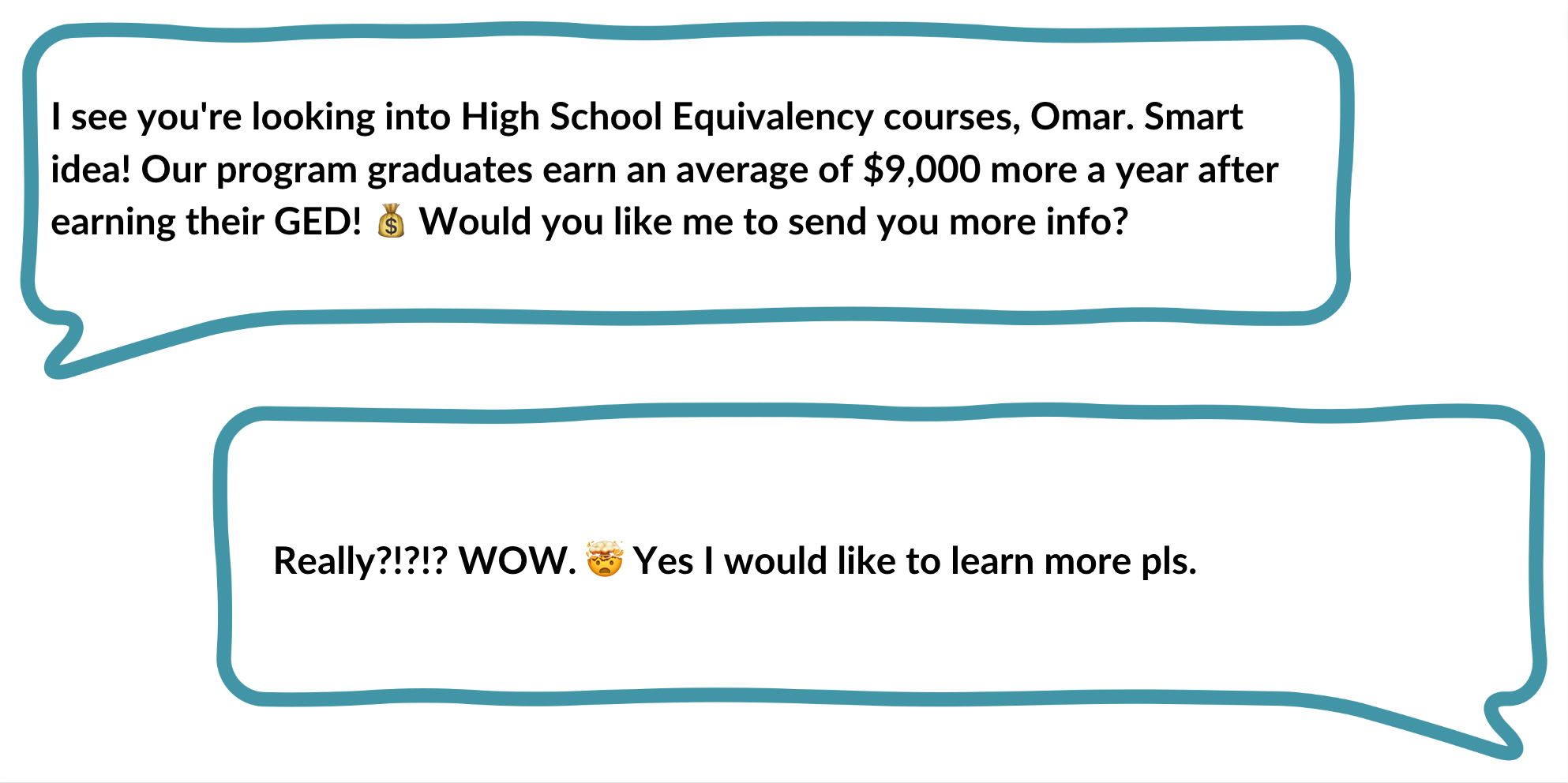 No matter the message, texting can cut through the noise and showcase the advantages of adult learning—all in a highly accessible place: the student's phone.
Want to further explore best practices for texting adult learners? Watch our webinar!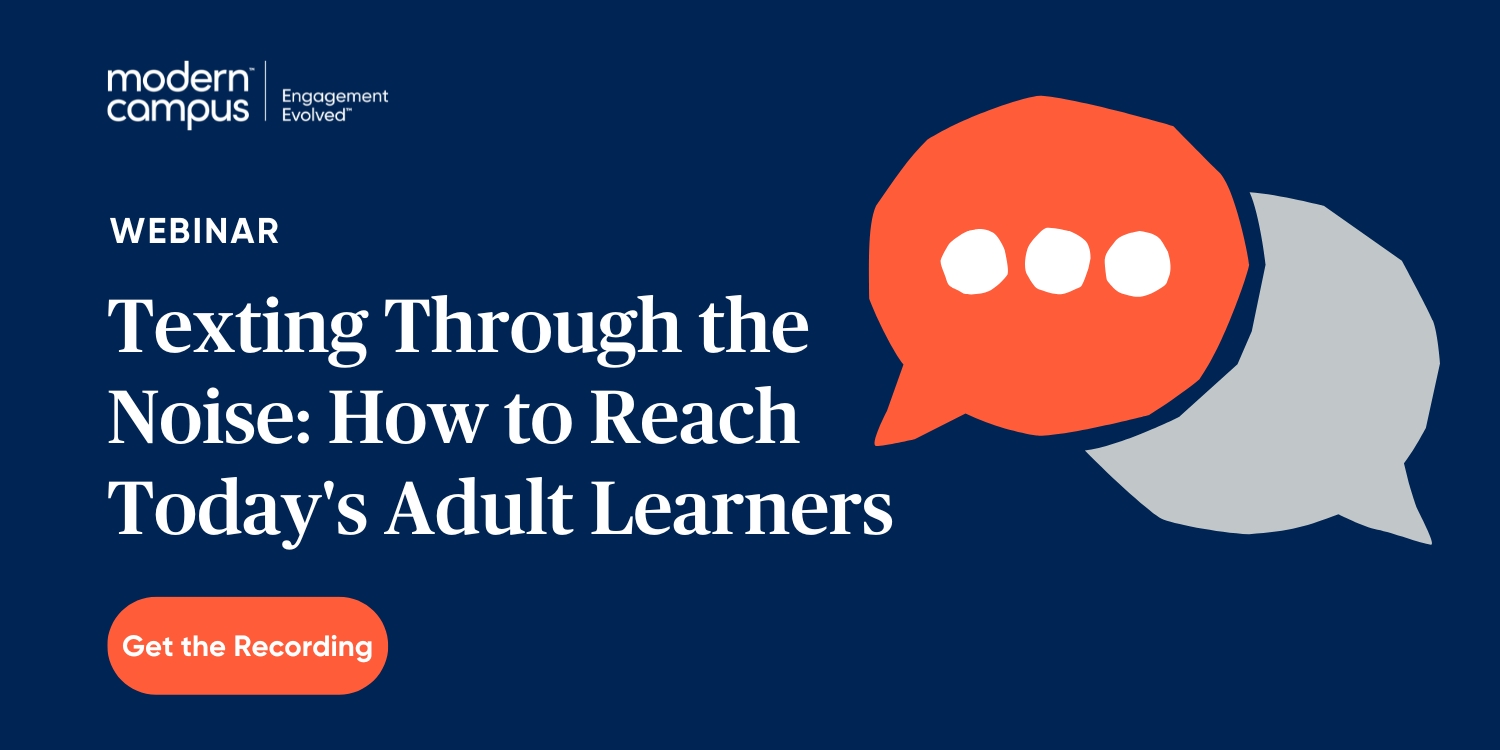 ---
Last updated: February 3, 2023