How You Can Make 3 of the Toughest Decisions in Student Affairs Using Data
At Modern Campus, data is our favorite four-letter word.

We know that access to high-quality data is key to unlocking the full potential of higher education. With the right data, you can understand the full story of your students and make the right decisions to advance your college or university.
---

What types of decisions can be guided by data in Student Affairs?
1. Funding
Securing proper financial allocations is often the biggest hurdle to offering optimal Student Affairs programming. But, as many institutions have proved, larger budgets can be unlocked when there is an assurance on a strong return on investment (ROI).
This assurance can come from assessing and analyzing data in new ways.
For example, you may be already able to identify which students attend events throughout the year, but what about those who aren't showing up? With the right data, you could demonstrate the need for additional programs that directly target unengaged students. Better yet, you can use data to prove how Student Affairs initiatives have historically supported student GPA, sense of belonging, retention, on-time graduation and more.
2. Staff Efficiency
Student affairs professionals are frequently tasked with finding ways to do more with less — a challenge that requires savvy prioritization.
Data can guide that prioritization. By knowing which projects have the potential to provide the greatest benefits and which pain points are most preventing your office from achieving its goals, you can make informed decisions about what initiatives to prioritize.
For example, learning which co-curricular programs work well with students will allow you confidently develop people-pleasing events. Better yet, understanding which interventions support student persistence will support your investment in programs that boost retention.
3. Engagement
Increasing student engagement is a challenge faced by every Student Affairs office, no matter the functional area. There's no one-size-fits-all formula that fits every learner and every institution at all times, but data can help you adapt and perfect your unique strategy in three ways.
Removing barriers to engagement
By monitoring the demographics of your students who attend events and assessing survey responses, you can get a better picture of when, where and how to schedule your programs.
For example, your commuter students may be more likely to attend events on Tuesdays than Thursdays or your older, adult students may want programs that welcome their children to join.
Improving program quality and diversity
By understanding how your programs do — or, more importantly, don't — meet students' expectations, you can continually make adjustments to increase satisfaction and garner more participation the next time around.
Focus groups can help you pick guest speakers who will excite your students. Surveys can help you design programs that students will find more inclusive and welcoming. And demographic data could help you plan each month's activities calendar, ensuring that you offer opportunities that appeal to a wide variety of students.
Promoting the value of engagement
Telling students "this program will be fun; trust us" or "you'll learn a lot by joining a student org" often isn't enough. If they're going to devote their limited free time to a campus opportunity, many students want proof — or, at least, more specific evidence — that it'll be worth it.
Data can be that proof. Imagine being able to say that students who join a campus club have average GPAs .11 points higher than non-members, as Purdue University did… or that highly involved students are 1.8 times more likely to have a job offer upon graduation, as The Ohio State University found.
Students, by and large, enroll in higher education in order to better their career prospects. So demonstrating that engaging in campus life can help them toward that goal has tremendous motivational value. (Yes, it's even better than free pizza.)
---
Gathering and analyzing data is not a burdensome call to action; it's a thrilling opportunity to improve your work, support your students and, ultimately, better your entire institution!
Download our free guide to become a pro at collecting data and discover what the results are telling you.
The Student Affairs Guide to Data-Informed Decision-Making
How student affairs professionals can efficiently gather & analyze high-quality engagement data to drive better decision-making and meet ambitious goals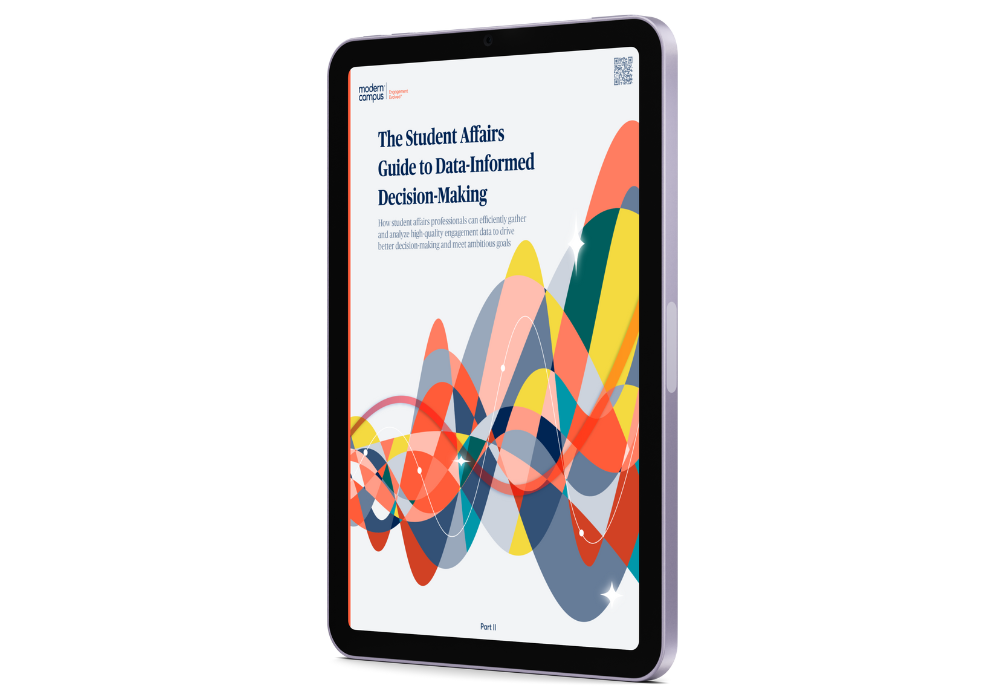 Ready to maximize data collection and analysis, with real-time analytics, dynamic visual reporting, custom demographic attributes and so much more with Modern Campus Presence? Schedule a demo today.
---
Last updated: December 28, 2022