Responding to Market Demands with a Consumer Mindset
​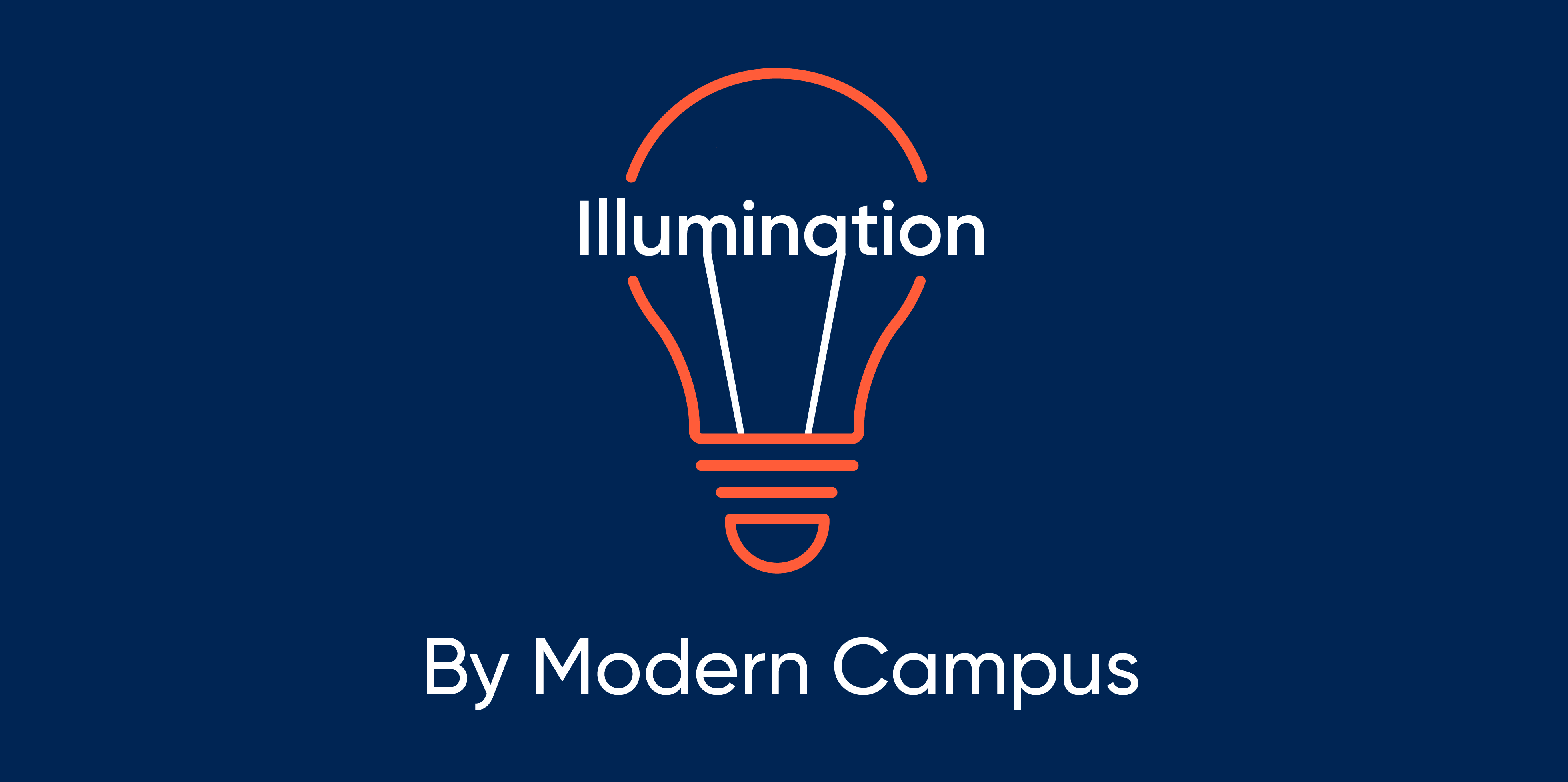 With the increasing need of upskilling and reskilling the workforce, the concept of continuing education and online learning has evolved significantly in recent years and is gaining more traction.
Now, Continuing Education has the opportunity to lead every institution toward a more innovative future.
In the twentieth episode of Illumination by Modern Campus, Sasha Thackaberry, Associate Vice Chancellor of Learning Experience Design Innovation at National University, highlighted how CE divisions have historically been siloed.
"It started on the side and was its own little bucket…it was largely ignored by other institutions," she said.
Even for institutions that did use their Continuing Ed unit, CE was still considered a different track to the main campus programming.
But with the increasing need to fill the skill gaps in the industry, higher education is starting to see a transformation toward more non-credit programming.
"Learning itself has become a necessity to have an upwardly mobile career," Thackaberry said.
This requires more bite-sized education that is right for a specific learner at a specific time in their lifelong learning journey.
"You have to be able to go and pick up a piece of something specialized and understand this piece and bring stuff together," Thackaberry said.
But the historic stigma around lifelong learning and non-degree programming has created barriers for collaboration between Continuing Ed divisions and the broader institution.
It's critical for the institution as a whole to have a clear understanding of the value of CE. And, oftentimes, it's understood through a lens of modality.
Institutions can offer students a variety of stackable credentials that build into a degree program, based on their interest in a particular credential. This is where CE and the main campus come together to build a personalized pathway for a particular student.
As Thackaberry explains, colleges and universities can be seen as platforms that provide a variety of offerings or product lines to their customers: the student. By being an aggregator of these offerings, students can access the lifelong learning experiences they're looking for.
It all comes down to being consumer minded.
Institutions have a responsibility to proactively market their offerings—to listen to what the market is looking for and deliver the right programming in the accessible and flexible way modern learners expect.
"Let's get really good at what we're providing so that it is the most efficient, most effective pathway," Thackaberry said.
However, the concept of seeing students as customers isn't easily accepted by everyone in higher ed's traditional space. But as Thackaberry points out, there shouldn't be negativity around the idea of seeing higher ed as a business.
"If we do it well, we should be doing it for the improvement of society," she said.
In an environment of upskilling and reskilling, education needs to be bingeable.
This means creating strong partnerships with employers to develop relevant programming that keeps students competitive in the job market. It also means marketing the right programs to the right people at the right time... and breaking free from historical traditional methods.
"The single biggest thing we need to do as institutions is have this huge mind shift," Thackaberry said, "We have to be willing to take risks and think beyond ourselves."
Full Episode
The EvoLLLution and Modern Campus are excited to be a part of Feedspot's Best 50 Higher Education Podcasts. To see the full list, click here.
---
Scaling Non-Degree Education Student Experience
Last updated: November 18, 2021