3 Ways to Scale Your Continuing Education Unit with Better Administration
Continuing Education and Workforce Development units are positioned to take center stage in the learner revolution. But they'll need to deal with their cumbersome administration first.
A 2022 report on the non-credit space by Modern Campus, the EvoLLLution and UPCEA found that 53% of Continuing Ed professionals say administrative burden is a major obstacle to scaling the unit. What's more, 56% of these same professionals say their non-credit unit's institutional role has expanded throughout the pandemic—with greater expectations sure to follow.
The math doesn't add up here. Most institutional leaders are calling on CE units to scale up, but those units say they don't have the resources to do so. Something's got to give.
Lean Administration is the Key to Scale
Continuing Education units have owned innovation at their institutions for decades, if not centuries. Their problem is not an inability to produce market-responsive, enrollment-driving programming. The problem is in the rigid systems these units often rely on to execute important tasks: Processes and applications typically built for degree-bearing education resulting inflexible workflows and bottlenecks that eat away at the unit's time, energy and budgets.
In the problem lies the solution, however. The way to scale Continuing Education is to remove its longstanding administrative barriers. Here's how non-credit units are doing it successfully.
1. Consolidate Non-Credit Management into One System
The biggest problem with CE's administration is that non-credit education has its tendrils pretty much everywhere. At most institutions, the management of CE offerings stretches between dozens— or in some cases, hundreds—of different applications. Not only does this complicate access to critical data, it also runs up the budget with licensing fees for multiple systems that perform different non-credit functions. This can't help but act as an obstacle to the growth that CE divisions are charged with driving.
Put Everything Non-Credit in One Place
Successful Continuing Education units have found relief in having a single source of truth for everything they do.
Kristy Davis, Director of Academic Support Resources-IT at University of Minnesota, said the school's non-credit unit consolidated all of its management into a single system, allowing the staff to dedicate their hours to scaling CE.
"It supports staff by providing a stable framework that all of us are working in and makes communication around non-credit easier," Davis said. "It has allowed non-credit units to transform the work of our staff to higher-level objectives."
2. Increase Agility in Meeting Corporate Demands
These days, much of a Continuing Education unit's growth hinges on its ability to meet the needs of corporate partners and prospects. An employer's growth hinges on its response to labor market needs, which means they need partners who can turn on a dime to accommodate them.
Hone Corporate Engagement with Easy Customization
Reaching new audiences and driving revenue with corporate partnerships requires streamlined corporate engagement. Often enough, the ability to respond quickly with effective solutions can be what separates an institution from its competitors.
Sallie Kay Janes, Associate Vice Chancellor of Continuing and Professional Development at San Jacinto College, said the unit's use of a purpose-built non-credit corporate engagement platform has allowed them to respond to corporate needs at a moment's notice.
"It puts the college in a position to offer programming solutions quickly—often quicker than they're actually needed. We're able to keep pace with employers' demands because we can turn on a dime," Janes said. "We can get a course into our system within 24 hours and offer it."
This agility puts San Jacinto at the top of the list for potential corporate clients, expanding its reach and revenue.
3. Improve the Student Experience
Conversion and enrollment are the foundation of your unit's growth. When learners have trouble getting the information they need from an institution's online presence, that foundation wobbles. If your website isn't doing all it can to convert learners to students, growth will stagger.
Transforming the student experience isn't just about the student. When non-credit learners receive consistent, seamless digital experiences, they have markedly less need for administrative assistance. This buys back valuable time that support staff can allocate to students who can't find what they need on their own—heralding better, faster support that can make the difference between enrollment and drop-off.
Reduce Support Requests with a Seamless Non-Credit Experiences
Chris Moir, Executive Director of College Hospitality Services and Retail Operations at Cuyahoga Community College, said the college's online enrollment skyrocketed after bringing aboard a student information system built specifically for non-credit education.
"Over two years, we have had a 64% increase in people registering online since we've implemented," Moir said, highlighting that a non-credit SIS as critical to providing consistent experiences to the non-traditional learners it serves.
This efficiency enables staff to dedicate more time and energy to their ultimate goal: growing the unit.
Remove Operational Hurdles and Watch CE Scale
Scaling Continuing Education and Workforce Development doesn't have to be a challenge anymore. Learner demand for non-credit offerings is at an all-time high, and your units has innovative, demand-generating education in the bag. All the pieces are in place for CE to take on a greater role at the institution—save for one.
Non-credit units that have prioritized tailor-built student management have since alleviated CE's biggest headache. They've transformed their units with administration that not only eliminates inefficiencies but realizes new ones altogether. And with nothing weighing them down, they've had nowhere to go but up.
State of Continuing Education 2022
Insights from 200+ Continuing, Workforce and Online Education professionals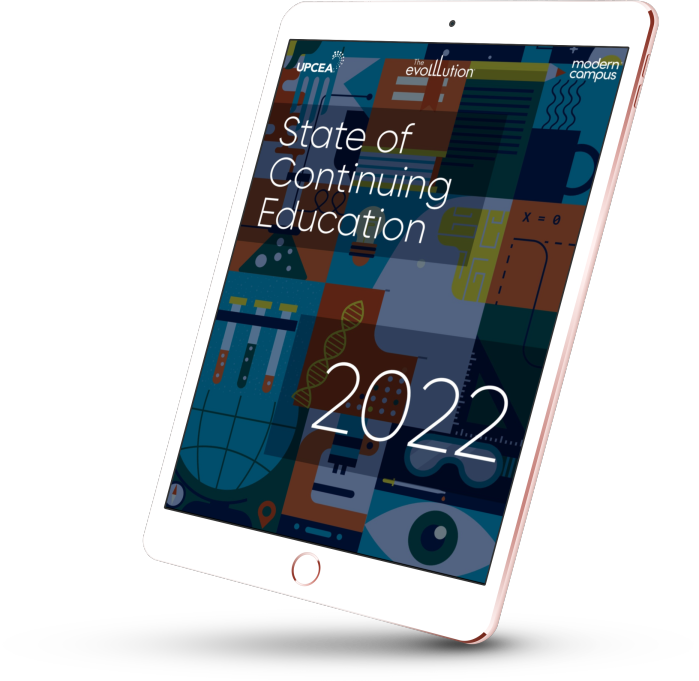 ---
Last updated: April 13, 2022