Why Higher Ed Needs a Strong Continuing Ed Program

It's no secret that the number of 18-to-22 year old traditional learners is decreasing. Add in institutional budget cuts across the board, and now the uncertainty and change brought about by the COVID-19 pandemic. More than ever before, it's become apparent that continuing education and other non-traditional divisions in higher ed are going to be called upon to show more responsibility for the financial health of their institutions.
Exciting Growth with Limitless Potential
The good news is that continuing education is undergoing a period of exciting growth with limitless potential. To capitalize on these opportunities, colleges and universities must encourage their employees to engage in continuous learning to keep pace with the evolving industry. Additionally, the middle skill labor market is growing rapidly, which means increasing numbers of people are seeking workforce-relevant certificates, certifications, and other non-degree programming.
Serving a New Audience: Is Higher Ed Ready?
The bad news is that colleges and universities haven't stepped up to serve these new audiences. Even as schools are developing bootcamps and employer-developed certificate courses, they have largely ignored addressing the skills gaps. For this reason, continuing ed and other non-traditional departments must ensure that they stay current and at the ready to answer the call of the marketplace.
The first step is to confront the existing system. Today's non-traditional student is an experienced customer whose expectations are shaped by the service they receive from e-commerce websites. They expect to be treated as a customer, especially since they are paying tuition and fees for the services provided—and these aren't cheap.
Additionally, the applications process has much more influence on learners than higher education might assume. According to DJS Research, 40% of American students said dealing with administration is so complex that it cuts into their study time, and 33% of students said the paperwork and complexity of institutional administration was frustrating. Further, a full third of students told DJS that poor administrative systems negatively affected their view of the university. If lifelong learning is the goal, then administrators must change the system to better serve non-traditional learners with the caring and nurturing they've come to expect.
Finally, from a program perspective, continuing ed has been expected—and has generally met the challenge—of pivoting to respond to workforce trends and needs. This responsiveness makes a huge difference to non-traditional students, but it's this type of flexibility and agility that traditional higher ed has lacked. For continuing education to truly be impactful in higher ed, the entire system must be redesigned so that continuing ed and the rest of higher ed can be ready to meet programming demand in the same way.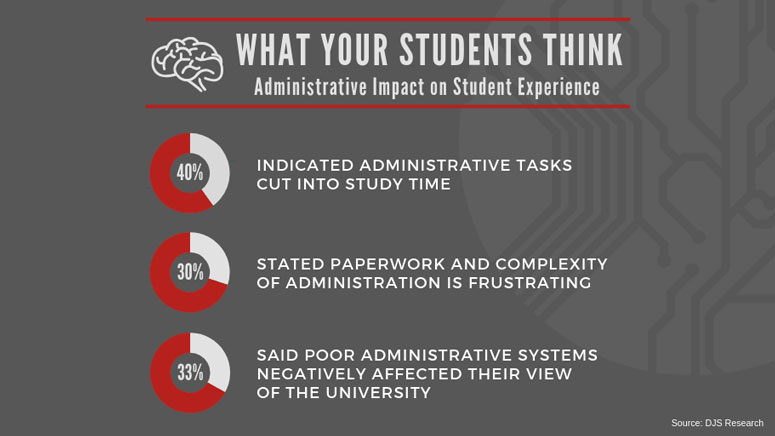 Continuing Ed Needs the Right Tools for the Job
Many non-traditional divisions use their main campus system directly or a piecemeal hybrid to serve the continuing education space. If your college or university wants to do it right, then give continuing ed the tools they need to do their job.
This is where Destiny One can help. Destiny One is a student lifecycle management (SLM) platform designed specifically to give non-traditional administrators the tools they need to efficiently manage all aspects of the learner lifecycle, including marketing, enrollment, curriculum, finance, and more. The SLM platform integrates with main campus systems, engages students with a customer-centric experience, optimizes staff efficiency, and provides business intelligence that empowers data-driven decision making.
Destiny One helps continuing ed push through the limitations of traditional management systems in four key ways:
It modernizes the student experience by offering a streamlined process, and it includes features that turn prospects into conversions from the digital shopping cart to the online credit card payment process.

Taking another page out of the book of e-commerce leaders, Destiny One also offers abandoned shopping cart retrieval. This means if a student adds items to the cart, but then fails to complete the purchase, the SLM saves their cart information—including pricing, discounts, and any other customized information—and automatically prompts the student via email to return to their cart to complete the purchase. Over one year of internal study, this feature led 8% of learners to recover their otherwise abandoned carts, leading to an average increase in revenues of 17% for institutions using the Destiny One platform.


Once enrolled, the Student Portal allows schools to maintain relationships with learners. Students can enroll in courses, request transcripts, review their historical financial information and much, much more—all through their personal portal. They can also start and save applications (to submit when they're ready), drop courses, and track their progress toward certificates. This is especially important given the nature of non-traditional students who enroll part-time, stop out, take classes when able, and enroll for professional development when needed.

"In any one year, our retention rate is about 40% from year to year. That's a lot of turnover in students, and it's part of a short-term training paradigm," Mark Mrozinski from Harper College said. "What that means for our work with Destiny One is that new students are constantly acquainting themselves with our online experience. It's very different from a four-year university, where they have a steep learning curve in the first semester, but then they know how the system works. Our students are constantly learning the system, so we need to offer them something intuitive, which they can easily navigate and which puts up few barriers."


It adds back-end efficiencies by automating many operations processes, freeing staff to spend more time on student-facing tasks. This allows continuing ed to adopt a high-tech, high-touch approach to management where staff time is devoted to high-value work. For example, looking back at launching an offering, Destiny One automates the approval workflow process, notifying the right people at the right time when their input is required. This means non-traditional divisions overcome the common process roadblock of approvals simply getting lost in the shuffle and allow them to stay responsive to labor market shifts.

For continuing ed, freeing staff time is absolutely critical to staying on the cutting edge and focusing on delivering great student experiences—which can have a massive impact on the bottom line.


It improves the relationship between continuing ed and the rest of the campus. With Destiny One, continuing ed leaders have ownership over all critical elements of business, which ensures their staff has the capacity to manage the program effectively without relying on help from the main campus.

And because Destiny One has out-of-the-box integrators that connect into main campus financial, SIS, and ERP systems, central administration has access to the information it needs. This focus on integration does more than improve accountability and data-sharing between main campus and continuing ed; it improves data integrity and security as well.


It creates opportunities for operational consolidation. Streamlining operations for non-traditional programs into a single system minimizes duplication and allows programs to focus on areas of subject matter expertise rather than on the minutiae of program management. Having a system like Destiny One that is designed specifically to manage non-traditional programming can be an effective way to get rid of bloat, grow revenues institution-wide, and improve operational effectiveness across the board.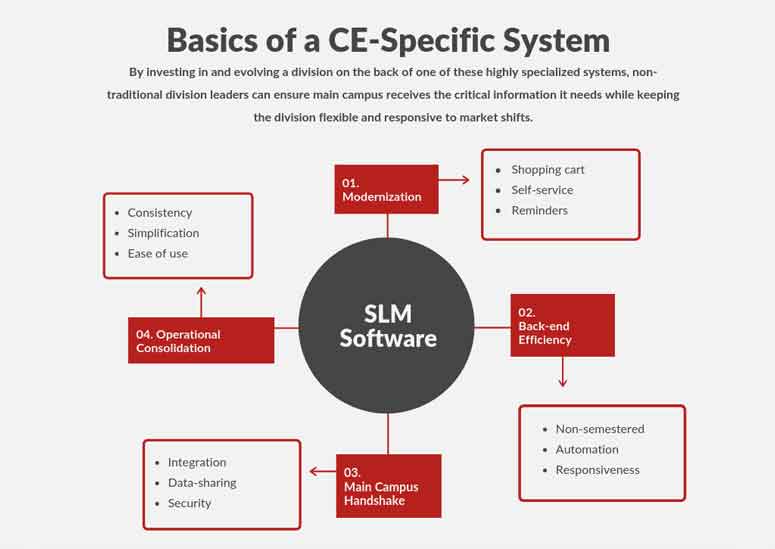 "It's all about allocating resources to the things that matter: You can afford to do whatever you want, so long as you make it a priority," said Mrozinski from Harper College. "Nothing will grow unless you resource it. We chose to prioritize Destiny One over other initiatives because we felt that the time was right to position ourselves for growth over the next decade."
Ready to engage non-traditional students on your campus?
Download 7 Ways to Attract and Retain New Audiences: Restructuring Higher Ed to Serve Learners for a Lifetime now.
---
Credentialing Student Lifecycle Management Enrollment Growth
Last updated: February 5, 2021