Top Ten Higher Ed Course Catalogs of 2022
Higher ed catalogs are often one of the first things prospective students look at when checking out a college.
Therefore, modern colleges and universities do not treat their catalogs as giant, but important, pieces of paperwork. They leverage them as strong marketing tools that attract, engage and convert prospective students.
We looked at multiple catalogs of modern higher ed institutions and picked the top ten catalogs that serve as strong marketing tools. In this article, we've listed those catalogs—in no particular order—that stand out and explained what we loved about each of them.
A m

obile-optimized catalog with a v

ideo header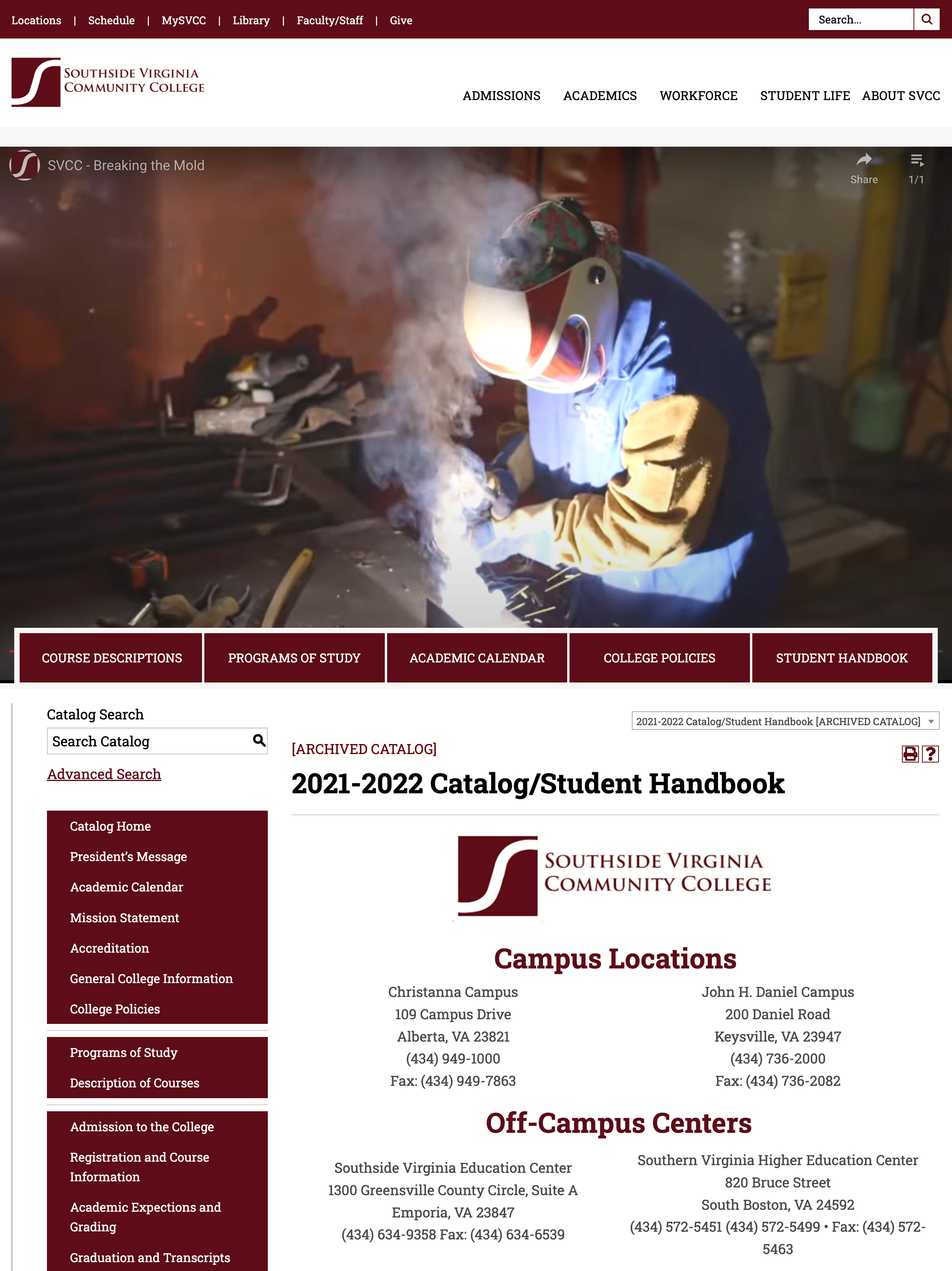 Southside Virginia Community College is an example of how you can use your catalog as a marketing piece. They've incorporated a video header into their catalog, which serves multiple purposes: it's engaging, gives the website visitors a virtual experience of the college, and it highlights specific academic programs.
We love that it's optimized for mobile devices and all its information is searchable.
It has a good, functional design with clickable links to easily navigate to pages—like course descriptions, programs, academic calendar, policies and the student handbook. They've neatly displayed all their campus locations right at the center where you can't miss them.
C

lickable tiles

and

a video header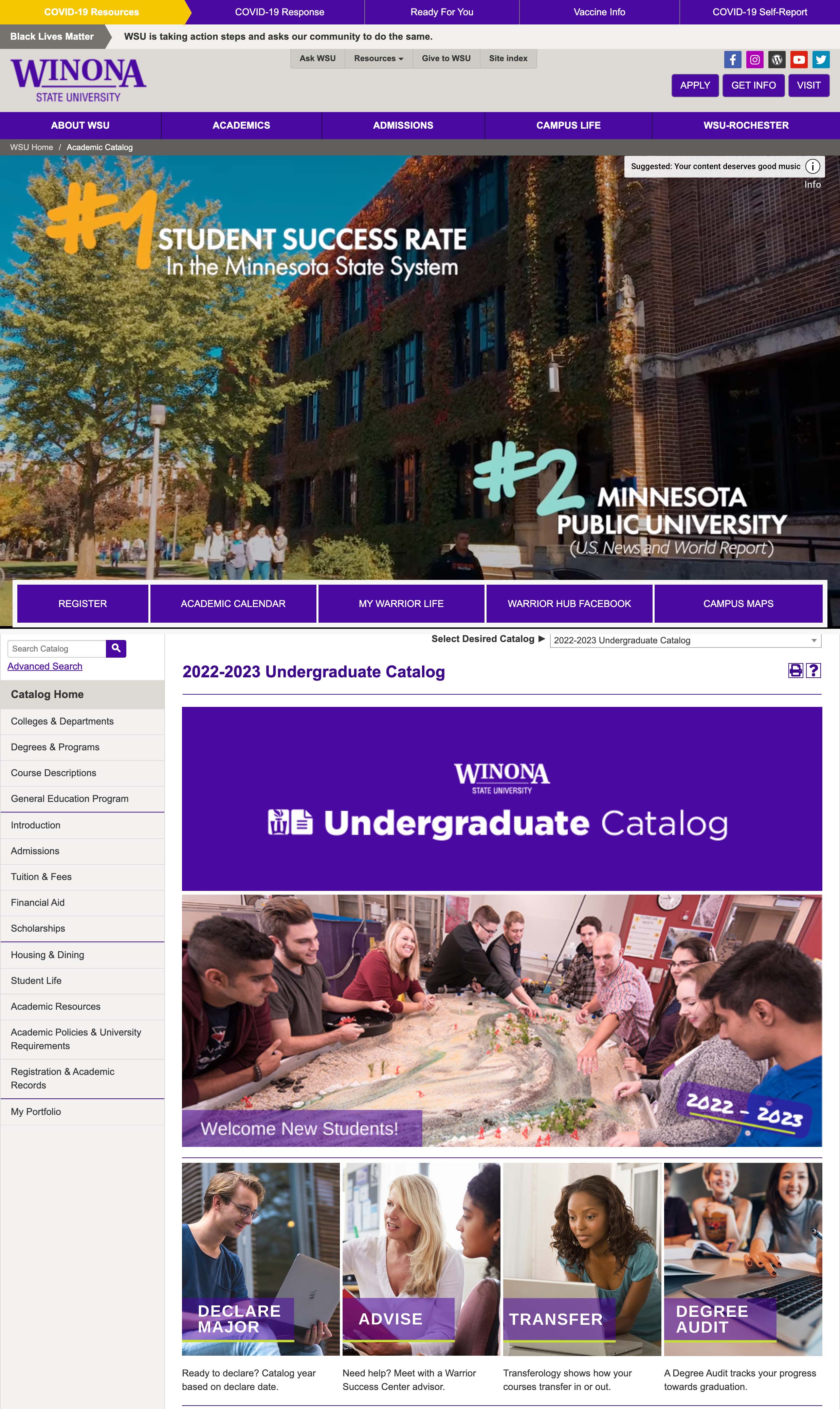 Winona State University recently went through a catalog redesign... and what a job they did! They've also incorporated a video header in their catalog.
The video header gives visistor a great feel of what it's like to be on campus and in WSU classrooms. It also highlights things that the university is proud of. Right below the video header, they've highlighted all important links as clickable tiles with attractive images.
Whether you're looking for an advisor, information about transferring, a link to the degree audit system, scholarships, or what's new in the catalog, they've highlighted them in these tiles along with the current and past catalogs. They've also added a link to the 'Contact Us' form if you have a question about the catalog.
I

ntegrated c

areer pathways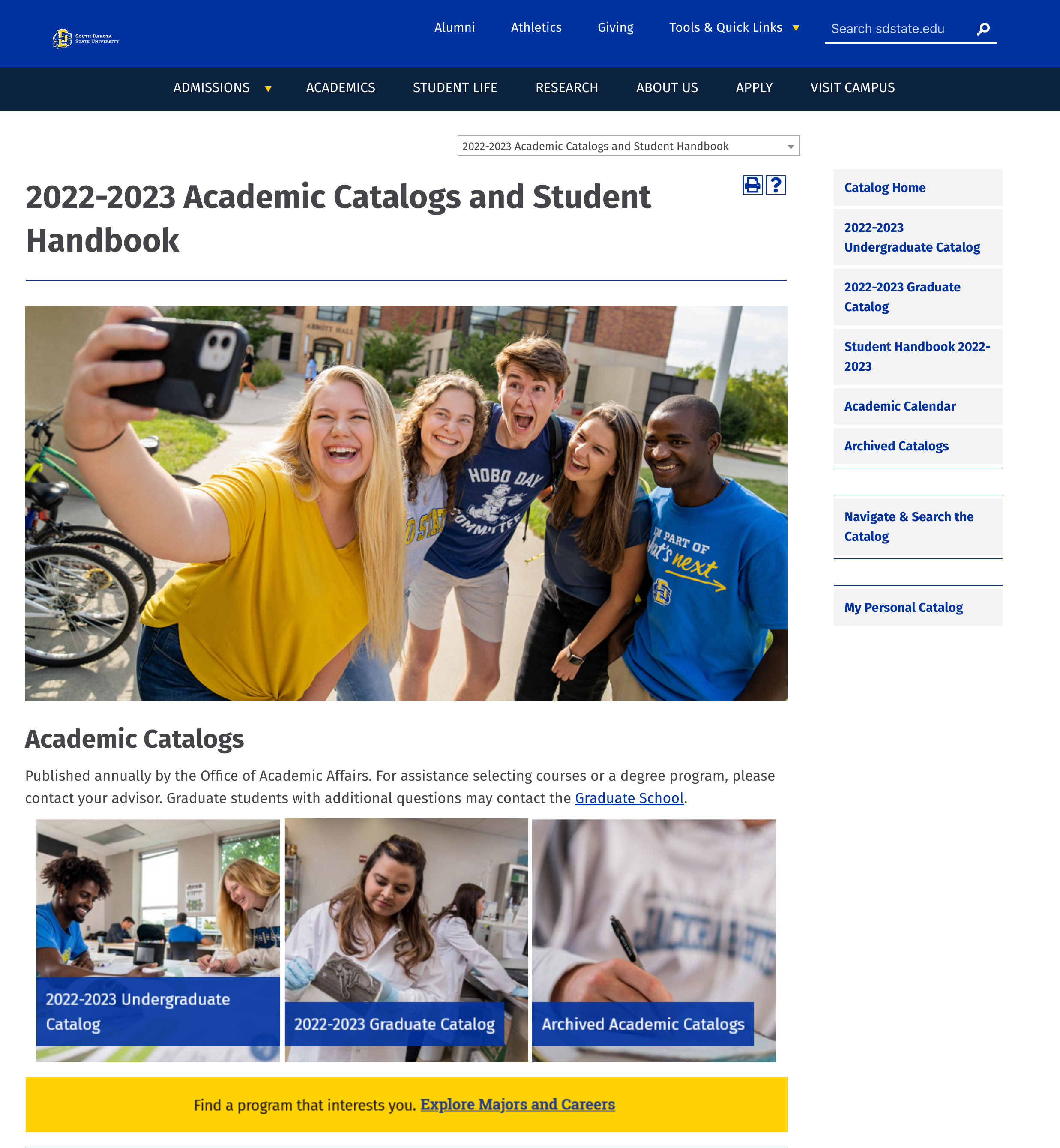 South Dakota State University has a very clean looking catalog. The home page shows quick links to their graduate, undergraduate and archived catalogs. It also shows their student handbook and other helpful categories—like registration, advising and tuition fees—as large clickable tiles.
We love that they've incorporated career pathways on their program pages. For example, if we check their undergraduate catalog, then click on the majors and minors link and go to their BA BS program page, we see jobs and salary data from various locations across the US. We can change the location and see live job/salary data for that particular location.
Right at the top and bottom of every program page, they've highlighted 'Apply Now' and 'Degree Planner' buttons. The page also highlights the campus location(s) where the program is available, along with the contact information of the program coordinator. It's a highly informative, engaging catalog.
Program spotlight and easy navigation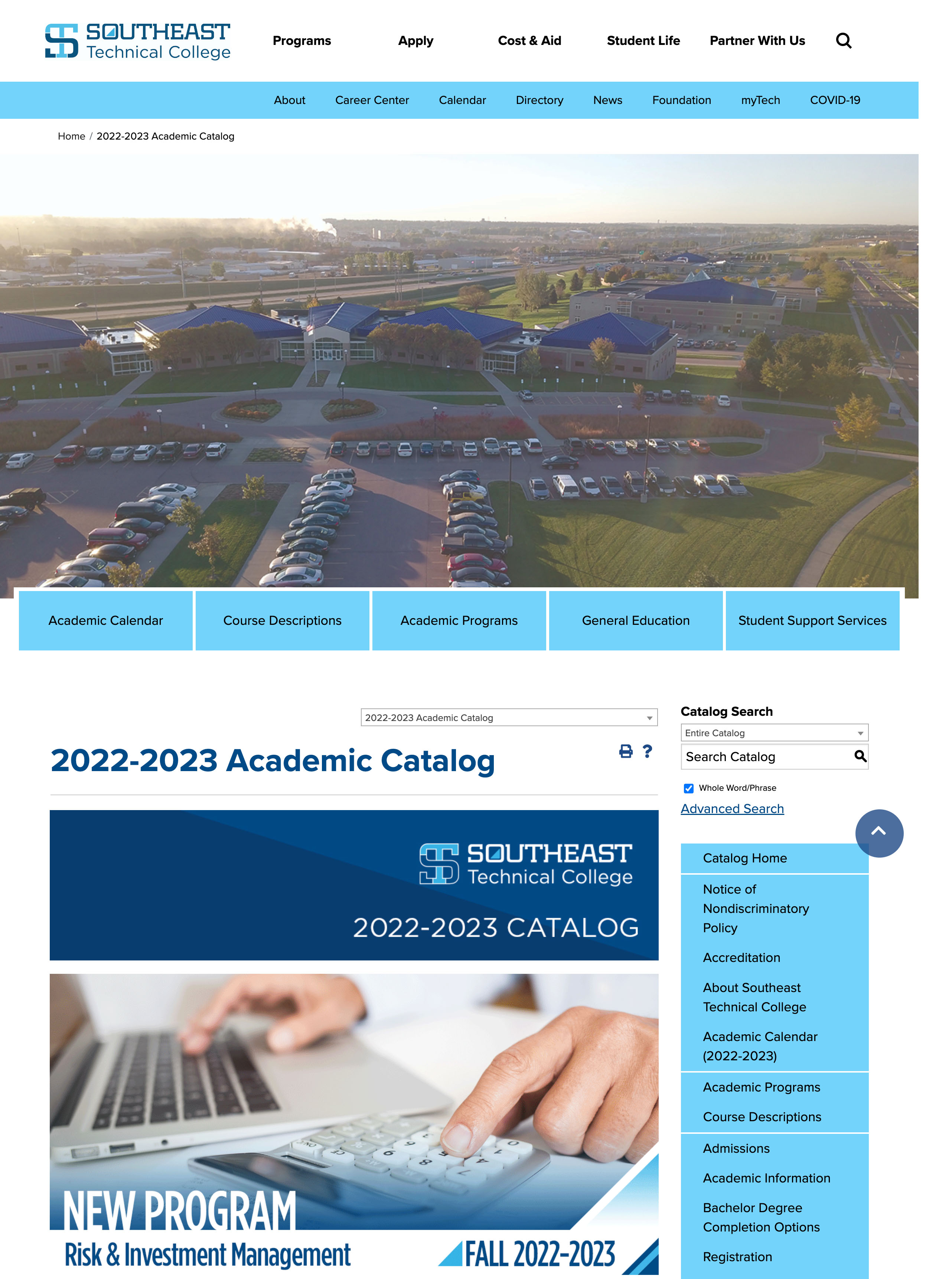 Southeast Technical College is doing a fantastic job of managing their catalog. They've incorporated a nice header that's consistent with their branding.
They use the center of the home page for program spotlights where they feature their new programs. There are clickable buttons on the top and right for easy navigation. Clicking on their academic programs leads you to program pages, where they've included videos for all their programs to further engage visitors.
Program pages are also well designed. At the top, they have the 'Apply Now' and 'Request Info' tabs, which is a great way to drive leads to admissions right from the catalog. Next, those 'Learning Outcomes,' 'Program Mission Statement' and 'Estimated Program Fees' are a great way to present additional information without leaving the page. Breaking down semesters by suggested sequence helps students envision their schedule right when they're checking a program page.
A

n inclusive

catalog with program spotlights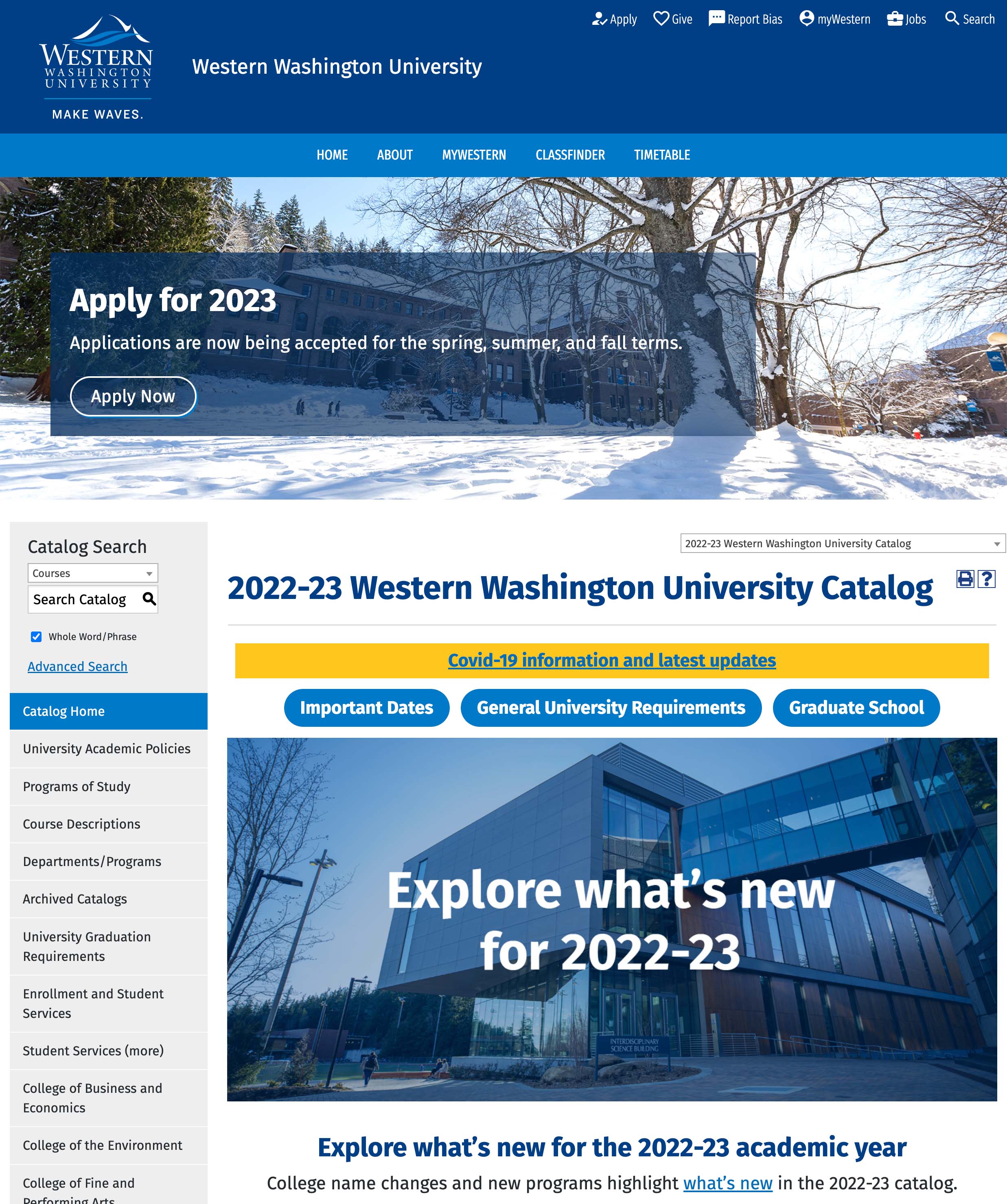 Western Washington University uses its catalog as a one-stop shop. It's informative and great marketing piece. They even train their students on how to use it.
With all the important links on the left, it has a 'What's New in the Catalog for 2022-2023' section in the center along with important dates and information about university requirements.
The 'What's New' section has all the university policy updates and program spotlights, which includes some new programs that the university is promoting with further links to additional information.
Easy navigation with a fresh look and feel
CSU East Bay loves to keep their catalog looking fresh, so they change the look and feel of their catalog up every year or so.
We love how they've broken up the navigation. It's easy to find everything. They've kept all the important links (calendar, courses, majors) in the center and left of the homepage. They've highlighted apply, search and menu buttons at the top. The menu is expandable with all the links further segmented into categories neatly stacked.
And, of course, if you want some more ideas, you can go back and check some of their previous catalogs. You'll see some of the things that they've done and have changed over the years.
Innovative design with a prominent call to action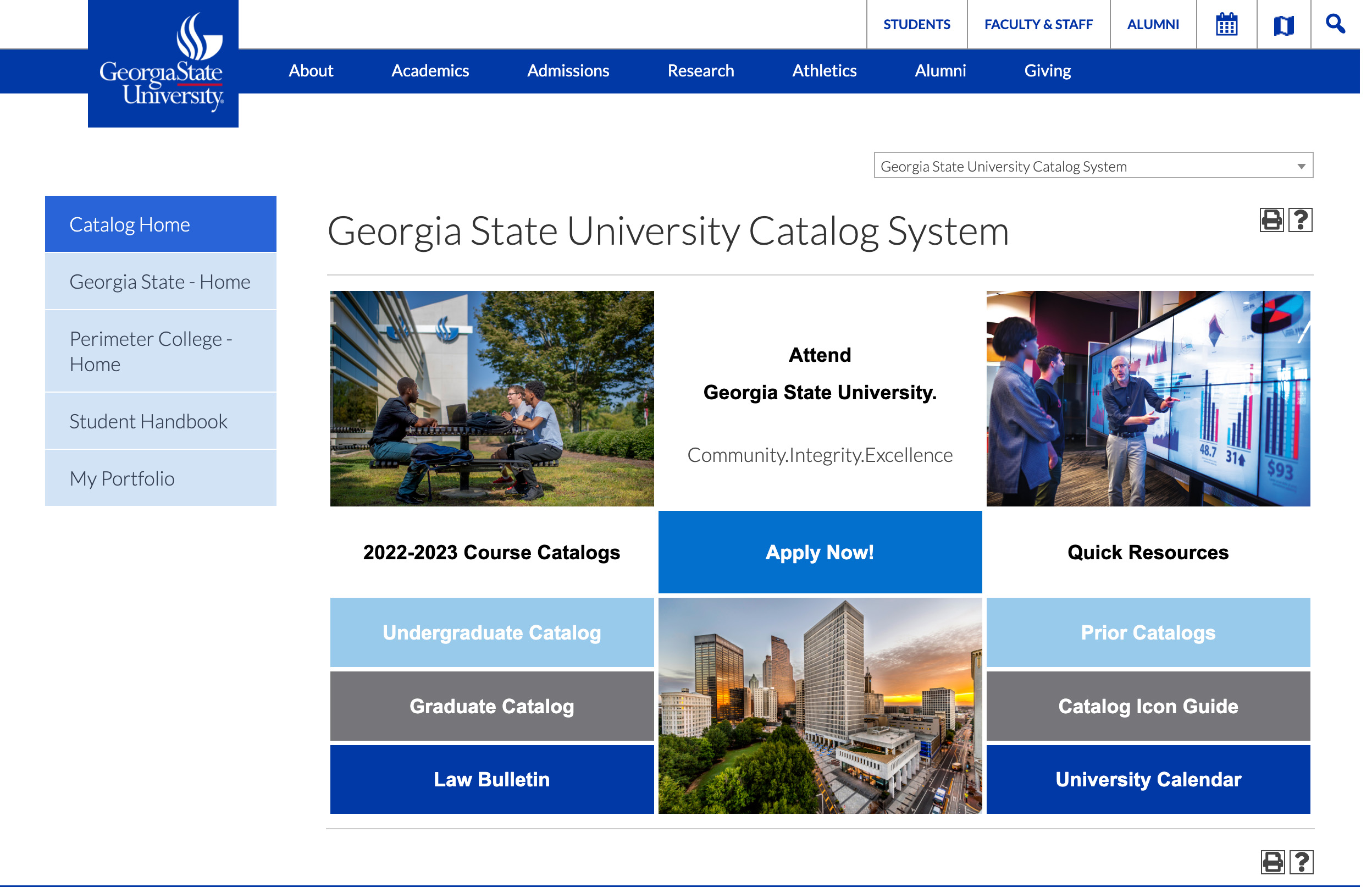 Georgia State University has an innovative and unique looking catalog. They've highlighted the 'Apply Now' button right in the center of the home page. There's nothing better than a prominent call-to-action button if your primary purpose is to convert leads for the admissions office.
Then they've also highlighted the undergraduate and graduate catalogs buttons and provided links to prior catalogs. Along with the current one, we can check all the catalogs of the past that the university offered.
The home page has the My Portfolio tab, inviting visitors to save and share courses that you're thinking about taking in the future. It also has an easy link to the student handbook.
A no-frills catalog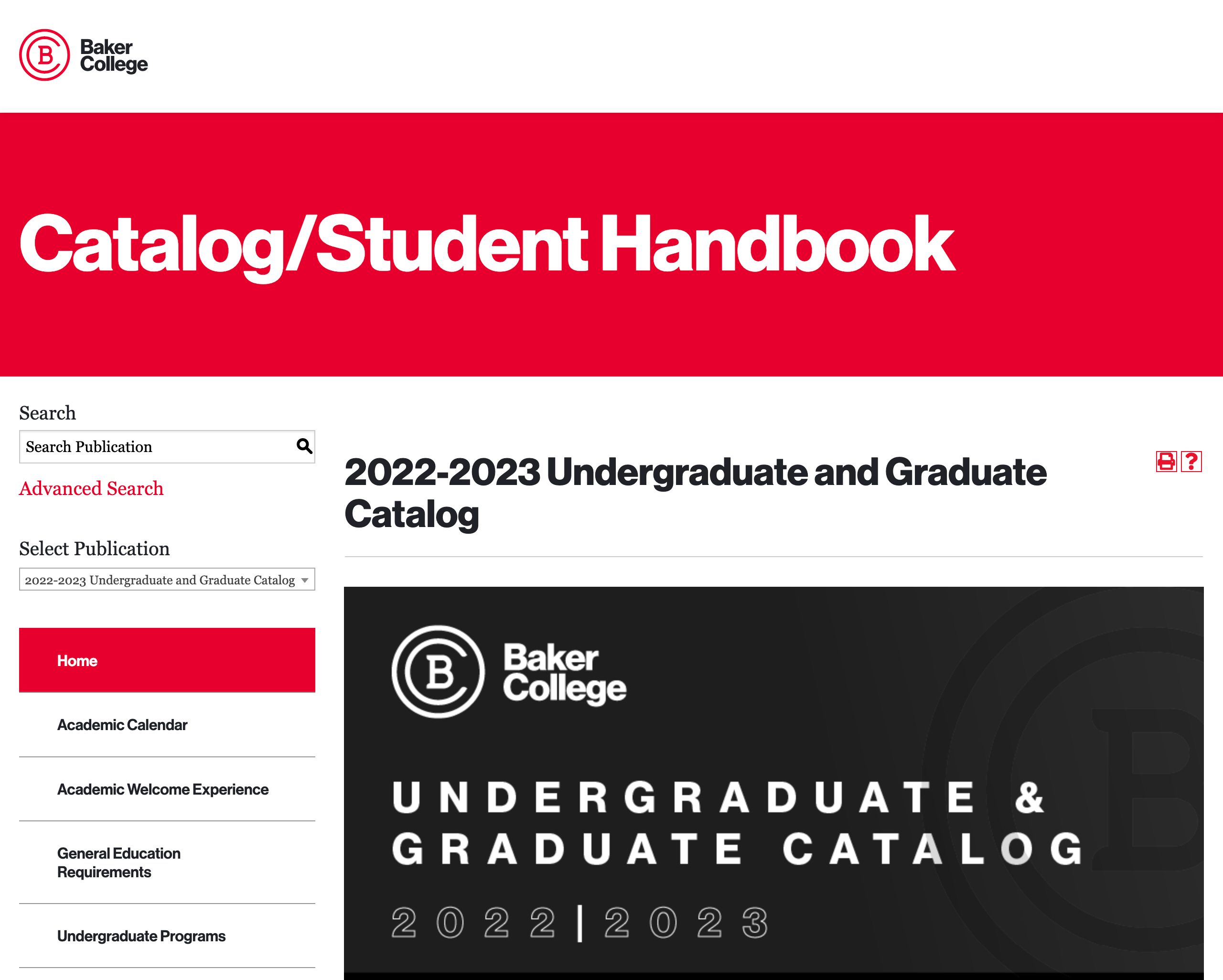 Baker College has a very clean, no-frills catalog. It's simple, vibrant and consistent with Baker's branding.
It has the current year's catalog in the center and all the important links in the bold, clickable tabs on the left. The previous two years' archived catalogs and an easy to find and use search bar are on the top left.
If you don't have a lot of great creative ideas and you're just looking to kind of spruced up the way your catalog looks, we recommend looking at Baker College for inspiration.
A simple, clean catalog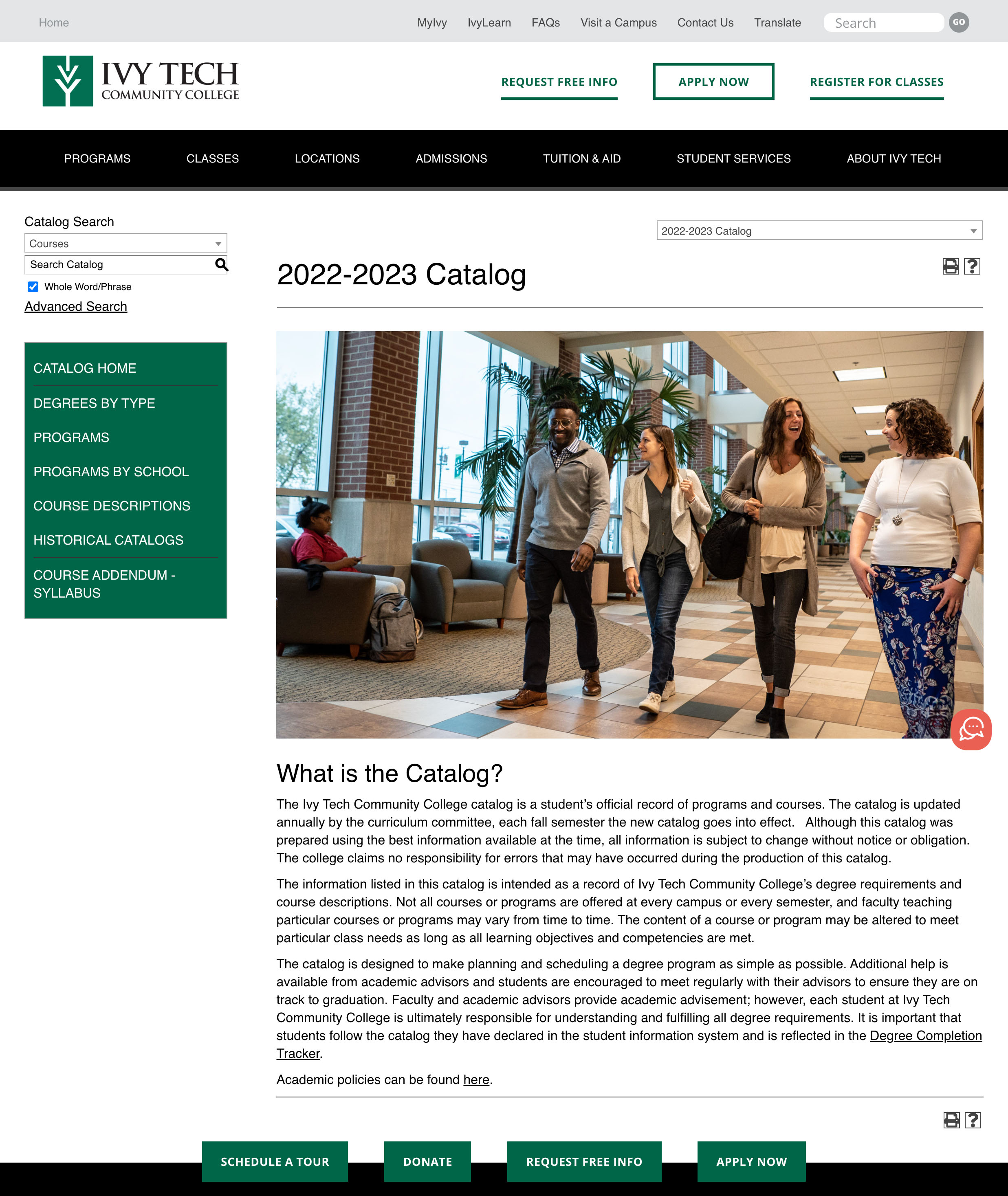 Ivy Tech examplifies simplicity at its best.
Apart from the current year's catalog at the center and important links in clickable tabs on the left, it has 'Request Free Info', 'Apply Now' and 'Register for Classes' CTA buttons at the top of the home page.
It has a drop-down mega menu with links to subpages about programs, classes, locations, and admissions. Each drop-down menu has highlighted CTA buttons like 'register for classes' and 'Apply Now'.
We love the way Ivy Tech has highlighted CTA buttons at multiple places. The bottom of the page also has CTA buttons like 'Apply Now', 'Donate' and 'Schedule A Tour'.
A clean catalog with easy navigation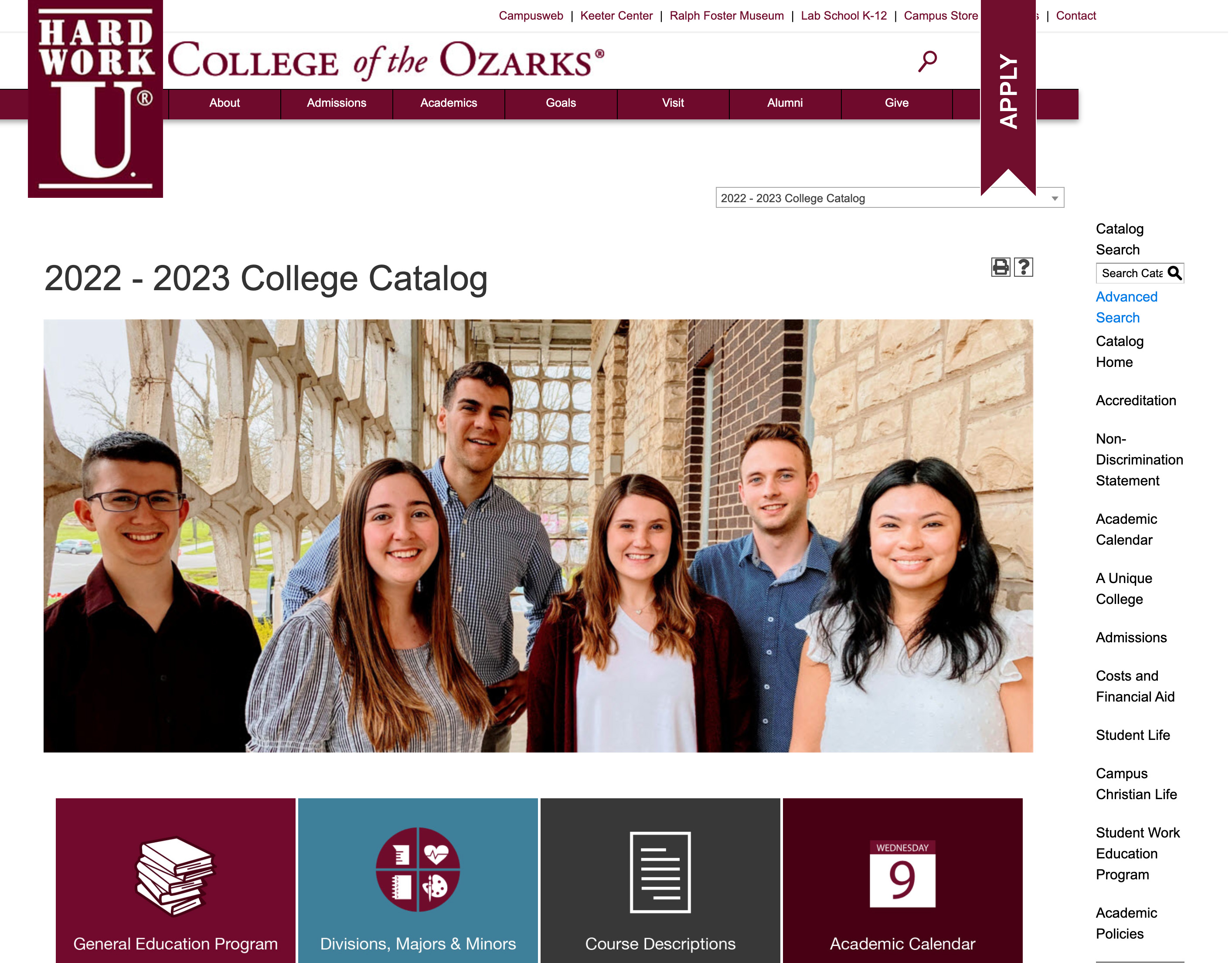 College of the Ozarks, better known as Hard Work U, offers its students ways to graduate with no debt. This uniquely structured institution has a very clean looking catalog.
We love its nice clickable links and simple navigation. The drop-down mega menu, highlights in the clickable tiles and the right-hand side clickable list make finding everything quite easy.
Want to learn how you can use your catalog as a marketing tool?
The design of your college or university catalog has a lot more potential than you may believe. It can serve you as your best marketing tool if leveraged properly. Read our Quick Guide to Converting Your Course Catalog into a Marketing Tool to learn how you can unleash its true potential.
Quick Guide to Converting Your Course Catalog into a Marketing Tool
Unleash the true potential of your course catalog
---
Last updated: January 17, 2023