3 Ways to Boost Your College or University Enrollment

Given the pandemic and its economic fallout, this fall may look very different on campus from years' past. That's why it's more important than ever to toss the status quo and think about new ways to boost your school's digital presence.
Here are three to consider now:
1. Be more than your brand.
Once upon a time, having a brand name was enough to entice students from across the country to attend your school. Now, with such economic uncertainty, students are opting to enroll closer to home. This means that you've got to figure out ways to expand and evolve your brand beyond its traditional use. In today's market, the institutional brand isn't enough to attract and retain learners on its own.
Your brand is a great driver for traffic to your website. When prospective students get there, be sure you have a variety of offerings for them. Can they imagine what it's like to be a student at your campus based on images, videos, student testimonials, dorm layouts, and faculty biographies? Are students able to understand how your school addresses issues like convenience and flexibility in scheduling and location? If programs, scheduling, and pricing don't meet their needs, it's likely they'll look elsewhere to enroll.
2. Administer with excellence.
No one likes—or deserves—a poor customer experience. According to a survey of over 6,000 customers globally, 72% say that even if they're loyal to a brand, they will move on after a bad experience, and 63% will abandon a brand when the online experience is poor.
So why does higher ed gloss over this important aspect of wooing prospective students?
Higher education must meet bureaucracy head on with a streamlined, friendly, understandable, and easily-accessible administration. This includes everything from financial aid onboarding to enrollment to scheduling and meeting with student advisors. All too often, the inefficiencies of higher ed are passed off as normal, or students are made to feel as though it's their fault for not securing a spot soon enough. In reality, higher ed administrators should have a servant leader approach to administration.
The University of Maryland University College (now Global Campus) found out the hard way. Upon conducting a study to determine why learners were dropping out before completing their credentials, they found that it wasn't because the programs were too hard, or that "life got in the way," which is the assumed reason. Instead, they discovered that three bad experiences with administrative bureaucracy was enough to cause a dropout.
These kinds of dropouts happen daily in higher education. When other companies lose a customer, it only represents lost revenue. But in higher education the consequences are more severe. Not only did that individual not pursue a credential—it's entirely possible the experience convinced him that higher education wasn't for him at all. Experiences like this have long-ranging effects on individuals' socioeconomic progression and household income, which negatively affects community development.
Modern administration means meeting the needs of all students by delivering higher education with administrative excellence and efficiency. It means equipping administrators with the right tools such as lifecycle management software that streamlines and simplifies rote tasks like registration or a robust content management system. And it means making sure everyone on campus buys into and practices a student-centric approach to academic service.
3. Offer students self-service.
Another factor that drives the delivery of a modern customer experience is offering learners robust self-service opportunities. Companies like Amazon and Uber are defined by flexibility and self-service that allows customers to manage their experience. They don't have to contact service representatives unless they face a significant issue or have a unique question.
Let's be clear: students aren't comparing their customer experience between schools—they're comparing it to their engagement with brands in other industries.
"Prospective students coming to our website aren't comparing our registration system to other colleges and universities—they're comparing it to the online shopping experience offered by Amazon and other online vendors," said Mark Mrozinski, assistant vice president of Workforce Development at Harper College.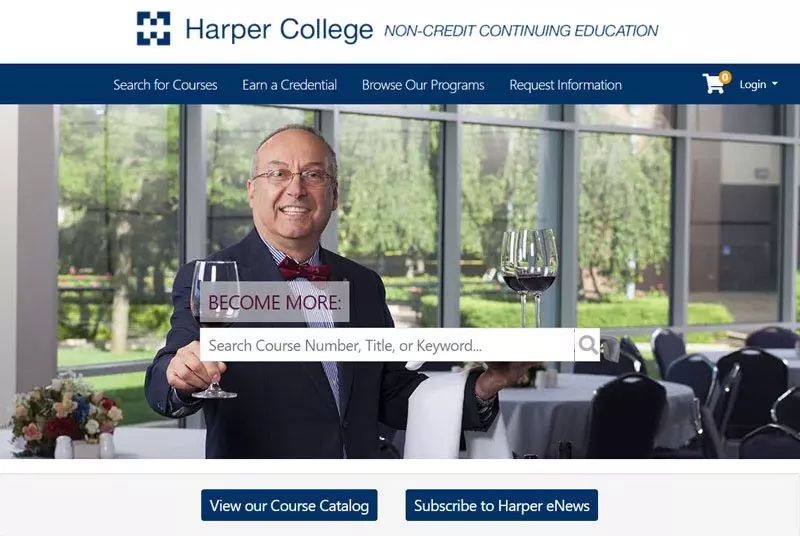 Self-service can be offered simply in our space. It means allowing "customers" to find courses or programs, register, and then pay when it's convenient for them using a credit card. It means allowing access receipts, transcripts, and academic records online. It means simplifying the add/drop process so they can manage their own experience.
Not only does this deliver the experience customers expect, it facilitates the delivery of a high-touch, high-tech environment.
Don't put off turning your website into a digital engagement hub.
Download College and University Website Redsign: The Ultimate Guide.
---
Enrollment Growth Website Content Management
Last updated: February 5, 2021