About

Central New Mexico (CNM)

Community College
37%
undergraduates receiving grants or scholarships
"

Choosing Curriculog was the best choice for Central New Mexico Community College.

Elsie Hall
The Challenge
Siloed systems, unable to integrate
CNM was using a digital curriculum management solution but it was a basic one. It was unable to integrate with their student information system and therefore, impossible to manage across so many campuses and faculty needs.
"
It was very painful. We were advised that our old curriculum management solution would integrate with Banner, but that never happened. Members of the college were asking when these upgrades and features were going to happen, and they never would.
Elsie Hall
When Hall realized that their current vendor's customer support team didn't understand credit hours, she knew they needed a new curriculum management solution. However, she was concerned about the curriculum data stored on their old system and was worried that all that information would be lost during the switch.
The Solution & Result
Streamlined curriculum approval process with Modern Campus Curriculog
With Curriculog, CNM created a streamlined curriculum approval process that integrated with Banner as well as their existing catalog. The Registrar's Office could now customize forms for different departments—resulting in much quicker course and curriculum approvals.
CNM's staff can now create new features and upgrades that suit their needs, including:
workflows for course approvals outside curriculum cycle

forms for apprenticeship programs

cross-listings feature giving separate schools approval capabilities

impact reports to inform students and faculty of curriculum changes
"
Now that our course changes are fully transparent, Curriculog allows us to create an audit trail of who made the changes and why. This helps us send it back to originator when there are errors or missing information.
Elsie Hall
Seamless data migration
Hall's concern that their historical data might be lost during the switch was put to rest by the Modern Campus support team and all the data was moved to the new system seamlessly.
"
We made what we thought was an unusual request. We asked the Curriculog team to move all that data from the old system to Curriculog. The response from their customer support team was 'sure, no problem.' They were able to move all that data over without us having to re-enter it. It was such a relief and a huge time saver.
Elsie Hall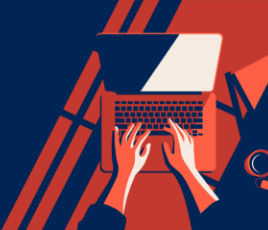 Tackle your biggest challenges
We're looking to topple the ivory tower.
Do you want to see how? Let's talk.
About Modern Campus
Modern Campus

is obsessed with empowering its nearly 2,000 higher education customers to thrive when radical transformation is required to respond to lower student enrollments and revenue, rising costs, crushing student debt, and administrative complexity.
The

Modern Campus engagement platform

powers solutions for non-traditional student management, web content management, catalog and curriculum management, student engagement and development, conversational text messaging, career pathways, and campus maps and virtual tours. The result: innovative institutions can create a learner-to-earner lifecycle that engages modern learners for life, while providing modern administrators with the tools needed to streamline workflows and drive high efficiency.
Learn how Modern Campus is leading the modern learner engagement movement at

moderncampus.com

and follow us on LinkedIn.