About The City

University of New York (CUNY)
"

Any student I have spoken to—the feedback has just been great and positive! They're impressed with Modern Campus Register's capability and how it integrated with Degree Works.

Vivek Upadhyay
The Challenge
The existing SIS enrollment system left students unable to register without staff interventions
When the City University of New York System (CUNY) surveyed students across its 26 institutions, a clear trend emerged: students were having a difficult time enrolling in courses that fulfilled their graduation requirements and met their scheduling needs.
What was going on? CUNY created a Scheduling Task Force that was charged with investigating. First up, they examined every campus's registration processes, and what they found was discouraging.
Complications abound — regarding scheduling constraints, poor user experiences, and a lack of data that could be used to shape the student experience with future enrollment cycles. Perhaps worst of all, the system was impossible for students to learn on their own.
"Either a peer advisor, mentor, or advisor would go in and help the students enroll," said Vivek Upadhyay, Executive Registrar. "The process is already broken if we have to help someone. We had a problem with the systems, not the students.
Upadhyay and his colleagues also reviewed the tools provided by student information system (SIS) providers but that proved disappointing too.
"
Regardless of the vendor, most of the registration and scheduling options for the SIS are very clunky in terms of the student experience. They all have some kind of degree advisement tool, but the enrollment process is not integrated well with the student's degree audit or degree requirements.
Vivek Upadhyay
Additionally, the SIS does not allow students to put constraints on their preferred class times, meaning that students were in for a long hunt to find courses that worked around their other commitments.
The Solution & Result
Modern Campus Register powered by Time BenderTM instantly delivers students and advisors the 1 in 10,000 perfect schedule that meets academic and personal needs.
After studying the problem at hand, the Scheduling Taskforce recommended that CUNY adopt a new scheduling and registration tool that could complement and integrate with the current SIS. The resulting RFP committee then reviewed the options available in the market.
The committee's expectations were high but Modern Campus Register fit the bill.
"
During a competitive RFP process there were multiple vendors, and Register was the clear winner — not only from the system functionally perspective but also, the ease of use, integration and system support. It was a no-brainer for CUNY to select Modern Campus as an implementation partner.
Vivek Upadhyay
Post-implementation responses have been glowing. Students have been freed from having to devote at least three or four hours to registration. Now, Upadhyay says it takes them two or three minutes.
CUNY advisors are also delighted that they can use Register to provide or enforce course recommendations. They can ensure that students register for the classes they need and reach their path to completion faster.
Register has helped CUNY streamline student registration, enhance advisement and unlock new insights to shape the student experience with future enrollment cycles.
Another big piece of the rewarding puzzle is Register's analytics, which allow advisors to easily access when students are on track or off. Advisors can even see if a student failed to look at the recommended schedule.

"

As someone who has lived the life of being an advisor and spending millions of hours helping students build schedules during registration, I can say that Register has streamlined everything. It's probably one of the best tools I have ever implemented. I think it's truly exceptional.

Olga Vega

The insight that CUNY has gained into the enrollment process thanks to Register analytics has helped them deliver classes and sections during time blocks that meet student needs.

"

We just started scratching the surface of what the analytics can do for us and it's already helping us provide feedback to our schedulers, faculty and provosts who are planning our schedules for future terms. Before, we could only track the enrollment that was completed. Now, with Register, we can track the entire process of enrollment— giving us data that could be used to shape the student experience with future enrollment cycles.

Vivek Upadhyay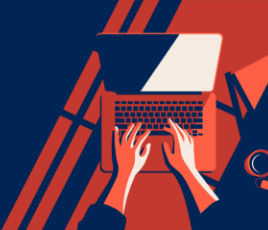 Tackle your biggest challenges
We're looking to topple the ivory tower.
Do you want to see how? Let's talk.
About Modern Campus
Modern Campus

is obsessed with empowering its nearly 2,000 higher education customers to thrive when radical transformation is required to respond to lower student enrollments and revenue, rising costs, crushing student debt, and administrative complexity.
The

Modern Campus engagement platform

powers solutions for non-traditional student management, web content management, catalog and curriculum management, student engagement and development, conversational text messaging, career pathways, and campus maps and virtual tours. The result: innovative institutions can create a learner-to-earner lifecycle that engages modern learners for life, while providing modern administrators with the tools needed to streamline workflows and drive high efficiency.
Learn how Modern Campus is leading the modern learner engagement movement at

moderncampus.com

and follow us on LinkedIn.