About

Ohio Wesleyan

University
38%
out-of-state & international students
82%
first-to-second-year retention
"

Ohio Wesleyan needed a way to keep users' interests piqued so that they wanted to spend more time looking around on our website at our various offerings.

Doug Thompson
The Challenge
Static, PDF campus maps were failing to engage prospective students
Almost half of high school students preparing for college say they have participated in virtual tours of colleges and universities. The ability to show students a three-dimensional, interactive representation of the campus is a must-have.
Ohio Wesleyan University, which enrolls students from more than 42 states and 32 countries, clearly understands the role of high-quality campus maps and virtual tours in engaging today's learners.
Ohio Wesleyan had a digital map developed by an external vendor but had to switch to a static PDF when the map went down suddenly, and they no longer had support from the developer.
Doug Thompson, Manager of Web and Electronic Communications, knew that a static PDF would not engage students well. What's worse, the PDF took the visitors away from the website where they were trying to drive lead conversion.
"
With the old system, it was largely a 'the map is the end of the line' process. Just over 70% of the users of the PDF would leave our website entirely from the map, rather than going back and perusing more content.
Doug Thompson
Thompson was looking for high-quality, engaging campus maps and virtual tours that OWU could implement quickly.
The Solution & Result
Modern Campus Maps and Virtual Tours provided the answer with best-in-class tools that let users meet their website needs in a timely manner.
"
They showed me a demo, and everything seemed to be exactly what we needed. It snowballed from there.
Doug Thompson
Quick implementation and

easy

maintenance
The cloud-based media management made it easy for Thompson to reuse content and media OWU already had, including aerial photography and videos. The implementation process—from the first sales call to the launch of a dynamic, functioning campus map—took less than five months.
"
Because it's entirely web-based, we can edit text and upload photos from home without any issue. That has provided us with a level of flexibility that has worked very well.
Doug Thompson
360-degree

, immersive

virtual experience
The flexibility of the Modern Campus system allows users to upload additional resources, like testimonial videos and 360-panorama photos. Visitors can experience exploring campus and learning more about the buildings in an organic way, even from hundreds or thousands of miles away.
"
Modern Campus Maps and Virtual Tours allowed us to better integrate information into maps. For example, if we wanted someone to know about a particular building, we can go beyond just zooming in on a PDF and provide more context by adding photos and descriptions for the programs in the building.
Doug Thompson
More Than 2X

Student Engagement
OWU's Maps and Virtual Tours quickly became the objectively most engaging section of the university's website. Visitors are spending more than double the time exploring these virtual tools than the website's average.
With Modern Campus, it's fast and easy to launch a virtual tour.
"
We were provided with a camera and were able to use our old footage as well. The process was simple, and we were able to get it up and running in a month.
Doug Thompson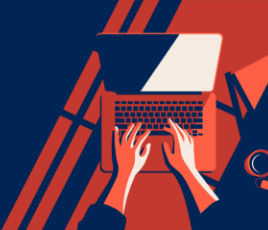 Tackle your biggest challenges
We're looking to topple the ivory tower.
Do you want to see how? Let's talk.
About Modern Campus
Modern Campus

is obsessed with empowering its nearly 2,000 higher education customers to thrive when radical transformation is required to respond to lower student enrollments and revenue, rising costs, crushing student debt, and administrative complexity.
The

Modern Campus engagement platform

powers solutions for non-traditional student management, web content management, catalog and curriculum management, student engagement and development, conversational text messaging, career pathways, and campus maps and virtual tours. The result: innovative institutions can create a learner-to-earner lifecycle that engages modern learners for life, while providing modern administrators with the tools needed to streamline workflows and drive high efficiency.
Learn how Modern Campus is leading the modern learner engagement movement at

moderncampus.com

and follow us on LinkedIn.