About

Valdosta State University
73%
first-year retention rate
"

We have over 30 different academic departments, each with their own scheduling process. Register helped open up those lines of communication, and more importantly it helped identify where were those inefficiencies and where we were doubling up courses to where it wasn't possible for any student to take the schedule that they needed.

Brian Haugabrook
The Challenge
Frustrating registration experience
Valdosta State (VSU) had invested in a degree audit software, but the experience for registration was clunky and frustrating for students, leading to scheduling conflicts and therefore missed credits.
VSU students had problems developing schedules that worked for their personal time constraints and degree plans so they could graduate on time. The university used DegreeWorks to advise students on the courses needed semester-by-semester. Students had to list courses and go into Ellucian Banner and find times of each course.
"
We would hear complaints that students couldn't get into courses they wanted to when they wanted those courses. From an administration perspective we were almost in the blind when it came to really being able to understand our students, which, in my opinion was very inefficient. It wasn't what they're used to now, in this digital age.
Brian Haugabrook
The Solution & Result
A modern scheduling experience that propels on-time graduation
VSU implemented Modern Campus Register™ Student Scheduling solution in 2018 to do what they hadn't been able to before: offer a modern scheduling experience that helped students satisfy graduation requirements and their complicated personal schedules.
"When we bought Register, we really thought of it from that student perspective and that was enough to make the purchase," Haugabrook said. Register, integrated with Ellucian Banner and DegreeWorks, allowed students to move beyond semester-by-semester course level recommendations and find current section level schedules that fit their academic and personal needs, enabling on-time graduation.
"
Where Register stood out was that it had that integration platform with our existing student information system, with our existing degree auditing system which is DegreeWorks, and so from that it can leverage the work that we're already doing and really make that automated for us. With Register, you just put all the courses you need, and the software does all the work for you. I think it cut down a lot of frustration for our students.
Brian Haugabrook
For one senior VSU student, the collaboration between DegreeWorks and Register was a lifesaver. DegreeWorks notified the student that a course they withdrew from would leave them one class short of on-time graduation. Using Register, they immediately found a new course that fit their schedule and ultimately graduated as planned.
The Future

VSU gained insight into enrollment trends and anticipated demand from Register's dashboard view of common course conflicts, heat maps and details of individual courses and sections.

Access to student search activity, popular course filters, sorting preferences and more gave VSU greater insight into scheduling trends so they could make informed decisions related to resource allocation and help students register for the classes they needed.

"

They're looking at building a plan across different colleges based on their academic program. Oftentimes, they run into conflicts. We couldn't know about those conflicts before Register.

Brian Haugabrook

Instead of waiting until registration day to make changes, departments can now plan in advance based on reporting trends and what students are saving in Register.

Now that department heads screen core course schedules and ensure that required courses for each program don't conflict prior to finalizing class times, students always have at least one and often multiple schedule options from which to choose. Even if a student's time constraints create a conflict or overlap across all available schedules, Register shows the closest fitting alternatives, giving students the ability to make educated decisions on options that work for them. Students are never met with a 'zero results' scenario.

Advisors can be assured that students are taking the right courses at the right time, and students are able to go into REGISTER during orientation to add additional courses onto their basic schedule or alter course sections.

"

I got an email from our registrar that said, 'Kudos to the advising center, that is the quietest we have ever had it in the registrar's office in the 17 years I've been here.' Register certainly played a role in that.

Rob FriedhoffExecutive Director of Advising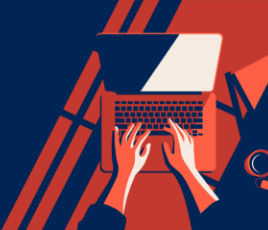 Tackle your biggest challenges
We're looking to topple the ivory tower.
Do you want to see how? Let's talk.
About Modern Campus
Modern Campus is obsessed with empowering its 1,200+ higher education customers to thrive when radical transformation is required to respond to lower student enrollments and revenue, rising costs, crushing student debt and even school closures.
Powered by Omni CMS, DIGARC, Presence, Signal Vine and Destiny One, the Modern Campus modern learner engagement platform enables innovative institutions to create a "learner to earner" lifecycle that engages modern learners for life.
Delivering massive personalization, AI-driven recommendations and a modern e-commerce engine, Modern Campus creates a student-first digital experience and removes silos across campus. Presidents and provosts, marketing and IT teams, admissions, registrars, student affairs and CE divisions can partner to attract, enroll, empower, retain, credential and re-engage students with pathways for lifelong learning.
Learn how Modern Campus is leading the modern learner engagement movement at moderncampus.com and follow us on LinkedIn.