About

Widener University
75%
of students use federal student loans
587
of students use Pell Grants
"

Acalog really changed the game for us by allowing us to have an automatic repository for the catalog that we could change. And it being online, we didn't have printer bills.

Judy Wynes
The Challenge
Widener University was using print for their catalog and curriculum management solution, causing major delays and errors in production.
Before the implementation of Acalog and Curriculog, Widener University was printing catalogs and curriculum proposals. After printing several proofs, they would manually send them to each department and ask for feedback and changes. Being a private university, their programs—from certificates up to doctorates—are extremely customized.
As a result, catalog revisions often took months, which the Associate Provost recognized to be an unsustainable process.
"
Though we had a June 1st deadline to print the catalog, sometimes they weren't getting printed until August or September. This was a really big problem.
Deann Lichtenstein
In addition, when Acalog was first implemented, they didn't have Curriculog, so they had too many hands in the catalog editing process, leading to errors and bottlenecks at every revision stage.
"We had 30 editors adding things to and deleting things from the catalog, which was a nightmare," Lichtenstein added.
The Solution & Result
Widener University purchased Acalog to manage their catalog production, and a year later, added Curriculog to manage curriculum proposals and changes to their complex programs.
The Vice Provost realized something had to change and created a team to address the problem with stakeholders from the Registrar's Office, ITS, and the Provost's Office. After evaluating several solutions, they landed on Modern Campus Acalog in order to streamline the production process of their catalog and give students a better experience when searching for courses and programs.
The Team recognized that most students search the catalog on mobile devices, and they needed a accurate catalog with an intuitive search functionality to find what they need.
In addition, the team saw the need for catalog and curriculum solutions to work together and with the SIS system.
"We endeavor to use our technology to its fullest extent to help solve a lot of different problems," said Wynes.
Remember those 30 editors, all making changes and creating entries in Acalog? With Modern Campus Curriculog, the curriculum proposal and editing process was quickly managed since updating the catalog and the SIS system could now be done by Wynes and Lichtenstein for consistency.
"

Thank you Curriculog! We could manage without editors when we got Curriculog the following year and that made a huge difference in the integrity of our catalog.

Deann Lichtenstein

The Future

With a more streamlined process, Widener University can now balance creating a catalog with integrity and using course programs as a recruiting tool for future students.

Wynes and Lichtenstein know the integrity of a curriculum and catalog is imperative. With Modern Campus Connected Curriculum solutions like Acalog and Curriculog, they can feel confident that their student- facing catalogs are the most up to date and accurate, allowing them to focus their attention on the university's greater goals.

Because of the automatic connections between program changes and published catalogs through the "change one, publish everywhere" functionality, Widener plans to use their catalogs as a recruiting tool.

"

The website is primarily for recruiting students for the upcoming academic year. We now publish our upcoming academic year draft catalog, then update it in real time. So, if we need to add a program, change a program, or make a significant change to a curriculum, the updates are reflected on the website for prospective students to see.

Deann Lichtenstein

By streamlining the pathway to completion, the university is better positioned to drive degree completion and maximize their funding going forward.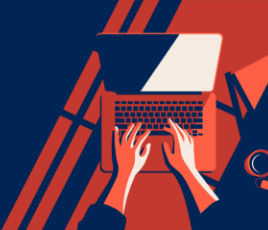 Tackle your biggest challenges
We're looking to topple the ivory tower.
Do you want to see how? Let's talk.
About Modern Campus
Modern Campus

is obsessed with empowering its nearly 2,000 higher education customers to thrive when radical transformation is required to respond to lower student enrollments and revenue, rising costs, crushing student debt, and administrative complexity.
The

Modern Campus engagement platform

powers solutions for non-traditional student management, web content management, catalog and curriculum management, student engagement and development, conversational text messaging, career pathways, and campus maps and virtual tours. The result: innovative institutions can create a learner-to-earner lifecycle that engages modern learners for life, while providing modern administrators with the tools needed to streamline workflows and drive high efficiency.
Learn how Modern Campus is leading the modern learner engagement movement at

moderncampus.com

and follow us on LinkedIn.