Executive Summary
The shift to remote learning in the wake of the COVID-19 pandemic has forced a tidal change on higher education. Where some institutions had wholeheartedly adopted online education into their model over the past two decades, others have been slow—or resistant—to making online learning part of their identity.
However, in our post-pandemic new normal, online education is going to become a standard aspect of every institution's catalog. So what does it take to ensure the programming—and the student experience—are tailored for distance?
To help answer that question, our team at Modern Campus has drafted this ultimate guide to offering great online programming. From this eBook, you will learn what it takes to serve online students effectively, both inside and outside the virtual classroom.
Table of Contents
A Crisis is a Terrible Thing to Waste
Going Online Quickly? Nine Tips to Help You Adapt
Student-Centered Approach of Online Ed Could Enrich On-Campus Student Experience
Going the Distance for Online Students: Closing the Gap Between Academic Institutions and Students
Efficiency Central to Nimbleness and Responsiveness
A Crisis is a Terrible Thing to Waste
Dave King | Associate Provost (Retired) and Professor Emeritus, Oregon State University
Modified from an article originally published on The EvoLLLution
Truly innovative ideas invariably encounter pushback from factions committed to maintaining the status quo. The original annual Sloan survey—and more recently the Babson/Seamon study—show incremental improvement in the perception of online learning by education administrators, faculty members and learners over the last ten to 15 years, but the pace at which it has improved has been excruciatingly slow.
Those leading the online effort nationwide have several short-term goals:
Improve the perception of online learning as a quality educational experience
Train faculty members to teach effectively online
Directly help learners be successful
Long-term, however, we are looking for true innovative transformation in education.
As an example, for illustration purposes:
What if we developed hybrid on-campus/off-campus programs in concert with employers? They could start with a formalized four-year model. In the first year, learners would study fully on campus. In the second year, learners take one online course each term. Third-year learners would take one online course each term with one term of off-site interning at a partner company or organization. Fourth-year learner course work would be fully online while they work off campus at the partner site. Learners would then seamlessly transition into their respective work environments. Partner companies or organizations could have input into the curriculum while we reduce demand for physical campus facilities. However, more importantly, since the learner has an evolutionary path into the workforce, they are more inclined to realize the value of balancing their professional efforts with ongoing learning.
Obviously, a radical departure from the status quo such as this one will have its share of nay-sayers. It will take time for thinking to evolve. Evolution is an incremental shift that requires patience. However, even in Darwinian thinking there are occasional "evolutionary events." If a volcano erupts in the middle of an island, cutting off one side from the other, the flora and fauna's evolutionary trajectories change dramatically.
It could be that we are in the midst an evolutionary event in education.
Because of the pandemic crisis, we are seeing institutions move entire programs online. This is unprecedented. When I was at the Indiana College Network in the early 2000s, we grew from serving 12,000 to 105,000 learners, but it took over seven years. At e-campus at Oregon State University, we grew from generating $12M to nearly $100M, but it took just under a decade. Now, programs across the country are moving fully online in a matter of weeks.
The concerns identified in the studies mentioned earlier have not magically disappeared. The faculty members who say this shift never work are still there. The administrators that dug in their heels to say "Not on my watch" are still in the power towers.
But a crisis is a terrible thing to waste.
Many faculty members, and even some learners, will not be persuaded. However, many will also see the potential in online learning for themselves. Many will see for the first time that online learning integrated into the curriculum will improve and perhaps offer opportunity for dramatic change, such as the scenario characterized above.
However, during the crash course shift that is taking place, it will be critical to continue paying strict attention to course quality, learner success and the metrics that can be gathered from this process. This will be the responsibility of those who know very well what makes online courses successful.
According to the most recent Babson/Seamon study, five percent of online programs are currently serving 50 percent of the learners. That is about to change, obviously. The weight of the responsibility for maintaining quality in the online environment will fall on these major programs' shoulders. However, there will be innovation occurring in places that have not been heavily involved online. Sharing understanding, capabilities, learning modules, and ideas will be critical.
The pandemic crisis itself may be characterized by chaos, divisiveness and mismanagement, but education has the opportunity to step up and make some incredibly valuable short- and long-term changes that could lead to a truly innovative future. It will take unprecedented collaboration on and between campuses. It will require innovative thinking under fire. The outcome, however, could change the evolutionary trajectory for entire world of education.
Expert Analysis
In times of crisis, effective communications with learners, faculty and staff is essential. Information changes rapidly and the modern expectation is for accurate and error-free communication 24/7/365.
Going Online Quickly? Nine Tips to Help You Adapt
Aleksandar (Sasha) Tomic | Associate Dean for Strategy, Innovation and Technology in the Woods College of Advancing Studies, Boston College
Modified from an article originally published on The EvoLLLution
The United States education system is going through an unprecedented shift to help stem the spread of COVID-19. Colleges, universities, primary and secondary schools have all asked faculty to rapidly move their classes online in the past couple weeks to support the guidelines for social distancing issued by the Centers for Disease Control (CDC).
As someone with more than a decade of experience teaching and developing online courses, I feel compelled to share some tips and my support with my colleagues across the world!
First, I highly recommend taking advantage of your institution's instructional designers (IDs), if your institution has them. If they're available, IDs are a fantastic resource to help you take your course online.
If you need to move online more quickly and/or with little to no help, here are some tips from my own experience developing classes.
1. Take a deep breath!
While you likely need to begin teaching online in a week, not all of your material has to be online that quickly. Most of us will be online for the rest of the semester, meaning another eight to ten weeks, so keep in mind that there is time to learn new things and enhance your practice and delivery.
2. Be flexible with assessments coming up soon
If you have any sort of evaluation planned, try moving it out at least a week. Keep in mind: your students are also still navigating this disruption and adjusting to this new way of learning as well as personal upheavals. Some might be dealing with the virus directly. So, I recommend not having a test or a presentation due immediately, if possible.
3. Make a plan as to for how you will teach online
What materials do you already have that are easy to post online? How will you structure your weeks? Do you want to use live sessions? Do you want to use discussions (I highly recommend this if you can)? Spend some time think of the class's structure first.
4. Now that you have a structure, post the materials for the first week
Starting with the materials for the first week will give you an estimate of how long it will take you to create materials for the upcoming weeks. It is okay to post your content as the course progresses. Personally, even when I have all my content, I usually publish one week at a time. If you see that this is taking less time than you thought, get as far ahead as you can.
5. Try to settle on which technology you will use for live sessions
In my experience, most platforms are relatively comparable, but some require a premium license for certain features. Most likely, you have received some guidance from your institution on this matter, so follow it unless you are already comfortable with another solution (and have the necessary license). Many providers are removing time limits on free accounts, but no one knows how long that will last.
6. Reach out to a colleague that you know has taught online
Preferably, reach out to someone who has taught in your or a similar discipline. What do they find useful? What technology do they suggest? How do they deal with…? Many of your colleagues have taught online for a while and know some tips and tricks.
7. Think about what you need to invest in technology/equipment-wise
If you use the board a lot for formulas, graphs, or anything that cannot be typed easily, you should consider having some device with touchscreen capability for your live sessions. As far as which app to use, PowerPoint will do just fine, just make sure to activate the "pens" option. Consider buying a pen for your device. Apple Pen, for example, will work great with an iPad, but other Bluetooth-enabled pens will do. If you already have a tablet or a laptop with a touchscreen, you should be pretty set. While smartphones can work, writing quickly on them becomes constrained by screen size. Whatever you do, installing a board at your home and pointing a camera at it should be your last resort, as it will likely not work very well for broadcast.
8. Think about the assessments in your class
What do you have to have done in class? If your institution has remote proctoring software, familiarize yourself with it and feel free to use it. As long as answers to your exam can be typed easily, this is not a bad solution. While doable, remote proctoring is trickier when there is a lot of writing/drawing. I recommend splitting such an exam into "in-class" (i.e., proctored) and "take-home" portions. The "in-class" section should be made up of multiple-choice, true-false, and matching questions, or an essay without graphs or formulas. The "take-home" portion should be made up of items that require more handwriting. Other assessments, such as papers, presentations, etc. can be easily collected via your Learning Management System, and your students are no more likely to cheat when they are online than when they are in class.
9. Take another deep breath!!! You can do this!!!
You will definitely learn new technology, approaches to teaching, and resources that you didn't know were available. This is why we are all in this business: because we like to learn, and we want to share knowledge. No, you will not begin wishing to only teach online moving forward. Yes, you will pick up some cool tips, tricks, and technology that will enhance your in-class teaching.
At the end of the day, this too shall pass, and you will emerge stronger and a better teacher for it.
Expert Analysis
The coronavirus pandemic forced colleges and universities to move quickly, innovate boldly and change gears rapidly. These are not traits generally associated with higher education, but our industry showed it can overcome barriers when students' best interests are on the line.
Download this paper to learn how the shift to remote learning can teach us a valuable lesson about higher education's innovative spirit.
Innovation Is Not Our Antithesis: Lessons from Higher Education's Response to COVID-19
Higher education's shift to remote learning in response to COVID-19 shows that we can be agile when it's best for students.
Student-Centered Approach of Online Ed Could Enrich On-Campus Student Experience
Pat James-Hanz | Executive Director for the Online Education Initiative, California Community Colleges
Modified from an interview originally published on The EvoLLLution.
The EvoLLLution (Evo): What are some of the most common inconsistencies between the experience non-traditional students expect and the experience colleges and universities provide when it comes to administrative functions?
Pat James-Hanz (PJH): Colleges and universities still expect to serve a very traditional student: a young person coming in as a full-time student. If you're expecting all of your students to be full-time, you're leaving out those that have to work to go to school or those who are coming back to school after some time away. You may not be providing the kind of services they need in order to be successful.
Students need assistance and information at their fingertips. When you start to take all services and make them available to students 24/7, from wherever they are, you start to minimize problems that they might have with their lives getting in the way.
Evo: Why is meeting the expectations of students especially important when those students are online as opposed to face-to-face?
PJH: You have to make sure that they are prepared. That's one of the issues. When they're at a distance they are fairly isolated and as an educator you're isolated as well. Being able to monitor what's going on in your class is important and making sure that the faculty are prepared to teach online is vital.
We have to make students feel like they're part of a community when they're online. Getting them involved in the college in some way is also helpful. That's something we need to think a little more about—that non-cognitive connection with the college that online students don't necessarily have. Trying to provide them with everything they need to be successful is incredibly important when they don't have that connection to the college in the first place.
Evo: Do you think administrative features common in the online space will ever migrate into traditional institutional operations?
PJH: Most colleges have course management systems for use for all classes, not just online classes. Using digital materials and tools like discussion forums or blogs or other activities that students can do online is increasing.
The same goes for online registration. When we started to have online courses we started to have online registration, not only for online courses but face-to-face courses as well. Technology was used to create that space. There are a lot of things we haven't applied digital capability to which we could. There are processes that still need to be reworked with a digital capability applied to them, but for the most part students can access a lot of things online whether they're taking online classes or not, registration being one of them.
Evo: What is the most important piece of advice related to administration of online programs that you can share with leaders in the process of launching their own online divisions?
PJH: Number one is take an online class yourself and see what it's like to be a student. I wish all administrators would do that.
Next, bring faculty members into the planning discussions at the very beginning. When you're starting to think about what you need for the online programs, bring the faculty into those discussions and make them a part of the decision-making process.
You also need to do research and make sure that you have all the elements that you need. Those elements have to be centered on students. If you really focus on doing work that's good for the students, everything else is going to get better.
Additionally, if you're focusing on what's good for students you also have to be sure you're developing responsive technology so that students can access whatever you're doing on whatever device they choose.
Lastly, but maybe most importantly, you have to expect to provide resources—technology, professional development and instructional design and support—and you've got to fund it.
Expert Analysis
Consciously designing an environment for online learners takes more than good intentions—it takes effort, investment and a genuine focus on learner success.
Download this case study to learn how Harper College created an online environment tailored for its non-traditional students by leveraging Destiny One® student lifecycle management software.
Prioritizing the Right System at Harper CE
Why Harper College's Division of Workforce Solutions is bringing on a tailor-made system to serve non-traditional community college students.
Going the Distance for Online Students: Closing the Gap Between Academic Institutions and Students
Joe Chapman | Director of Student Services at ASU Online, Arizona State University
Modified from an article published on The EvoLLLution.
More and more, college enrollment has become digitized, further streamlining the onboarding process for both online and on-ground students at universities. And while we're seeing significant growth in and adoption of online learning, helping those online students feel a part of their university or college can still be a struggle. Physical distance for online learners can translate into a lack of support or the inability to tap into a network of coaches and advisors that historically have only been available to on-ground students.
However, more institutions are realizing that support structure is critical to student success. To ease the enrollment and onboarding process and help students succeed from the beginning, universities can work to minimize the distance between online students and the university by implementing:
A Comprehensive Enrollment and Orientation Process
From the moment an online student submits a request for information and submits their application, it's important to make them feel connected to the university and empowered to ask questions during their enrollment process. Offer enrollment counselors as dedicated individuals there to assist students through the process, help them check the boxes on application requirements, and make sure they are off to a good start and build a deep connection with the university.
Additionally, before classes begin, we offer students the chance to participate in a week-long orientation class that will prepare them for success in online classes through assessments, articles, videos, assignments, tips and strategies. To further a sense of community with their peers and professors, students can connect with classmates and professors through Facebook, Twitter, peer-to-peer chats and online clubs.
Students who complete our enrollment and orientation process are more prepared to overcome their time management obstacles and are more adjusted to a work/school/life balance.
Supplementary Student Success Coaches
After acceptance, as students prepare to take courses, it's important to have supplementary student support to educate students on academic best practices and serve as an enthusiastic proponent of their education. ASU Online fulfills this need by providing success coaches that are solely focused on helping online students with success strategies and reminders, continuing the one-on-one contact with the university. Through quality conversation and meaningful exploration, the coach will focus on goal setting, overcoming obstacles and achieving success. Success coaches are exactly what they sound like—personal cheerleaders who encourage online students throughout their entire college journey.
Engaged and Educated Academic Advisors
After students are enrolled, they're often left with the question of "what's next?" in terms of planning for long-term growth. Academic advisors within students' colleges offer in-depth knowledge on degree requirements, and can assist in planning courses in an appropriate sequence to keep students on track. They also offer course optimization along the way, including recommendations for additional courses that may benefit students' future goals. These in-house academic advisors serve as a one-stop-shop for students, not just for major-specific course information, but for all university-related questions, too, even if it's connecting a student to another resource that will assist them.
Ongoing Virtual Support for Career Planning and Technical Needs
It's also important for online students to get the person-to-person interaction they deserve, especially when it comes to preparation and success. By providing technological and career support, students are able to start their journey off on the right foot.
Technology is a critical component of online learning, making it important to have students review the online program's requirements and reach out to tech support with any questions before starting classes. Providing tech support 24/7 is imperative in serving students across the globe who may be enrolled in online courses.
Receiving support from a career services professional is also critical to success in an online program, making it a truly valuable offering to students at the start of their collegiate careers. This year-round support for online students will allow them to solidify their career plan when they enroll, as well as continue to grow throughout their enrollment period. These services are designed to strengthen job search skills, resume building, enhance interview skills and more. This group can also help with career planning and determining the types of jobs your degree can lead to. Other services offered by online programs may include virtual career workshops, online resume reviews, virtual practice interviews, online chat with a career professional and access to downloadable handouts and resume examples.
Offering online program student services ahead of time may feel like a significant resource commitment on behalf of universities, but it is proven to be worthwhile. Getting familiar with advisors, counselors and tech support will only make students' online experiences that much easier to manage.
Reducing Transactional Distance and Supporting Student Success
As technology advances, students are expecting more and more from institutions when it comes to facilitating a smooth transition to online learning. Students will continually seek a program that offers strong online resources and support, so they can reach their goal of earning a degree. By implementing the above online offerings, you can reduce the distance between students and the institution and ultimately help students achieve a success and foundation for tomorrow, while allowing them the flexible lifestyle to balance their responsibilities today.
Expert Analysis
When serving learners who aren't physically on-campus, it's essential to ensure they have access to the tools and resources they need—when they need them. These individuals can't be expected to line up at the registrar's office for a transcript, or to visit the program desk to process a course drop.
Efficiency Central to Nimbleness and Responsiveness
Lesley Nichols | Executive Director of Professional Studies, Emerson College
Modified from an interview originally published on The EvoLLLution
The EvoLLLution (Evo): What kinds of changes can a higher education institution make to become more efficient?
Lesley Nichols (LN): Before making any changes, the most important thing is to take a step back and analyze what we do, how we do it and, most importantly, why we do it. Many times I've found that a process that may have made perfect sense at its inception no longer fits today's challenges, but unfortunately change is difficult and routines are hard to break.
The biggest changes in the past few years have been in the technology sector. How we access, store and communicate information to each other as well as to others outside of our institution has changed so dramatically in our day-to-day lives, as has how we can leverage technology to create efficiencies and also do a better job of achieving our goals.
One perfect example is that it's probably impossible for an undergraduate student today to think about a time when online registration and online bill paying wasn't available, but there are actually some institutions that are still struggling with this even though this has been common technology for the past 10 to 15 years.
Evo: How do these changes impact the day-to-day operation of a unit?
LN: It can really have a huge impact. The bottom line is to serve our customers, which are our students, but also to do our jobs more effectively. It's a two-pronged approach.
It's a big picture, universal view across the university versus a detailed approach. It's important for every university to identify the common processes every unit deals with on a regular basis, such as purchasing, paying bills, the phone systems we use, responding to emails, accessing data. Having that big picture perspective across all units of an institution can help to identify some streamlined approaches to common problems to make the institution stronger as a whole.
Evo: How does improved efficiency impact a unit's capacity to plan strategically and enter new marketplaces?
LN: It's all about the value-add. Time is probably the most valuable resource we have. If we spend our precious time doing inefficient things, it takes away from our energy and it takes our focus away from being strategic and, ultimately, innovative. We can also miss opportunities when we're bogged down in the day-to-do minutia.
It's a very competitive market out there with new entries into the marketplace all the time. The more nimble we can be through efficiency, the better we can proactively respond to changing markets rather than simply waiting to be told what's next.
Evo: Ultimately, what impact do efficiency-related changes have on a unit's bottom line?
LN: Sometimes it's easy to focus on the startup costs if you're implementing, for example, a new software system, to focus on that and think, "Well, it's too expensive. How are we going to afford this?" We really have to take the long view and look at how it's going to impact your operation and your time. One of the biggest factors is employee retention and morale. It's so expensive to find talent, to spend time training them and to keep them on board with your organization. Employee satisfaction is definitely impacted when you have inefficiencies that can make it difficult or even create barriers for an employee to do their job. Imagine doing a tedious task day after day; it's obviously going to impact morale and ultimately lead to losing your best and brightest employees. There's a cost impact there.
"
It's a very competitive market out there with new entries into the marketplace all the time. The more nimble we can be through efficiency, the better we can proactively respond to changing markets rather than simply waiting to be told what's next.
Lesley NicholsExecutive Director of Professional Studies, Emerson College
The other part of it is on the revenue side and the barriers we create for students. The harder we make it for them to jump through our hoops to get to their goals, the more likely they're going to leave and choose another institution for their educational needs. I'm always looking for ways to improve the student experience from start to finish, and a big part of that is the efficiencies of freeing up our staff time to allow them to spend more of their valuable time being responsive to students and helpful to them rather than spending it all on inefficient processes.
Expert Analysis
Staying competitive in a fast-moving market requires a conscious focus on delivering effectiveness and efficiency in operations.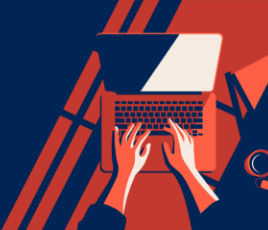 Tackle your biggest challenges
We're looking to topple the ivory tower.
Do you want to see how? Let's talk.