4 Reasons Your School Needs Campus Map Software
Your school needs to catch learners' attention fast.
Today's student needs to make an immediate connection, seeing themselves in your programs and walking through your halls. They're veteran consumers. The easier you make it for them to imagine themselves at your institution, the more likely they are to enroll.
A recent survey showed that virtual tours make students far more likely to enroll at a school. 64% of students said they'd looked at a virtual tour on a college's website.
When asked if the last virtual tour they saw made them think differently about a school, 62% said it made them more likely to enroll.[1]
Why Students Need a Digital Campus Map
With most students finding their institutions and programs of choice online today—and modern colleges competing on a truly global scale—there's little chance a student is going to be walking through your front door before they register.
That's a missed opportunity, since the campus itself can be the biggest advocate for the institution. Walking its halls and courtyards brings to mind all of the possibilities that come with enrolling. It makes the experience real in a way that browsing a list of courses and schedules can't.
In the digital age, "connection" means bringing the student as close to you as possible with a highly personalized, interactive and easy-to-use map.
How Campus Map Software Drives Engagement
Campus map software brings the campus environment to life, making it easy for learners to experience and find their way around a campus. It aligns your institution with everything we know about modern consumer behavior, turning it to your advantage. This hands-on approach to student engagement personalizes each learner's journey through features that put them in control of their experience.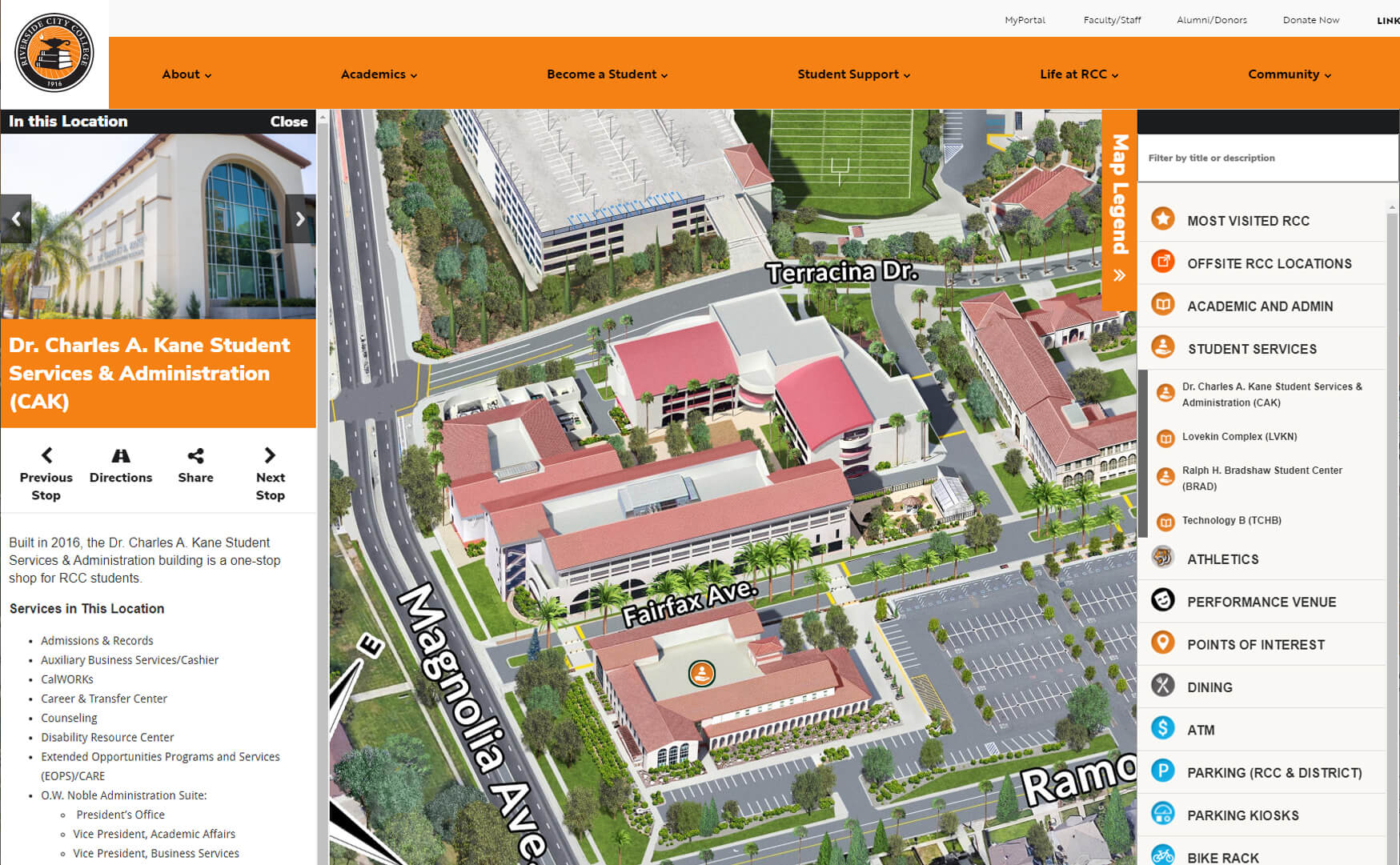 1. It Personalizes the Student Experience
With interactive campus maps, learners choose what they see based on their preferences. If a prospective gymnastics student visits a school's site, they can filter the map to show them relevant locations like athletic venues.
These "sub-map" features can be used by anyone: A science student seeking research facilities, an accounting student looking at your business school and so on. A campus map can be personalized so every learner sees exactly what they need to help them make a decision.
2. It Engages Learners Visually
The best campus map software is versatile, allowing administrators to use multiple illustration styles without the constraints of a specific perspective. They're tailored to the layout of the specific institution, and appeal to learners with striking digital representations of the campus. Having a strong representation of your campus draws a student's eye, allowing them to imagine walking its halls.
3. It Simplifies Website Management
A virtual map's layouts, themes, map markers, functionalities and designs can make it simple for staff to customize it. Administrators can modify the map to reflect changes in real-time, without the need for support. This not only keeps the map up-to-date, but it buys back resources and time that might otherwise be spent seeking intervention.
4. It Makes Branding Seamless
Well-designed campus maps and virtual tours can blend seamlessly with a school's existing website design. Aside from removing the need for major site changes, this compliments the institution's branding and supports its marketing efforts.
Virtual Maps are Engaging Learners
Campus map software hits all the marks for staff and students. Partners of nuCloud—a leading provider of interactive campus maps and virtual tours acquired by Modern Campus—spoke about the benefits of their highly-personalized student experience in a survey.
"The maps are beautiful, and it's easy to create points on the map and add media to them and adjust as need be," wrote one user, praising its easy customization and appealing layout. Another noted the importance of giving students a feel for the campus, which their interactive map delivers on.
"Being able to provide viewers an accurate 3D map helps them get a sense for what a campus feels like. The ability to add in desired video and pictures for different stops around campus also allows viewers to take a step inside the buildings and learn about what goes on there," they wrote. "It helped our potential families and prospective employees learn more about our campus when they couldn't come in-person."
Working with a virtual campus map provider helps institutions deliver the massively personalized student journey that the modern learner needs. Engaging them on the front page with a strong representation of the campus allows schools to make a connection with students before they've ever set foot on campus. With highly personalized campus maps, schools can walk learners through the front door—in person or not.


Learn how campus map software can transform your learner experience to drive engagement and boost enrollments.
[1] Ruffalo Noel Levitz, Mongoose Research, & Modern Campus (2021). 2021 High School Students' E-expectations. Cedar Rapids, Iowa: Ruffalo Noel Levitz
---
Enrollment Growth Student Experience
Last updated: May 11, 2021