The Best CMS for Universities: Which One Is Right for You?
What is a CMS?
A content management system (CMS) is a software that enables users to create, edit, and update web content without the need for in-depth coding knowledge. This type of software eliminates the need for users to build the website from the ground up, enabling them to create a website with no programming experience.
What are the Benefits of a CMS?
With a CMS, you can quickly create, edit, and publish content, saving time and money. CMS software helps you organize your content, making it easier to find, track, and store information.
The ability to keep content up to date is also an advantage, as it ensures accuracy and consistency. Furthermore, CMSs give you the power to create a secure, interactive website with features like user accounts and comment systems.
Below are some of the benefits of using a CMS to build a website:
Content centralization:

A CMS allows you to store all your content in one place, creating a single source for all the different elements of your website.
Collaboration:

CMS systems make it easy for multiple people to edit, update, and review content in a single unified place.
Customization:

Most CMSs have a wide range of customization options so that you can tailor the system to suit your specific needs.
Improved security:

A CMS should offer reliable protection from potential malicious cyber attacks and user mistakes.
Easy scalability:

Once you have a CMS in place, you can easily scale up or down as needed.
Multi-platform compatibility:

Most CMSs are designed to be compatible with various devices, such as desktops, tablets, and smartphones.
Regular updates:

Most CMSs come with regular updates and upgrades, allowing you to benefit from the latest security patches and feature updates.
How to Choose the Best CMS for a Higher Education Institution?
The best CMS for college and university websites should already include built-in tools designed specifically for marketing, communications, and web professionals who work in higher education.
With Omni CMS, you won't have to worry about adapting a one-size-fits-all CMS to help you do your job because the tools and features you need are intuitively built into the system.
Building the best CMS for higher education has always been Modern Campus' mission, which gives us a track record and expertise in the higher ed market that no other CMS vendor can match.
Consider the following when trying to determine which is the most suitable CMS for your university:
1. It Evolves With Your Needs
The world of higher education is constantly changing as education strategies, goals, regulations, and trends change. To keep up, your tools must change as well. A college CMS will have these tools built directly into the system.
Both small and large changes to Omni CMS are made in anticipation and response to the trends, regulations, and needs of colleges and universities. For example, the Accessibility Check feature in Omni CMS was integrated into the CMS specifically to help colleges and universities identify issues in conflict with website accessibility requirements and standards. Omni CMS is filled with such specialized tools and features.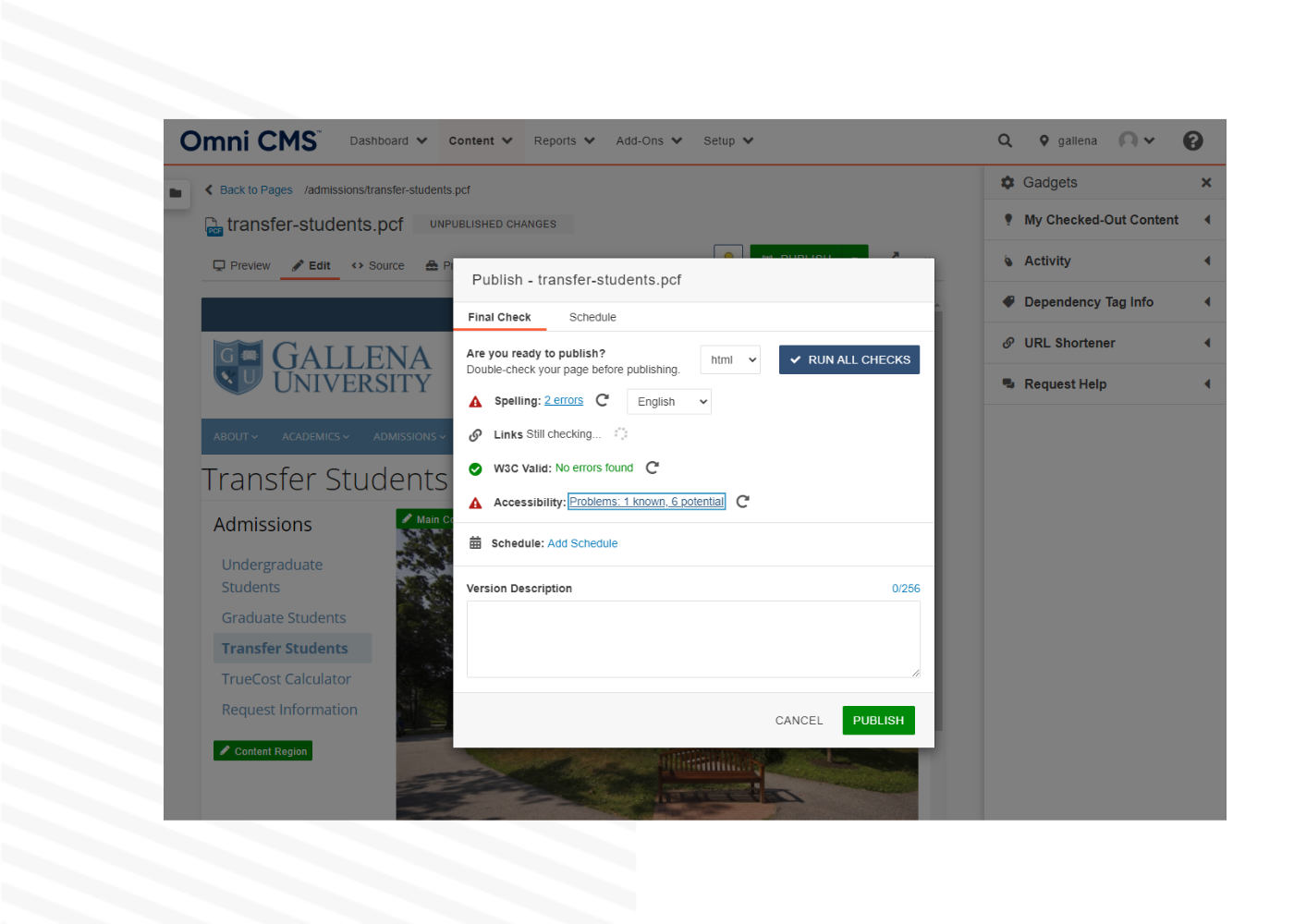 2. It Incorporates Pathways Software
It's one thing for students to muddle through hundreds of academic programs in search of one that they think might be a good fit. It's another for them to understand exactly what career path is associated with a specific degree. In fact, one survey found that fewer than a third of American adults understand the career pathways available to them. This is one of the reasons that students become frustrated in their academic journey and fail to finish.
A purpose-built CMS for higher ed prioritizes guided pathways software that uses real market information as the backbone for student support. Whether a student is concerned with getting a higher salary or learning a new skill, a robust higher education website lays out the path with courses and programs they need to take and labor market data that streamline their search.
3. It Boosts Digital Engagement Through Personalization
Students want to feel like they fit at your college or university. They are also accustomed to a highly personalized user experience. As such, your website must model the expediency and choice of Amazon or Netflix to hold students' attention and keep them on their pathway.
Because the future of the modern campus is personalization at every touchpoint, the best CMS is flexible, dynamic, and ready to power a technologically advanced digital infrastructure, one that helps your institution stand out to a wide range of learners. It's also key to integrating robust career pathways into flexible and market-responsive academic and program offerings.
Massive Personalization and Career Pathways: The New Standard for Higher Ed
Learn how to revolutionize the student experience at your college or university with a personalized digital student engagement strategy using your most powerful tool—your website.
4. It Accommodates the Higher Ed Ecosystem
Higher ed has very specific nuances, technology parameters, government regulations, and customer needs. The best higher education CMS will accommodate for these special requirements.
For example, a retailer won't be fined if its website doesn't meet ADA compliance standards, but a university will. If your CMS is not designed with higher ed in mind, you will find yourself constantly dealing with workarounds to address your school's specific needs.
At Modern Campus, we listen and then fine-tune Omni CMS to help customers navigate these challenges. We have partnerships with a variety of design and technical experts who cater to higher ed. We even offer specialized products from third-party partners at special rates to our customers through a product-integrated marketplace for one-stop convenience.
5. It Integrates With Your Different Software Systems
Colleges and universities have multiple audiences to please, and each of these audiences requires different software systems to get work done. For example, the alumni relations department needs capabilities for collecting donations on the website, whereas the admissions department is interested in tracking contact information submitted on the website from prospective students. When these systems don't cooperate with each other, havoc ensues.
A quality CMS platform will provide seamless integration between these various systems. Omni CMS integrates with leading student information systems and offers a suite of modules, including a course catalog and faculty directory, designed specifically for our higher ed customers. Generic CMS products typically can't meet the critical needs that a higher-ed CMS can.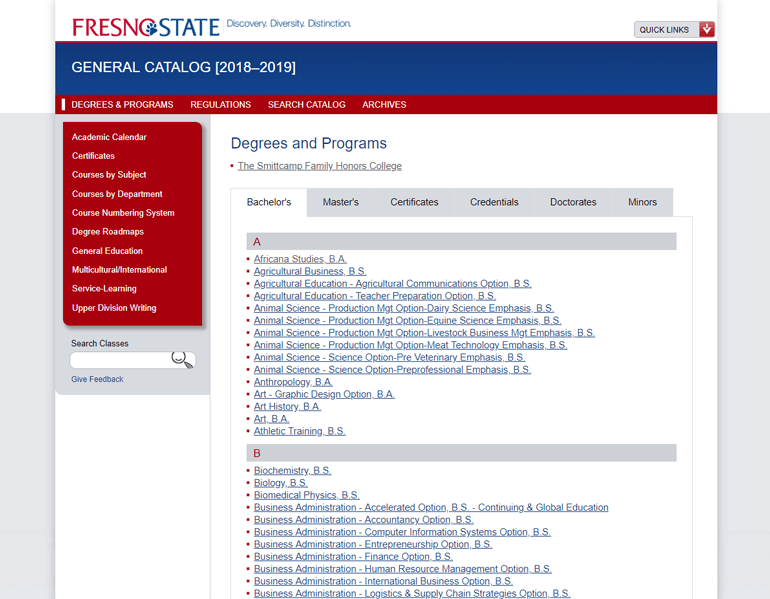 6. It Saves you Time and Money
A quality content management system is an investment that reaps savings in time, money, and resources down the road. By allowing multiple contributors to control content, a good CMS spreads the workload so that your IT and marketing departments aren't stretched thin.
Having all the tools you need built into a system prevents you from having to continually purchase add-ons. And the best CMS for university websites will come with customer support and automatic updates. You'll always have support when you have a question, and you don't have to worry about keeping your system secure with continual patches and software updates.
Furthermore, moving away from locally hosted servers and into cloud-based software as a service (SaaS) costs much less for initial setup—and there are also long-term savings in hard costs, maintenance, and IT resources.
As a SaaS solution, Omni CMS provides a significantly shorter implementation time, seamless hands-free upgrades ensuring you're always on the latest version, and rapid scaling when you need it most. Plus, it makes it easy to access other services and connection points in the cloud.
Modern Campus helped pioneer cloud-based enterprise systems in the late 1990s, and it has proven to be exceptionally beneficial to our customers.
Omni CMS is the best CMS for higher ed because it saves you money, keeps you up to date, and eliminates the complexities of integration that come with self-hosting.
7. It Provides Helpful Tools for Marketing and Communications
When someone needs to know something about your school, the first place they are going to look is your website. A simple click gets them to your home page, but then it gets complicated. Do they need donor information? Are they searching for course descriptions? Do they need to pay a tuition bill? How does the admissions process work?
Your website must be all things to all people. At Modern Campus, we understand that your website is your institution's most valuable marketing and communication asset. When you partner with us, you have access to the latest tools and techniques customized to meet the unique marketing and communication needs of higher education.
Omni CMS was built from the ground up to allow higher ed marketing professionals to maintain firm control over messaging that's so critical to attracting and retaining students and addressing the needs of your multiple audiences.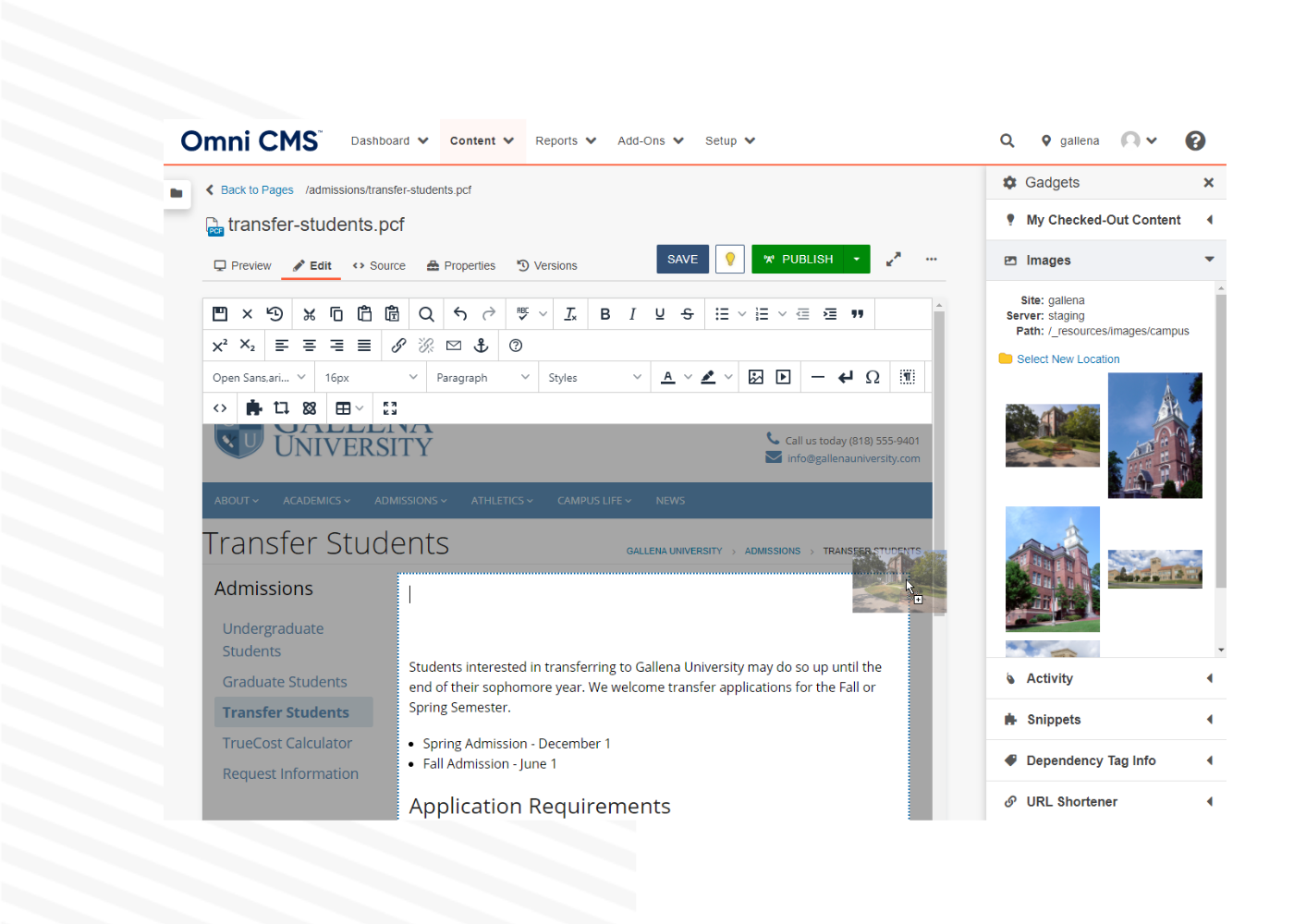 What Makes Omni CMS the Best CMS for Higher Education?
Omni CMS is the only CMS purpose-built for higher education. Our customers tell us the #1 reason they select Omni CMS as their academic content management system of choice is because of our specialization in higher education.
There are dozens of CMS vendors competing in multiple markets with generic CMS products, but Modern Campus made a strategic decision years ago to focus exclusively on a CMS for universities and colleges—institutions just like yours. To learn more, Schedule a demo now!
Need Help with Choosing a CMS for Higher Education?
A good CMS provides a solid foundation for your website. Before embarking on a major website redesign or marketing project, investigate how a content management system can help. Check our Buyer's Guide: Practical advice for choosing your next (or first) higher education CMS.
---
Pathways Web Design Website Content Management Website Personalization
Last updated: July 7, 2023