Higher Education Marketing: Strategies and Trends to Know

With college enrollment decreasing for the eighth year in a row, boosting your school's marketing strategy to attract students is more important than ever. You should begin with educating yourself and your marketing team about current higher ed trends in student recruitment, then strategizing on how to put these trends to work for your college or university.
Finally, make sure to analyze results to see what works—and what doesn't—in your refined college or university marketing campaign.
Key questions for your Higher Education Marketing Plan
With a solid understanding of current higher ed trends, you're ready to devise a marketing plan for your college or university. Get input from other departments on campus and review your website to ensure that messaging and branding are cohesive with the plan you intend to implement.
Key questions to ask:
Who is our target audience? Who are our personas?
What are our KPIs for engagement?
What is the cornerstone of our marketing plan or the most important thing for anyone interested in our college or university to know?
What makes us different from other higher ed institutions?
Platforms to market your educational offerings?
Interestingly, survey results from the 2021 E-Expectations Trend Report indicate that 9 out of 10 students are open to receiving text messages during the student enrollment process. For best results, try texting prospective students before an application deadline and after submitting an application, but also be sure to include other platforms in your marketing mix. These include:
Social media (Twitter, Facebook, LinkedIn, Instagram, Snapchat)
Email
Direct mail
Phone calls
Website
According to the 2021 E-Expectations Trend Report, social media sites are more helpful to potential students when they want to learn more about a school.
In 2019, YouTube and Facebook were the most useful social media sites for college planning, but in 2021 Instagram surged ahead. Facebook also plummeted in daily use, down from 50 percent in 2019 to 35 percent.
Source: 2021 E-Expectations Trend Report.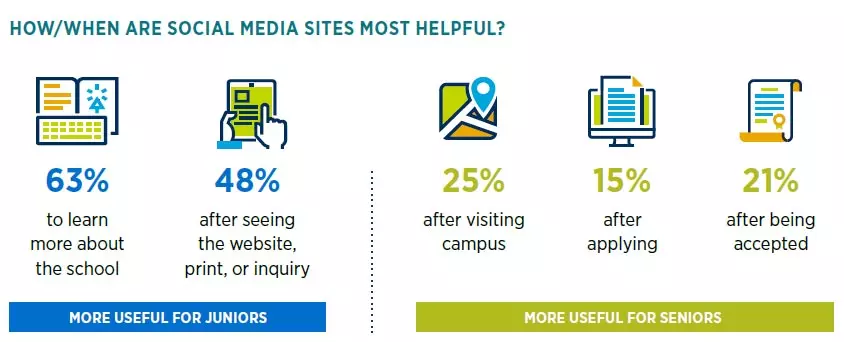 Higher Education Marketing Strategies for Your College or University
Reaching prospective students is a challenge given the amount of media they are inundated with on a daily basis. However, the more you can understand what they expect from digital technology and how they interact with it, the stronger your recruiting and marketing efforts will be.
The following strategies can help you tailor a higher education marketing plan that best meets the needs of your college or university—and your prospective students in creative ways to increase college enrollment.
Use a CMS built for higher education
Implementing a quality web content management system (CMS) designed specifically for colleges and universities can eliminate many of your school's digital marketing challenges, including:
Content that is dated and stagnant. A redesign may give your website a new look, but a CMS gives it life. A quality system will help you manage content efficiently and effectively, making it easier for your marketing strategy to live up to its long-term potential.
A website that requires complicated coding to make changes. When considering a new CMS, look for one that allows non-technical users to organize, create, and manage digital content without complicated coding.
Inconsistent messaging and branding. Branding should be built into the actual design of your website and "fixed" so that general content contributors can't modify design elements like color that could affect brand consistency.
Low search rankings. A quality CMS should make it easy to update page titles, descriptions, and meta tags, all of which help to optimize content for search engines so that your college or university is findable.
Get current students involved
Peer-to-peer communication is one of the easiest and most realistic ways for a prospective student to get a grip on what it's like to be on your campus. Ask existing students to write blog posts, provide testimonials, and take over your social media to show day-in-the-life experiences on campus.
Take note: students are also experts at discerning what's real, so don't try to fake your way with staged or stock photos. Be as authentic as possible.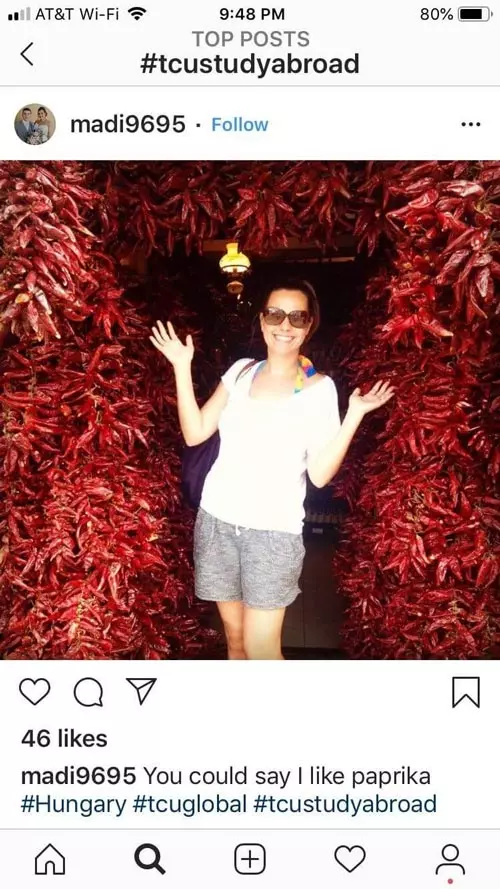 Choose a CMS with an email marketing module
Email marketing for higher education is a great tool. But, while blanket emails get deleted; personalized, targeted emails get noticed by prospective students.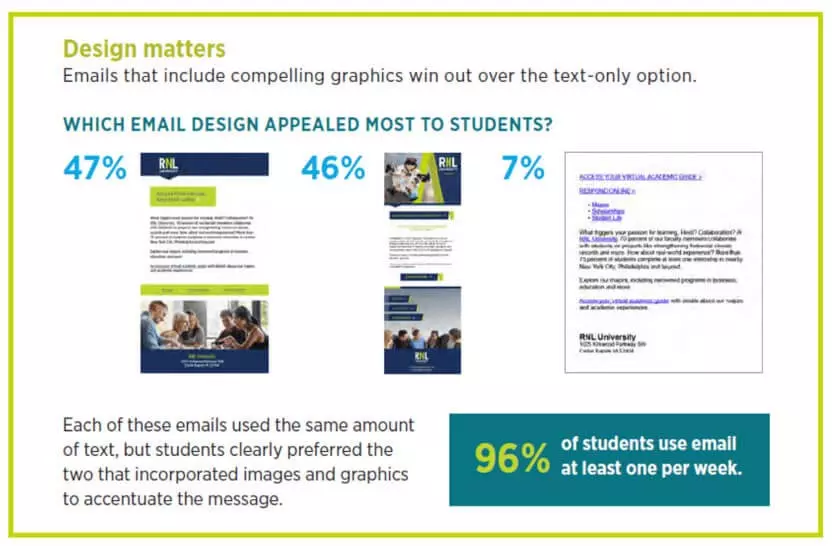 Focus on video content
Video content has become an essential component to student recruitment strategies.
Sophomores, juniors, and seniors all rate video highly as a way to learn more about a particular college or university. When putting together your marketing strategy, consider:
Integrating video into social and on your website. Videos embedded into your higher education website help prospective students visualize certain aspects of college and university life, while videos on social media publicize current happenings on campus.
Livestreaming events unique to your campus such as sporting events, lectures, student activities, and campus traditions.
Adding live cams at popular campus locations. This allows prospective students to "drop in" and see what's happening in various locations on campus at any given time.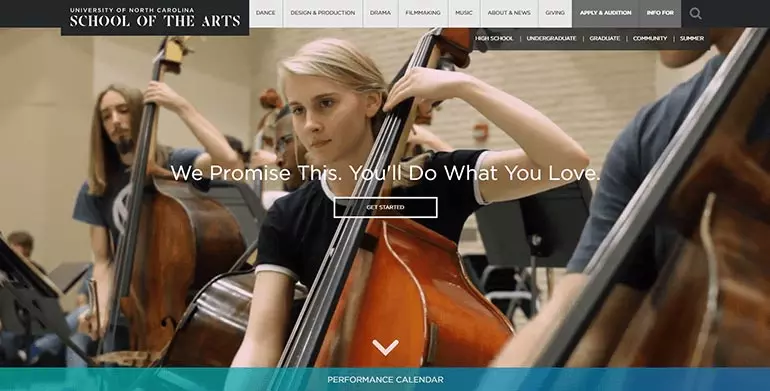 Keep track of your brand
Online marketing in higher education is getting more important day by day. What is your school's digital image? What do students and fans share? When you have something positive to share, social media is a great way to market your college or university!
Also, when something less appealing is shared about your higher education institution, you'll want to know about it sooner than later. That way, you can address it head-on.
Use the power of social media in higher education
What social media platforms are the best marketing strategy for higher education? All of them. Snapchat and Instagram are used most frequently by students on a daily basis, while parents continue to scroll through Facebook for their social media fix. For best results, create a marketing strategy using a mix of social media platforms for your school's messaging.
Use videos and images on social media
When thinking of digital marketing for educational institutes, it is necessary to take into account the relevance that visual results have on students.
According to the 2021 E-Expectations Trend Report, Instagram and YouTube have leaped ahead of Facebook as the social media that students rely on more for college search—and TikTok is gaining ground as well. This illustrates that students are increasingly engaged by video and images, and your campus needs to have a strong presence on social networks in which visual assets are the priority.
Personalize at scale
Marketing for universities should include personalized experiences. The 2021 E-Expectations Trend Report shows that students have grown up in an era of curated content and personalized experiences. They expect no less from your institution.
You need to be able to deliver personalized content for web pages, communications, videos, and tools such as net cost calculators. Make sure you are aware of all the innovations in personalization that are at your disposal.
Include SEO and conversion in your program pages
SEO is the answer when asking how to market a university. The 2021 E-Expectations Trend Report illustrates that 6 out of 10 students search for academic programs, which means many will arrive at web pages for your programs instead of coming through your home page.
Make sure those landing pages not only rank higher than your competitors on search engines but that they have clear calls to action, so you convert those visitors to inquiries.
The most influential higher ed marketing resources for students
Students in any grade tend to visit a school's website first, but then complement their search with information from email, social media, video, and texts. Use your website to educate prospective students about everything your college or university has to offer, then go deeper with customized campus tours, targeted emails, and even personal calls from admissions officers.
How to market to prospective students?
Overwhelmingly, prospective students will complete a form on your website to get more information. Other ways that students will interact with your college or university include listing the school on college assessment tests (SAT, ACT, etc.), emailing the school directly, and requesting information through college planning sites.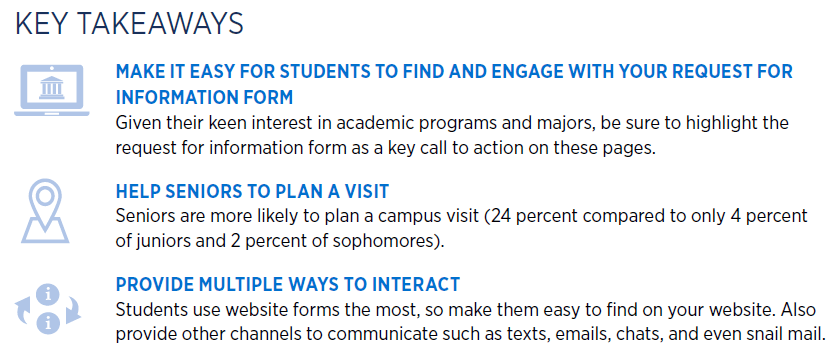 Should university and college marketing strategies also target parents?
Parents continue to be involved in their student's college decisions. According to the 2021 E-Expectations Trend Report, two-thirds of the students said their parents had been involved in their college search.
Target parents early to build brand awareness, but then make sure to keep them engaged because they are in the position to influence their children, and also to influence other parents. Be sure your college marketing plan includes information that speaks directly to this important demographic.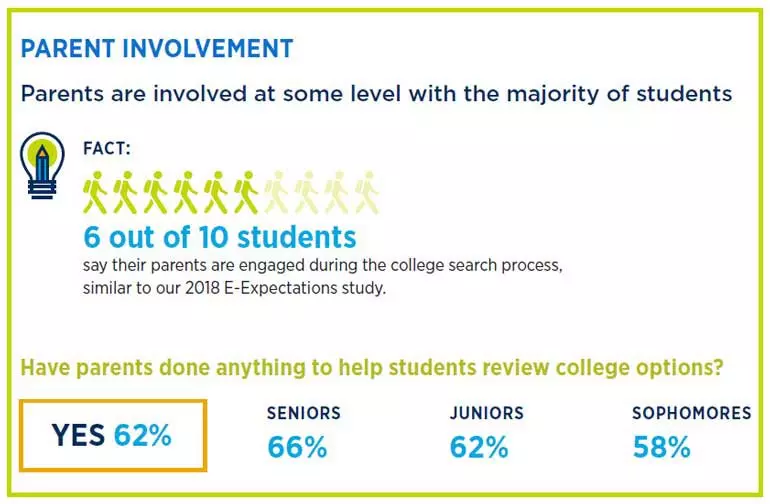 Don't wait to make your website great. The latest data and a quality CMS can help you fine-tune your college or university marketing strategy for success.
College and University Website Redesign: The Ultimate Guide
For more information on XYZ, check out our white paper on ABC.
---
Website Content Management Enrollment Growth
Last updated: May 8, 2023