Demystifying SEO for Higher Education: Tips for Colleges and Universities

Attracting and enrolling students in the modern era is challenging if you're using outdated tactics.
Every year, fewer traditional students progress from high school to college. So the market for prospective learners gets more competitive annually. What's more, today's students behave like customers and conduct research online before making an enrollment decision.
Now more than ever, it's imperative that your college or university invests in its digital presence. One of the most effective ways to do this is to implement up-to-date SEO tactics that can benefit your higher education website.
In this post, we'll answer the most pressing questions about SEO for colleges and universities:
What is SEO, and why is it important for higher education?

How to do SEO for higher education?

How to measure the effectiveness of your SEO strategy?

Site structure and SEO:

can the former impact the latter?

Is SEO a one-and-done activity?
Let's get started by taking a look at SEO and its importance to higher ed.
What is SEO, and why is it important for higher education?
If you want to attract more organic traffic to your website, you need to get serious about a search engine optimization (SEO) strategy. SEO is a way to optimize your website so that when search engines crawl your pages, they can identify the purpose of specific pages and catalog them so that they show up on the search engine result pages (SERP).
One of the true measures of your SEO strategies for higher education is whether your website appears on page one in the top 3 of the organic search results. Think about it: How many times do you actually visit page two to get info? Page three? Page ten?
As of March 2023, the top page listed in a Google search has an average click-through rate of 25.6%. Another data point to consider is that according to the recent E-Expectations® Trend Report, prospective high school students rank a college's website as the most influential information resource they consult when researching a college or university. Stats like these show how important it is for you to get your website to rank higher and reach page one of the search engine result pages.
How to do SEO for higher education?
A well-planned and streamlined search engine optimization strategy focuses on various on-page, off-page, content, and technical aspects of a college website. Here are a few basics that you want to keep in mind when building your higher education SEO strategy:
Do keyword research and match your students' search intent
Search intent is the why behind a search query. It is understanding what a searcher was looking for when they typed certain keywords - key to understanding your target audience.
Through keyword research, you can find the optimal keywords relevant to your prospective students, guessing what they want and providing it to them before they even realize it. Leverage SEO tools to identify relevant keywords for your target audience and then prioritize the ones unique to your institution.
Including high-quality keywords in articles, blog posts, or course descriptions can help push your website up the rankings, allowing you to attract a larger audience and beat out the competition. This organic traffic generated from the SERP can outperform even paid traffic or ads, attracting students after publishing for years to come.
Do a technical SEO audit and address any issue
Technical SEO is key to maintaining the technical health of your college/university's website.
There are dozens of technical components that comprise the groundwork of your SEO strategy. These pieces guarantee the website can be identified by search engines and provide an excellent user experience, thus helping higher education institutions to attain greater organic traffic and conversions.
Ensuring that your website is secured with HTTPS, has unique content, has an XML site map, and is mobile-friendly are some of the technical components that help improve your website's position in search engine rankings.
Create a content strategy and refresh your old articlesy
Creating great content is the single best way to boost your SEO. It's no coincidence that it's also the best way to satisfy prospective students because you're giving them the information they want.
To do this, you need to update your website with strong content regularly. Text, images, and videos tend to earn higher search rankings, in part because they keep users engaged. Make your content as compelling as you can, and refresh it regularly.
Pay special attention to academic program pages where basic info stays relatively static. Add new photos, faculty snapshots, student success stories, or other features to keep these pages fresh.
Share students' testimonials and reviews
The fact that customers are inclined to trust what their peers say over what a business claims hold true for students as well. Student testimonials are social proof that makes them one of the most valuable additions to your website.
By collecting, then strategically segmenting student testimonials and placing them on your website, you can ensure that you reach the right target audience. An important piece to ensuring your testimonial page performs well is optimizing the page for SEO.
Conduct a link-building strategy
Backlinks (hyperlinks that link from one website to another) are the core of off-page SEO efforts.
Backlinks that redirect to high-quality sites make them an indicator of a good quality and high authority website.
Publishing link-worthy thought leadership content, tapping into your alumni and faculty network, and reaching out to and partnering with authority websites in the industry are some ways to build quality backlinks for your higher ed website.
And to give you even more helpful information, we suggest downloading our whitepaper Increase Enrollment with SEO: An Action Guide for Higher Ed.
How to measure the effectiveness of your SEO strategy?
It's one thing to implement an SEO plan, but it's another to know whether you're doing it right. This is where digital tools can help you measure the effectiveness of your SEO for higher education campaigns.
Google Analytics is a free measurement tool to help you analyze data so that you can see a complete picture of your website's health and performance. Start by integrating Google Analytics with your website—preferably before you begin any major redesign. This will give you baseline information on your site performance before and after a significant change. Google Analytics can be downloaded into reports to dig deep into your website's performance.
Google Search Console is another tool that can help you measure your site's search traffic and performance. You can see which questions prospective students use to find your website, and you can submit sitemaps and individual website addresses for crawling. Google Search Console also has an inspection tool that provides detailed reports about crawl and index information for your pages.
There are other SEO tools like Semrush and Ahrefs that help you not only plan your content marketing strategy, address technical issues, and get backlinks, but also with analyzing how your competitors are planning their higher ed SEO strategies.
Does site structure affect SEO?
Navigation is crucial to your website's SEO. You want prospective students to be able to find the information they want fast, and you want search engine crawlers also to find and catalog your website pages.
To boost your efforts on SEO for universities or colleges, you can:
Link to primary internal pages throughout your website.

Include the most important links in your top menu and footer so they're included on every page.

Keep your URLs to 59 characters or less so they're easy to read.
If you'd like to delve deeper into the impact of navigation on your website, download College and University Website Redesign: The Ultimate Guide.
Is SEO a one-and-done activity?
SEO is definitely not something you implement and forget. SEO for educational institutions must be an ongoing process if you expect to see results.
Build time into your editorial and development calendar to ensure that SEO is a central part of your strategy. If you're unsure about your website's current health, get a checkup.
The Omni CMS Insights module monitors your website's health in key areas, including SEO, accessibility, spelling, and links. With Omni CMS Insights, your CMS administrators and digital marketing team can easily identify and improve areas of concern that have a critical impact on your site visitors' user experience and on getting your website actually seen.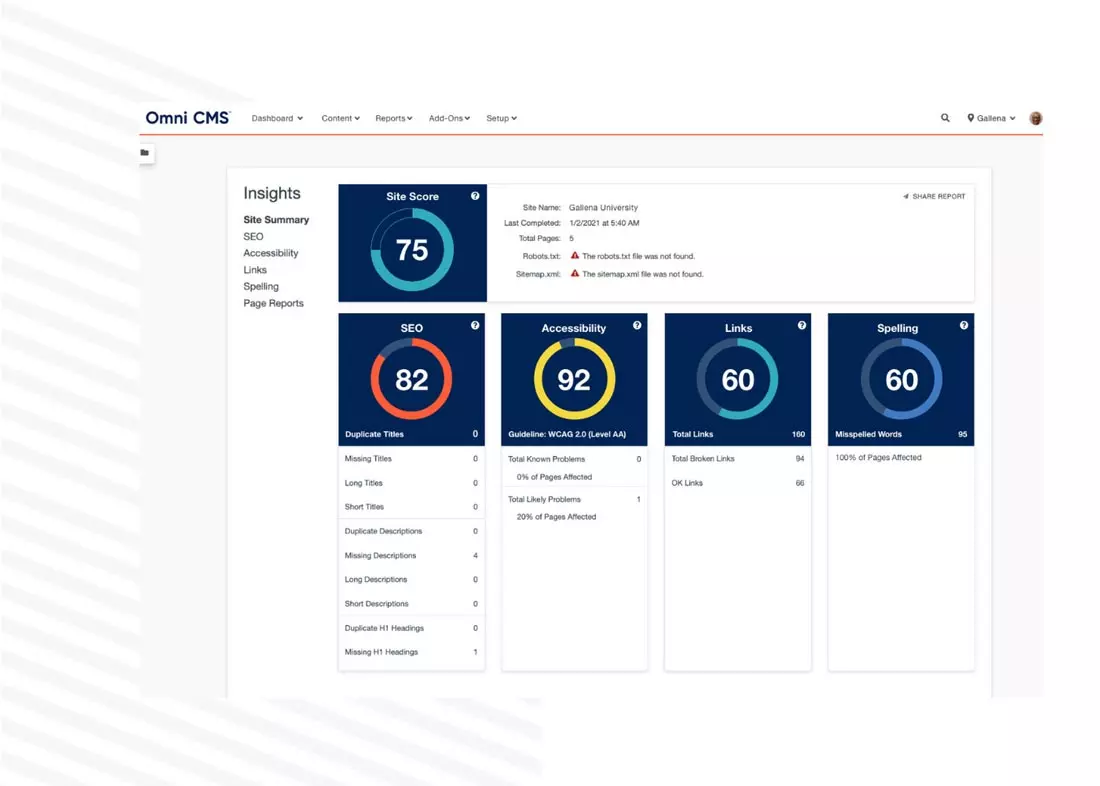 Small Changes Make Big Impacts
There's no getting around the constant maintenance required to keep your website current and optimized. However, when you build the SEO process into your routine, you'll begin to notice how the small subtleties you address will have big implications for your college or university's digital presence.
There's so much more you can learn about SEO in higher education. For more info and tips, download our whitepaper Increase Enrollment with SEO: An Action Guide for Higher Ed.
---
Website Content Management Website Personalization Student Experience
Last updated: April 10, 2023