How Higher Ed Can Communicate with Gen Z Authentically
Generation Z is as skeptical as they are practical.
They enthusiastically embrace the conveniences of interacting digitally with brands and businesses. Nearly half of Gen-Z-ers say they cannot go without the internet for four hours before they start to feel uncomfortable, and 51% say they expect the internet to drive daily interactions.
Yet, skepticism abounds. A whopping 50% of Gen Z-ers say they don't trust companies to tell the truth. That's more than any other generation.
Understanding Generation Z
Make no mistake: authenticity is a huge deal to Gen Z. A recent survey found that 23% of Gen Z ranks authenticity as important, more than nearly any other company attribute, such as design or social impact.
If authenticity matters to a consumer who is considering buying a $15 T-shirt or a $43 blender, then surely it also matters when they'll invest thousands of dollars—and several years of learning—into higher education. In other words, in order to attract prospective learners, colleges and universities must be authentic.
Key to authenticity is personalization. More than four out of five Gen-Z-ers say they want ads to be personalized, and 76% of all consumers get frustrated when content isn't relevant to their needs or interests. Gen-Z understands that they might have to sacrifice a bit of their online privacy to make that happen but they're okay with that trade.
So, how can institutions of higher education skirt that line? How can they convey authenticity in personalized messaging while driving home targeted messages that lead to increased enrollment, better co-curricular engagement and more invested alumni?
How to connect with Gen Z: 3 Keys to Authenticity
Here are three key insights gleaned from the hundreds of colleges and universities that have leveraged Modern Campus Signal Vine to deliver hyper-personalized text messages, Modern Campus Omni CMS to personalize their websites and Modern Campus Presence to engage students in relevant co-curricular opportunities.

What do they all have in common? Supporting higher ed institutions in understanding how to communicate with Gen Z.
1. Capitalize on Gen Z's mobile-first mindset
Smartphones are obligatory for Gen Z, irrespective of gender, ethnicity, geography and even socioeconomic status. As previously noted in our blog post about using text messages to boost student GPA, the average Gen-Z student actively engages with their phone for four hours and fifteen minutes every day for their digital communication.
Colleges and universities can use this to their advantage—a way to reach students 24/7.
Actually, let's amend that last sentence. Colleges and universities have already used texting to their advantage. The CollegeBound Foundation found that 90% of students responded to staff's texts within 24 hours, and only 1% opted out. What's more, institutions have used Gen Z texting to increase students' engagement with academic advising, re-enroll students who stopped out and boost persistence among part-time students.
2. Align outreach to Gen Z's consumer behaviors
Digital natives' decision-making habits and preferences are shaped by their internet and mobile experiences with products and services. So, institutions can only benefit by learning from these behaviors and trends:
Gen Z-ers tend to be highly informed consumers. The Gen Z communication style involves researching and weighing their options before making a buying decision.
What that means for colleges & universities: Prospective students will compare their higher ed options by visiting many university and college websites. Current learners will want to research their options for co-curricular programming and course scheduling before committing.
Gen Z-ers place high importance on brand ethics and corporate responsibility, even more so than Millennials.
Why that matters to higher ed: Students will pay close attention to your mission statement, DEI initiatives and accessibility options.
Gen-Z is highly influenced by social media platforms, more so than any other generation.
Lesson learned: Prospective students will seek opinions from influential students and alumni. Current students will check your social media accounts for news and information that may influence how they engage with opportunities inside the classroom and out. This is important to keep in mind if you are wondering how to connect with Gen-Z.
3. Nudge, don't nag
As explained in Nudging by Text Best Practices, nudging is broadly defined as "coaxing or gently encouraging someone to do something." In the context of education, nudging is specific communication that helps move a student through their educational journey.
Nudging students can start with genuine curiosity, with staff seeking to better understand a student's challenges, interests and goals—all of which can help staff better customize their next message.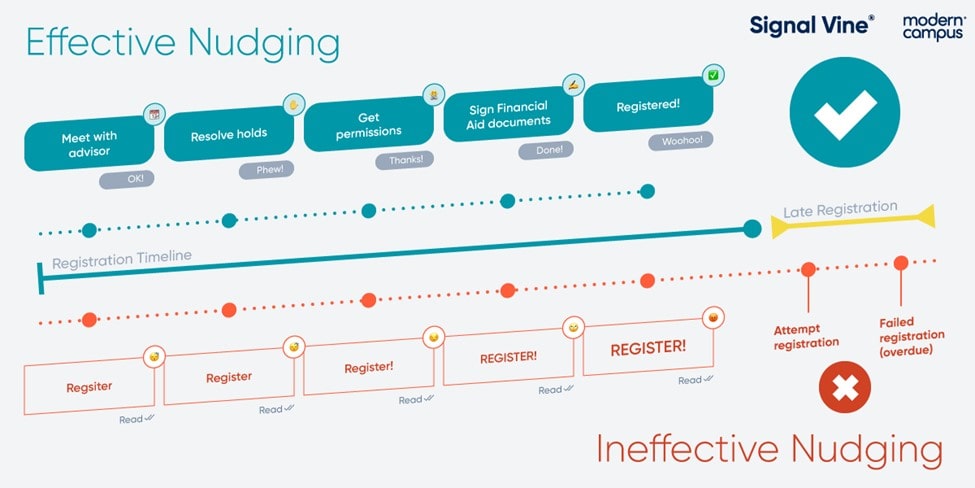 As Richard H. Thaler and Cass Sunstein wrote in their 2008 book, aptly titled Nudge, nudging should be guided by three basic principles:
All nudging should be transparent and never misleading.
It should be as easy as possible to opt out of the nudge, preferably in as little as one click.
There should be good reason to believe that the behavior being encouraged will improve the welfare of those being nudged.
By aligning an effective communication to Gen Z's preferences and habits, colleges and universities can attract more prospects, convert them toward enrollment, better engage their current students in co-curricular and academic life, and maintain stronger relationships with alumni.
How to Engage Gen Z Students with a Personalized Approach
Discover today's best practices for delivering personalization at scale
---
Last updated: June 27, 2023