3 Ways Colleges and Universities Can Help Students Meet Employer Demands
Conventional wisdom says that employers demand industry-specific skills—and want candidates to prove they've got the goods.
To be hired, a public relations candidate will need a portfolio full of outstanding press releases. A software developer will need to ace a coding exam. And a physician assistant better know how to start an IV.
What else is essential
Certainly, those abilities and knowledge sets are still crucial to workplace success in 2022. But they're also not enough to get anyone hired today.
Amidst a rapidly evolving workforce, anecdotal evidence suggests that employers demand more than just industry-specific knowledge. They want candidates who have ample soft skills—AKA essential skills or core skills—and the ability to prove those.
Results from a new survey conducted by the National Association of Colleges and Employers (NACE) affirm this trend. Its Job Outlook 2022 survey found that 86% of employers are seeking evidence of problem-solving skills on the resumes, cover letters and other application materials of the students they're recruiting this year.
Other in-demand skills include analytical/qualitative skills (78%), ability to work in a team (76%), and written communication skills (73%).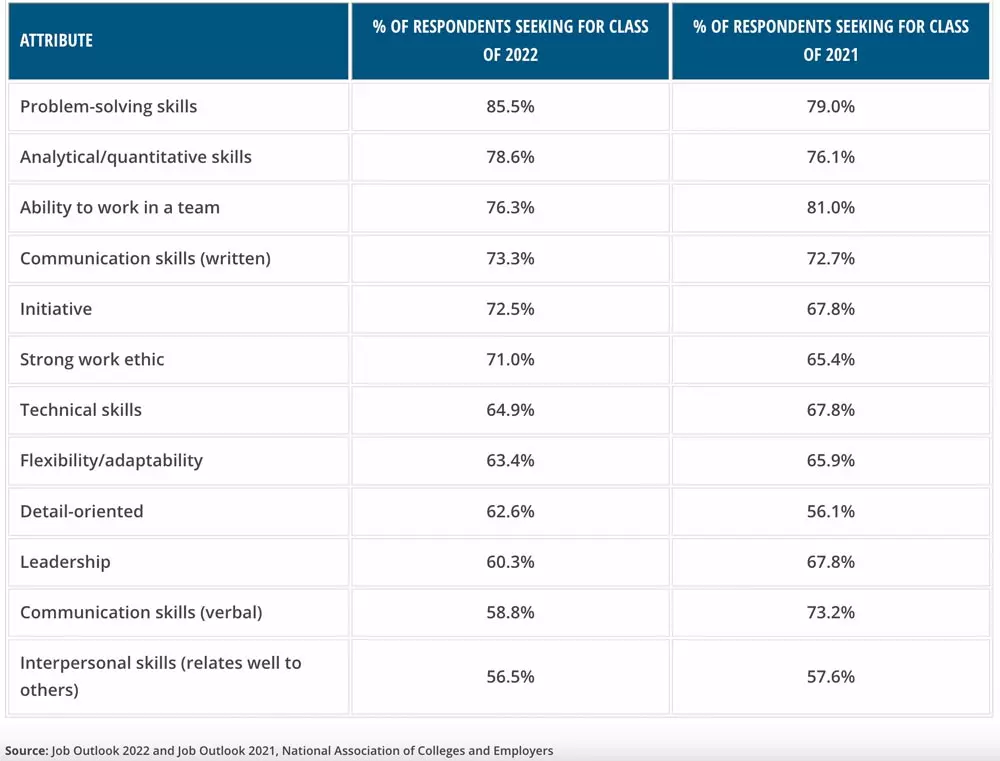 Implications for Your Institution
This can be fantastic news for higher education, as colleges and universities are well positioned to empower learners—across all academic fields and career paths—with these skills.
But, without preparing students to effectively communicate their acquired skills, a frustrating disconnect emerges. A 2021 survey conducted for the American Association of College and Universities (AACU) found that only 40% of employers think recent candidates are "very effective" at communicating the skills acquired through higher education.
If the learners are indeed gaining employer-demanded skills, it's not meaning much to employers, who aren't seeing the evidence. And that means that learners aren't getting the number one thing they want out of higher education: better career prospects.
In a survey conducted by New America, 91% of responding students said that improving their employment opportunities was an "important" or "very important" motivating factor in their decision to attend college.
No institution can afford to let more than nine out of ten students down; enrollment and retention goals won't allow it.
What you can do, starting now
Institutions must develop strategies to help students not only develop essential skills that are in high demand but also to articulate attainment of such skills.
Here are three savvy strategies that do just that.
1. Make the ROI of higher education abundantly clear.
Don't leave prospective and current students to guess the skills they might eventually need to impress employers. State it clearly on your website.
With Modern Campus Pathways, you can showcase skills specific to more than 1,600 occupation groups. Plus, by providing salary and projected growth data, you can help students make informed career choices, so that they—in collaboration with career services—can strategize a plan for developing the skills they'll need most.
2. Design robust co-curricular programs.
As your institution's student affairs team knows well, students can learn and improve their essential skills through opportunities outside of the classroom—AKA co-curricular programs.
But to maximize upon these benefits, opportunities must be designed with built-in learning outcomes. You can support skills attainment by making it clear to everyone—program planners and student participants alike—what skills students will learn, and how.
Better yet, institutions should make their co-curricular experiences interconnected. Think learner journeys, not individual stops.
Through Modern Campus Presence, you can design robust co-curricular frameworks that tie opportunities together from all across campus. For example, a student who first learns key communication skills through a debate team can challenge themselves further through a credit-based internship. Better yet, outcome frameworks empower the crucial component employers are looking for: skills articulation.
3. Adopt co-curricular transcripts.
Traditionally, the only time a graduating student or recent alum will bring up the skills they developed through co-curricular experiences will be if a hiring manager happens to ask directly about it.
This is a huge missed opportunity—for the student, the employer and all of higher education.
One smart way you can fill in that gap is through co-curricular transcripts, an official written record of everything a student did and learned outside of the classroom while at your institution.
You can assure the accuracy of your students' transcripts by using check-in technology to confirm event attendance and reflections to confirm development. And with Modern Campus Presence SmartTranscripts, you can sync all of a student's completed and in-progress experiences, certifications, points, service hours, and skills into one fully-automated, live-updating profile.
Moving Forward
From an employers' perspective, expecting candidates to provide proof of essential skills isn't too big an ask. And with the right strategies and tools in hand, students' expectations for your institutions won't be unreasonable either.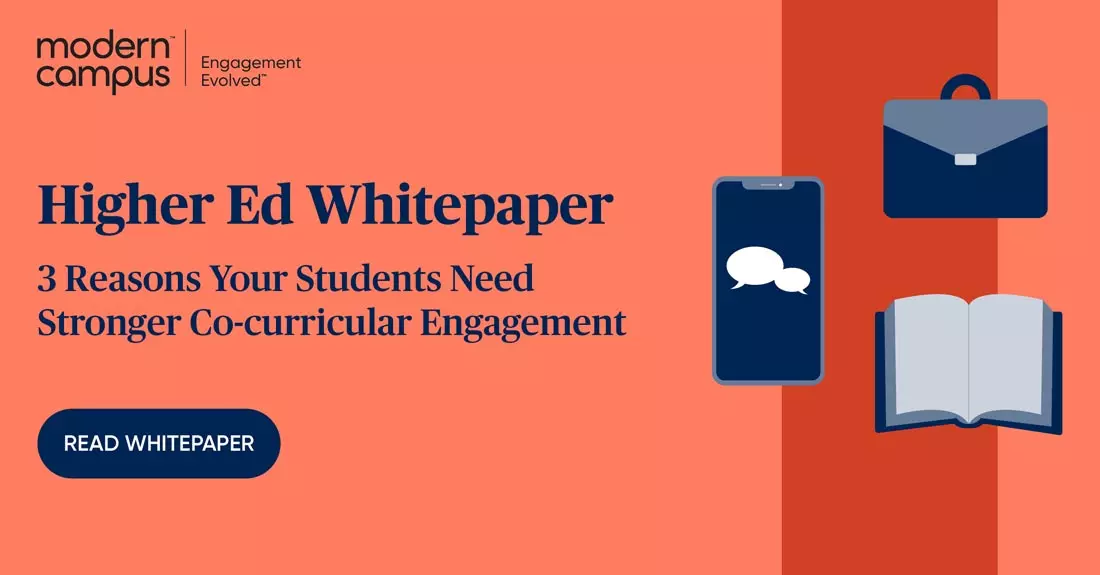 ---
Last updated: February 25, 2022