How Can I Get Students to Complete Applications?
Helen, the admissions director at Gallena University, is puzzled by the number of prospective students who start a college application but never complete it. To figure out how to move these students from interest to commitment, she explores ways to keep students more engaged in the process.
She learns that application submissions increase when prospective students are provided with consistent reminders or prompts throughout the process. A 2016 study found that 74 percent of people who received a reminder to perform an action followed through, compared to only 42 percent of those who followed through without a prompt. To drive urgency in completing applications, Helen decides to implement reminders in Gallena's application process using the advanced personalization capabilities of Modern Campus Instinct.
The Instinct Advantage for a Modern Campus
Instinct makes it easy for Helen to create a customized campaign of tailored reminders and messages with information about next steps in the enrollment process.
For example, when a student returns to the university's website for a third time, that is a clear indication of interest. Using Instinct, Helen can then automate popup messages based on the prospective student's number of visits to determine which message to send. In this case, the student might see an application timeline with a link to the application page. On the sixth visit to the website, the student could be shown an application deadline with a link to talk directly to an admissions counselor.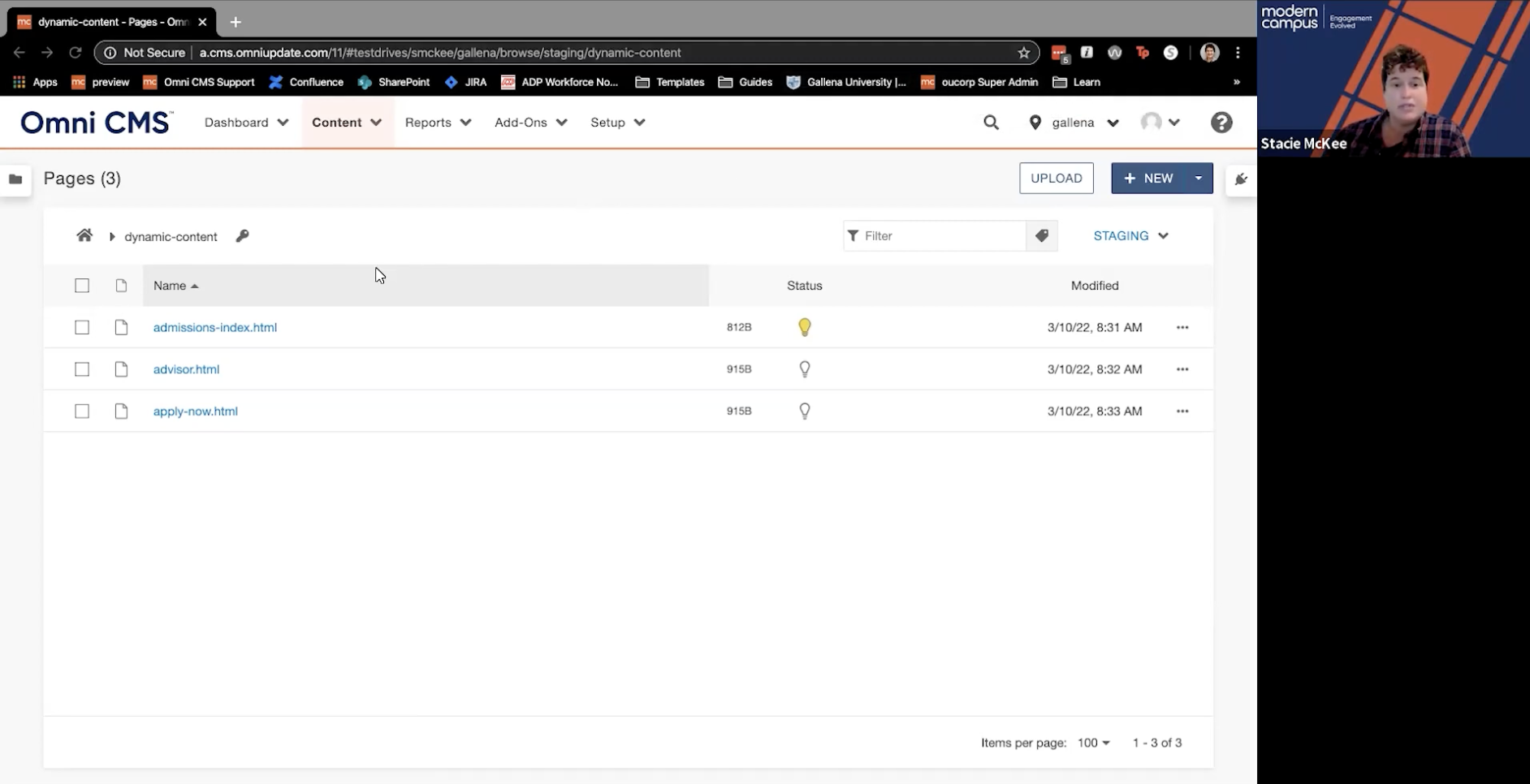 Instinct is also effective in driving urgency based on a prospective student's application and enrollment status. When a prospective student visits the website for a third time, Helen can customize a reminder for the student to begin an application. On the sixth visit, the message could be a reminder to complete the application. By the eighth visit, if the student has been accepted to the university, Helen can then customize a message to prompt the student to pay the deposit.
Instinct is a gamechanger for admissions and enrollment professionals, but it can also support students through the often-stressful admissions process. Take Stan, a high school senior, who missed the early decision (ED) deadline for his top choice college. Given his mediocre GPA and test scores, he's bummed that he didn't take advantage of the little bump that ED sometimes provides. If the university he was applying to had Instinct, he would have been prompted to get his application in with a message highlighting upcoming deadlines.
Are You Ready to Supercharge Your School's Enrollment and Admissions Process?
Like Helen, you, too, can use Instinct to do big things for your school's enrollment and admissions process. Even before you know your web visitor's name, Instinct helps you understand their interests and then uses that information to offer tailored content and messaging that the student is looking for—at the right time.
Don't wait. It's time to transform your website into a next-generation digital experience with rich personalization that dramatically increases digital engagement.
Get started on making Instinct work for your institution. Register for our free online workshop on June 15 at 12pm ET.
We've also created a customizable worksheet to help you follow along during the webinar:
Read the first 4 blog posts in this series:
---
Website Content Management Website Personalization
Last updated: June 7, 2022