Putting 2021 E-Expectations Trend Report Data to Work for Your School
The latest research about digital student engagement among high school students affirms that the key to maximizing enrollment, retention and re-engagement is a comprehensive, dynamic and massively personalized college or university website.
"In today's digital age, your website is a 24/7 TV commercial that institutions can use to their advantage by creating a digital experience that leaves a lasting impression on prospective students," said Jeff Fanter, Vice President of Marketing and Communications at Ivy Tech Community College. "It's a place where anybody at any given moment on their own time can find out information about your school, and you're not disrupting or interrupting them."
When a student's impression of your website is positive, they will click around to learn more about academic programs, costs and the admissions process. But if your website becomes a source of frustration, these modern learners will simply leave your site and look elsewhere.
To curb drop-off and boost engagement, your institution must nurture the personalized digital student experience at every step in the academic journey. Based on recent data from the 2021 E-Expectations Trend Report, here are four student engagement strategies for implementing personalization to make meaningful connections that last from recruitment and enrollment to graduation and beyond.
Personal Connection: How to Maximize Enrollment, Retention and Re-Engagement
Four Key Findings from the 2021 E-Expectations Trend Report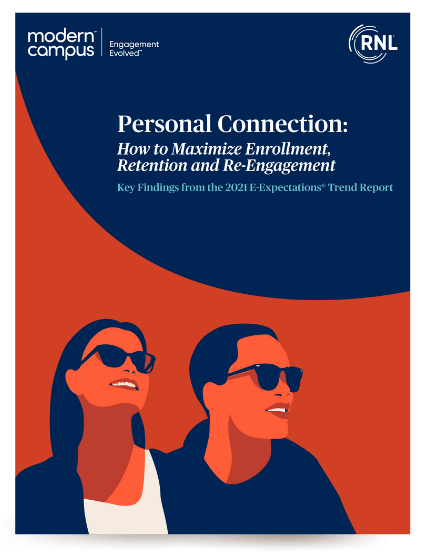 1. Provide virtual experiences that give prospective students a sense of what it's like to be on campus.

Not everyone can visit campus during the recruitment process. Still, prospective students are curious to learn more about your college or university's physical campus. Almost two-thirds of prospective students (64%) watch campus virtual tours and 62% of those same students said they are more likely to enroll after watching a virtual tour.

Take advantage of these statistics on how to engage students by including interactive campus maps on your website that offer virtual tours and dynamic way-finders. For added benefit, complement your campus map with feature-rich videos and compelling photography that give prospects a sense of campus life.
2. Demonstrate clear paths from academic programs to careers.


According to the data, prospective students want to know that if they commit to a specific field of study, they'll have a job upon graduation. They also expect your website to provide real numbers on how much recent graduates make in this first jobs and how much they can expect to earn over the course of their chosen career.
The best way to provide such insight is to position your college or university website as an end-to-end engagement platform with relevant labor market data embedded into academic program pages. When website information provides career pathways that combine real time data with a clear path to action, it makes it easier for prospective students to see a realistic return-on-investment from their higher education.
3. Build student-focused relationships.


Some students know exactly where they want to learn from your website. For the ones who don't, they're looking to your website to educate them about all things college. This is where personalization can be most effective. Report findings suggest that a digital environment that's thoughtful, genuine and student-centric makes students feel like more than a number or website visitor.

To build a relationship between students and your college or university:
Include pop-up calls-to-action that help students see find the programs and services they need.
Personalize marketing materials in different formats with prospective students' names.

Provide self-select options in a way that leads to personalize content about their specific interests.
4. Deliver "right for me" content that nurtures the student journey.


Because 80% of prospective students will apply to five colleges or fewer, your school's website must anticipate what content students want and then make it easy to find it. Intuitive site search, an easy-to-navigate course catalog and faculty directory and a financial calculator that helps students understand the real costs of attendance are among the most popular features that students look for when surfing your website.
Your marketing campaign has the best chance of being successful when it delivers on what students expect from the digital experience offered by your institution. This means virtual experiences that give students a sense of campus life, clear paths from college to career, student-focused relationships, and "right for me" content at all phases of the student journey.
If it's time to elevate your college or university's digital engagement efforts, request a demo of the Modern Campus platform today.
Personal Connection: How to Maximize Enrollment, Retention and Re-Engagement
Four Key Findings from the 2021 E-Expectations Trend Report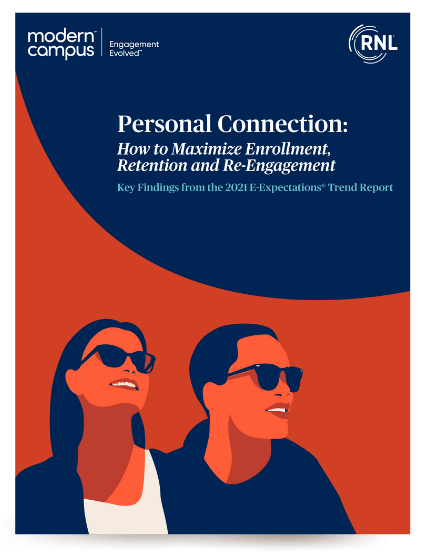 ---
Last updated: July 13, 2021