What Students Need from Higher Ed to Articulate Essential Skills
Today's employers aren't impressed by your students' degrees.
…Or rather, a student's degree isn't enough to wow an employer on its own. Recent research from Jobs for the Future and American Student Assistance found that 72% of employers believe a degree is not a reliable signal of candidate quality. What's more convincing are skills; 81% of employers think companies should hire based on skills—not degrees.
Fortunately, higher education excels at helping students develop and advance work-force ready skills. Students just need to prove it. Only 40% of employers say candidates are "very effective" at communicating the skills and knowledge they have gained in college.
That's an awfully large percentage gap—81% vs. 40%—of employers who want to see proof of skills attainment but are unimpressed by students' ability to communicate such skills.
What Do Employers Want from Today's Learners?
Teaching your graduates to say "I learned a lot about collaboration" in an interview or write "I'm so good at civic engagement" in a cover letter won't suffice. Employers need specifics. They need to be able to assess which elements or collaboration or civic engagement an interviewee can apply to the workforce.

As discussed in a previous blog post—3 Ways Colleges and Universities Can Help Students Meet Employer Demands—employers are seeking proof of the following skills:
Problem-solving skills - 85.5% of employers

Analytical/quantitative skills - 78.6%

Ability to work in a team - 76.3%

Written communication skills - 73.3%

Initiative - 72.5%
And that's just a small snapshot of the most in-demand skills; check out the other responses to NACE's Job Outlook 2022 survey.
How Do Co-Curricular Experiences Support Skills Articulation?
Know matter how industry-focused a student's college courses were or how prestigious an institution they graduated from, employers don't believe that a degree alone is proof of those essential skills.
But employers are convinced by co-curricular experiences. In a response to a survey by the American Association of Colleges & University, employers say they are more likely to hire candidates who had the following experiences in college:
An internship or apprenticeship - 90%

A work-study program or other form employment during college - 90%

An experience that involved working in community settings with people from diverse backgrounds or cultures - 88%

An experience that involved working with mentors and/or individualized advisors - 87%

A community-based or service-learning project - 85%

A global learning experience that included exposure to diverse experiences and perspectives - 84%
Yet, even these experiences lose their value if students cannot articulate what they learned from their week, months or years immersed in them.
You can't really blame students for missing the articulation piece. If program facilitators just say that a service-learning program has made students "good citizens" or that a first-year leadership course will make them "capable of leading," then students will be left in the lurch to self-evaluate. Equally troubling is that learners may fail to realize that their self-promotion skills are so lacking.
How Can You Help Students Communicate Their Co-Curricular Skills?
To maximize upon the benefits of outside-of-the-classroom learning, opportunities must be designed with co-curricular learning outcomes. In this way, you can support skills attainment by making it crystal clear—to students, institutional leaders and program facilitators alike—what workforce-ready skills students will learn as a result of each experience, and how.
Then, to connect the dots for employers, you can help students build co-curricular transcripts that directly showcase how, say, an internship helped that student boost their creativity or studying abroad made them more globally conscious. Just as a traditional academic transcript helps prove a student's acquisition of field-specific knowledge, a co-curricular transcript quantifies skills learned outside of the classroom.
Better yet, a SmartTranscript™ powered by Modern Campus Presence will sync all of a student's completed and in-progress experiences, certifications, points, service hours and skills into one fully automated, live-updating profile—which they can share with employers via web link or PDF.
Didn't have time to read all of this… or want to save the stats for later? We've designed an infographic—The Co-Curricular Advantage: by the Numbers—that summarizes the benefits of co-curricular learning for students, staff and employers alike! Download it, free, below.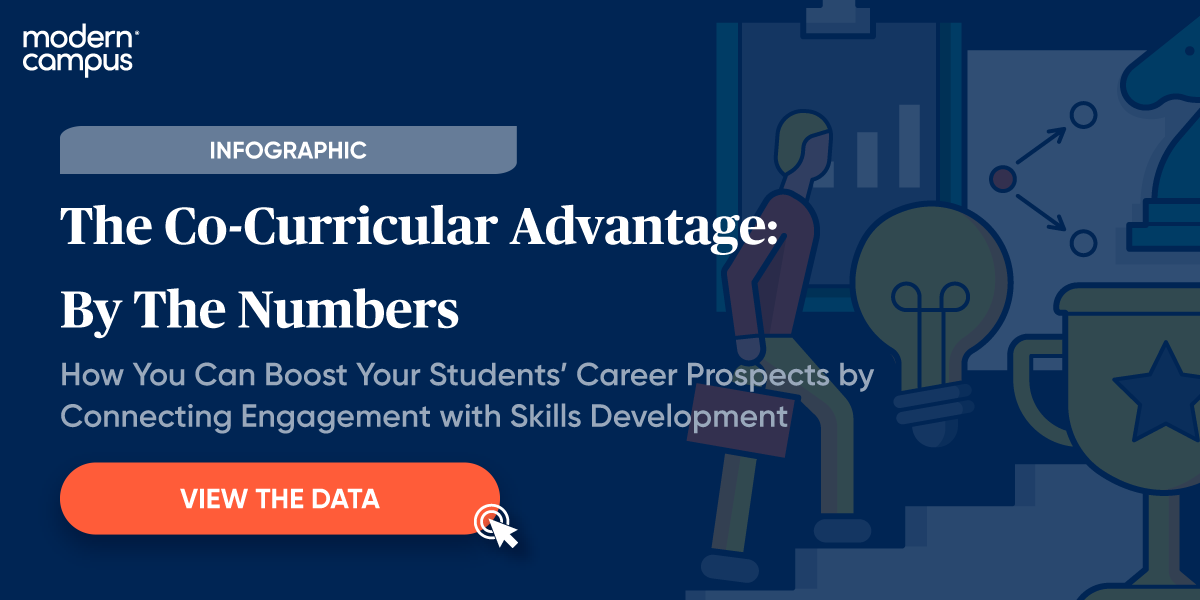 ---
Last updated: August 12, 2022