How & When Gen-Z Prospects Want You to Text Them
High school students have to sort through a lot of noise during the college search process.
For many months (it not years), students receive an influx of opinions, instructions and information from their families, friends, teachers, school counselors and test prep organizers.
How, then, can you ensure that your college or university's communication stands out?
In order to reach prospective students with the right information at the right time, staff in marketing, recruitment, financial aid, admissions and other institutional areas must keep up with students' changing communication preferences.
To that end, Modern Campus partnered with RNL, Gigg, PLEXUSS, and StudentBridge to survey 2023 high school students about their experiences, exceptions and behaviors. We wanted to know: what information do today's students want from colleges and universities, and how do they want it? Nearly 2,000 students, enrolled in 10th, 11th and 12th grade throughout the US, replied.
Among the findings, we discovered that Gen Z students overwhelmingly welcome text messages. 97% of respondents said they'd be open to receiving texts from colleges and universities.
The survey also revealed when and why students most hope your institution will text them most. Here are the top responses:
66%
of high school students want to receive a text informing them of their acceptance into a college or university
56%
of students would like texts with updates about their application, such as missing documents or a change in status
54%
of students would like to be sent application deadline reminders via text message
53%
of students would like to receive text notifications about available scholarships
45%
of students want texts with information about academic programs and majors
44%
of students would like to be texted information about upcoming events hosted by colleges and universities
How should you work texting into your communication strategy with prospective students?
Colleges and universities that do not add texting into their communication toolkit risk being left behind. If you don't text your students, another institution may—and earn that students' attention, trust and loyalty.
Email is still an important tool, but email-only strategies limit your reach. Previous studies have shown that 98% of text messages are opened, versus just 20% of emails.
This latest survey provides guidance for prioritization. Knowing students' preferences and expectations, here's what your college and universities should focus on via text message:
Alerting students when they've been accepted for admission
Updating students about the status of their application, such as confirming when your institution has received it or if any documents are missing
Reminding students of application deadlines, along with deadlines for financial aid, course registration and orientation scheduling
Notifying students about merit and/or needs-based scholarships for which they may be eligible
Providing students with information about the academic majors and programs they've indicated an interest in
Informing students about upcoming events hosted or attended by institutional staff or alumni
Every text message is a chance to build or expand upon a relationship with a prospective learner. As we previously explored, Gen-Z learners tend to be highly informed consumers, more so than previous generations. Having grown up with the internet a click away, they're used to researching and weighing their options before making a decision. By providing that information right through their phones, you'll be one step closer to meeting or exceeding your enrollment goals.
Download the full report.
Check out our summary of the 2023 survey to learn what else high school students expect from today's colleges and universities—including institutional websites, campus visits and virtual tours.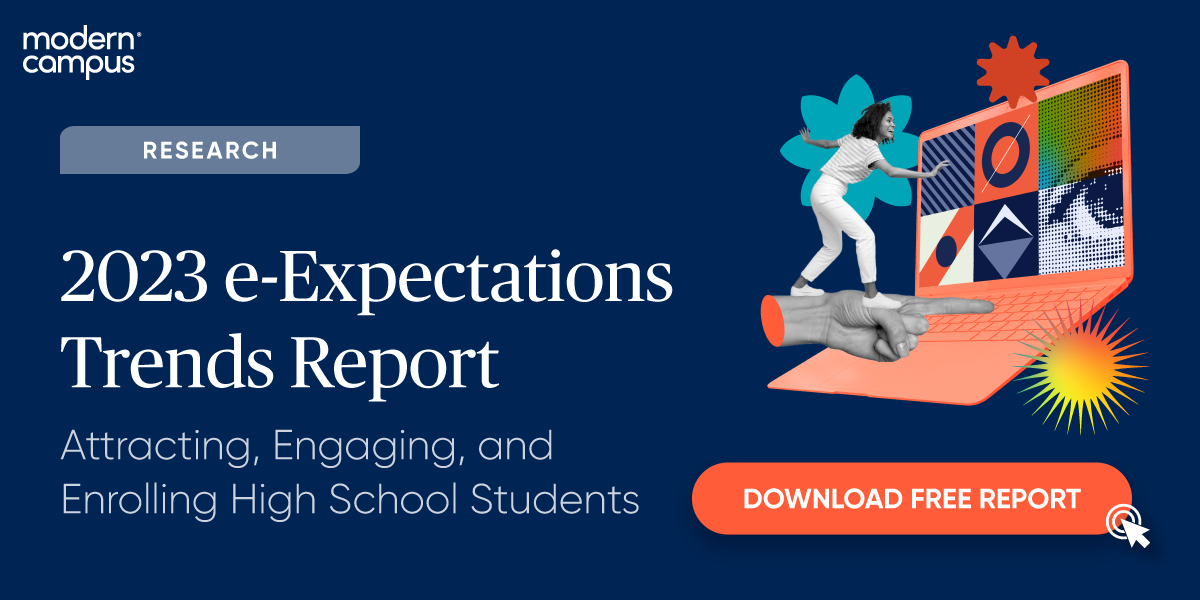 ---
Last updated: July 13, 2023