Best Campus Maps for Colleges and Universities
A map is a map is a map—unless it's a college or university campus map. These days, online campus maps go beyond physical locations to include everything from accessibility options (for parking and entering buildings) to in-person and virtual campus tour routes. Many online maps even offer filters so that viewers can find relevant information about academic programs and athletic events.
Researchers have found that 64% of students have taken a virtual campus tour, and 62% say that virtual tours made them "somewhat" or "a lot" more likely to enroll. So, if your website doesn't have a dynamic, interactive campus map, then you're missing out on a big opportunity to connect with perspective students and their families.
The best campus maps and virtual tour software includes these eight key features to help marketing and admissions professionals:
Increase student engagement with the school's website
Promote institutional brand and maintain brand consistency
Add filters so that students can drill down to specific map features
Display valuable program information on the website's most visited pages
Create accessible maps and sub-maps
Add custom layers with ease
Stack sub-maps within a comprehensive map
Devise separate maps for distinct audiences
If you're researching the best campus map software to implement at your college or university, the following campus maps illustrate the value of campus map software. Such tools not only make your map prettier and more accessible; they turn your map into a valuable digital engagement tool for building lifelong relationships with prospective students, donors, alumni, parents and other stakeholders.
1. The Best Campus Map Software for Student Engagement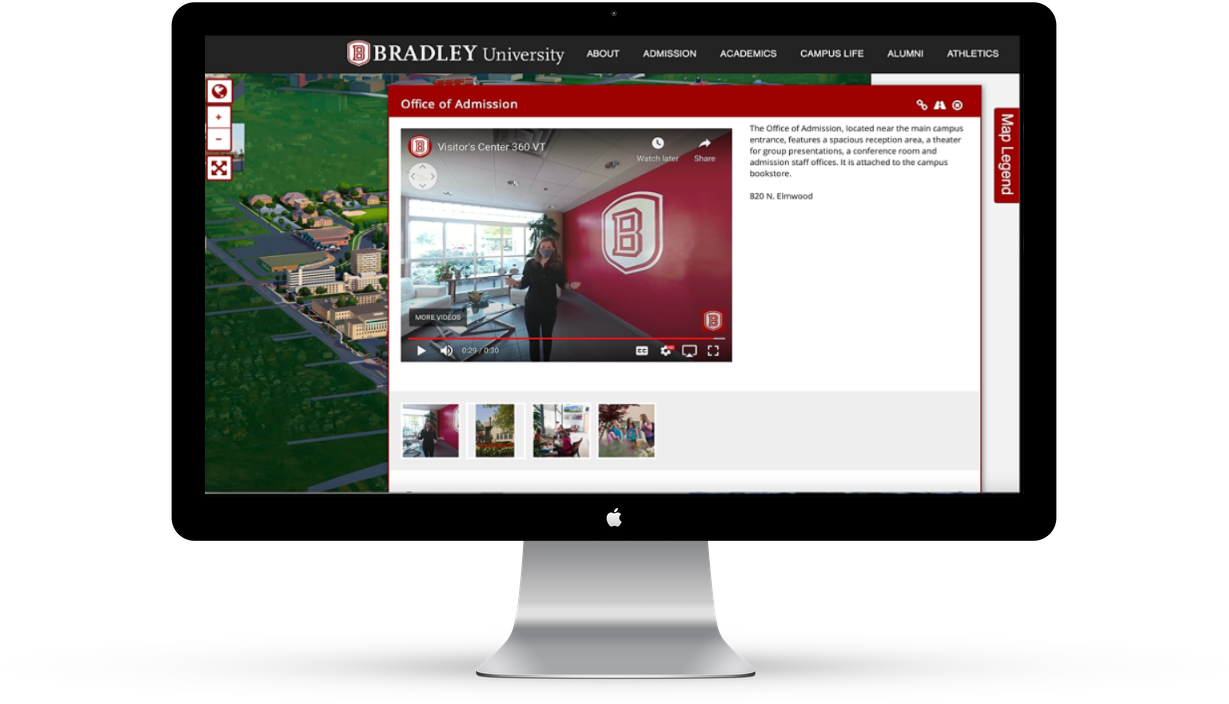 Bradley University's online campus map tour is led by an actual admissions counselor.
When an in-person campus tour is not an option for a prospective student or family, then a virtual campus tour is the next best thing, especially if it's hosted by an admissions counselor. Bradley University's campus map makes use of 360° video virtual tour with admissions counselor leading the way through on-demand videos.
Embedding videos is an easy way to engage students online, but only if you take time to make the content visually engaging and informative. Building descriptions, directions and beautiful photography complement the videos found throughout Bradley's map.
2. Best Online Branded Campus Map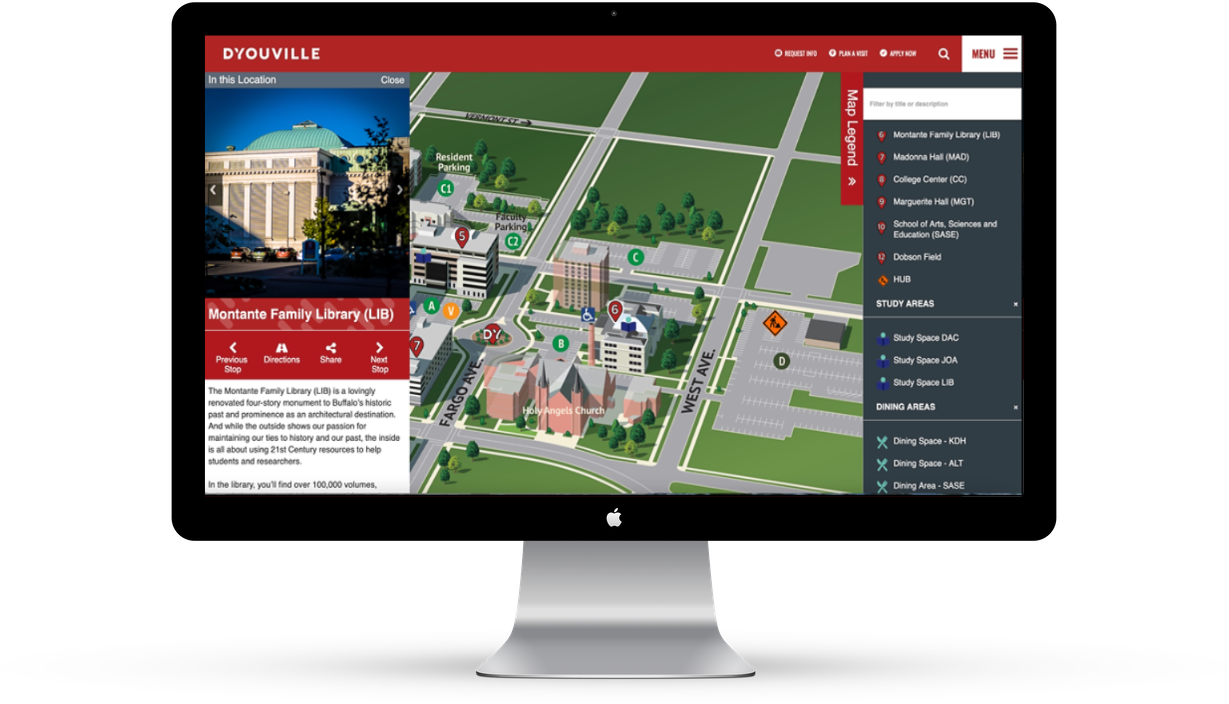 Brand consistency is built into D'Youville's website campus map
In 2019, D'Youville College underwent a comprehensive rebranding campaign to reflect and emphasize the school's transformation into a global, dynamic community.
The new brand and logo identity seen throughout the map is designed to reposition the school from a small college rooted in a Catholic heritage to a first-choice school regionally, nationally and internationally. Additionally, the marketing team included detailed descriptions and layered submaps, all packed into a colorful virtual tour to tell D'Youville's authentic story.
3. Best Campus Map Software for Filtering or Layers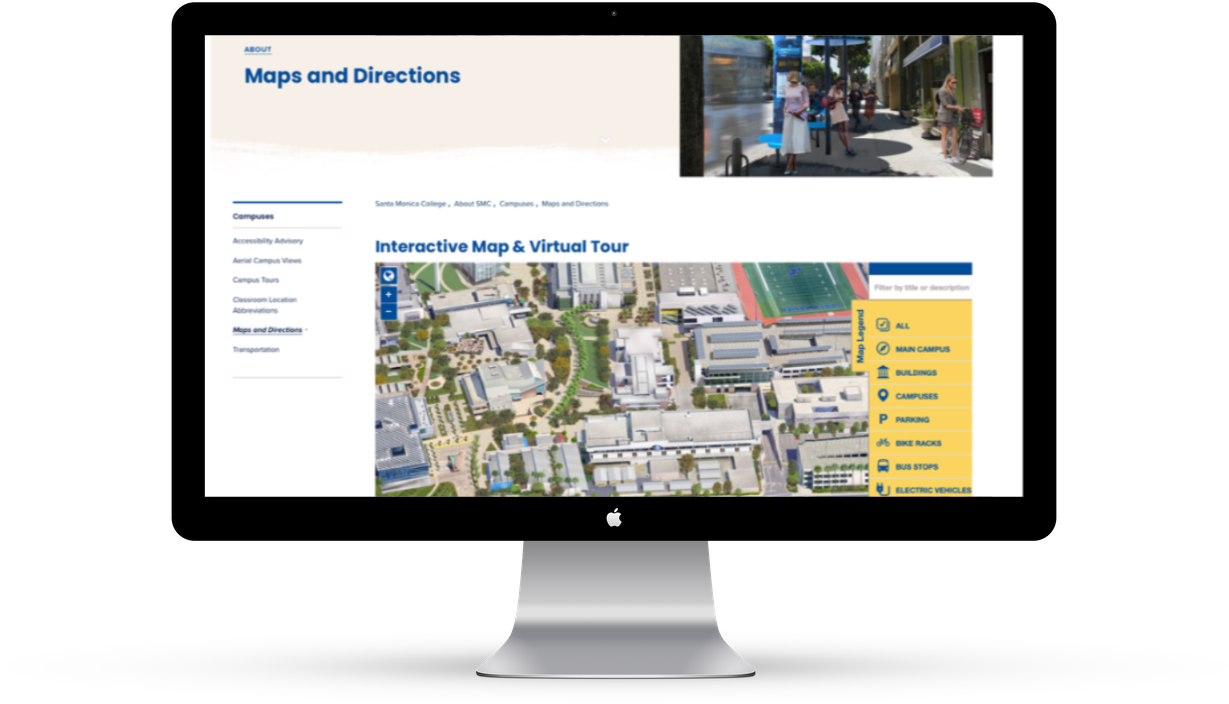 Santa Monica College features a filter-rich campus map and virtual tour on their website.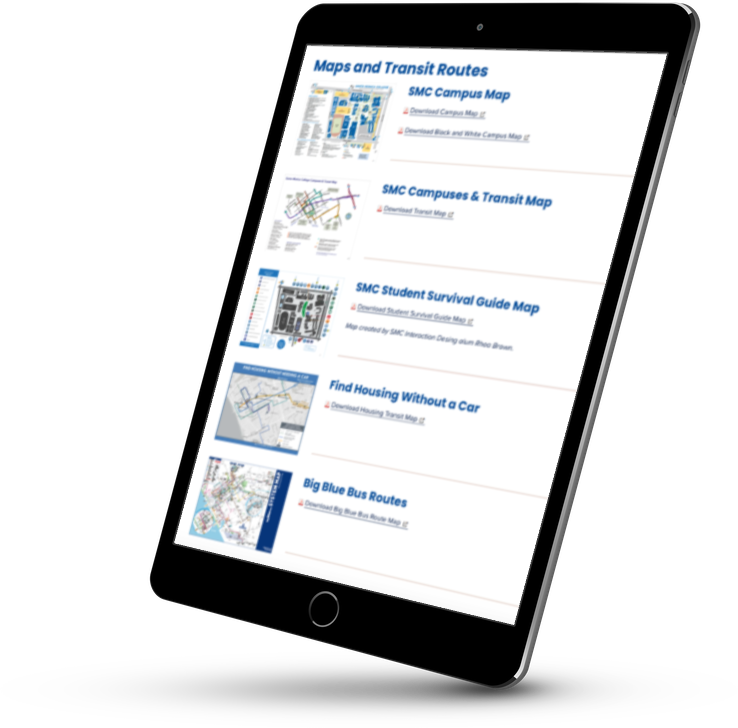 Rather than add dozens of filters to their interactive campus map and virtual tour, Santa Monica College selected key filters that they made incredibly comprehensive. For example, a quick search for food yields the physical location of where food is sold and served on campus along with descriptions of each dining offering.

For added convenience, Santa Monica has also broken down its most popular maps into a bullet-pointed list with easy links to click on for more information. And website visitors are also involved to download a printable campus map—which can be especially helpful for creating a self-guided campus tour.
Santa Monica College map features also include a traditional list of popular maps.
4. Best College Campus Map with Comprehensive Features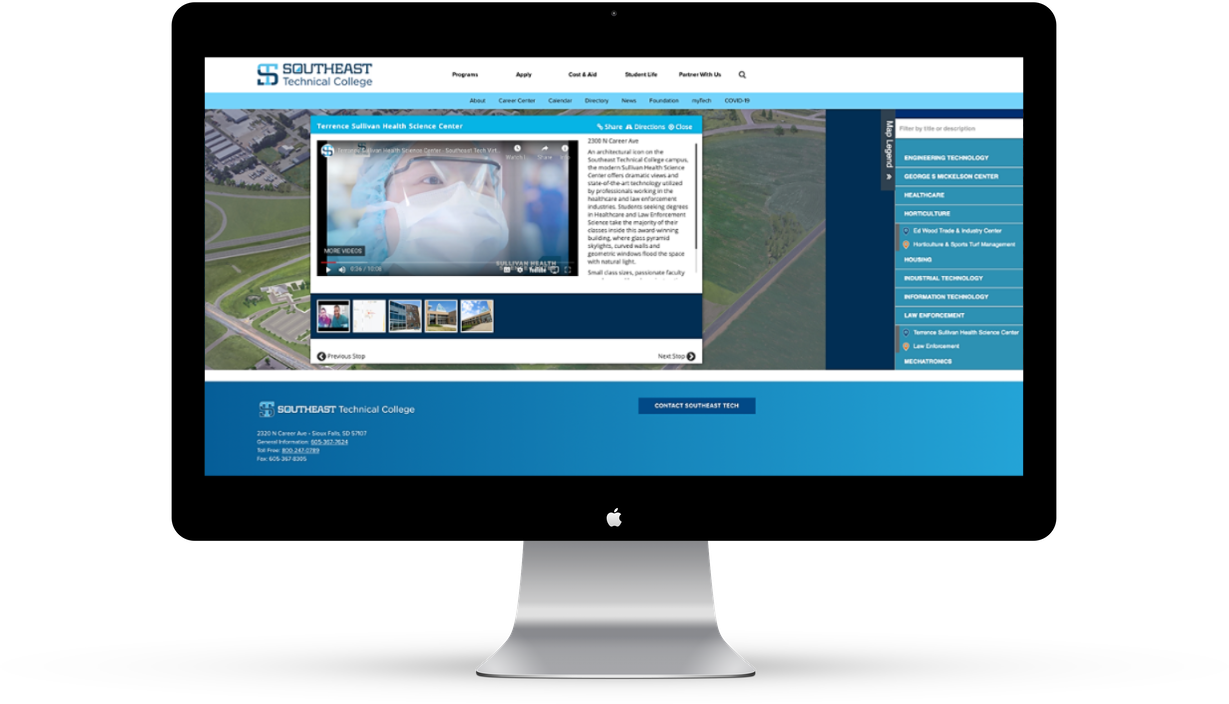 Southeast Technical College's campus map uses its campus map software to the fullest by embedding actual program information into the map.
Southeast Technical College capitalized on the flexibility and capabilities of campus map software to make their map into a robust digital engagement hub, complete with myriad personalized features to fully showcase their campus. One of the more innovative features is the degree program listings, which are embedded directly into the map. Prospective students can learn about class sizes, expectations and the types of hands-on instruction provided by specific programs without having to click out to program pages. By displaying valuable program information in this way, Southeast Tech is taking advantage of their website's most visited page—the campus map.
5. Best Campus Map for Accessibility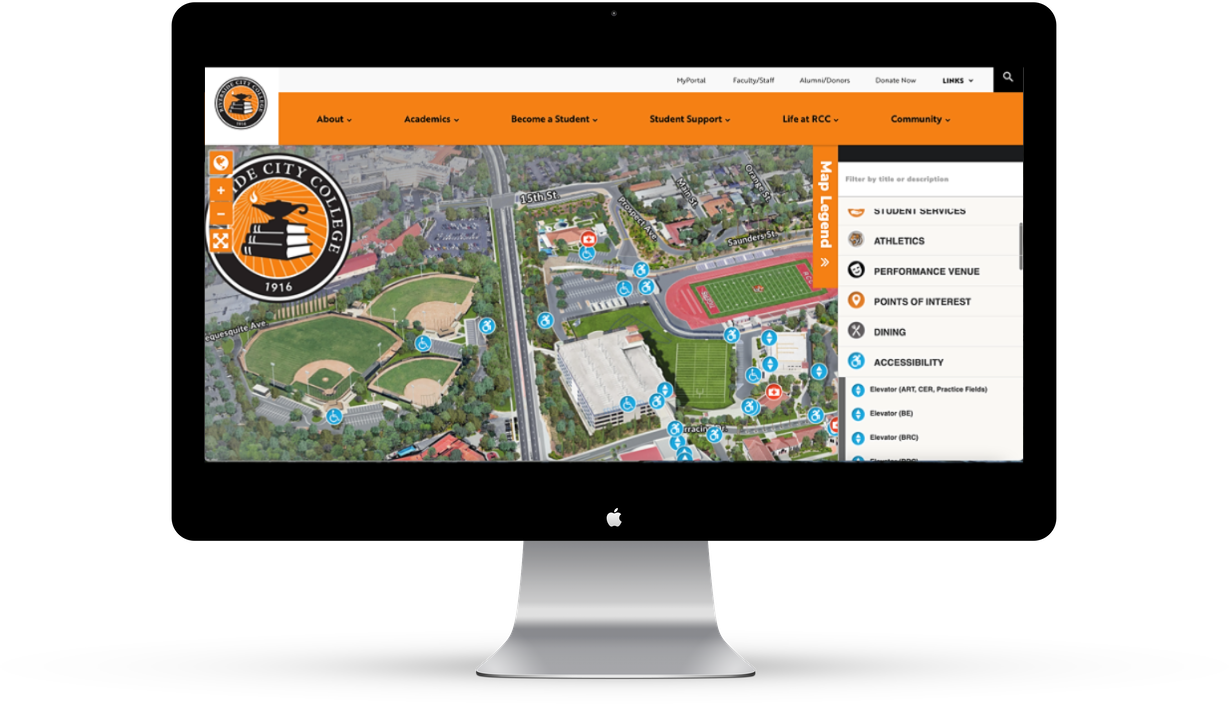 Riverside City College campus map is a good example of how branding is used to integrate physical marketing materials with the school's online presence.
Riverside City College's bold color scheme and logo make its campus map extra eye-catching and inviting. However, perhaps the map's coolest feature is its accessibility layer. Accessible buildings, parking lots and other features designed with flexibility in mind are well-marked in a sub-layer of the map. In this way, Riverside City is making it easier for students with disabilities to plan how they'll navigate campus.
Riverside also goes a step farther in offering a printable map, something that new students appreciate as they try to find their way around campus.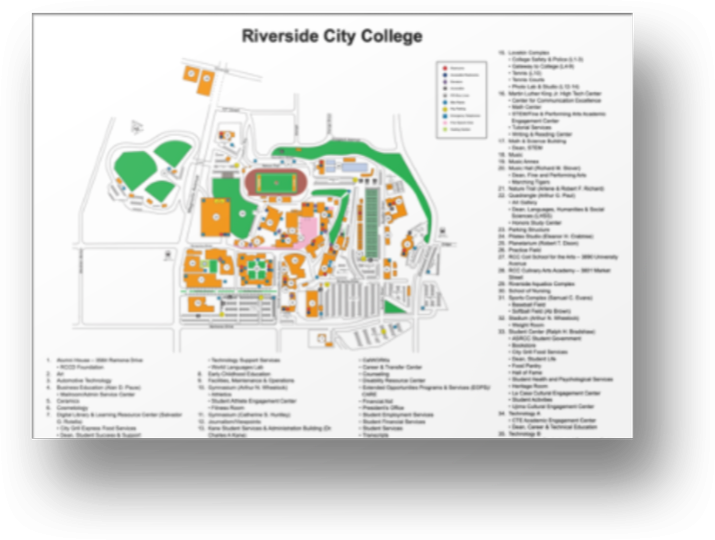 Riverside City College includes a printable campus map on their website.
Best Campus Map Software for Simple Management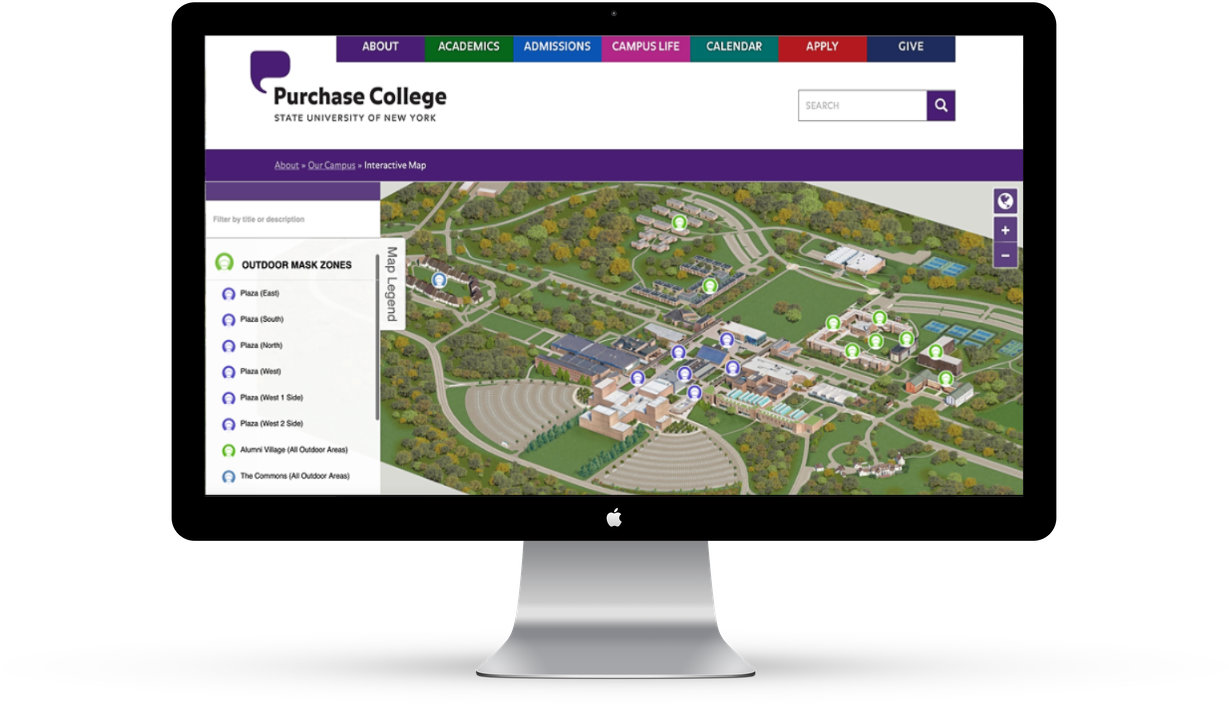 Purchase College created a sub-map that identifies where masks must be worn on campus.
Having a dynamic, comprehensive campus map is an essential feature of any college or university website—but only if administrators are able to manage the software well. The best campus map software makes it easy for marketing and administrative professionals to revise and change the map as needed.
The campus map software that Purchase College implemented is so easy to use that the staff were quickly able to edit their map to fit COVID-19 safety measures. They created a mask icon, filters, and identification markers for multiple points of interest throughout campus to indicate wherever students, staff and other visitors are required to where face masks.
7. Best Campus Maps for Sub-Maps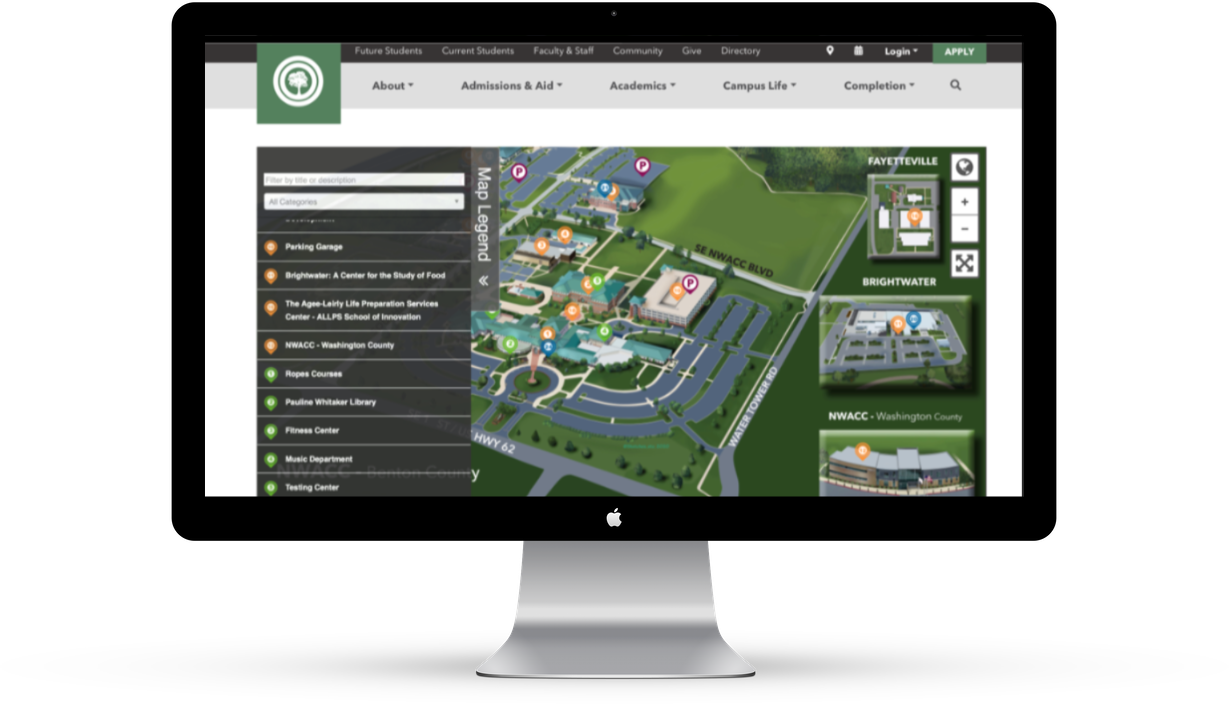 Northwest Arkansas Community College has sub-maps for each of their campus locations.
The best college and university campus map software organizes multiple stacks in one tidy comprehensive map. These stacks are made up of sub-maps that can details specific locations on campus, events, programs and just about anything else you want to layer into your map.
This feature is particularly important to Northwest Arkansas Community College (NWACC). Rather than requiring visitors to go in and out of different maps to view the college's multiple campuses, NWACC simply created sub-maps that they embedded them into their comprehensive map system. This way, visitors can easily jump around different campuses within a single, user-friendly map.
8. Best Campus Maps for Distinct Audiences
It's almost impossible to manage a website that must be all things to all people. Yet that's exactly what people expect when they visit your site: information that's uniquely relevant and interesting to them. The campus map is no exception; users expect tailored information. For example, a continuing education student will have different expectations than a prospective undergraduate student.
To complicate matters, many institutions serve a diverse population of students who speak multiple languages. If your campus map is only in English, a prospective international student may not envision themselves fitting into your campus community.
The International French School met this challenge head on by designing a multi-layered map in both English and French. With a simple click on the language button at the top of the site, the map's language changes seamlessly to the preferred language.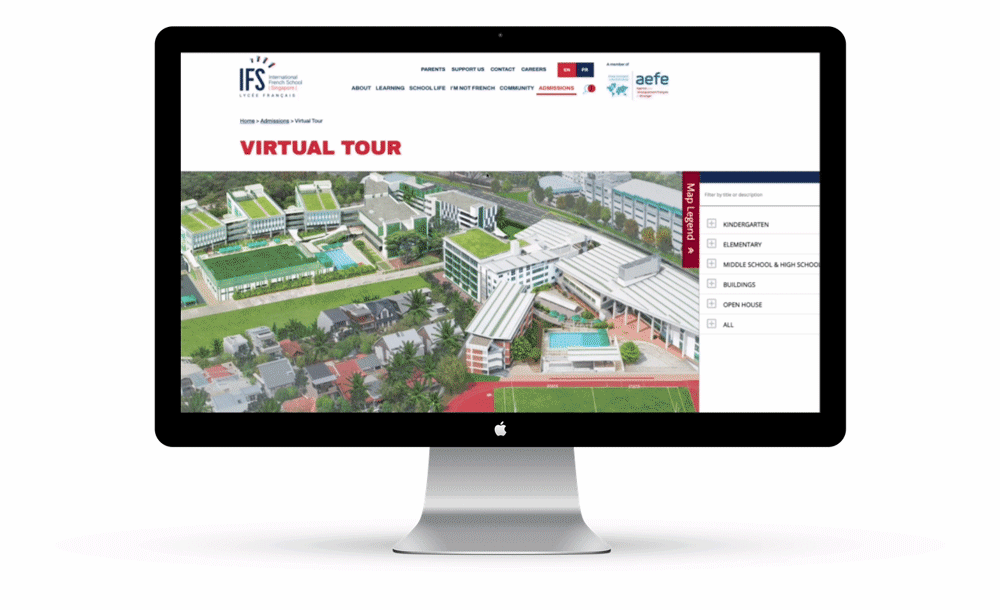 The International French School's campus map changes seamlessly from English to French with the click of the language button.
Finding the Right Campus Map and Virtual Tour Software
Uploading a static map to your website isn't going to engage either current or prospective students. A campus map needs to be more than a geographic indicator of campus buildings; modern learners desire tailored, on-demand custom features.
Fortunately, with the right software, your campus map can become a valuable student engagement tool. With flexible, comprehensive capabilities, campus maps can provide useful information and foster social connections.
If you're researching campus maps, be sure to check out Modern Campus' best-in-class campus map for higher ed.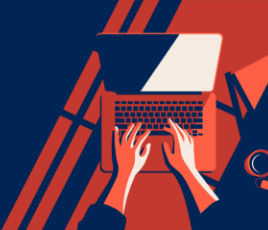 Tackle your biggest challenges
We're looking to topple the ivory tower.
Do you want to see how? Let's talk.
---
Last updated: October 21, 2021